Senior Bowl 2012: Prospects Whose 2012 NFL Draft Stock Was Greatly Damaged
January 30, 2012

Darren Carroll/Getty Images
The 2012 Senior Bowl has come and gone, and while some athletes did a great job to improve their draft stock, others weren't as fortunate. 
This was the final chance for prospects to show scouts what they could do in a game against top talent, but some players failed to deliver. 
Of course, these guys can make up ground in pre-draft workouts, but because they flopped in the game, their 2012 NFL draft status took a major hit.
With that said, here are just three of the many players whose draft stock suffered greatly in 2012 Senior Bowl. 
Jeff Fuller, WR, Texas A&M 
Listed at 6'4", 217 pounds, Fuller has a great frame for the NFL, which is something to like about him.
Unfortunately, after the Senior Bowl, it's about the only thing scouts will like, and that definitely doesn't help his draft stock. 
Fuller had a down year this past season, and he needed to shine bright in the Senior Bowl. He had three receptions for 19 yards, but also dropped a pass. 
The former Aggie didn't look good on the field, and he will drop on several draft boards because of it. 
Kellen Moore, QB, Boise State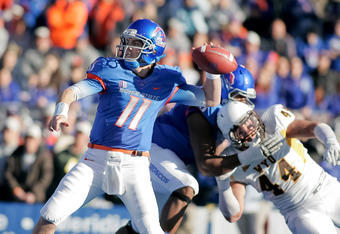 Otto Kitsinger III/Getty Images
The quarterback with the most wins in college football history may never see the light of day in the NFL. Moore will be lucky if he's even drafted, but if he is, he will struggle to make the team. 
For starters, Moore checked into the combine at 5'11", 191, which set him back even further on draft boards. After his performance in the game, it's uncertain if anyone will give Moore a chance. 
Moore threw for 50 yards and was 6-of-12 in passing, averaging 4.2 yards per pass. He didn't impress on the deep ball, which is an area of concern for him. 
Often praised for his accuracy, Moore didn't dominate, and his lack of strength of was on display again, which did a great deal of damage to his draft stock. 
Chris Polk, RB, Washington 
A borderline first-round draft pick, Polk need to have a standout performance to get everyone talking about him.
However, he had only 15 rushing yards in the game, averaging 2.5 yards per carry. Granted, he only carried the ball six times, but that's still plenty of opportunities to really showcase his skills. 
Polk didn't play against elite defenders in his college career, which is why a lot of eyes were on him in this game. He was facing top talent, but he struggle to dominate like he needed to. 
Now, Polk will have to be overly impressive in the pre-draft workouts in hopes of being a first-round pick.