NFL Draft 2012: 10 Bold Predictions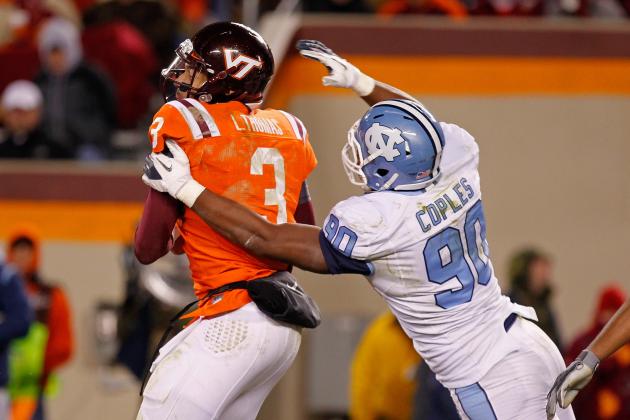 Geoff Burke/Getty Images

This past week's Senior Bowl certainly told us a lot about upperclassmen prospects.
Quinton Coples confirmed, beyond doubt, that he has elite talent. Melvin Ingram showed off his motor. Russell Wilson is a fantastic player.
So how does this change how the draft stands?
Here are 10 predictions which may seem unlikely (or even crazy) now but wouldn't surprise me if they all happened the day of the draft.
Begin Slideshow

»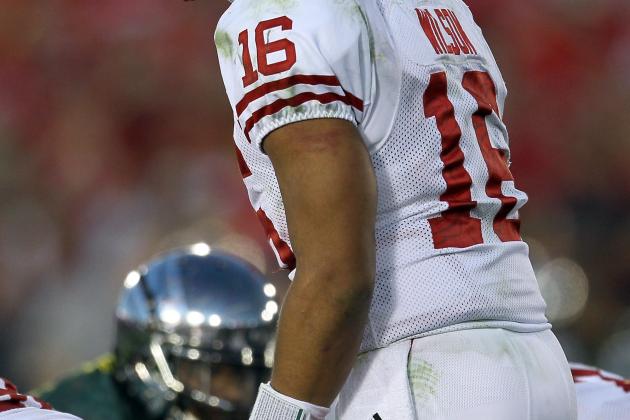 Stephen Dunn/Getty Images

If Russell Wilson was three inches taller, he'd be a first-rounder. Period.
As it is, he's probably too short to play QB in the NFL. But he's got a great arm, he can run, he has great intangibles and looks fantastic on the field. The Redskins had a long meeting with him on the first day of Senior Bowl practices and seem interested.
He certainly fits in Shanahan's offensive system; he'd be an interesting developmental project.
Andrew Luck and Robert Griffin III are top-five picks. That is locked in. After them, Ryan Tannehill will probably be the next QB picked.
Nick Foles was unimpressive all week, and Kirk Cousins just looked bad. Russell Wilson may be the fourth quarterback off the board, despite being just over 5'10" tall.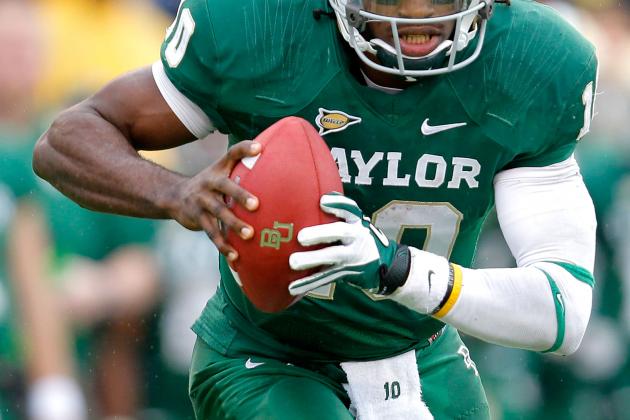 Sarah Glenn/Getty Images

In my last mock, I had the Vikings trading down from the third spot, giving the Redskins the Robert Griffin pick. Now, however, I think the Rams are likely to be the team that trades down.
The Rams have a lot of needs, and if they trade down, they could be looking at several players that make sense.
Depending on the team they trade with, they could only lose one or two spots. If they move with the Browns, then they could still get their first choice at wide receiver in Justin Blackmon, along with whatever additional picks they grab from the Browns.
If they trade with the Redskins, they'd be in a similar spot as if they traded with the Browns. If they trade with the Seahawks, they'll undoubtedly pick up a ton of additional picks since that'd be a big move.
Jeff Fisher is likely bringing Cortland Finnegan and Michael Griffin with him to St. Louis, so if he manages a trade down that grabs him a lot more draft picks, he could have the Rams close to being back on their feet by next season.
Bob Levey/Getty Images

Every year, you see a few small-school prospects that you watch, evaluate and decide have just as much talent as the big boys. That's where I am with Vinny Curry.
Curry is one of my favorite DE/OLB prospects this season.
He's got a long enough frame to add a little weight and play defensive end in a 4-3. Alternately, he could stay where he is (265 lbs. at the Senior Bowl weigh-in) and play rush linebacker in a 3-4. Either way, he'll excel.
Since he's a sack artist, he projects more as a rush linebacker, but I wouldn't be surprised if a 4-3 team grabs him as a pass-rush specialist or even to play defensive end full-time (I mocked him to the Titans recently for that very purpose).
Curry is a great player with a high motor, but...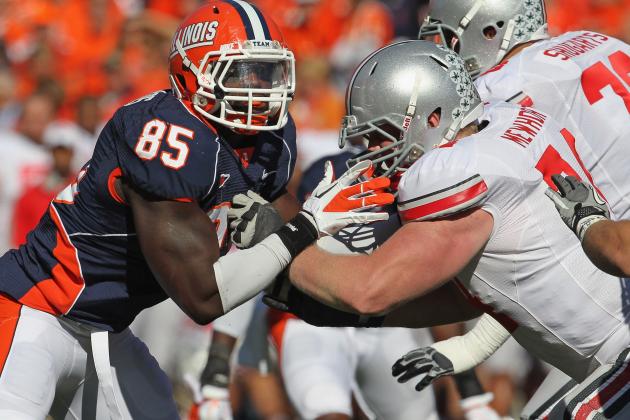 Jonathan Daniel/Getty Images

Whitney Mercilus has been compared to Jason Pierre-Paul quite a bit.
And while I don't know how true that is (I didn't see a lot of Pierre-Paul in college), I can say that Mercilus has about the most descriptive last name on the planet.
He had more sacks than any player in the country this season.
He had a monstrous 22.5 tackles for loss, and he strips the ball like no one I've ever seen. His only down side is that he came out of nowhere.
Quinton Coples is currently the top defensive end in the draft, and while Coples is more imposing physically (6'6" tall and 285 lbs.) and looked completely unstoppable at times in the Senior Bowl, there are questions about his work ethic.
Right now, Coples is ranked above Mercilus on pure talent.
However, if Mercilus looks like a harder worker, some teams would be inclined to take him instead.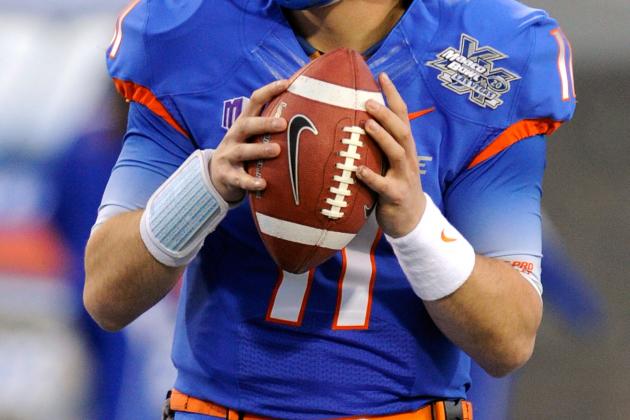 Ethan Miller/Getty Images

Here are the quarterbacks that would probably be better draft choices than Kellen Moore:
Andrew Luck
Robert Griffin
Ryan Tannehill
Russell Wilson
Brandon Weeden
Nick Foles
Case Keenum
Brock Osweiler
Kirk Cousins
Darron Thomas
Chandler Harnish
Ryan Lindley
Moore just doesn't have the ability to make it in the NFL. As great a college player as he was (and he was one of the best), that's all he is.
He had a pretty poor Senior Bowl.
His lack of arm strength was apparent and he wasn't as great a decision-maker as he usually is. He also only completed half his passes in his time under center. He hurt his stock, and as undersized as he already is, that might mean undrafted free agency.
Will he get signed by a team? Yes. Will he make a roster? Probably. Will anyone spend a draft pick on a guy who will be, at best, a career backup?
No.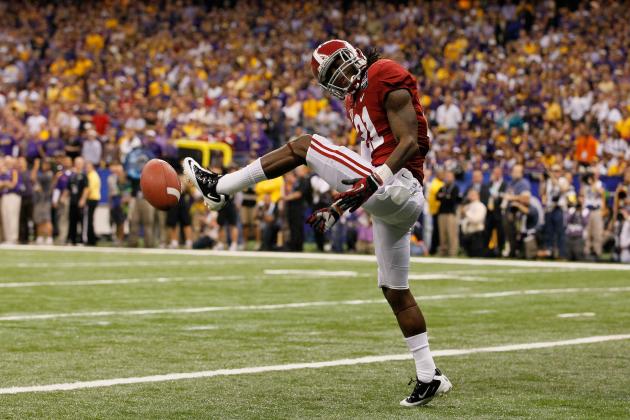 Kevin C. Cox/Getty Images

So he was caught smoking weed.
He was part of a National Championship-winning team; of course he's gonna celebrate. At 22-years-old, he made a stupid mistake.
In the grand scheme of crimes committed by football players, simple possession is pretty mild. There are plenty of general managers that know that.
Dre Kirkpatrick is tall, looked great in his final game and shut down quite a few receivers this season. He's a stud, plain and simple.
Alfonzo Dennard looked a little stiff in the Senior Bowl, and the next best corner is Janoris Jenkins (who's been arrested for weed a few times himself).
If those are the choices that a corner-hungry team is looking at, I don't see how they'd pick anyone but Kirkpatrick.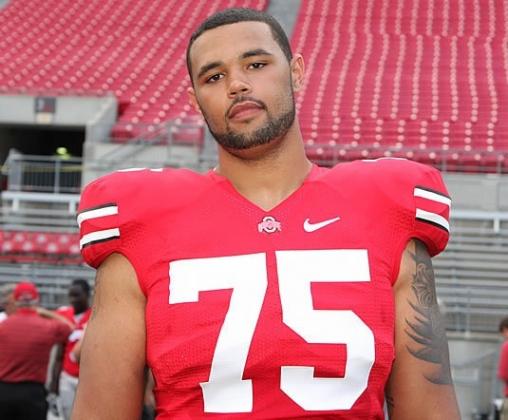 Mike Adams had a killer week in the Senior Bowl and the practices leading up to it.
In the actual game, he practically shut down both Courtney Upshaw and Quinton Coples. He may surpass Jonathan Martin as the third-best tackle in this class.
Yeah, he's got a little questionable tape but not much.
Whitney Mercilus lit him up in the regular season (but that's Mercilus, cut him some slack), and he gave up a few sacks here and there. But he was a second-round prospect before the Senior Bowl, so it's not a huge jump anyway.
Lots of teams need help at the left tackle position (the Rams, the Vikings, the Cardinals, the Bears, the Lions).
With so many teams needing his help, it wouldn't shock me to see him go as high as to the Chiefs.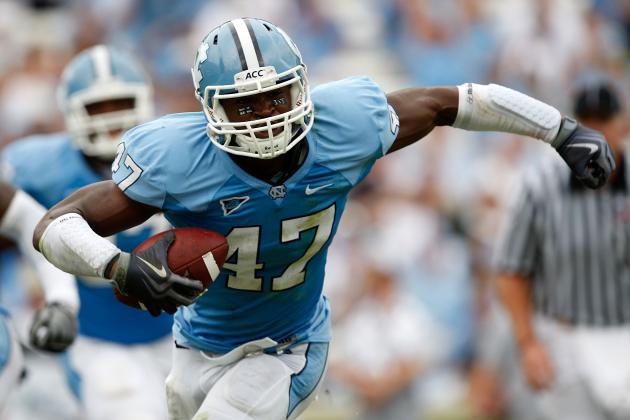 Streeter Lecka/Getty Images

Since it looks like a lot of offensive players will be taken in the first round (I see five receivers, seven offensive linemen, three quarterbacks, two or three running backs and maybe a tight end going in the first round), a lot of defensive studs will fall to the second round.
This is a pretty great class of corners and pass-rushers as well, so there's already a lot of talent on the defensive side of the draft.
Great players like Zach Brown, Kendall Reyes, Chase Minnifield and Nick Perry may drop out of the first round and reward the teams picking early in the second.
Teams that are picking early in the second round will have some great defensive players to pick from, and I wouldn't be surprised if nearly all the first 10 or so picks on day two were defensive players.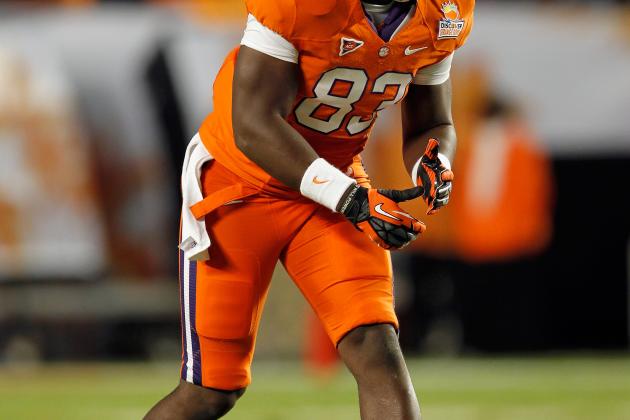 Streeter Lecka/Getty Images

The Patriots had a lot of success with both Rob Gronkowski and Aaron Hernandez this season.
New Orleans did the same with Jimmy Graham.
Green Bay's offense didn't utilize Jermichael Finley as much as I though they would, but he was still a critical piece.
The tight end position is becoming more and more important, and this season, you'll see a lot of tight ends go off the boards faster than you'd think.
The top of the class is undoubtedly Clemson's Dwayne Allen. He's a great blocker, tough to cover and has a high motor. I wouldn't be shocked if he snuck into the first round.
Then there's Georgia's Orson Charles, who led the team in receiving yards; there's Andrew Luck's second favorite target Colby Fleener; last, but not least, there's small-school standout Ladarius Green.
Between these guys and a few other talented tight ends, NFL teams will be picking a lot more tight ends than usual in the first two days of the draft.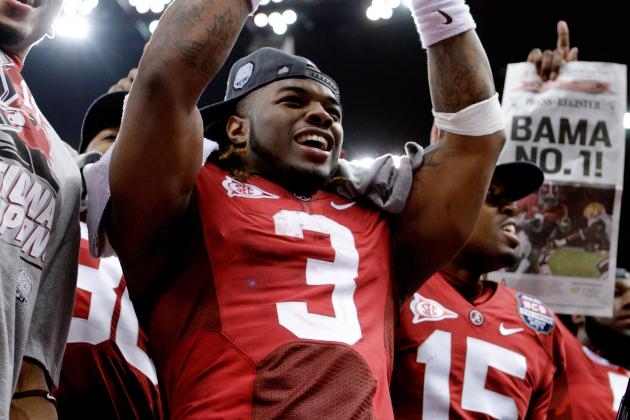 Andy Lyons/Getty Images

Teams that need running backs are not picking where Trent Richardson ought to be picked.
I usually mock him to the Bengals in mock drafts because that's the place that makes sense. However, that would be a far fall for a player most teams probably have in their top 10 on their big boards.
Because of this, someone is going to stop Richardson's fall down the draft board by trading up to secure him. If the Browns don't trade up to grab Robert Griffin III, then I'd be willing to bet they'll trade up to land Trent Richardson.
There's also the Bengals. They would love to take Richardson and happen to have two first-round picks.
They're probably my favorite team to move up and take him. That said, as far as picking the team that'll trade down goes, your guess is as good as mine.
Richardson won't fall past the top 15, even if all the teams in the 10-15 range are pretty set at running back.