WWE Royal Rumble 2012: Looking over the Event and Handing out Awards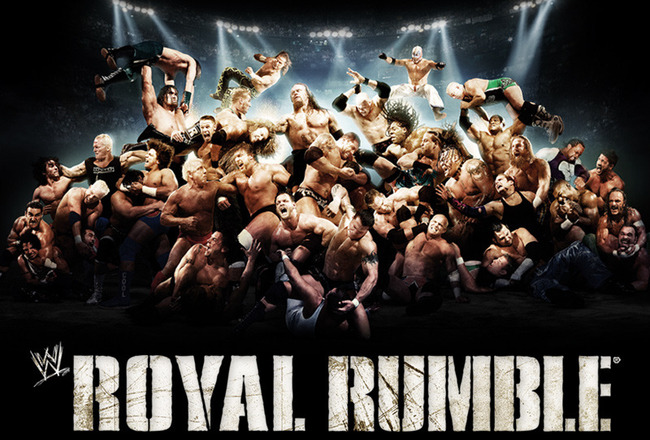 A sea of flesh and bone - also known as the Royal Rumble.

Welcome, ladies and gentlemen, to my third pay-per-view award ceremony!
After watching the Royal Rumble, I will be handing out different awards to the superstars and divas of the WWE.
The awards to be given out are:
Mark-Out Moment
Overachiever of the Night: This award goes to the superstar(s) in the undercard who put up a stunning performance.
Underachiever of the Night: This award goes to the superstar(s) who did not perform up to expectations, even if they had a good match. This award can go to any competitor, upper or undercard.
Superstar of the Night: This is a kayfabe award and goes to the superstar who had an all-around incredible night.
Butt of the Night: This is a kayfabe award and goes to the superstar who had the worst night.
Finishing Touch: This is awarded to the finishing maneuver that ended up having the most impact on the course of the show. The maneuver doesn't have to win a match to be considered, although that always helps.
Question Mark Moment: Simply, this is a moment that made me go, "Huh?"
Match of the Night
These awards are based on my personal opinion. If you disagree with some of my choices, feel free to leave a comment in the section below.
Well then, let's begin!
Mark-out Moment of the Night: Kofi Kingston's Sick Handstand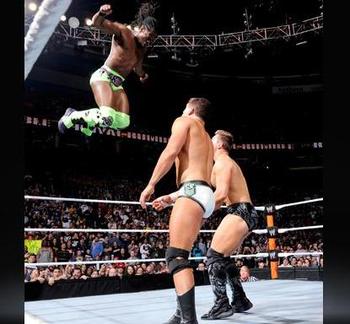 GERONIMOOOOO!
The Royal Rumble was tame this year.
The entrants didn't seem as carefully chosen as I expected, and I think that's because supposedly everyone was eligible to compete.
No matter–this Rumble was quite fun in some spots, and one of those spots was Kofi Kingston's amazing handstand to avoid elimination.
I was staring at my laptop screen, mouth agape.
The man just balanced himself on his arms, shuffled over to the steel steps and touched down to stay in the Rumble.
Of course, we knew he wasn't going to win. But it was a great spot.
And it gave the dude in the audience with the "Kofi Sucks" sign a reason to re-think that statement.
Close Contenders
The return of many competitors: Jim Duggan, Road Dogg, Mick Foley and Kharma.
Randy Orton hoisting the Big Show over the top rope for the elimination, without any help.
Cody Rhodes eliminating The Great Khali.
Overachiever of the Night: Cody Rhodes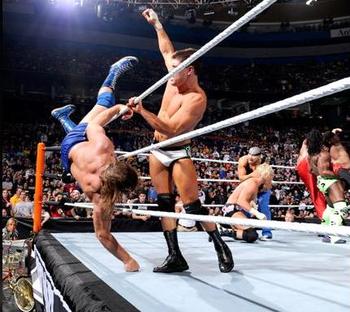 Goodbye, nostalgia. Hello, reality.
For the second pay-per-view in a row, Cody gets this award, and let me tell you why.
Cody Rhodes eliminated six people last night. Six people! Including The Great Khali.
That is amazing.
Cody Rhodes barreled through Mick Foley, Santino Marella, Jerry Lawler, The Great Khali, Booker T and Jim Duggan. This talented rising-star had the most eliminations in the Rumble match.
Oh, and he got to do a Beautiful Disaster! Heavens, I really love that kick.
Underachievers of the Night: The Divas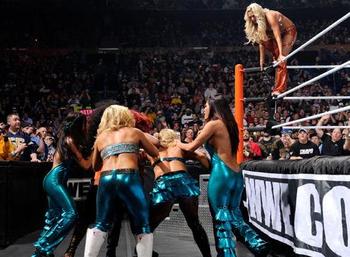 If I didn't know better, I'd say Vince didn't care about the Divas...oh wait...
Well, at least Beth Phoenix is back.
And she demolished Kelly.
It says a lot when the silver lining of your match was created by someone who only got to show her real stuff in the final seconds. Other than that, typical Diva's match.
On a side note, I miss Lay-Cool.
Superstar of the Night: Sheamus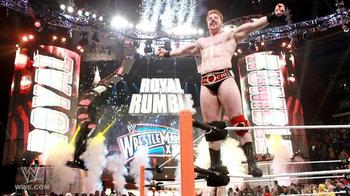 And on to Wrestlemania I go!
Now, I have been on a much-needed break from Bleacher Report, but from what I understand, people actually thought Chris Jericho would win the Royal Rumble.
To all those people, I say, "Ha ha."
I also understand that people are losing their bananas over the fact that Sheamus ended up winning the Rumble.
To all those people, I say, "Boo bloody hoo."
We moan and moan about how young talents don't get pushed. Then, when a young talent gets pushed, we moan some more. It is no wonder people classify us in the IWC as insatiable.
We have to understand that Jericho does not need this.
He is Jericho.
He will get by without another Rumble win. Of course, he made very vague hints at winning the Rumble. But that's all they were–vague hints.
Sheamus on the other hand has been on an amazing roll for months on end now; Vince has been setting him up for this.
To Sheamus, congratulations!
You are winner of the Royal Rumble and my Superstar of the Night–good on you, fella!
Close Contenders
Butts of the Night: Zack Ryder and John Cena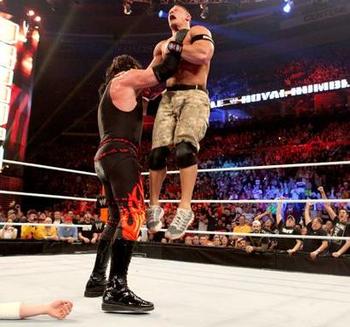 Why, oh why, does this remind me of Survivor Series and a certain electrifying move?
Zack Ryder hasn't had a very great start to 2012.
Unless you consider having a herniated disc, losing the United States Championship, getting chokeslammed at increasingly dangerous locations, taking a tombstone, missing two Z!TLIS episodes in four weeks and making your girlfriend cry a great start.
Dude, run away. Before Kane kills you.
For the second time in three pay-per-views, John Cena gets this "prestigious" award.
He was booed heavily by a great deal of the St. Louis crowd on Sunday.
During the match, he found it hard to mount any kind of offense, 'cos apparently, Kane's mask is the source of all demonic power. Then, he found himself disqualified, along with Kane, in a double count-out.
It isn't a loss, but it isn't exactly a win either.
He went on to eat multiple, stinging chair-shots that put him out of action long enough for Kane to deliver a tombstone to Ryder. And when he was able to get up, Cena runs straight into a chokeslam.
Not a very good night.
Close Contender
Finishing Touch of the Night: RKO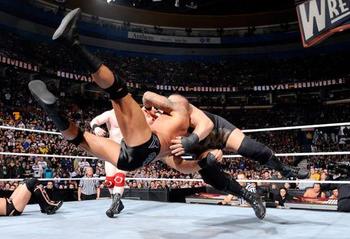 One word: sick.
This is the second pay-per-view in a row that the RKO gets this award.
Now, I've stated before that I'm not a big Randy Orton fan.
I prefer him as an outright heel.
That said, the RKO is one of the coolest moves to look at. During the Rumble, this move took out Wade Barrett and even the Big Show–I repeat, the RKO took the Big Show out of the Royal Rumble.
That's good enough for me.
Close Contenders
Brogue Kick
Glam Slam
GTS
Chokeslam
Tombstone Piledriver
Question Mark Moment of the Night: Drew McIntyre vs. Brodus Clay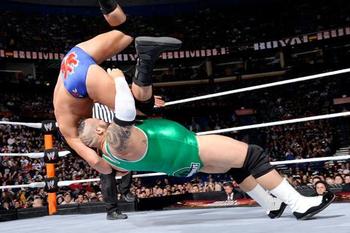 Because the night wouldn't be complete if we didn't get to see Brodus in tearaway pants. Sigh.
How long until people get tired of Brodus Clay?
Why does he have a precious pay-per-view spot when he has not had five matches since his re-debut?
What was the point of having a sixty-second squash on a pay-per-view when there are forums like Raw and SmackDown for that?
Did anyone notice that Brodus' entrance was about as long as the actual match?
Where are they going with this Drew McIntyre losing streak thing?
Teddy isn't stupid enough to actually try to fire McIntyre, is he?
What happened to the whole "Chosen One" thing?
Simply put...what?
Match of the Night: Sheamus vs. Chris Jericho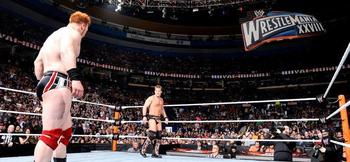 Round two...FIGHT!
I'm going to cheat a little bit here and call the epic confrontation between the final two in the Royal Rumble a match.
It was the best thing all night, in my opinion. It was intense, full of drama and had many close calls.
I had predicted Sheamus' win when it was just him and Jericho left in the ring–mainly 'cos of the massive push the Irishman has been enjoying for a while now.
After a hard-fought battle, a trusty Brogue Kick to the jaw sealed the deal.
I'm curious what Jericho will have to say about the meaning of his "end of the world" prophecy, and if it was directly tied to the Rumble.
No matter how he explains it though, you have to look at the result of this match, and realize that just because you say you'll win something–it doesn't mean you will.
Alberto del Rio said last year that it was his destiny to win the Royal Rumble, and he did.
An accurate prediction can't happen every year.
Close Contenders
CM Punk vs. Dolph Ziggler
The Big Show vs. Daniel Bryan vs. Mark Henry
And there it is, ladies and gentlemen—the Royal Rumble 2012 Awards. I hope you enjoyed this, and feel free to comment below. Let me know what you thought of the article and your opinions on the choices.
Thank you for reading.
And until next time, I am Jo-Jo, and I'm not that damn good.
Keep Reading