Kyle Watson: 'I Had to Pay a $40 Entry Fee for My First Fight'
January 31, 2012

After coming out on top in four consecutive bouts in smaller promotable organizations, Kyle Watson (13-7-1) found himself awaiting his Octagon debut.
Finally, after years dedicated toward one specific goal, Watson's dream of fighting in the Ultimate Fighting Championship finally came to a reality.
Watson found himself standing across the Octagon from Sako Chivitchian at The Ultimate Fighter season 12 finale with hopes of capturing the first win of his UFC career.
When the final bell came to a close after three grueling rounds, it was Watson's hand that was raised, allowing him to outlast Chivitchian via unanimous decision.
However, Watson didn't realize just one fight later that he'd be looking for a job elsewhere as he was released by the organization after a third-round knockout defeat to John Makdessi at UFC 129.
Watson recently shared his story with Bleacher Report's Garrett Derr as he will begin his journey back to the UFC when he takes on Juha-Pekka Vainikainen in the main event of the evening at Cage Warriors Fighting Championship Fight Night 3 in Beirut, Lebanon on Feb. 11.
Watson shared how his minimal interest in the sport of mixed martial arts escalated into a career during his time at the University of Illinois.

"I was originally from a really small town and they didn't have much to do there. There wasn't any mixed martial arts and I didn't really know what jiu-jitsu was at the time," Watson said. "I would eventually enroll at the University of Illinois, where I was able to spread my wings and try some new things."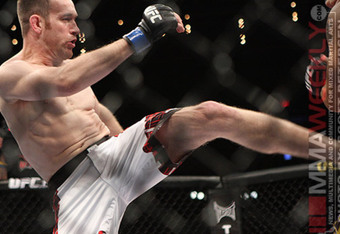 "I started training in a club that did kickboxing and a bunch of other MMA-related things. The coach introduced me to the jiu-jitsu coach and he just happened to be one of the best BJJ guys out there. I've been with him for 12 years now," Watson said.
Watson began his career looking to make ends meet but instead found himself having to pay out of his own pocket to fight.
"It's kind of a funny story. I made some phone calls and scheduled my first fight on Dan Severn's show in Indiana. I had to pay a $40 entry fee to even fight," Watson said, laughing. "And, that's how it all began."
Now, less than two weeks away, Watson will look to win his first post-UFC bout when he takes on more-than-a-mouthful Vainikainen at CWFC Fight Night 3.
"I think it's a great matchup, but I'm certainly not saying it will be easy by any means. It's a good style matchup. Everybody loves the striker versus grappler fight," Watson said. "If you take a look at his record, he has as much experience as I do."
"I anticipate it being a tough matchup. If you break down his past fights, he's probably not going to want to go to the ground with me. I know he's not going to. His strength is his stand-up but I don't mind standing with him. Of course, I'm going to try and put him on his back and submit him, but at the same time, I'm comfortable in his strength," Watson said. "That gives me the advantage."
A win over Vainikainen will be a step in the right direction for Watson as he attempts to make his way back to the highest stage in MMA today.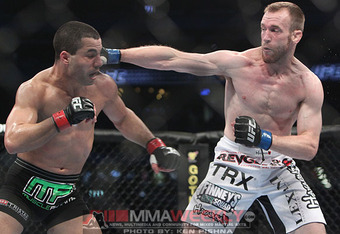 Watson has already proved he has the skill set and the ingredients to compete in the UFC despite only given two opportunities.
"I know in my heart that I deserve to be there. There are guys in the UFC that I can beat. I feel that my two UFC performances didn't really do me any justice. Following the fights I felt awful and was disappointed with myself," Watson said. "I didn't stick to the game plan so that's on me."
"My coach always tells me when the lights come on your lights can't go off, and that's what kind of happened in my UFC fights. But my goal right now is to win this fight. If I show a couple of exciting fights and the UFC brings me back, then I'll be happy," Watson said. "But if they don't, I won't be heartbroken because I had my shot."
While Watson may wish he could go back in time and do things differently, one thing that can't be questioned is his ability to finish.
"While I fought more not to lose than to win in my UFC bouts, I'd still say I'm a finisher. I'm always looking for a finish. Of my 19 wins, only two have gone to decisions," Watson said.
As Watson rigorously prepares for his upcoming bout against Vainikainen, his fellow lightweights Frankie Edgar and Benson Henderson will also continue in their preparations for their UFC 144 clash in Japan.
Watson encourages fans and viewers to keep their money in their pockets as their championship bout is one of the more unpredictable bouts of the year.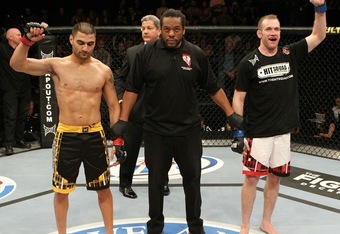 "I think every time Henderson has fought a tough guy I've counted him out. But, he always surprises me," Watson said. "I thought Jim Miller was going to beat him but he totally destroyed him like no one else ever has."
"He's one of those guys that I have to stop counting out. But, Edgar is so tough. I have to go with the champ on this one but I definitely won't be putting money down on it," he said, laughing.
While Watson certainly hopes to one day be fighting in the same position as Edgar and Henderson, he's more than thankful for what's hes accomplished up until this point in his career and those who've been by his side throughout the entire process.
"My jiu-jitsu coach Jack McVicker has always been my No. 1 guy. The big thing he's passed on to me was how to be a competitor and strive to be better," Watson said. "He's taught me balance and he's been a role model for the last 12 years of my life."
"My parents have also spent an unbelievable amount of time helping me become the man I am today," he said. "They've been there for a long, long time."
For additional information, follow Garrett Derr on Twitter.