Tampa Bay Buccaneers: 5 Things Greg Schiano Brings to Tampa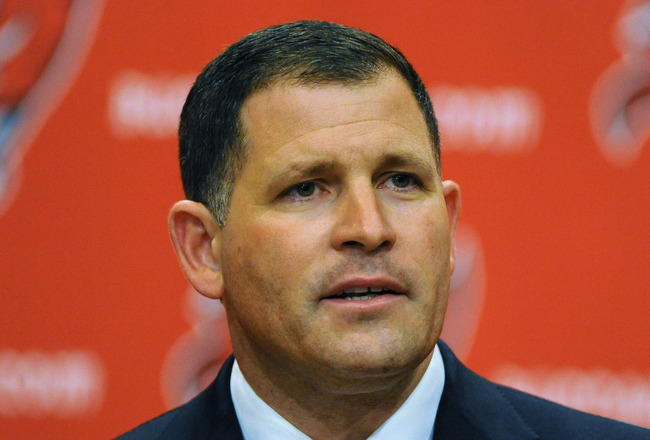 Al Messerschmidt/Getty Images
Since the initial reports that former Rutgers head coach Greg Schiano would become the man tasked with the burden of dragging the Tampa Bay Buccaneers back from the NFL doldrums there has been a varied reaction by the NFL and fan community alike.
Even considering his past as a college head coach, there is no absolute way to determine whether this hiring will go down as a boom, bust or absolute blunder by Buc management.
As we move forward, we all pose the question of, "What does Schiano bring to the table?"
Head Coaching Pedigree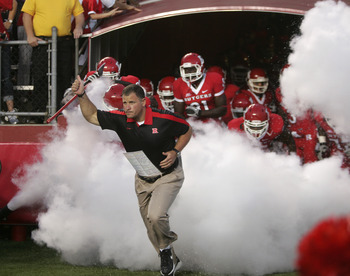 Rich Schultz/Getty Images
Noticeably lacking from the previous regime, Greg Schiano brings a wealth of experience at the position of head coach to the Tampa Bay area. Raheem Morris fell well short in that particular regard having never held the position of head coach at any level.
While it can be said that one cannot gain experience without being granted an opportunity first, Morris' sudden appointment three seasons ago could be likened to a secretary being promoted to CEO. The hiring of Morris was a knee-jerk reaction inspired by outside interest for the promising young coaching prospect, the firing of Jon Gruden and financial strain.
Schiano is something entirely different. No, there may not have been an abundance of coaches lining up at the doors of One Buc Place desperately clamoring for the opportunity.
But Schiano committed 11 years to Rutgers and in his last six went had a record of 49-28 (.636) with a 5-0 record in bowl games.
He Has Turned Around a Program Before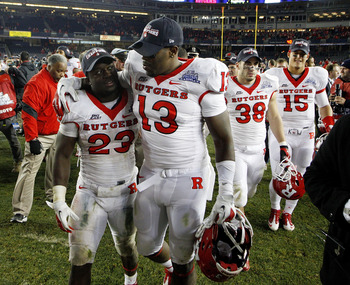 Jeff Zelevansky/Getty Images
Following success as the University of Miami's defensive coordinator, Greg Schiano signed on as Rutgers' new head coach in 2001. He inherited one of the worst programs in any sport across the country.
The then 35-year-old coach was tasked with making a team that had gone a combined 40-80-1(.331) over the previous decade legitimately competitive. After some immediate failings, Schiano finally managed a winning record (7-5) and bowl appearance (a 45-40 loss to Arizona State) in 2005.
The New Jersey-based university would go on to secure five bowl victories under Schiano's direction in his last six seasons.
Granted, he will not be given the same luxury of time following grave disappointment early on. But the man has turned around a much worse situation in the past.
The key difference is that he will no longer be attempting to sell his program with little national success to speak of to young men in search of glory but trading checks for talent.
Brings the Most out of Players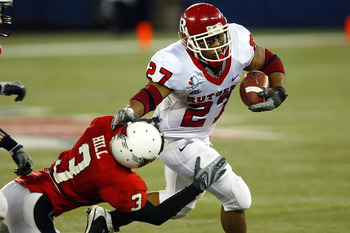 Dave Sandford/Getty Images
As alluded to earlier, Greg Schiano will no longer be limited by NCAA regulations and faced with the task of convincing the most talented prospects in the nation to choose Rutgers over more obvious national championship contenders.
Is Tampa Bay presently considered within the top free agent destinations? No.
But money talks and as things stand the Buccaneers have a whole lot of room to spend.
Now whether or not the Glazers actually are willing to spend is a different matter entirely.
The fact that Schiano was able to build a successful program in the face of competition—for talent—from the likes of Florida, Alabama, Oklahoma, USC and so on with meager resources at his disposal proves that the man knows how to work with what he has been provided with.
Having had a number of his Rutgers players reach the NFL level and coached such notable players as Dan Morgan (retired), Jonathan Vilma (Saints) and Ed Reed (Ravens), the man now in charge knows what he's doing.
A Winning Mentality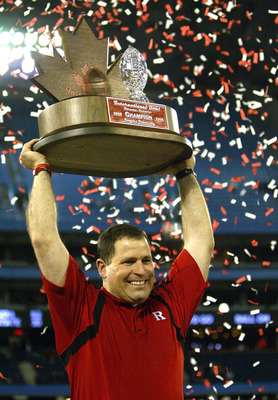 Dave Sandford/Getty Images
After a few woeful seasons in the early goings of the rebuilding of Rutgers, Greg Schiano never looked back—amassing 49 victories and five bowl wins over the six year span that followed.
He lodged an impressive .636 winning percentage in the last six years—only marred by an abysmal 4-8 performance over the 2010 season. However that disappointment can largely be attributed to the tragic injury of Rutger's defensive tackle Eric LeGrand who was rendered paralyzed from the neck down on October 16 vs Army.
Following the victory on that day the team would lose the six remaining games of the 2010 season after a 4-2 start.
The very next season, in what would be Schiano's last at Rutgers, the Scarlet Knights rebounded to 9-4 record culminating with a 27-13 victory over Iowa State in the Pinstripe Bowl.
Character
Patrick McDermott/Getty Images
Taking all factors into account "character," both considerably important yet more often than not tragically overlooked in the NFL, is the greatest thing Greg Schiano brings to the table.
Schiano chose to take on the head coaching job at Rutgers knowing full well how arduous the task was before him. After successive poor seasons, he stayed on to complete what he had intended in the beginning.
But what I believe typifies the man the most is that after reaching much acclaim in 2006, leading the Scarlet Knights to 11-2, reaching No. 12 in the AP, and recording a bowl victory, Schiano stayed. After managing success for a string of consecutive seasons he remained at Rutgers when many would have left for greener pastures anew.
He may have left Rutgers earlier than his contract had stipulated but there is no denying the man is loyal or at least more so than most in this business.
After taking the job in Tampa, one of his four children asked him "What about Eric [LeGrand]?" The former Rutgers player has become an important member of the Schiano household since his tragic injury in 2010. Schiano said, "I told the kid we'd bring Eric down to Tampa, he'll stay at the house and we'll turn him into a Bucs fan."
This is the sort of man that players look up to, respect and play for.
Keep Reading

Tampa Bay Buccaneers: Like this team?