Pro Bowl 2012: 7 Ways to Make the NFL's All-Star Game More Relevant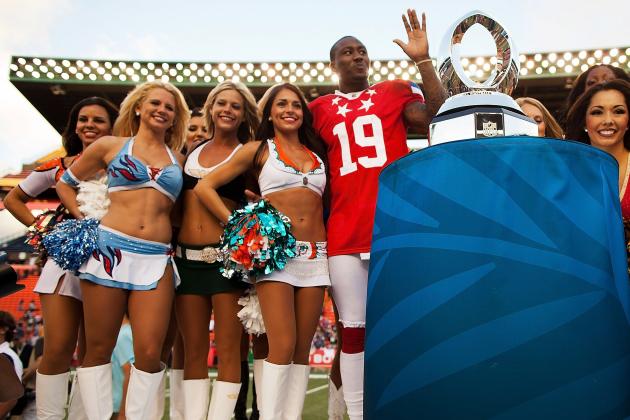 Kent Nishimura/Getty Images

The dust has settled on the 2012 Pro Bowl and there is one phrase that can appropriately sum up the general feeling regarding the event: ho-hum. Saying the game was uninteresting and unnecessary would be like calling Doritos delicious and irresistible. Tell me something I don't know, Captain Obvious.
The Pro Bowl is lame, let's face it. Sports writers and fans alike have been screaming for changes to the NFL's all-star exhibition for years. The 2012 version did nothing to change people's minds.
The last time I saw that many athletes dogging it was... the 2011 Pro Bowl!
You'd think dwindling TV ratings would force the NFL to reconsider this farce. Who can blame fans for tuning out. How many times can you watch a receiver haul in a fade pass over a defender that appears to be tying his shoes?
On the contrary, the league is set in their ways like someone who's eaten the same lunch everyday for 10 years and refuses to take a chance and try something new.
To quote Cris Carter, "C'mon man!" Change is scary, but sometimes it is necessary for survival.
Maybe this is the crux of the problem. The NFL knows that even if the Pro Bowl continues to be as competitive as a spirited shuffleboard match, fans will keep watching their product on Sundays.
For the NFL, that's really all that counts.
I know the NFL won't listen, but I have some ideas on how this game could be changed for the better. It needs to mean something. It needs to be reinvigorated and overall, it needs to entertain people.
Touchdowns and men hugging each other repeatedly can only go so far.
This version of the Pro Bowl needs to be given the Old Yeller treatment and be put out of it's misery—for it's own good.
Here are my ideas on how to improve the game and make it entertaining once again.
Begin Slideshow

»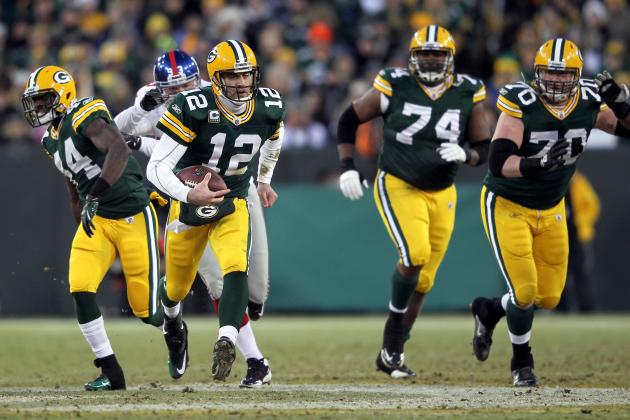 Jamie Squire/Getty Images
Most recent wild card team to win the Super Bowl
If the NFL insists on keeping the Pro Bowl format the way it is, then at least add some incentive. The players don't play hard and the game is as pointless as tires on a boat.
Take a cue from MLB and raise the stakes. After the disastrous 2002 tie game in Milwaukee, baseball added an incentive to win. The league that won the All-Star Game would win home field advantage in the World Series.
Since that time, the game has been played with increased competitiveness. Players actually run hard!
The NFL wouldn't have to award home field in the Super Bowl. Since it's only one game—not a series like baseball—that wouldn't be fair. The Superbowl is always at a neutral field anyway.
How about this one: The conference that wins the Pro Bowl gets one of the other conference's wild card spots. One conference would have three wild card teams while the other would have only have one.
Since it's inception in 1970, there have been six wild card teams that have won the Super Bowl. That doesn't seem too significant until you look at recent history. Since 2000, four wild card teams have won the ultimate prize. The Green Bay Packers in 2010 were the most recent team to do it.
The wild card is relevant and players would play hard for this advantage. That's incentive folks.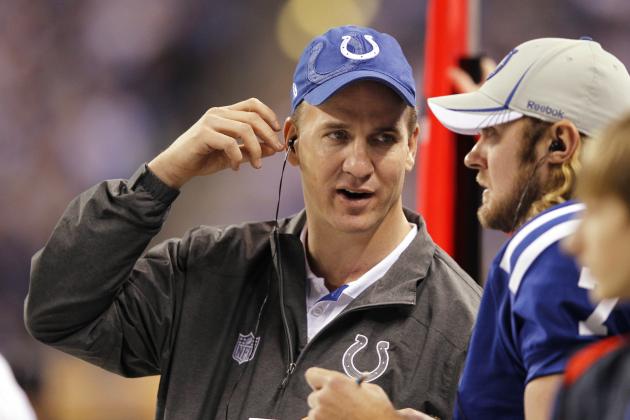 Joe Robbins/Getty Images

Here's a radical idea: Don't have NFL players play, let them coach. The NFL could make their Pro Bowl selections and from that pool of players select two coaching staffs.
The actual game could be played by anyone. Use your imagination, anything's possible—Canadian Football League All-Stars, upcoming NFL draftees hoping to improve their draft position, beer-league playoff winners or penitentiary all-stars like in The Longest Yard.
I know that last one would get major TV ratings.
Imagine Drew Brees calling offensive plays while Ray Lewis is firing up his defensive squad on the bench. I can just imagine Peyton Manning or Tom Brady throwing his headset down in disgust after his quarterback threw an interception; or Darrelle Revis screaming in the face of some poor cornerback who got burned on an out-and-up rout.
Fun stuff. You know people would watch.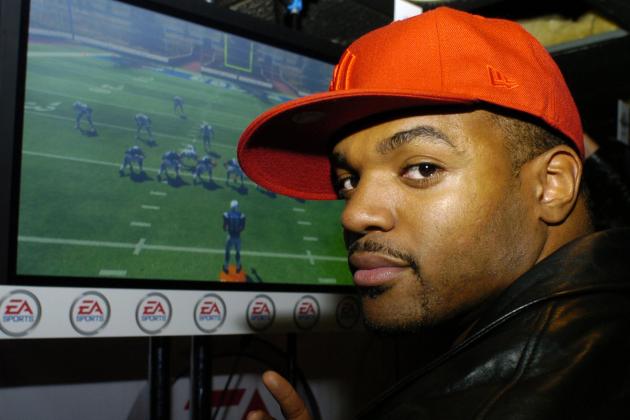 A. Messerschmidt/Getty Images

No, I'm not mentioning the EA Sports video game franchise simply because I like the name. I may or may not have once claimed that John was my uncle in order to gain free entry into a sporting event, but that has nothing to do with this article.
The Madden NFL franchise has become more than just a video game. It's a cultural mainstay much like the NFL itself. In fact, according to this article, much of how the NFL looks on TV today was influenced by the game.
Fans and NFL stars alike share their love, and often obsession, with the game. NFL'ers clamor to see how good their video game doppleganger is. If it doesn't measure up to the real thing, complaints are filed.
It's been done before. The Super Bowl has a Madden NFL simulation of the game prior to kickoff.
I'm talking about something new though. Here are a few ideas.
1. Have contest winners compete in a Madden NFL playoff prior to the Pro Bowl. The gamers that make it to the championship get to be offensive coordinators in the Pro Bowl. Using plays taken from the game, they run the offense. The gamer on the winning team gets tickets to next year's Super Bowl.
2. Have the NFC and AFC select their best gamer to compete in a Madden NFL showdown. Each player makes a crazy wager prior to the game, ala ESPN's Mike and Mike, and the loser has to pay his debt at halftime of the Pro Bowl. Hilarity ensues!
3. Have two lucky gamers play a simulated Pro Bowl while the real game is going on. If the gamers' combined score is greater than the score of the real game, they split a million dollar payday.
Must see TV baby!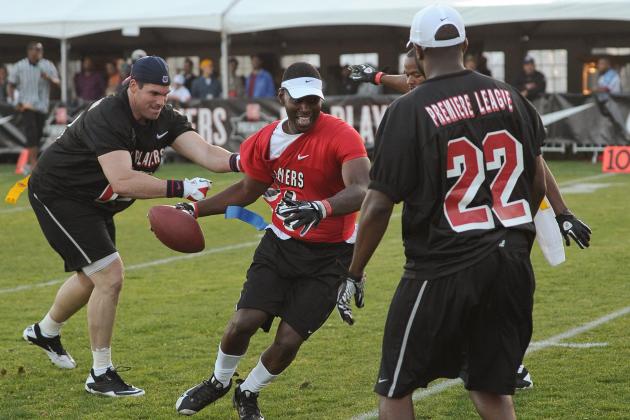 Noel Vasquez/Getty Images

The NFL already has a youth flag football league, so why not incorporate these rules into the Pro Bowl. There's just as much hitting and tackling in Pro Bowl football as there is in flag football. Let's just take it to the next step.
The number one reason the game is so unwatchable is that players aren't playing hard. The reason for this is simple: no one wants to get hurt.
True, nobody wants to see a star player go down with a serious injury during an all-star game; but this is professional football people! The Detroit Lions lost promising rookie Mikel Leshoure for the season during the first week of training camp. NFL athletes have been injured Q-tipping their ears and playing paintball, for goodness' sake. Injuries happen.
That being said, football is a violent sport. It doesn't lend itself to friendly exhibitions. No matter what you do, it will be an inferior product without the intensity.
So the NFL needs to give a little to get a little. Play the game with flags. Take out the hitting and the tackling. Lessen the chances of serious injury. Maybe, just maybe, the players will play harder and the game will resemble a competition.
The move to flags has another advantage too...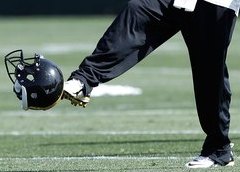 Despite the immense popularity of the NFL, its athletes are only recognized slightly more than your average NHL player.
Outside of Tom Brady, Peyton Manning and a handful of superstar quarterbacks, the average NFL fan probably couldn't pick NFL players out of a lineup.
Why? Here are the main reasons. The NFL markets teams, not players, and players wear helmets with masks that obscure their faces. When players do something to try and bring attention to themselves—remove their helmet on the field or perform elaborate end zone celebrations—the NFL penalizes them.
That's all fine and dandy, but why don't we give fans a chance to meet their favorite NFL star face-to-face.
If the game were switched to a flag football format, the helmets would be removed and we'd get to see what the athletes really looked like.
This would not only make the game more interesting, it would improve the TV ratings too. Fans would tune in to get a good look at their favorite NFL star.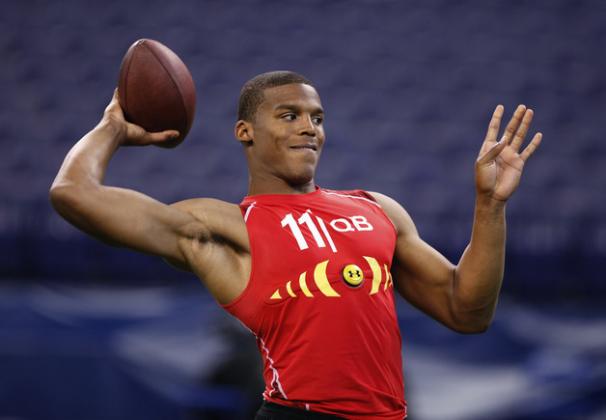 This suggestion has been made by people for many years. It's not a new idea. Regardless, it was a great idea then and it's a great idea now.
The NFL only needs to look at every other major sport to see how valuable a skills competition is to an all-star game weekend.
The NBA, NHL, and MLB all have versions of it.
For the longest time, the NBA had the dunk contest and the three point shoot-out. Then those contests started to lose their luster. What did the NBA do? Stay put and keep shoving a stale product down our throats? No, they listened to their fans and added The Skills Challenge and The Shooting Stars Competition.
The NHL has their Skills Competition and the MLB has the Home Run Derby.
What do all of these examples have in common? They're all relatively new additions to each leagues' all-star festivities, and they've all been rousing successes.
How would it translate to the NFL? There are hundreds of directions they could go. To name a few—competitions for the NFL's fastest man, best hands, hardest thrower and most accurate quarterback.
They could do an obstacle course to determine the most agile running back.
The most interesting could be a h-o-r-s-e competition for kickers in which they try to beat their opponent using trick kicks.
These are just a few ideas. The NFL's creative; they can come up with something.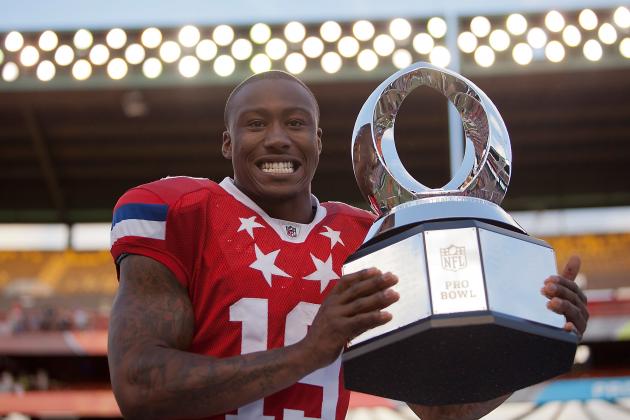 Kent Nishimura/Getty Images

It is a great idea to select the best players in the NFL at every position. However, it is not necessarily a great idea to make them compete in a football game as an award.
The Pro Bowl should simply be an end of the year award, akin to the Silver Slugger Award in baseball.
Awarding NFL players with having to play in another game—after they've just finished a treacherous regular season—is like somebody winning a hot dog eating contest only to find out the prize is another dozen hot dogs.
It's the last thing they want to see.
Why do you think we see so many players opt to sit the game out due to injury or family reasons. They still get the notoriety of being a Pro Bowl selection, but don't have to play in the game.
So the NFL should embrace that idea. I think an NFL player would be much more eager to get a Pro Bowl trophy and the opportunity to compete in a skills competition, then to play tackle dummy with Ray Lewis and Von Miller for four quarters.
It's a lot more fun and you're not as sore afterwards.