2012 NHL All-Star Game: Breakaway Competition Should Have Judges
January 30, 2012

Christian Petersen/Getty Images
While I was impressed by the skills and creativity of the Breakaway Competition this past Saturday, I just think that the winner was not who it should have been.
Patrick Kane was very impressive in terms of his preparation before the competition, making sure that he involved the crowd in what he was doing. The Clark Kent/Superman move was enjoyable to watch and had the crowd on the edge of their seats.
I was amused by the exploding puck as much as the next fan, and it was pretty funny that none of the pieces really ended up in the net. However, my reaction was different when the voting revealed that Kane had won the competition.
I really thought that there should be some sort of value given to moves that were actually pulled off well enough to result in goals. That should be a guideline to prevent people from winning if they are just completely clowning around.
For example, if Patrick Kane happened to be in a shootout, then none of his moves would have counted. His puck-under-the-glove move was pretty, but it was like a kid cheating in a pickup game when he is down a few goals. The exploding puck also avoided any chance for the goalie to stop Kane.
On his first attempt, his stick-handling effort was stopped. One wonders why he even bothered trying if he was just going to try to steal the competition by doing a bunch of tricks.
When the voting came back, I was shocked that Kane won. I would have taken Corey Perry personally, but apparently taking out a small stick and deking with it wasn't creative enough. Also, picking up the puck like a lacrosse player is not impressive enough, and how many times you hit the twine obviously has no impact upon your vote.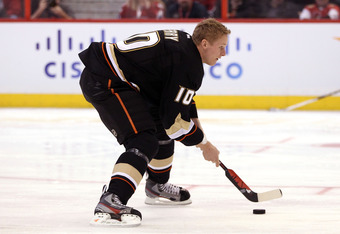 Christian Petersen/Getty Images
I would have rather seen Couturier or Tavares win because at least they were trying to put the puck behind the goalie legitimately. Patrick Kane's effort almost felt like a cop-out so that he wouldn't look bad.
So I think that the time for fan voting in this competition should end now. Let them have judges like the NBA slam dunk competition. Also following in the tradition of the dunk competition, you should have to score (legitimately) in order to get a qualifying score. Moves that cannot be completed may look nice, but no one will remember them.
Fan voting also guarantees that a well-known player will win. If Alex Ovechkin was in this contest again, he could flop on his belly without a stick or a puck, and people would still vote for him. Maybe it seems like I'm being hard on Kane, but this is a contest without clear rules.
If it is just a comedy show, then why should people even try to score?