For Eli Manning, a Super Scar on Super Sunday
January 30, 2012

Ezra Shaw/Getty Images
It's amazing how quickly we forget disgraceful opening acts. Celebrate those whose arrogance knew no bounds on day one. Cherish those who entered the NFL too scared to play anywhere, and too naïve to look in the mirror. 
But for those like Eli Manning and the New York Giants, who refused to play fair on draft day, the Super Bowl is a super time to hand down a fair sentence.
On Super Bowl Sunday emblazon Manning with scarlet letters. Stitch a "DD" patch for draft dodger on his jersey to discourage players and teams from founding teams on selfishness. 
Tell the world: "Never Again."
A more hopeful and exciting day than the draft never existed in professional sports. It's a day where past hardship pays off. Where the worst of the worst get first shot at getting better. 
A day designed to ensure parity by getting the best young talent into the hands of those less fortunate.
But from time to time the opportunity for unbelievable riches and excitement isn't enough for a young athlete. Faced with an opportunity to show great character, the athlete falls on the sword of cowardice instead by refusing to sign with the first team eligible to draft him.   
And so I say, mark him.   
Tattoo his jersey with letters befitting his conduct. 
Force him to bear the scarlet patch of the draft dodger—a "DD." And do it at the Super Bowl, where the attention accompanying the player's success will highlight the embarrassing penalty.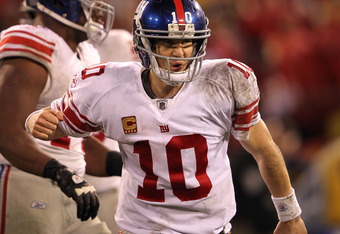 Jamie Squire/Getty Images
To describe Eli Manning and the New York Giants once without mention of their draft day sin is blameworthy. To let them enjoy repeated success without remembering is tragic and counterproductive.
The NFL promotes Eli Manning nonstop. Fans celebrate him as a Super Bowl champ. And the media—it's falling all over itself praising Manning's guts and grit and heroics. 
But Manning was a draft dodger. The worst of all time. His dad, Archie, and the New York Giants helped him orchestrate the most deplorable self-promoting attack on the draft ever seen.  An attack that forever changed the fortunes of at least the San Diego Chargers and the New York Giants.
Bad karma may be what they deserve, but this second Super Bowl appearance for Manning and the Giants only cements the truth—they punked the NFL, pissed on parity, and came out smelling like roses. 
Which is why a Super Bowl patch is necessary.    
Simplicity would be the patch's greatest virtue. It wouldn't restrict play, inhibit performance, or in any way deprive Manning and the Giants of an opportunity to succeed on the field. It would be fair in that respect.
But it would also embarrass in the fairest of fashions. 
Super Bowl photos, advertisements, and video highlights would henceforth tell the whole story.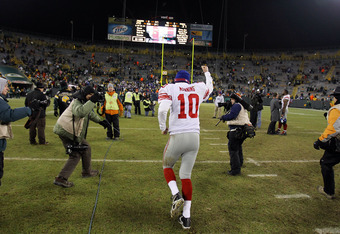 Jonathan Daniel/Getty Images
And in a league with more uniform restrictions then a Catholic grade school, the simple patch would jump off the jersey as a memorable reminder of what not to do.
The jersey's scar would also let fans judge its importance based on their own tastes and beliefs. A New York Giants fan might use Eli Manning's patch as a driver to teach contract negotiations. A San Diego Chargers or San Francisco 49ers fan might use it to teach character and honor.
The problem with the current state of affairs is that the NFL and television networks have an incentive to celebrate and promote Manning and the Giants for money's sake. And that's understandable. 
But it too often means forced ignorance of past misconduct. Rebranding of images from year to year based on charitable donations and good deeds off the field. 
None of that is bad, mind you, and I don't begrudge Manning and the Giants the right to remake their images. If Manning wants to donate to a children's hospital, he should do it.
But certain offenses can't be remedied so easily. One is draft dodging. Its effects linger for decades and open wounds that aren't easily healed by off-the-field actions.   
Manning should be playing in San Diego right now. And if he's the difference-maker everyone says he is, it should be the Chargers playing in the Super Bowl this year, not the Giants.
So while we can forgive the draft-dodging Manning, we should never forget what he did. Forget how it changed the course of two franchises.
It's only fair. It's only a patch.
Bob Firpo is an attorney and sports and outdoors writer.  He lives in Boise, Idaho.  Follow him @knockingitout.