Super Bowl 2012: How Tom Brady Could Cement His Legacy as the Best QB Ever
January 30, 2012

Donald Miralle/Getty Images
New England Patriots' quarterback Tom Brady will make his fifth Super Bowl appearance Sunday, tying John Elway for the most all-time among quarterbacks. A Patriots win would give Brady four Super Bowl rings, tying Joe Montana and Terry Bradshaw.
But would a win over the Giants in Super Bowl XLVI solidify Brady's status as the greatest quarterback in NFL history? The answer may surprise you.
Before we can declare the greatest ever, we must determine the best metric(s) to compare quarterbacks. How does one measure success among NFL signal-callers? By passing yards and completion percentage? By touchdowns and interceptions? By wins? Super Bowls?
A combination of these is likely the best option, but it's not that easy. Do we compare (for example) total passing yards? Or do we compare on a per game basis? And how do we compare quarterbacks from different eras?
Given everything that must be considered, it's easy to see why this is one of the great debates among football fans.
Let's dig in.
Brett Favre owns the NFL record for career passing touchdowns (508) and passing yards (71,838). By those standards, he's the greatest quarterback ever—and it's not even close.
Tom Brady is tied for fifth in career passing touchdowns (300). For him to catch Favre (and assuming Favre doesn't make another comeback), Brady would need to sustain his career pace (of 1.86 touchdown passes per game) for approximately seven more seasons. Brady is 34. He'd have to play until his age-41 season (Favre retired after his age-41 season). It's not likely to happen.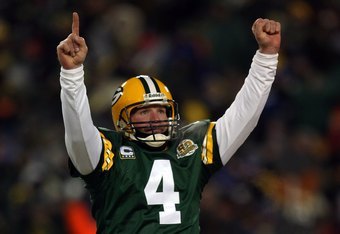 Jonathan Daniel/Getty Images
Perhaps even more mind-boggling: The difference between Favre (the all-time passing yards leader) and Marino (second on the list) is 10,477 yards—which is greater than the difference between second and fourth on the list (9,886 yards).
The difference between Favre (71,838 passing yards) and Brady (39,979) is 31,859—approximately Kurt Warner's entire 12-year career (32,344). For Brady to catch Favre (assuming he sustains his career pace of 248.32 passing yards per game), he would need to play for approximately eight more seasons. That would put Brady into his age-42 season. Again, probably not going to happen.
In addition to Favre, there are four quarterbacks (Dan Marino, John Elway, Peyton Manning and Fran Tarkenton) who rank ahead of or are tied with Brady in career passing yards and touchdowns. (Elway and Brady are tied with 300 touchdowns). Despite this, Brady has proven to be much more efficient, posting higher per game totals. Manning, however, not only leads Brady in career passing yards and passing touchdowns, but he has higher per game averages, too.
Drew Brees is the all-time leader in passing yards per game (264.6). Manning is a close second (263.6). Marino is third (253.6), followed by Brady (248.3). Favre ranks fifth (237.9), slightly edging out Dan Fouts (237.8) and Warren Moon (237.1).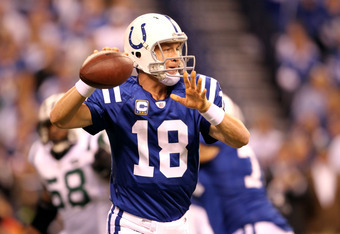 Andy Lyons/Getty Images
Manning is the all-time leader in touchdown passes per game (1.92). Brady is second (1.86). Among the group, Brees (1.82), Marino (1.74), Favre (1.68), Tarkenton (1.39) and Elway (1.28) follow.
What does all this mean? Let's recap.
In terms of total passing yards and passing touchdowns, Favre is— by far and away—the greatest ever. On a per game basis, however, Manning comes out on top, followed by Brady, Brees and Marino.
Career interceptions leaders? You guessed it. Favre (336) sits atop the list, followed by George Blanda (277). Tarkenton (266, fifth), Marino (252, eighth) and Elway (226, 14th) aren't far behind.
Measuring interceptions on a per game basis paints a much clearer picture. Brady is the all-time leader (0.71 interceptions per game), closely followed by Montana (0.72). Manning and Brees (both 0.95), Elway (0.97), Marino (1.04) and Favre (1.11) are much further down the list.
Next up: career wins. Favre owns the NFL record (186). Brady is tied for fifth on the list, with 124.
Winning percentage is a much different story, however. While Favre's win total is a product of his longevity, Brady has been more efficient—much more efficient. Favre's 186 wins came in 302 games (61.6 winning percentage).
Brady's 124 victories have come in just 161 games, good enough for a staggering 77.0 winning percentage, the best—by far—in NFL history. Among the top 10 in all-time wins, Peyton Manning has the second-highest winning percentage (67.8).
As we break the numbers down on a per game basis, Manning and Brady are among the best of all time. While the Colts' quarterback leads in passing yards and passing touchdowns per game, Brady boasts a much better interception rate and winning percentage.
It's important to point out that Manning and Brady are playing a game very different than the one Marino, Elway and Montana played. But should that diminish their accomplishments? No.
It's no secret the NFL has become a passing league. Teams are relying on their quarterbacks' arms now more than ever. How would the likes of Marino, Elway and Montana fare in today's game? Very well, probably. But Manning and Brady are outperforming them. It's a fact. And because of that, I'm willing to say they're better than their predecessors. Will their entire body of work match up? Only time will tell.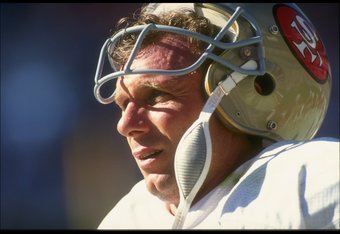 Mike Powell/Getty Images
Perhaps, the most important factor of all I have yet to mention: Super Bowls. And more specifically, Super Bowl wins. After all, the Lombardi trophy is the ultimate goal. If we use this as a measuring stick, Bradshaw and Montana (four Super Bowl wins each) are the greatest quarterbacks of all time, followed by Brady and Troy Aikman (three each).
So what if Brady wins No. 4? How would he compare to Bradshaw and Montana? Or Manning, who we determined to be the best in the regular season on a per game basis? This is where things get interesting.
In four Super Bowl appearances (all wins), Bradshaw completed 58.3 percent of his passes for 233 yards per game. He also threw nine touchdowns and four interceptions, while receiving MVP honors twice.
In Montana's four Super Bowl appearances (all wins), he completed a whopping 68.6 percent of his passes for 285.5 yards per. He threw 11 touchdowns and not one interception. Montana is the only three-time Super Bowl MVP.
In Brady's four Super Bowl appearances (three wins), he's completed 64.5 percent of his throws for 250.3 yards per. A seven-to-one touchdown-to-interception ratio and two Super Bowl MVPs puts Brady in position to pass Montana as the most prolific quarterback in Super Bowl history.
With just 156 passing yards, Brady will pass Kurt Warner as the Super Bowl's career leading passer. And with four touchdown passes, he'd tie Montana for the career lead with 11. That would undoubtedly result in a third Super Bowl MVP.
Given the same number of Super Bowl wins, passing touchdowns and MVPs, Montana and Brady would stand together as the greatest quarterbacks in Super Bowl history.
But how do the two compare in terms of regular season stats?
In 31 less games, Brady has 27 more passing touchdowns, and just 572 less passing yards. Brady owns the better interception rate (0.71 per game to 0.72), and the much better winning percentage (77.0 to 60.9).
A fourth Super Bowl win for Brady would undoubtedly close the slight edge that Manning (one Super Bowl win in two appearances), holds in terms of regular season stats.
For those who value longevity (and thus favor Favre and Marino) consider this: Brady is under contract through 2014 (three more seasons). If he plays all three seasons at his current passing yards and touchdowns pace, he'll rank fourth all time in both passing yards (51,898) and passing touchdowns (389).
And by then, who knows? Maybe, he'll be the only quarterback in NFL history with five Super Bowl rings. Not that he would need it. Because in my mind, a fourth Super Bowl win would cement Brady's legacy as the best quarterback in NFL history. 
Nick Kappel is enrolled in the B/R writing program. He is the founder/editor of FantasyBaseballInsiders.com. Follow him on Twitter: @NickKappel