Kevin Garnett, Boston Celtics Still Have 'It'
January 30, 2012

Elsa/Getty Images
What has happened over the last few years? What happened to the next chapter in the storied Boston Celtics dynasty?
A few years removed from the first championship of the new millennium came their sophomore slump, and, to some, this year saw the latest end to the storied Lakers/Celtics reign thanks to the Miami Heat and Dallas Mavericks.
Is this a glitch in the matrix? Or, are the Celtics simply not the team they were a few seasons before?
Has too much been read into this Boston team? Or, was last year just a hiatus from the top?
Are these guys too old? Has the baton of Eastern Conference dominance now been handed to a new big-three in Miami? Or, is this fab four about to be famous for the dynasty they tried to make?
The primary reason the Celtics only made it to the Eastern Conference semi-finals the year following their championship run was due to the loss of Kevin Garnett to injury.
Garnett was more than just a catalyst of these new Celtics when he was brought over in 2007—he was the big ticket that booked Boston's place in the NBA Finals.
Without 'Da Kid,' the Celtics more than likely wouldn't have even made it to the NBA Finals, let alone win it.
Let's face it, not many people were excited about the Celtics until KG was brought in. When Ray Allen was traded for, the idea of him playing alongside Paul Pierce wasn't screamed from every Boston rooftop.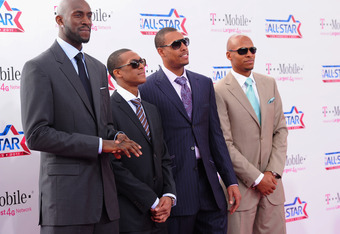 Alberto E. Rodriguez/Getty Images
Once Garnett signed, however, the rest was NBA Finals history as New England scored and remained hoarse.
So, for the Celtics to even think about contending for another championship again next season, they need Garnett healthy and ready to go.
Ever since injuring his knee, for the first time in his career Garnett's name was surrounded with doubt and questions. To go along with his diminishing age (35) and numbers (13.5 points and 7.5 rebounds), critics are already trying to call time on his career, or at least his prime.
More questions are being raised, like the expectation of his jersey to the rafters. Is he still be the Big Ticket? Or, has he been stubbed? 
Still it's the reason that Garnett's number 5 will be retired here that means that this ceremony in Boston will be awhile off yet.
Garnett is a die-hard, retire-later, passionate, big-time player. He's far from done.
A blown knee or later years aren't about to change that. Everyone who doubts 'Da Kid' has reason for concern, but they seem to forget that the guy their doubting is Kevin Garnett, one of the greatest of all time.
He's one of the best forwards of the new millennium. The franchise player, the difference maker, the man. He screams when others shout, he bleeds when others sweat, he gives more when everyone else gives in.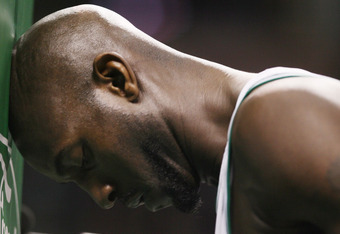 Elsa/Getty Images
Injuries are injuries, however, and age is aging is inevitable.
Guys like Greg Oden, Jason Kidd and Tracy McGrady know about this.
These guys may be some of the best players in the league right now, but they all have a high-profile injury history. Who would blame anyone if they hesitated to consider these player?
A knee injury is one of the worst injuries an athlete can suffer, no matter the severity. Rehabilitation takes a long time, and it's easy for a player's condition to relapse and for the injury to flare up again.
That's just the lucky players; a lot of guys never come back from an injury this bad. Most players can kiss goodbye to their hops, form and maybe even their contracts. Still Amar'e Stoudemire and a certain kid from Boston have proved otherwise. 
So, it really is little wonder that people doubt whether KG is—or ever will be—the player he used to be before the injury, when he was younger?
However, it can't be denied that at full fitness and full health there really is nobody like Garnett. It's easily forgotten that KG can play all five positions. Clone this dude five times and you can put the Lakers debate to rest.
This guy is still as crazy as when he entered the league as a skinny kid with a high top fade back in '95.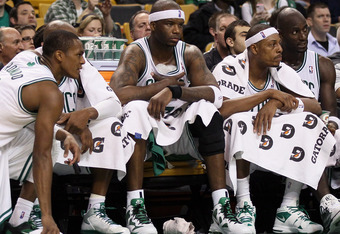 Elsa/Getty Images
Look at how he dominates guys like Pau Gasol and bullies others. Look at the All-Star selections. Look at the post-moves, the shot selection, the dunks and the blocks.
He does it all at the highest level.
He's still slight but muscular, so strength's no problem. He's been a mismatch problem his whole career. He pioneered the big small forward position which guys like Lamar Odom and Anthony Randolph are now using to their benefit and to their teams' advantages.
Injuries, whether chronic or career-threatening, can never really be generalised. The outcome of a player recovering from injury is really judged on a case-by-case basis. For every Jason Kidd, there's a Penny Hardaway.
Sometimes, if a player is determined enough and works hard enough, they can overcome their injury and return to form.
Garnett's never-say-die attitude and amazing work ethic puts him in the company of people like Grant Hill as opposed to guys like Derrick Coleman.
The unfortunate thing that comes with serious injury is the annoying doom-and-gloom label.
Kevin Garnett is the type of guy that would rather go find his own luck then be a fatalist. He has rebounded from his injury as well as he does in that statistical category, and he still scores big, even if critics and former fans are trying to box him out.
So, Garnett's not about to give up this easily on his health, his years or his team.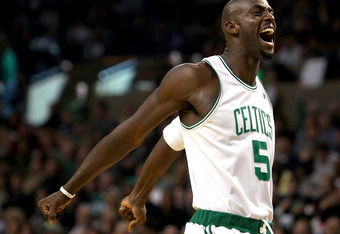 Elsa/Getty Images
So why are people giving up on him?
Critics may not be out for the Big Ticket's number, however, Garnett seems to be getting quietly dismissed. Why should he? Garnett is still amongst the top players in the NBA, and his franchise is still around the top, too.
He is one of the most effective players in the League. With career averages of 19.4 points, 10.7 rebounds, 4.1 assists, 1.3 steals and 1.5 blocks per game, KG is as versatile as they come.
The numbers don't lie, even if the injury lists shed doubt.
The one thing about Garnett that can never be measured statistically is his invaluable heart and passion. His competitive, but fair natured. His desire is to win, but he has respect for the game. He's a professional, but an unyielding warrior.
It was heart-breaking for Boston fans to have seen Garnett in a suit at the end of Boston's bench during their most critical run in the late season and in the playoffs of 2009. He looked as disappointed as a veteran who still had some game left in him but was placed on the injured reserve list.
He was behind his team, but he wanted to be leading them.
His Celtics weren't at their full potential then. But, when they are these days, they're almost impossible to beat. Ask anyone. Years after overcoming all of this, do you really think Garnett's in the mood to give up?
This is the same man who fought back tears after being interviewed about losing in the Minnesota years. He is a winner, he won't give up.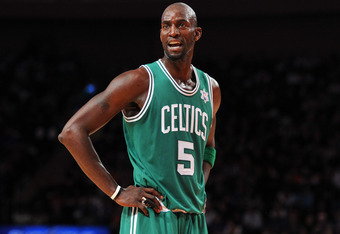 Christopher Pasatieri/Getty Images
He can't give up.
Garnett doesn't belong on the sidelines in a suit; he belongs on the court in uniform. He belongs in the game yelling, pumping his fists, tugging his jersey, headbutting the bottom of the basket and hitting his chest, head or anything that helps psyche him and his team up.
Garnett's team needs him yelling on the scoreboards video at the start of the player introductions because he sets the tone.
It's Garnett's aforementioned heart and passion that denies this competitive fire from being doused.
It's this heart and passion that has kept him working all these years when there was no light at the end of the tunnel.
It's the same heart and passion that helped him get through all those years of losses in Minnesota.
It's his soul that helped him overcome the Stephon Marbury trade and the utterly tragic death of his idol—and one of the most underrated talents in the NBA—the late, great Malik Sealy.
If you watch the video KG, you can see just how much this still hurts him and how much he carries Sealy's name with everything he does. A true man, team-mate and friend himself, Garnett is all heart.
It's the same heart and passion that will help him keep the Celtics and his window open in what some see as the Winter of their reign.
When others sleep Garnett will be on the beach, meditating and working out from dusk till dawn and until the gym opens for him to be the first to enter and last to leave.
Now that's amazing. Now that's dedication.
Next year, once again, he will come back stronger and more focused then ever.
Do not count out the Boston Celtics just yet, and definitely do not count out Kevin Garnett.
Throughout KG's career, his passion, dedication and work-ethic have made him the epitome of the old "Blood, sweat and tears" saying.
Just remember the emotion when Michelle Tafoya interviewed Kevin after he won his first championship.
The words he struggled to get out through tears and the joy shown in the pumps of his fists. That night Kevin had finally achieved something that had eluded him for so frustratingly long. It was clear to see it was everything he dreamed it would be, but it was also evident that he wasn't done.
Not yet, anyway.
He summed it all up with a few words immediately following the 2008 NBA Championship win:
"Anything is possible. ANYTHING IS POSSIBLE!"