Why Mo Williams Is Vital to the Success of the Los Angeles Clippers
January 30, 2012

Harry How/Getty Images
Mo Williams began his career as a second-round pick who proved that he belonged on an NBA roster. Once firmly locking down a roster spot, he grew into a competent starting point guard before graduating on to All-Star status and No. 2 option on a championship contender.
Now Williams has mastered a new role, that of sixth-man extraordinaire. For Williams, it's just another job that he can add to his impressively versatile resume.
Combo guards who can fill it up but also create shots for others have become the staple for the league's leading sixth men. Guys like Jason Terry, Manu Ginobili and Jamal Crawford have shown in recent seasons how valuable it is to have an All-Star-caliber player coming off the bench.
Williams' flawless transition to second-unit stud has been a vital part of the Los Angeles Clippers' early season success. In fact, Williams has been responsible for nearly all of L.A.'s bench production to date.
Going into Sunday night's action the Clippers had the second-lowest scoring bench in the league, at just 23.8 points per game, about half the production of Dallas' league-leading bench. Williams was scoring about 15 of those points.
He's also shooting the ball lights-out right now, at over 52 percent from the field, better than 46 percent from three-point range and nearly 86 percent at the foul line. Only one other Clippers bench player is shooting even 42 percent from the floor. That would be Reggie Evans, who's attempted a whopping 11 shots so far this year.
Williams gives the Clippers a nice change of pace when he comes into the game. He plays at a faster tempo than Chris Paul or Chauncey Billups when running the offense, but he also fits in offensively with one or both L.A.'s veteran point guards on the floor.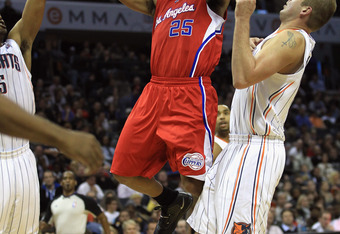 Streeter Lecka/Getty Images
In fact, Williams has been called on more and more frequently to close games, taking the spot of either Billups or Caron Butler (whoever has been less effective) down the stretch. Mo's scoring punch and accurate long-range shooting make him a valuable weapon off the ball. According to 82games.com, Williams has a PER of 22.4 when playing shooting guard this season, even better than the 18.7 he's posted as a point guard.
Over the past six games, Williams has scored three out of every four bench points for the Clippers, averaging 20.5 points a game over that span. Even though he's been ridiculously productive thus far, there's no way he can sustain his one-man show during the periods when the Clippers starters are off the floor.
As good as Williams has been individually, the Clippers are still 10 points better per 100 possessions when he's off the floor as opposed to when he's on it. That's more of a reflection of the talent around Williams when he's on the court as opposed to a referendum on Mo himself.
Either someone like Randy Foye or Ryan Gomes needs to step up and help Mo out, or the Clips need to acquire another player who can contribute off the bench. Rumors are swirling about the Clippers possibly picking up Kenyon Martin after he returns from China. That would certainly be a step in the right direction.
The lack of help off the pine is causing almost every game to go down to the wire. Ten of the team's past 14 games have been decided by eight points or fewer. While the Clippers have posted a sparkling 7-3 mark in those tightly contested matchups thus far, the continual intense strain of those hard-fought battles -- especially in this abbreviated season with less recovery time between games -- will take its toll on the starters. That will come back to haunt the Clips in the playoffs.
At the level he's playing at right now, Williams is the one of the front-runners for the NBA's Sixth Man award this season. If his production slips off significantly, the Clippers will see their bench lose leads (and lose games) for them at an alarming rate.
As it stands currently, Williams is the glue that is holding the team together as they make a rare charge towards the postseason and a Pacific Division crown.