Royal Rumble 2012: The WWE Is Not What It Used to Be
January 30, 2012

Jim Rogash/Getty Images
The Royal Rumble used to be "a can't miss" event years ago. Although Sunday's Royal Rumble was fun and entertaining, it seemed to lack something.
This event in the past has seen some of the most exciting moments in WWE history, but this year did not give us much of anything memorable.
Except Kofi Kingston walking on his hands and getting back in the ring—thought he was going to win after that.
It was not the Royal Rumble that lacked something, but rather the WWE as a whole that is lacking.
There is no iconic figure like the WWE has been accustomed to having in the past.
If we look at the past winners, a lot of them were legends of the sport: Jim Duggan, Hulk Hogan, Ric Flair, Bret Hart, Shawn Michaels, Stone Cold, The Rock, Triple H and Brock Lesnar, all wrestlers that were on top of the sports entertainment world at one point or another.
After watching one of them eliminate their final opponent, Wrestlemania became that much more exciting. After Sheamus won, I felt as though Wrestlemania probably let me down as well.
The WWE is an AK-47 without any ammo. Therefore the Royal Rumble will be fun to watch, but is not going to have the impact that it should have.
What the WWE needs is an icon.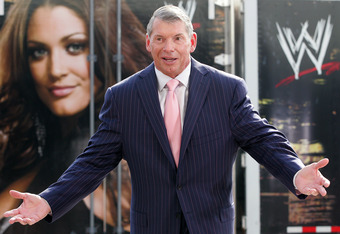 Mark A. Wallenfang/Getty Images
Vince McMahon has to scout and find guys with potential like those of the 90's had. There are stars in the WWE today, but nothing in comparison to the icons they once had.
In addition, McMahon has to put together a product that is more appealing. The television ratings are dropping and McMahon is going to have to find a way to turn it around. Perhaps it will involve leaving the PG era behind and pushing the limits again.
It does not have to be ridiculous, but a little more can go a long way in terms of viewers.
They have to find a way to elevate some of these guys into elite entertainers. They need a wrestler to take the WWE by storm and make every WWE event a must-watch show. 
Perhaps wrestling might never be what it was in the 90's and early 2000's, but the WWE should do their best to get there.