Joe Paterno & the Greatest Head Coach in Every BCS Program's History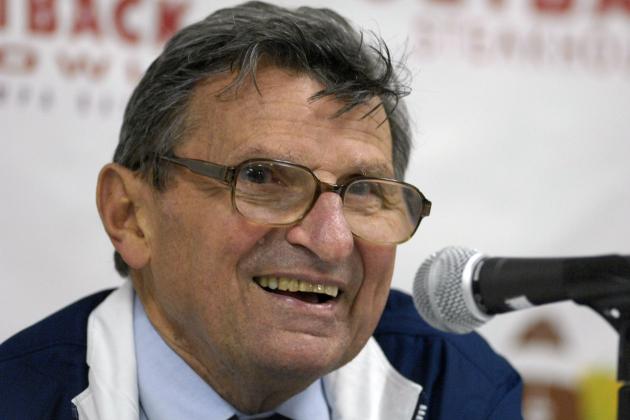 A. Messerschmidt/Getty Images

Coaches in collegiate sports are often looked at as legends for the longevity they have with their respected programs.
Pacing the sidelines on an autumn Saturday afternoon in front of 80,000-plus screaming fans is not something any coach in any sport can talk about—other than college football.
Some coaches may only have the privilege of gracing those sidelines for a few seasons whereas some legends have had the honor of running out of that tunnel for a number of decades.
Recognizing Joe Paterno, here are your greatest coaches of every current BCS program of all-time.
Begin Slideshow

»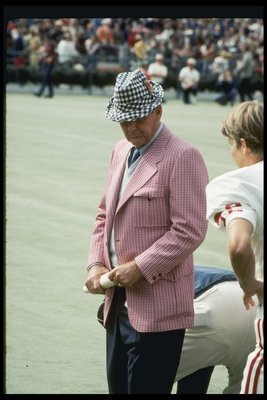 Career Record: 323-85-17 (76%)
There is no doubt who the most recognizable coach in the history of college football is. Former Alabama legend Paul "Bear" Bryant is one of the true symbols of why college football may be the greatest sport in the world.
Gracing the sidelines with his houndstooth hat for 25 illustrious years with Alabama was just one of the numerous reasons to love coach "Bear" Bryant.
He forever changed the way we look at college football with all of his accomplishments, including 14 SEC Championships and six national championships ('61, '64, '65, '73, '78, '79). He took over the Tide in 1958 and went on to reach 24 consecutive bowl games.
"Bear" changed his team as society changed. His first three national championships were won with all white players; his last three were integrated.
He treated every player with the same amount of respect, saying he only had football players and nothing more. The legend stated it best saying, "I ain't nothing, but a winner."
On the day of his death (1/26/83), the only piece of jewelry he had on or ever wore was a gold ring that read, "Junction Boys."
He won a conference title during four years at Texas A&M, and he also won a SEC Championship in his eight prior seasons with Kentucky (60-23-6).
At every home game in Tuscaloosa, the Crimson Tide commemorates Paul "Bear" Bryant on the jumbotron. Former Florida Gators coach Urban Meyer says that is what he remembers most about coaching in the SEC.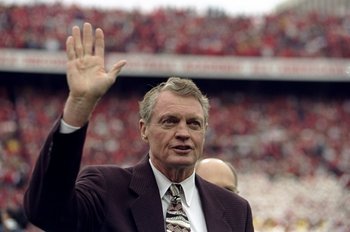 Career Record: 255-49-3 (83%)
Coaching in Lincoln for a quarter of a century, Osborne was known as the "model of consistency" by never earning less than nine wins in a season on top of his 13 conference and three national championships ('94, '95, '97).
Maybe the most recognizable stat was the way he finished his career off at Nebraska. Osborne's record in his final five seasons was an incredible 60–3 (95 percent), which remains the best finish to any coaching tenure in the history of the sport.
His final game was in the final season before the BCS began. He would go on to defeat Tennessee 42-17 in the 1998 Orange Bowl.
Osborne is Nebraska football but also much more. He left his own mark on college football, dominating both lines of scrimmage. Most notable was his unstoppable rushing attack led in part by college football legends Tommy Frazier ('94, '95 titles) and Mike Rozier ('83 Heisman).
The current day athletic director of Nebraska never failed to lead his team to a top-25 postseason ranking and stands as one of the all-time greats in all of sports history.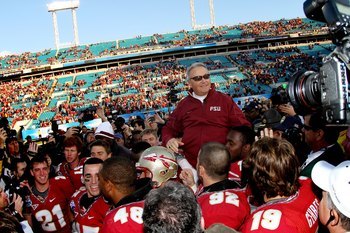 Career Record: 377-129-4 (74%)
Bobby "Dag Gummit" Bowden is among the greatest coaches of all time due to his longevity and numerous of accomplishments with the Florida State Seminoles.
He took over a brand new Seminole program and turned them into a national powerhouse program that had 34 illustrious seasons.
Tallahassee grew to love Bowden after he led them to what is, in my opinion, the greatest college football fact of all time.
Bowden's 14 consecutive seasons (1987-2000) of top-four postseason finishes is something that no coach in history will never achieve in their lives.
In that time span, Bowden won nine conference championships, two national championships ('94, '99) and an untouchable and unforgettable 152-19-1 (88 percent) record.
It was sad to see Bowden call it quits in 2009 after 44 career seasons, but he will undoubtedly be remembered as one of the greatest of all time.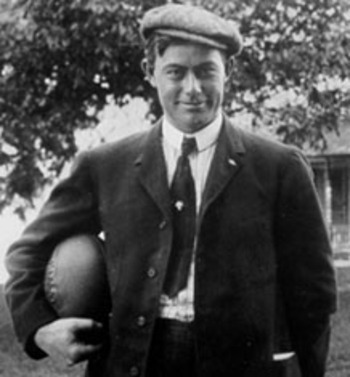 Career Record: 198-35-12 (80%)
Lloyd Carr was a legend in his own right, and Bo Schembechler will always be an icon as well, but Fielding Yost is the best Michigan coach in the history of the program.
The man known for his "Point-A-Minute" squads from 1901-1905 made his illustrious career as one of the best of all time.
During his 25-year tenure at Michigan, he went 165-29-10. But during those four years from 1901-1905, he went an unstoppable 55-1-1 by outscoring the competition 2,821 to 42.
He won four national championships during those four seasons, and he eventually got back to the promised land after struggling for about a decade by winning two more national championships in 1918 and 1923.
A total of six national championships and 10 Big Ten championships makes Yost one of the all-time Big Ten greats as well as one of the upper echelon coaches in the history of college football.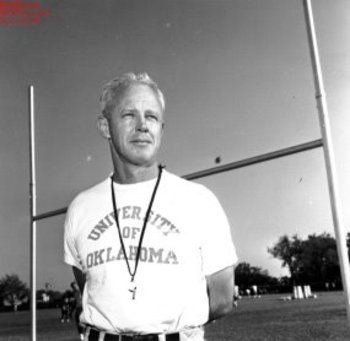 Career Record: 145-29-4 (81%)
Bud Wilkinson may have only coached for 17 seasons, but he accomplished more in that time than nearly any other coach in the history of the sport.
The Oklahoma Sooners were fortunate enough to have the legend in Norman, where he went on to win 14 conference championships (13 straight '47-'59) and three national championships ('50, '55, '56).
His Sooners walked right through the Big Big Six/Seven/Eight Conference posting a 93-9-3 record. In those 13-straight conferences, he lost just once to Texas.
The domination did not end there as he won four Orange Bowls and two Sugar Bowls in his 17-year career.
The legend holds the record for most consecutive home victories (47).
Fun Fact: Bud Wilkinson, Bob Stoops, Barry Swizter and Bennie Owen remain the only group of coaches to have won 100 or more games for one school.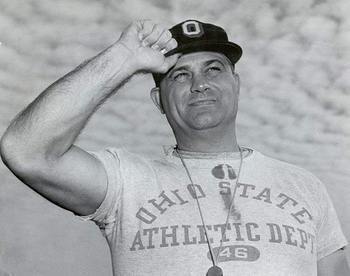 Career Record: 238-61-10 (58%)
Winning 13 Big Ten championships and five national championships ('54, '57, '61, '68, '70) ranks Woody Hayes as arguably the best Buckeye and Big Ten coach of all time.
Going 152-37-7 is simply crazy in the Big Ten. Though he knocked himself out of a job after the 1978 Gator Bowl when he punched Charlie Bauman, Hayes remains among the elites.
Hayes was known for his on-the-field rivalry with Michigan legend Bo Schembechler.
But Hayes did more than just post a 4-5-1 record against Bo. He revolutionized the Big Ten and made his mark throughout his 33 years of coaching.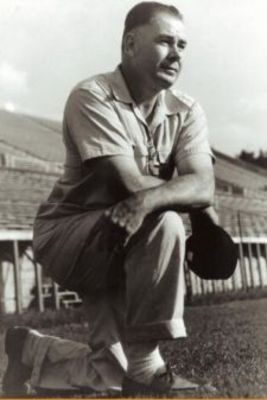 Career Record: 173-31-12 (80%)
Tennessee Volunteers stadium is named after Robert Neyland.
Neyland is one of the more accomplished coaches in the history of college football and is the greatest Vols coach to ever live.
His 173 wins out of 216 games ranks first, but the numbers do not stop there. He had six undefeated seasons, nine undefeated regular seasons, seven conference championships and four national championships.
Neyland even reeled off wining streaks of 33, 28, 23, 19 and 14 games during his stay at Knoxville. This legend was enshrined into the College Football Hall of Fame in 1956.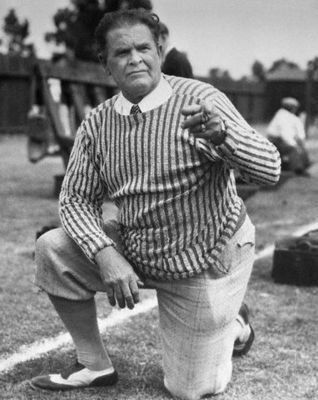 Career Record: 319-106-32 (69%)
Having helped start the American football organization, Pop Warner Little Scholars might be one of his better accomplishments. But his 44 seasons ranks among the best of all time.
Three hundred and nineteen victories with six different schools (Georgia, Cornell, Carlisle, Pittsburgh, Stanford and Temple) is quite the accomplishment, but he also won four national championships.
He kicked some tail at Carlisle (114-42-8) and posted a record of 60-12-4 at Pittsburgh where he won three national championships (1915, 1916, 1918).
Warner then went on to win three conference championships and one national championship (1926) with Stanford (1924-1932). He was enshrined into the College Football Hall of Fame in 1951.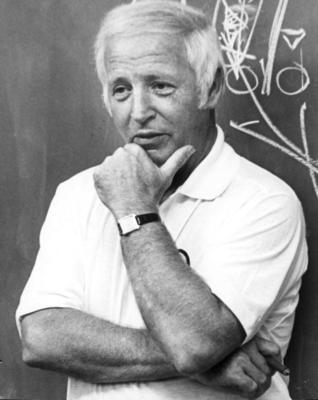 Career Record: 127-40-8 (72%)
During his 16-year tenure with the USC Trojans, McKay won nine conference championships in the Pac-8, including eight Rose Bowl appearances.
He won four national championships ('62, '67, '72, '74) on top of his five Rose Bowl victories. There should be no doubt that he ranks among the best ever.
McKay was a legend in his own right, and after his final season in 1975, he left to coach in the NFL with the Tampa Bay Bucs.
The stamp he left on college football will forever be remembered after he was enshrined into the College Football Hall of Fame in 1988.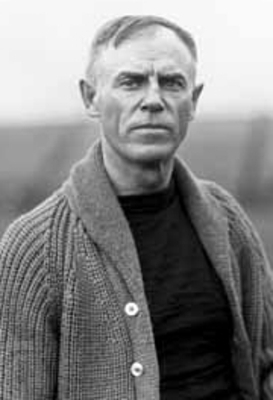 Career Record: 186-70-18 (67%)
Having the Heisman Trophy named after him might just be all you need to know about this innovator. John Heisman became one of the most popular and accomplished coaches in the late 1800s.
Whether it was Oberlin (1892-1894), Auburn (1895-1899), Clemson (1900-1903), Georgia Tech (1904-1919), Penn (1920-1922), Washington & Jefferson (1923) or Rice (1924-1927), Heisman played and coached for a very long time.
Besides football, he even took part in basketball, baseball and track & field during his long tenure of coaching. He is well known for legalizing the the forward pass in 1906 and even started the pulling of guards on the offensive line.
Heisman would go on to win three conference championships (two others with Clemson, five total) and three national championships with Georgia Tech.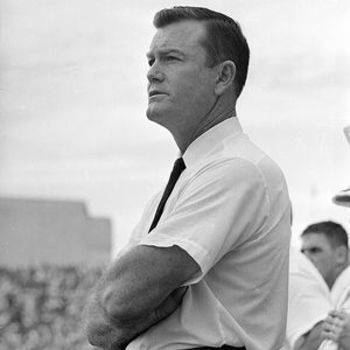 Career Record: 184-60-5 (73%)
Forever remembered in Texas Longhorn history, Royal accomplished far more than having the stadium renamed after him.
He once played for the Oklahoma Sooners under Bud Wilkinson, but got his third coaching opportunity with the Texas Longhorns back in 1957.
The previous season the Longhorns went just 1-9-1, so Royal stepped into a bad situation. However, it did not take him any time to turn around Texas football. He went 6-4-1 in his first season and in just his third season he would go on to win the Southwest championship, posting a 9-2 record.
He eventually won a total of 11 conference championships, but it was his three national championships ('63, '69, '70) that will forever keep him as a college football great and a Longhorn legend.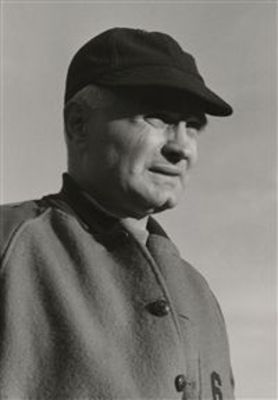 Career Record: 153-65-12 (66%)
Bernie Bierman may be the least known all-time great I have ever (or never) heard about. While his first coaching job was in 1919 with Montana, he eventually rose to the top and got his opportunity with Minnesota.
It was during his first tenure with the Minnesota Golden Gophers (1932-1941) that Bierman ended up winning eight conference championships and five national championships.
Before he coached at Minnesota, he also was at Tulane for a few seasons (1927-1931) and won three conference championships.
He retired from coaching back in 1950 and was inducted into the College Football Hall of Fame in 1955. Bierman remains one of the least talked about coaches of all time, yet he easily ranks among the best.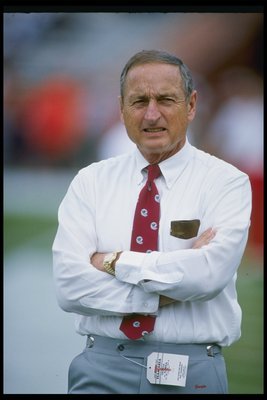 Career Record: 201-77-10 (70%)
Vince Dooley was a legend during his 25-year stay in Athens. The Georgia Bulldogs won six Southeastern Conference titles under Dooley, and, in 1980, he won them their fifth-ever national championship.
Dooley would go on to post seven top-10 finishes as well as 14 top-25 rankings. His best and most notable player was the 1980 Heisman Trophy winner Hershel Walker, which many to this day still consider the greatest college football player of all time.
We should also not forget that Dooley was very successful in the toughest conference in America with a record of 104-42-4 (69 percent) in the SEC.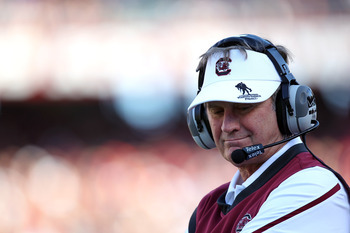 Career Record: 197-75-2 (71%)
Steve Spurrier has coached for 22 seasons for three different programs, including Duke ('87-'89), Florida ('90-'01) and South Carolina ('05-present).
He is known for developing quarterbacks—arguably better than any coach in the past few decades.
Going to 17 bowl games and two BCS Bowls makes for an impressive resume. But an illustrious 11 straight top-12 finishes and nine-win seasons is a record that may not be touched for quite some time at Florida.
He won that coveted national championship in 1996 by demolishing Florida State in a rematch from their regular season finale loss.
During his time at Florida he also never finished worse than second place in the East. He brought South Carolina back to national relevance, looking for consecutive top-25 finishes.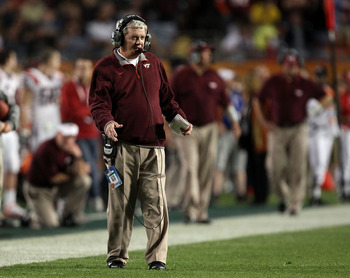 Career Record: 251-121-4 (66%)
Currently in his 31st season as a collegiate coach (25th at VT), Frank Beamer is putting on a display of perfection. He is known as the new "model of consistency" since he has won 10 or more games for seven straight seasons.
Although he has gone just 1-3 in BCS Bowls in the past seven seasons, it is better than not getting to a BCS Bowl at all.
Beamer has won seven conference championships at Virginia Tech (eight in total, counting Murray State) along with five BCS Bowls. He has carried the ACC during its recent struggles as a BCS conference.
The hope is that Florida State, Miami, Clemson or Georgia Tech can step it up instead of Beamer reaching a BCS Bowl every season.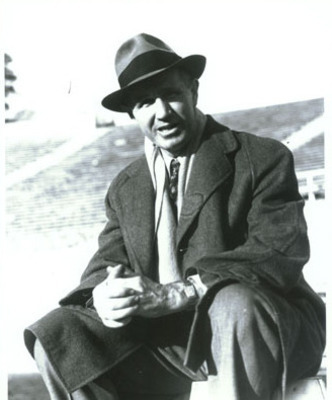 Career Record: 171-49-10 (74%)
Wallace Wade was a legend for both the Alabama Crimson Tide (1923-1930) and the Duke Blue Devils (1931-1941, 1946-1950). He ended up winning 10 Southern Conference championships—six with Duke and four with Alabama.
He ended up going to a total of five Rose Bowls while winning three national championships with the Tide ('25, '26, '30). His 61-13-3 record (79 percent) with Alabama was the start of a College Football Hall of Fame career (inducted 1955).
Though his tenure was interrupted by World War II, he still had a respectable 110-36-7 record (71 percent) through 16 seasons. Besides Duke renaming its stadium in 1967 to Wallace Wade Stadium, this legend ranks among the greatest in his era and beyond.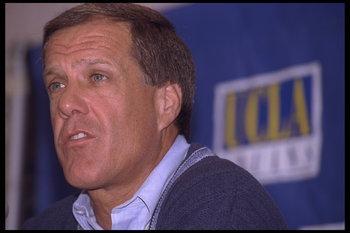 Career Record: 151-74-8 (64%)
Getting inducted into the College Football Hall of Fame in 2000 automatically puts Terry Donahue on this list. Without winning a national championships does he belong higher on this list?
During his 20-year tenure at UCLA, his Bruins shared or won five conference championships with four Rose Bowl appearances.
He won in three of those four Rose Bowls, which looks great on the resume. But never finishing inside the top four in the final postseason rankings makes you scratch your head a bit.
His teams had the talent to get up there and eventually play for a national championship, but they always stumbled and lost at least one game.
UCLA's best season with Donahue was in 1982—he beat Bo's Michigan Wolverines in the Rose Bowl. If it were not for a tie against Arizona and a three point loss to 10th ranked Washington, perhaps the Bruins would have played for all the marbles.
Still, Donahue was enshrined into the College Football Hall of Fame in 2000.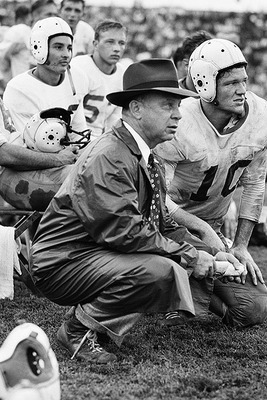 Career Record: 198-72-23 (67%)
Dana X. Bible won nearly 200 games in his career. In 1919, his Texas A&M Aggies went undefeated—and outscored the opposition 275-0.
He actually started with Mississippi State (1913-1915) before moving to LSU for one season (1-0-2). Then, in just his first season with Texas A&M he went on to win the Southwest Conference, going a perfect 8-0.
The following year he won his lone national championship. Bible left College Station with a ridiculous 72-19-9 record (72 percent).
In eight seasons at Nebraska (1929-1936), he won six conference championships before he coached Texas (1937-1946), where he won another three conference championships.
Bible was a winner wherever he ended up and was enshrined into the College Football Hall of Fame in 1951.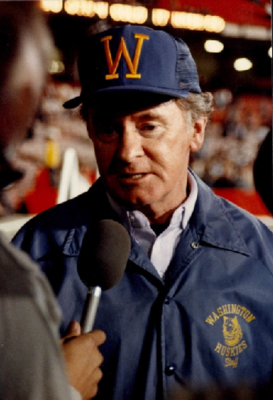 Career Record: 178-76-3 (69%)
A three-time coach-of-the-year winner (1977, 1984, 1991), Don James set a then-Pac-10 record in 1992 with 98 conference victories.
He actually started his career coaching Gary Pinkel and Nick Saban at Kent State (1971-1974).
He went just 25-19-1, but he did win a MAC championship in 1972. He was then the head coach at Washington (1975-1992) where he appeared in six Rose Bowls ('77, '80, '81, '90, '91, '92).
James finished in the final postseason top 10 seven times with the Huskies, posting just one losing season.
Not only is he still the winningest coach in school history, but also James achieved the greatest feat of them all, winning the 1991 national championship.
The Huskie legend won 22 consecutive games from 1990-1992, and it was in 1997 when he was enshrined into the College Football Hall of Fame.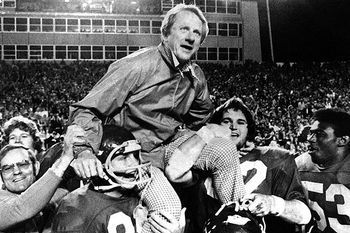 Career Record: 149-62-6 (68%)
Before retiring as the Arkansas Razorbacks athletic director in 2007, Frank Broyles had accomplished a ton as a coach many decades prior.
He had a one-year stay with Missouri (1957) where he went 5-4-1, but it was the time he spent at Arkansas (1958-1976) that made him one of the all-time greats in SEC history.
Posting just two losing seasons, Broyles would win seven SWC championships ('59, '60, '61, '64, '65, '68, '75) and one national championship (1964).
Nine finishes in the final postseason top-10 rankings only added to Broyles' legacy. The assistant coach of the year is named after Broyles for all the dedication and success he had in the 50s, 60s and 70s.
It was in 1983 when Broyles was enshrined into the College Football Hall of Fame.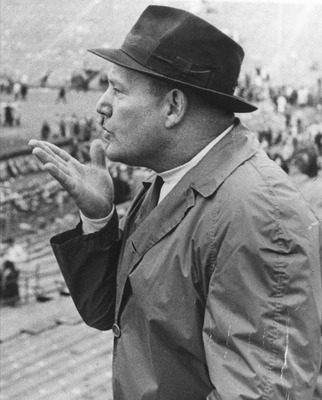 Career Record: 165-118-12 (56%)
Howard's Rock at Clemson University is one of the finest traditions in all of collegiate sports, and it is all thanks to Frank Howard.
One of the true legends of the sport in the late 40s and throughout the 50s and 60s, Howard won eight conference championships at Clemson.
In six seasons his Tigers finished in the top-20 postseason rankings. None was better than his 1948-1949 squad that went a perfect 11-0.
He went on to become the 15th-winningest coach of all time, and he was enshrined into the College Football Hall of Fame in 1989.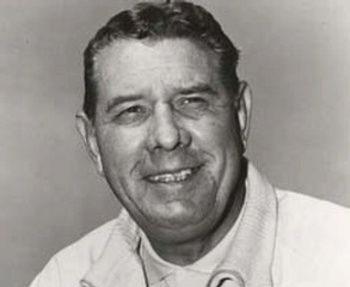 Career Record: 176-83-7 (66%)
Jordan Hare Stadium is named after Ralph Jordan and Cliff Hare (a player on Auburn's first team ever in1890). That is what a program will do for you when you are the winningest coach in school history.
Jordan won the SEC and national championship in 1957 with a 10-0 record. Though he never ended up winning another conference championship, his 150 wins in 25 seasons was no easy task.
He also coached basketball at Auburn ('33-'42, '45-'46) and at Georgia ('46-'50). However, the year was 1982 when Ralph "Shug" Jordan was finally named to the College Football Hall of Fame.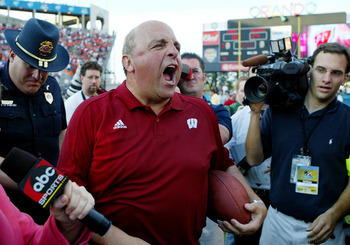 Career Record: 118-73-4 (60%)
Barry Alvarez had a ton of longevity with the Wisconsin Badgers. He spent 16 seasons in Madison and made the most of it, despite never playing for a national championship.
He went on to win three Big Ten and Rose Bowl championships ('93, '98, '99), and he finished strong, going 19-6 to close out his career in his final two seasons.
In those seasons, the Badgers finished 17th and 15th in the nation—with an upset victory over Auburn in the Capital One Bowl as the final game in Alvarez's career.
He is currently the Wisconsin athletic director and was elected into the College Football Hall of Fame back in 2010.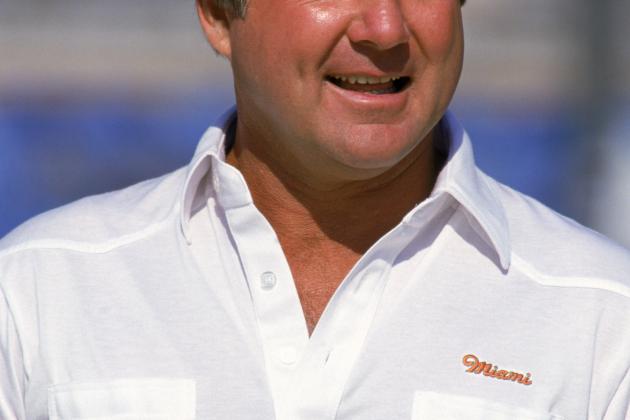 Jonathan Daniel/Getty Images

Jimmy Johnson had a run with the Miami Hurricanes in the late 80s where he went 81-34-3, including his 12-0, 1987 national championship season.
There have been several great Canes in the past, such as Larry Coker, Dennis Erickson and, of course, Howard Schnellenberger (all won a national championship, Erickson won two).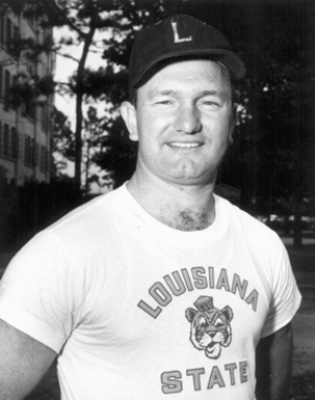 Photo: LSU Archives
Inducted into the College Football Hall of Fame in 1986, Charles McClendon went 137-59-7 during his 18-season tenure at Baton Rouge.
He also went to 13 bowls, won the SEC Coach of the Year twice and had five top-10 finishes.
Dan McGugin has had the longest tenure for the Vanderbilt Commodores, and he was very successful. He finished with a record of 197 wins, 55 losses and 19 ties.
This also includes (at least a share of) ten conference titles and just two losing seasons. He was inducted into the College Football Hall of Fame in 1951.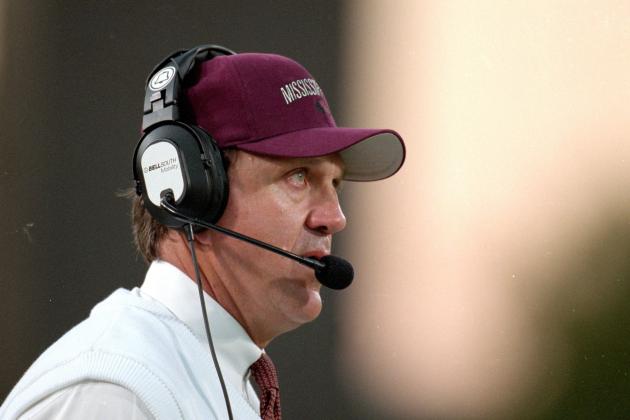 Scott Halleran/Getty Images

Winning the SWC Coach of the Year in three consecutive seasons ('85-'87) automatically gave Jackie Sherrill the confidence to succeed at Mississippi State.
He then coached for 13 seasons in Starksville, leading them to six bowls. Although he never won a division title in the SEC West he ended up with a respectable record of 75-75-2.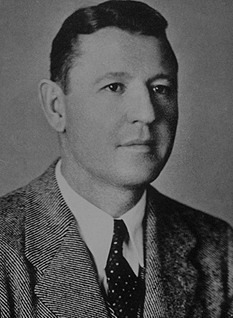 Urban Meyer had a magical two seasons in Salt Lake (22-2), but no coach stacks up well against legendary Utes coach Ike Armstrong.
Armstrong coached from 1925-1949 and ended up with 13 conference titles while posting a dominating 108-24-8 record in conference play.
His career finish on a tough note while going 2-7-1 in in 1949, but that does not take anything away from the Hall of Famer (1957). Armstrong's career record was an unprecedented 141-55-15 at Utah.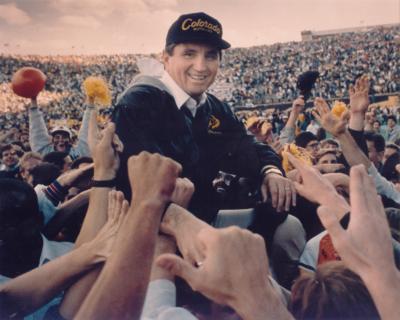 Bill McCartney went 93-55-5 during his tenure at Colorado (1982-1994), but he also won three Big Eight conference titles ('89, '90, '91).
It was in 1990 when his Buffaloes went 11-1-1 and won the AP National Championship with his 10-9 victory over Notre Dame in the Orange Bowl.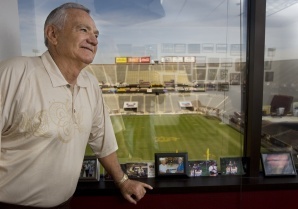 David Wallace/The Arizona Republic
Frank Kush was inducted into the College Football Hall of Fame in 1995, but he was the most successful Sun Devil during his tenure in Tempe (1958-1979).
Nine conference titles was remarkable for the program he took over, but his Sun Devils were nearly as good as it got from 1970-1973.
During that time, ASU won four consecutive bowls (Peach and Fiesta three straight times) and finished no worse than No. 13 in the AP or Coaches Poll.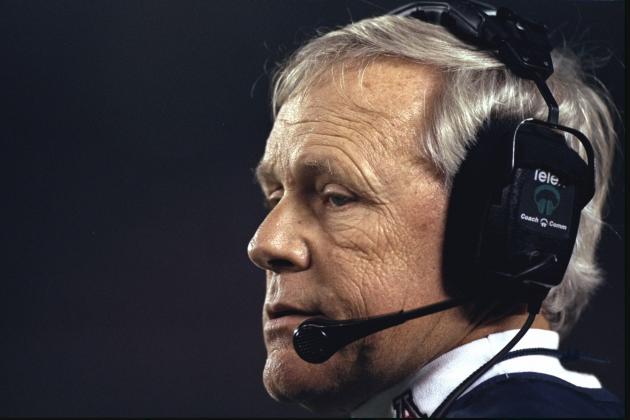 Todd Warshaw/Getty Images

Dick Tomey was recently coaching San Jose State (2005-2009), but his career at Arizona makes him the obvious choice for the Wildcats.
He went 95-64-4 and appeared in seven bowls, which was not an easy thing to do back in the 80s and 90s. Tomey's best season was in 1998, when they went 12-1, which put them fourth in the country after their Holiday Bowl victory over Nebraska.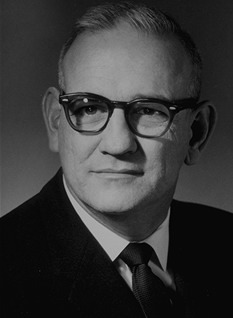 Inducted into the College Football Hall of Fame back in 1991, Tommy Prothro won three conference title during a fairly short tenure at Oregon State (1955-1964).
Although he lost both Rose Bowl appearances ('56, '64), that did not put a damper on a very successful career. (He encountered just one losing season.)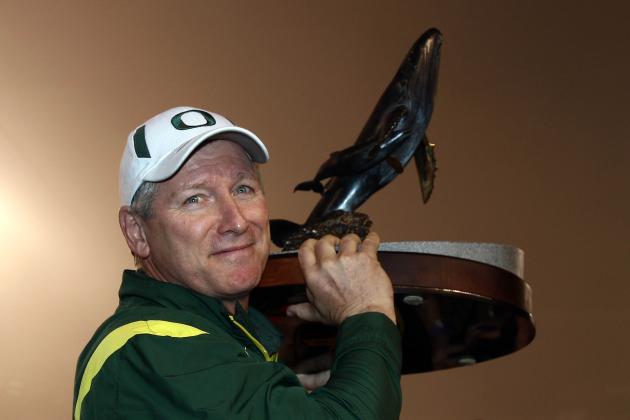 Donald Miralle/Getty Images

Mike Bellotti coached for 14 seasons in Eugene (1995-2008) and nearly won a national championship back in 2001.
His Ducks finished second in both polls after dismantling Colorado in the Fiesta Bowl, 38-16. Bellotti really put the Ducks on the map, as he ended up with an astonishing record of 116-55 (72-43 conference).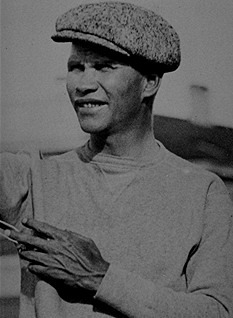 Andy Smith was inducted into the College Football Hall of Fame back in 1951, after leading the Bears to a successful ten years.
Smith went 74-16-7, but his remarkable conference record of 26-8-2 is also astonishing. Also, it may be important to throw in his three straight national championship seasons ('20, '21, '22), during which Cal went 27-0-1.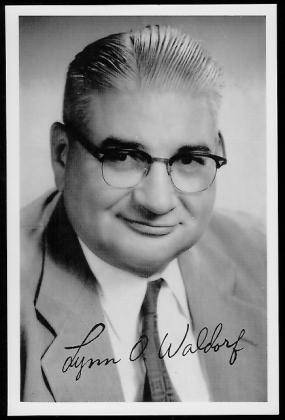 Pappy Waldorf was a legendary Northwestern coach that was inducted to the College Football Hall of Fame in 1966.
His tenure at Northwestern (1935-1946) did not feature total domination since he went 49-45-7, but he did have three top-ten finishes ('36, '40, '43).
Northwestern went 7-1 overall and 6-0 in the Big Ten in 1936 (and finished seventh in the AP writers' poll).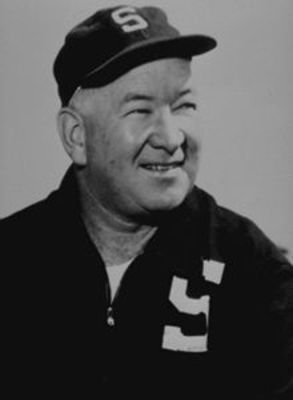 Duffy Daughtery was inducted into the College Football Hall of Fame in 1984; he had a magical 19 seasons in East Lansing.
His Spartans went 109-69-5 with two national championships ('65, '66). Although they were ranked just No. 2 by the Coaches and AP Poll, MSU was given a share of the title alongside Notre Dame since they tied (Game of the Century).
Many forget what Duffy accomplished, but he remains a Michigan State and Big Ten icon since he is one of the most underrated and accomplished coaches out there.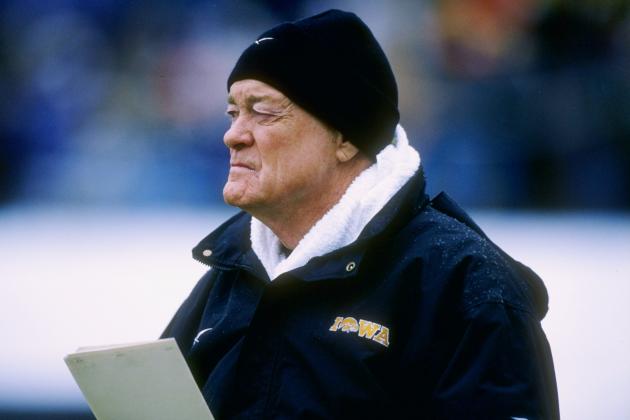 Jonathan Daniel/Getty Images

Hayden Fry was a Hall of Fame inductee (2003), but really transcended Hawkeye football. He gets a bad rap since the three Big Ten titles he won ('81, '85, '90) happened to turn into losses in the Rose Bowl.
Still, Fry went 98-61-5 in the Big Ten and posted an amazing career record (143-89-6). He also turned some of his former assistants into superb coaches (Bob Stoops, Mike Stoops, Chuck Long, and Bret Bielema).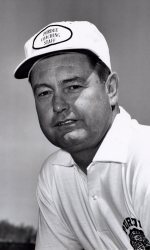 Joe Tiller may be considered Mr. Purdue, but Jack Mollenkopf is already a College Football Hall of Fame Inductee (1988).
Thanks to zero losing seasons (after his opening season), this Boilermaker legend posted a career record of 84-39-9.
In 1967, he led Purdue to a Big Ten Championship (tied with Indiana and Minnesota) and ninth-ranked finish.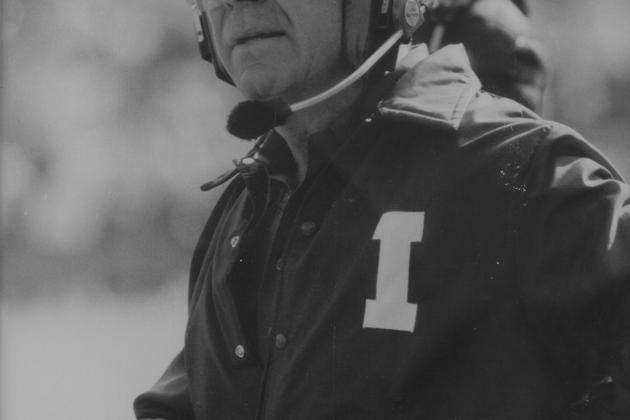 Bill Mallory wasn't the most successful coach in Big Ten history, but he accomplished the most with the Hoosiers.
During his 13 seasons, Indiana appeared in six bowls while finishing in the top 25 on two consecutive occasions ('87, '88).
A career record in Bloomington of 69-77-3 may not seem impressive, but all of the other Indiana coaches with longer tenures have done much worse.
Plus, asking an Indiana coach to stay with the program for a decade by leading them to six bowls has been impossible thus far.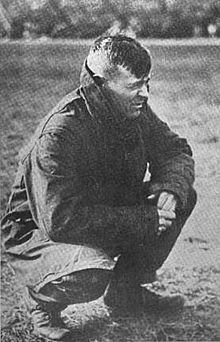 Robert Zuppke has to be considered one of the greatest Big Ten coaches (and in all of college) to ever live since he claimed four national championships ('14, '19, '23, '27).
Claiming seven Big Ten titles is not too shabby either, but his career coaching record is amazing since he struggled mightily in his final sevens season (1913-1941).
Zuppke finished 131-81-12 and is well known for coaching Red Grange during their 8-0, 1923 national championship run.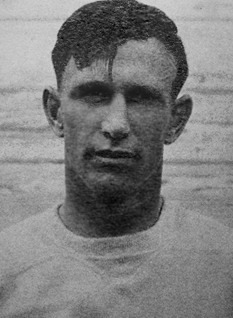 Morley Jennings was inducted into the College Football Hall of Fame in 1973.
The time he spent at Baylor was consistent.
He went 83-60-6 during his 15 seasons in Waco as his Bears were in the Southwest Conference.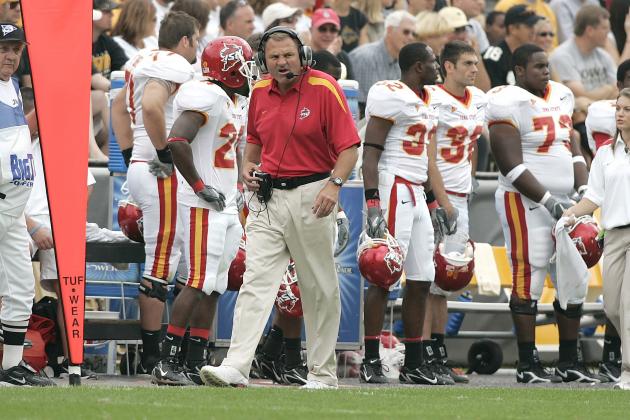 Scott Boehm/Getty Images

Dan McCarney took the Cyclones to five bowl games and also won the Big 12 North in 2004.
Iowa State was never known for their football since they were often the doormat of the Big 12, but McCarney turned that around.
Despite the record of 27-68 (56-85 overall) in the Big 12, there were a few accomplishments that had never achieved before in Ames. McCarney is the only Iowa State coach to have coached for 10 or more years (1995-2006).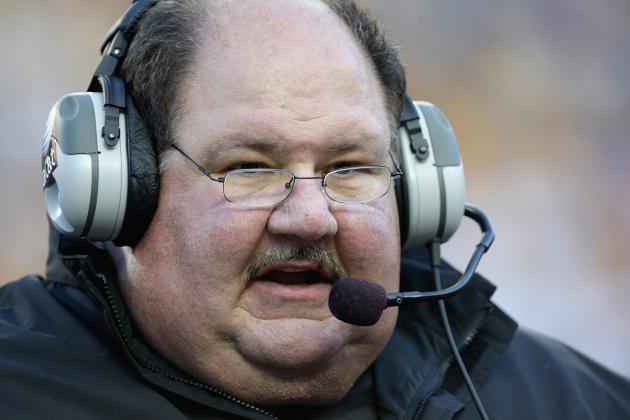 Jamie Squire/Getty Images

Mark Mangino had the third-longest tenure in Kansas football history, but he was easily the most successful. Talk about one of the most underrated coaches in BCS history, this guy did it all as an assistant and as a head coach.
He stood up for his players and played the game the right way. He led Kansas to four bowl appearances and finished his career above .500 (50-48).
The 2007 season was a magical one for the Jayhawks since they ended up finishing seventh in both rankings and went 12-1, including their Orange Bowl victory over Virginia Tech (AP Coach of Year, 2007).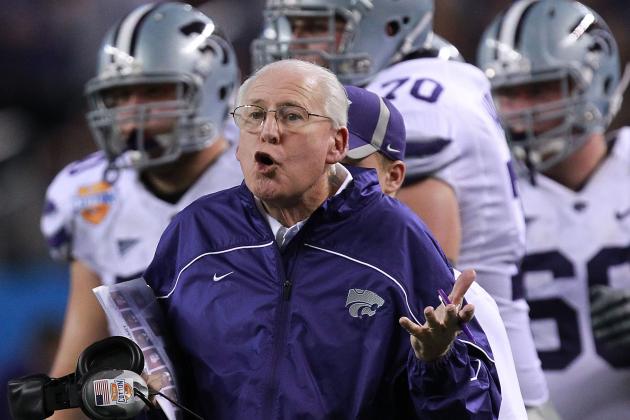 Ronald Martinez/Getty Images

Career Record: 159-82-1 (65%)
Bill Snyder may be a future Hall of Famer. After all, he completely turned around the Wildcats program since it was beyond awful.
Thirteen bowls, four division crowns and a Big 12 title in 2003 makes Bill Snyder the obvious choice. Eleven times his Wildcats finished the season in the top 25, with six of them being in the top 10.
Snyder's current all-time coaching record is 159-82-1. He will be entering year No. 21 next season.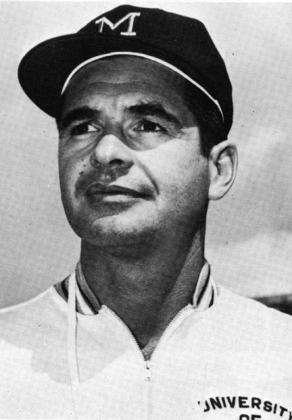 Don Faurot was successful going 101-79-10 during his stay with the Tigers, and the Missouri field is even named after him (1972).
However, Dan Devine was simply dominant while in Columbia from 1958-1970. Devine went 93-37-7 (62-23-4 in Big 12 play) while appearing in six bowls and finishing in the top 25 nine times.
He eventually moved onto Notre Dame, where he won the 1977 national championship. Still, he was an icon for the Tigers and was elected into the College Football Hall of Fame (1985).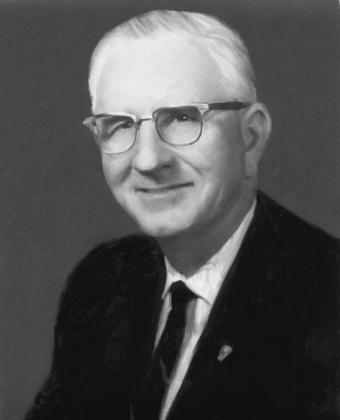 Before the Cowboys became Oklahoma State they were Oklahoma A&M. From 1939-1949, he went 58-41-6 with three conference titles.
Posting a 67-23-6 at Texas Tech (1930-1940) is not an easy thing to accomplish. Fun fact: His Matadors were once the highest-scoring team in the nation (1932).
They went 10-2 that year and got close to being elite in 1938, though they lost in the Cotton Bowl and finished just outside the top 10 (11th).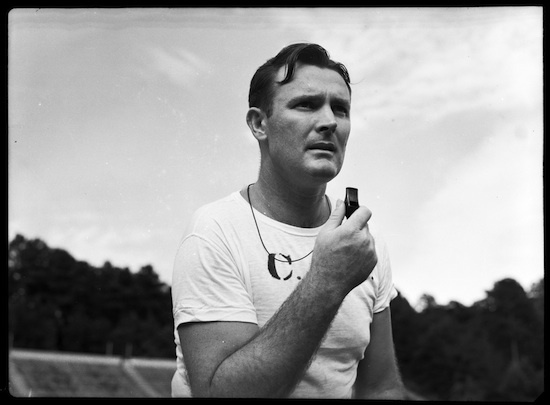 Jim Tatum was a star coach for the Maryland Terps as he went 73-15-4 with three conference titles ('51, '53, '55) and one national championship ('53).
Jerry Clauborne is another Hall of Famer—that deserves a mention since he went 77-37-3 (46-11-1 ACC).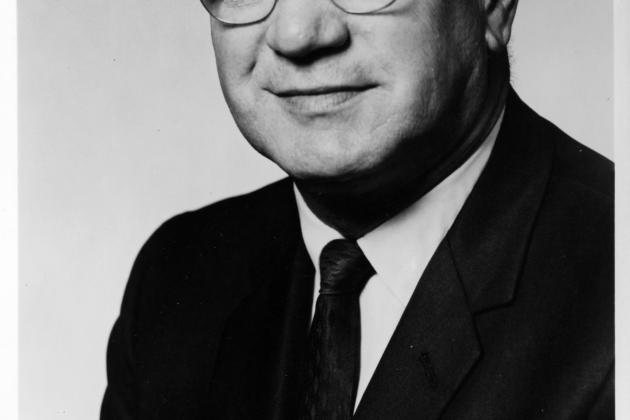 Earle Edwards had an impressive coaching career, and all of his 17 seasons (1954-1970) were spent with North Carolina State.
He won five ACC titles and ended up 55-45-5 in the conference and accomplished more than his 77-88-8 record indicates.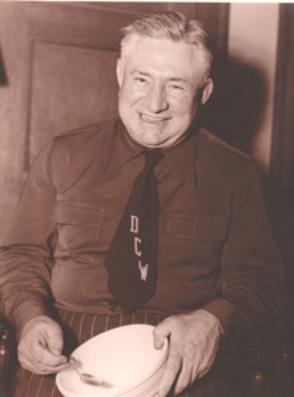 During his 14 seasons at Wake Forest, Walker went 77-51-6, which includes two bowl appearances. Current head coach Jim Grobe deserves some mention, but it is Mr. Walker that is the winningest coach in program history.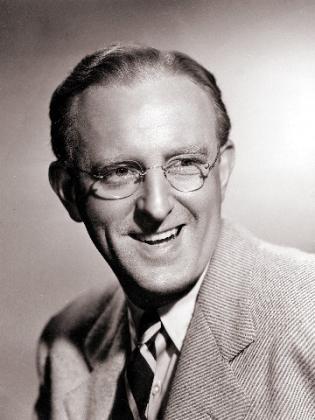 Dick Crum coached arguably the greatest linebacker and pass-rusher in NFL history, Lawrence Taylor. Carolina fans have a ton of memories from the time Crum was the man in charge (1978-1987).
The Tar Heels won just one ACC title, but appeared in six bowls as UNC went 72-41-3 during his ten seasons.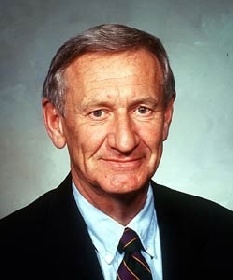 Recently inducted into the College Hall of Fame (2004), Welsh was as consistent a Virginia coach as you will see.
Twelve bowl appearances, two conference titles and eight seasons of eight-plus wins said it all during his 19 seasons in Charlottesville.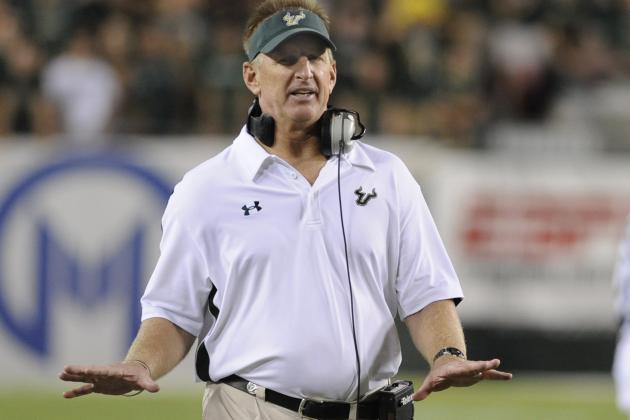 Al Messerschmidt/Getty Images

South Florida became a FBS program in 2001, but they actually became a program in 1997. Jim Leavitt and Skip Holtz (current coach) are the only two coaches in Bulls' history.
Leavitt is the choice for now since he went an underrated 95-57 and led them to five straight bowls before he was let go in 2009.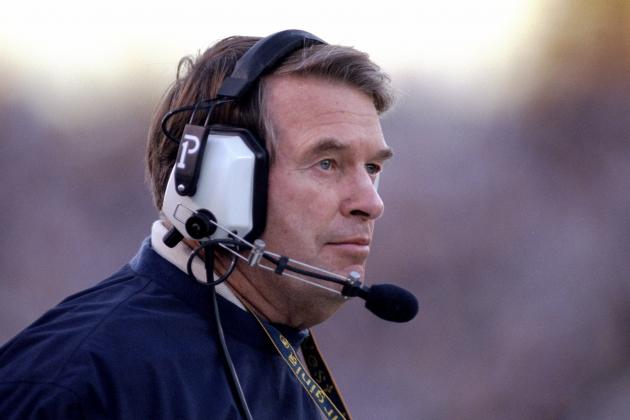 Rick Stewart/Getty Images

Don Nehlen was elected into the College Football Hall of Fame (2005), and his 21 seasons was the most successful thus far in Mountaineer history.
Nehlen went 149-93-4 while appearing in 11 bowl games.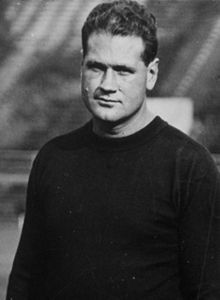 There are a few legit choices such as George Sanford (1971, HOF) and Frank R. Burns, but Harvey Harman (1981, HOF) accomplished the most.
He had the longest tenure (1938-1955) and went 74-44-2 in the process.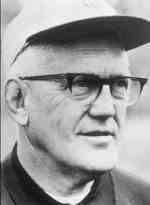 Winning 153 times compared to just 91 losses (with three ties) on top of coaching for 25 seasons will help increase your chances of joining the Hall of Fame. Schwartzwalder was inducted in 1982.
The 1959 season was a great one for Syracuse, as they won the national championship by defeating Texas 24-14 in the Cotton Bowl.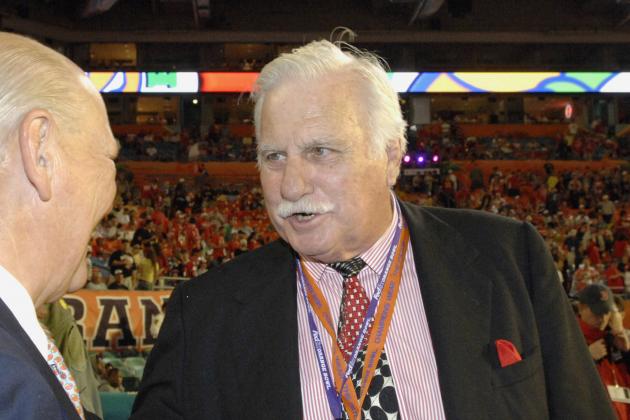 A. Messerschmidt/Getty Images

Though he finished just under .500 (54-56-2), Howard Schnellenberger had a solid coaching career at Louisville. He led them to two different bowl games, finishing in the top 25 both times.
He just retired from Florida Atlantic, but won a national championship with the Miami Hurricanes in 1983.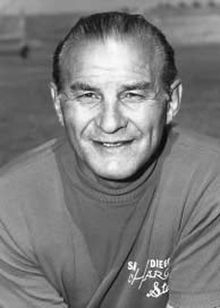 Sid Gillman is one of the few coaches to be selected in both the College and NFL Pro Football Hall of Fame.
The coaching tree that Gillman started is one of the most remarkable things out there. He had future legendary coaches underneath him such as John Madden, Bill Walsh, George Seifert, Dick Vermeil, Joe Gibbs, Mike Holmgren and Mike Tomlin just to name a few.
Gillman won three conference titles and went 81-19-2 during his six seasons.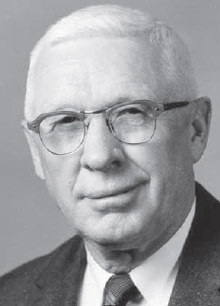 J. Orlean Christian went 66-51-4 as a football head coach for the Huskies, but he also coached baseball and basketball for Connecticut.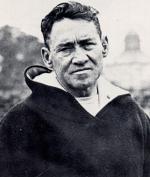 There are a ton of coaches to choose from for Boston College, but Frank Cavanaugh is not a bad guy to start off with.
He was elected into the College Football Hall of Fame in 1954 and went on to go 48-14-5 during eight seasons. Tom O'Brien (record of 75-45), Mike Holovak and Joe McKenney deserve some recognition as well.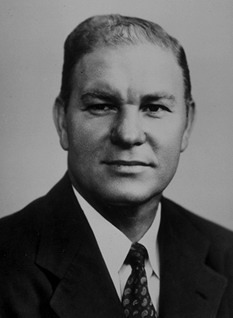 Johnny Vaught was inducted into the College Football Hall of Fame in 1979, and he won seven conference titles on top of his three national championships.
Vaught's entire coaching career was in Oxford, where he went 190-61-12, but his record in the SEC was sensational at 106-39-10!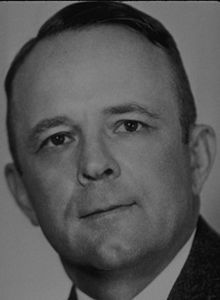 Dutch Meyer was inducted into the College Football Hall of Fame in 1956, and he was more than worthy.
Meyer won two national championships ('35, '38) and claimed four conference titles ('35, '38, '44, 51). During his 19 seasons, the TCU legend went 109-79-13.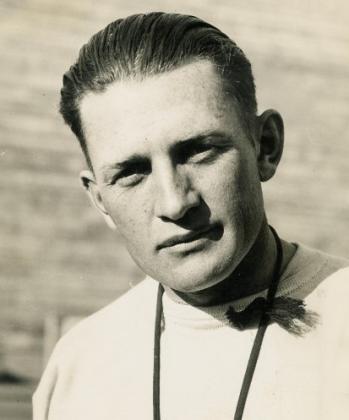 Babe Hollingbery made the College Football Hall of Fame in 1979, and it was well deserved.
He ended up going 93-53-14 overall with a conference record of 64-42-10 during his 17-year tenure.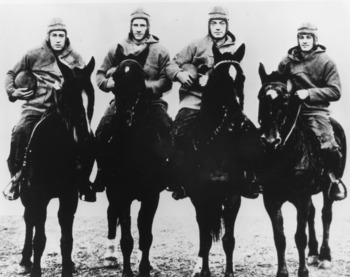 Career Record: 105-12-5 (86%)
Talk about an all-time icon. Rockne coached from 1918-1930 and won five national championships ('19, '20, '24, '29, '30).
Rockne was credited for inventing the forward pass and also introduced the T formation in the backfield. The mark he made on Notre Dame will forever go down in history as one of the greatest moments in college football.
His "win one for the Gipper" speech will never be forgotten, just like the players he turned into legends. George "Gipper" Gipp, Frank Thomas, Frank Leahy and Curly Lambeau were all beyond special, but nothing beat the "Four Horseman" (Harry Stuhldreher, Don Miller, Jim Crowley and Elmer Layden).
Rockne tragically died on flight TWA 599 on March 31, 1931 which ended his historic, record-setting coaching career. Twenty years later he was named into the College Football Hall of Fame.
He will forever be remembered as arguably the greatest that ever lived.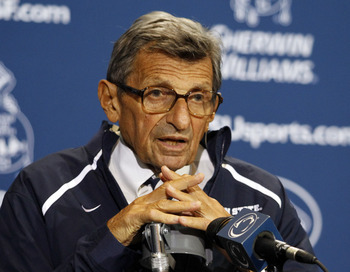 Career Record: 409-136-3 (74%)
To this day, Paterno's raspy voice is the epitome of a college football legend. Going 5-5 in his first season way back in 1966 was where everything started for the all-time winningest coach in FBS history.
Paterno's 406 wins are the most ever, and it looks as if nobody will ever catch the 84-year-old Penn State coach.
In Happy Valley, "Joe Pa" is the first and only FBS coach to lead his team to 400 or more wins. He also led his program to two national championships ('82, '86), five undefeated seasons and 37 career bowls (24-12-1).
There is no doubting that Paterno is one of the greatest in the history of the sport.