6 Reasons Eli Manning Is Already a Better QB Than Big Brother Peyton
Streeter Lecka/Getty Images
Eli and Peyton Manning. These brothers are unlike anyone else in the NFL.
They're both franchise quarterbacks for their respective teams—Eli with the New York Giants and Peyton with the Indianapolis Colts.
They both have a Super Bowl victory on their resumes, and after Eli beat the San Francisco 49ers in last week's NFC Championship Game, he will have two Super Bowl apperances each.
But with Peyton out of action throughout this entire season, it's been up to baby brother Eli to continue delivering throws under the Manning name.
Over the past couple of weeks, there has been talk about how Eli will be considered a better quarterback than Peyton, if he beats the Patriots this weekend and wins a second Super Bowl ring.
But here's the thing. What if he's already better than his big brother?
Though Eli still has many years left in the tank (while there were rumors Peyton may have to face retirement, but Manning rebuked those rumors in a recent interview with the Indianapolis Star), he has still done so much with the Giants franchise that Peyton hasn't done, and we're here to look at why.
Here are the six reasons why Eli Manning is better than Peyton.
Eli Wins in the Postseason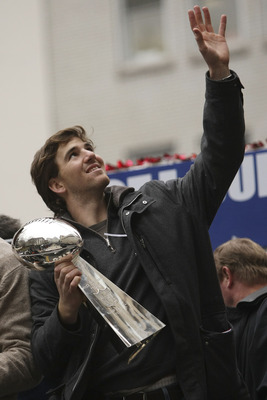 Chris McGrath/Getty Images
Though Peyton has the better regular-season winning percentage (.678 in 208 career games) compared to Eli's so far (.580 in 119 career games), it's what you do in the playoffs that matters the most.
And for the most part, Peyton hasn't really delivered.
Peyton has been in 11 postseasons and in 19 playoff games. In those 19 games, he's only won nine of them, including the four that he won in his 2006 Super Bowl run.
For a quarterback who many say is in the top five of the greatest quarterbacks of all time, that record is pretty pathetic.
In fact, in seven of those 11 postseasons, Manning and the Colts couldn't get past their first game.
What's even worse is some of the performances he's had over the years.
These include a 19-16 loss to the then-Super Bowl-bound Tennessee Titans in 1999 (where he went 19-of-42 for 227 yards), a 41-0 beatdown against the New York Jets in 2002, a four-interception game against the New England Patriots in 2003, a 20-3 shellacking against the Patriots again in 2004 and a close loss to the Jets just last year (he only managed to throw for 225 yards and just one touchdown).
Meanwhile, Eli, who's been in five postseasons and 10 playoff games, has managed to already win seven of them—five of which were on the road.
While Eli's numbers aren't always pretty (particularly if you look at this first playoff game, a 23-0 loss to the Carolina Panthers in 2005), he's gotten the job done in the postseason at a much better rate than this big brother has.
Simply put, when it comes to the playoffs, Eli gets the job done better than Peyton.
Eli Has Already Won a Super Bowl, Yet Still Continues to Improve as a QB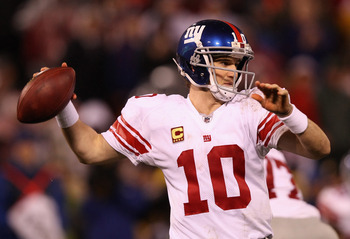 Ezra Shaw/Getty Images
In addition to having a better postseason record than Peyton, Eli was also able to reach (and win) the Super Bowl faster than him.
Eli was able to do it in 2007, his third full season in the NFL. Four seasons later, Eli has already made it to the "Big Game" twice.
Meanwhile, Peyton didn't reach (and win) his first Super Bowl until 2006, his ninth season in the league. He did, however, make a second Super Bowl trip, in 2009, but couldn't win.
Not only can Eli Manning win a second Super Bowl ring, something Peyton hasn't been able to do, but he is still young enough (he just turned 31 earlier this month) and has the talent to make it to even more Super Bowls, even if he doesn't win this one.
As he has gained experience, he's thrown the ball with greater accuracy and more passing yards and has avoided sacks (he was sacked just 11 times this season), making his job a lot easier.
Even though he's already won playoff games and a Super Bowl, his abilities as a quarterback and as a leader continue to improve.
Despite throwing for nearly 5,000 yards this year, he might not have yet reached his peak in his career, and that makes him a force to watch out for in future seasons.
Eli Has Done More with Less at Wide Receiver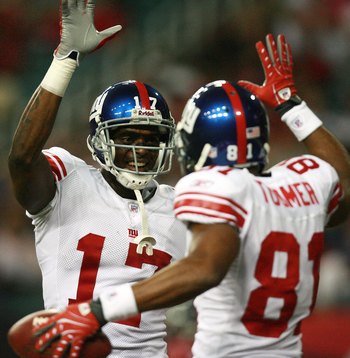 Doug Benc/Getty Images
Let's get a couple things straight first.
This is not a knock on Hakeem Nicks, Victor Cruz, Mario Manningham or any of the other receivers on this 2011 Giants team.
Nicks has been solid since his debut in 2009, but he's still very young in his career, and it remains to be seen what he can do throughout the rest of his career.
The same with Victor Cruz—he's been one of the biggest surprises in the NFL this year, but now that people know who he is, can he put up big numbers on a consistent basis?
Meanwhile, Peyton, as fantastic of a quarterback as he is, has also been fortunate with some fantastic and even HOF-worthy receivers over the course of his career. These include Marvin Harrison, Reggie Wayne, Dallas Clark and Marcus Pollard. That's not even including the newer, younger players like Austin Collie and Pierre Garcon.
Eli, while he has depth at the wide receiver position now, didn't have a whole lot, until guys like Nicks and Cruz came along.
Between 2005 and 2008, he had Plaxico Burress, who caught the winning touchdown catch in Super Bowl 42, but he wasn't the greatest receiver in the world, despite being 6'5".
During that same time, he also had Amani Toomer, who owns just about every Giants' receiving record in the book. However, by the time Manning debuted, Toomer wasn't the same guy who was posting 1,000-plus-yard seasons that he was in the late 1990s, early 2000s.
Tight end Jeremy Shockey was decent but nothing spectacular. It also didn't help that he was brash and suffered from injuries.
There's David Tyree, best known for the so-called "Helmet Catch" that helped save the game in Super Bowl 42. However, Tyree hardly caught balls at the receiving position and was more relegated to special teams.
Tim Carter? Sinorice Moss? Darcy Johnson? Anyone?
You get my point. Despite not having the quality receivers Peyton has had over the years, Eli has still manged to put up numbers and win games regardless.
Peyton Has Difficulty with the Patriots Whereas Eli Can Take Them On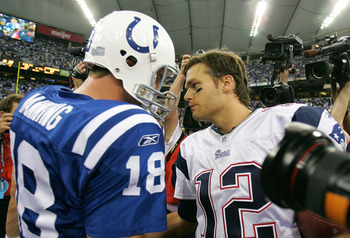 Andy Lyons/Getty Images
The New England Patriots are just one team that Peyton Manning seems to have difficulty with almost every year.
Going back to his rookie season in 1998, he and the Colts were swept in both regular-season meetings. The Patriots would win again in 1999, in their first showdown of the season, but Manning would manage to win his first against the team in the second game. The two teams would go 1-1 again in 2000.
Then, Tom Brady showed up.
From 2001 to the 2004 playoffs, Peyton went winless in seven games, including the 20-3 loss in the 2004 AFC divisional game.
Peyton finally managed to beat Brady in the 2005 regular-season game, which would be the first of three consecutive wins (the last one played in the 2006 AFC Championship Game, which would lead to his subsequent Super Bowl victory).
Since then, he and the Colts are 1-2 against Brady (2-3, if you count the game Brady missed due to being on the injured-reserve list in 2008).
That means, Peyton Manning is 7-9 over the course of his career.
Eli Manning, though he plays in a different conference, has managed to do a lot better. He played against the Patriots for the first time in the 2007 regular-season finale. The Giants lost 38-35 but at least showed that they were capable of keeping up with Brady and their high-powered offense and set the stage for what would come just a month later.
Everyone should know by now how Super Bowl 42 went. Besides the "Helmet Catch" and the game-winning touchdown to Plaxico Burress, Eli threw 19-of-34, 255 yards and two touchdowns.
The only other time he's played against the Patriots was earlier this season. In Week 9, he completed 20-of-39 passes for 250 yards and two touchdowns, en route to a 24-20 win.
Eli Cannot Only Throw, He Can Also Scramble
Even though the NFL has turned into a pass-happy league, sometimes, it takes the quarterback time to find a receiver to throw to. Sometimes, there's no one open at all, and you just have to run with it.
Peyton usually tends to stay in the pocket and throw to whatever target he selects, and that's fine...when there's a receiver to throw it to...and the opponent's defense isn't delivering pressure..
Eli, on the other hand, will run left and right to find an open man, avoiding defensive linemen while doing so.
Again, going back to Super Bowl 42 and the "Helmet Catch," he was able to escape from three Patriots defenders and threw the ball to David Tyree.
However, plenty of times, Eli Manning has to run and spin in all directions to make plays.
Just look at this play from this regular-season's finale against the Cowboys.
Eli Has Handled the Pressures of Playing in New York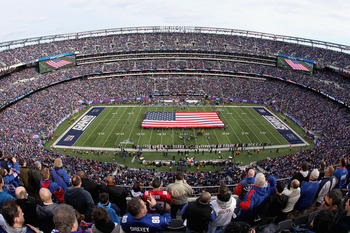 Nick Laham/Getty Images
When it comes to sports, New York fans and the media aren't afraid to rip anyone and anything apart.
When Eli first came to town, there was buzz about him being the newest quarterback of the New York Giants. After all, he was the No. 1 pick in the 2004 NFL draft, his big brother Peyton plays for the Colts and his father Archie was a former quarterback—best known during the then-lowly Saints in the 70s.
However, like many young quarterbacks, Eli was not a big hit amongst fans and the media early in his career.
His average completion rate and sometimes questionable play-calling early on led many to believe that he wasn't a suitable starter for the franchise.
Some wished the team had kept Phillip Rivers—the quarterback they drafted that same year before trading for Eli. Some had wished for Kerry Collins or Kurt Warner to return as their starting quarterback.
However, through it all, Eli Manning has kept his stride, making throws and winning games. He has been to handle the difficulties of playing for near the biggest city in the world, with not only its huge fanbase, but the lofty expectations the people of New York/New Jersey have towards all their local teams.
Peyton has done a good job bringing success to the city of Indianapolis and handling the pressure as one of the most-regarded quarterbacks in the league.
However, when you're playing in New York, it's a whole different story.
Keep Reading

New York Giants: Like this team?