2012 NFL Mock Draft: Projecting the Top Pass-Rushers
January 30, 2012

Geoff Burke/Getty Images
The most valued defensive position in the NFL is the pass-rusher. That's why defensive ends are drafted so early and often every year. The 2012 NFL draft will be no different.
Depending on the defensive scheme, pass-rushers can be uses in a variety of ways. They may be standing up; they may be rushing out of the three-point stance. They may be playing everywhere.
But regardless of the scheme, every defense needs at least one player capable of attacking the quarterback. That is what makes a defense work.
1. Indianapolis Colts: Andrew Luck, QB, Stanford
2. St. Louis Rams: Matt Kalil, OT, USC
3. Minnesota Vikings: Morris Claiborne, CB, LSU
4. Cleveland Browns: Robert Griffin III, QB, Baylor
5. Tampa Bay Buccaneers: Justin Blackmon, WR, Oklahoma State
6. Washington Redskins: Trent Richardson, RB, Alabama
7. Jacksonville Jaguars: Whitney Mercilus, DE, Illinois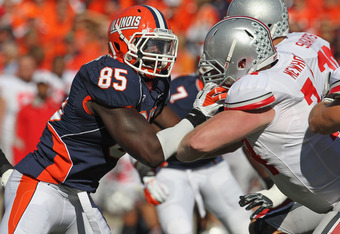 Jonathan Daniel/Getty Images
Aaron Kampman is now 32 years old and has hardly played the last three seasons. Yet he is probably the Jaguars' best pass-rusher. That's not good.
No player racked up more sacks than Whitney Mercilus in 2011, and he is a promising pass-rusher. Mercilus weighs in at 6'4", 265 pounds, and he has an unbelievable motor.
The Illini-star needs to add more moves and can be run at; however, there isn't a better pure pass-rusher left at this point. Mercilus is a perfect fit opposite Peppers and should, at the least, develop into a solid player.
8. Carolina Panthers: Michael Brockers, DT, LSU
9. Miami Dolphins: Quinton Coples, DE, North Carolina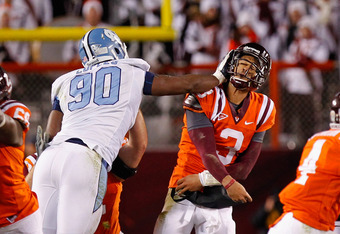 Geoff Burke/Getty Images
With the team likely switching to a 4-3 defense, the Dolphins are in need of a defensive end. Cameron Wake has the weakside locked down, but Miami still needs a strongside defensive end.
At 6'6", 281 pounds, Quinton Coples is huge. The North Carolina defensive end is powerful and has perfect size to play left end.
However, Coples is not a great pass-rusher. He is a great athlete, but for whatever reason, he isn't that explosive and probably isn't a double-digit-sack player in the NFL.
10. Buffalo Bills: Luke Kuechly, LB, Boston College
11. Seattle Seahawks: Ryan Tannehill, QB, Texas A&M
12. Kansas City Chiefs: Riley Reiff, OT, Iowa
13. Arizona Cardinals: Mike Adams, OT, Ohio State
14. Dallas Cowboys: Dre Kirkpatrick, CB, Alabama
15. Philadelphia Eagles: Fletcher Cox, DT, Mississippi State
16. New York Jets: Courtney Upshaw, OLB, Alabama
17. Cincinnati Bengals (from Oakland): David DeCastro, OG, Stanford
18. San Diego Chargers: Nick Perry, DE/OLB, USC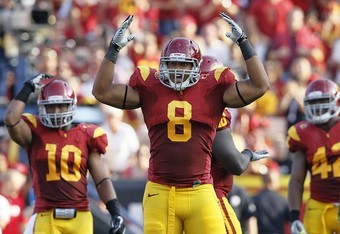 Shaun Phillips didn't produce at a high level in 2011 and struggled with injury, but he's still a good player. However, San Diego's other outside linebacker needs to be upgraded.
Like most 3-4 outside linebackers, Nick Perry is an undersized defensive end. The 6'3", 250-pounder is quick and explosive, but needs to develop more pass-rush moves.
At times, Perry is a complete non-factor against the run. The USC end needs to improve his technique and add muscle to shred blocks.
19. Chicago Bears: Michael Floyd, WR, Notre Dame
20. Tennessee Titans: Cordy Glenn, OG, Georgia
21. Cincinnati Bengals: Janoris Jenkins, CB, North Alabama
22. Cleveland Browns (from Atlanta): Kendall Wright, WR, Baylor
23. Detroit Lions: Zach Brown, LB, North Carolina
24. Pittsburgh Steelers: Dontari Poe, DT, Memphis
25. Denver Broncos: Stephon Gilmore, CB, South Carolina
26. Houston Texans: Alshon Jeffery, WR, South Carolina
27. New England Patriots (from New Orleans): Mark Barron, S, Alabama
28. Green Bay Packers: Melvin Ingram, DE/OLB, South Carolina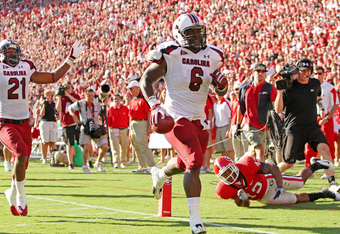 Clay Matthews III is obviously an elite player, but Green Bay doesn't have anyone to play opposite him. In order for the Packers to improve on defense, they need to add a legitimate pass-rushing threat to help Matthews.
Though he isn't an elite rusher off the edge, Melvin Ingram will provide value in a variety of ways. In Dom Capers's 3-4 defense, versatility is key.
A 6'2", 275-pounder, Ingram isn't especially speedy and could struggle in coverage. But he can rush the passer and defend the run. Though Ingram will never be an elite rusher, he would dramatically improve Green Bay's defense in multiple ways.
29. Baltimore Ravens: Vontaze Burfict, LB, Arizona State
30. San Francisco 49ers: Mohamed Sanu, WR, Rutgers
31. New York Giants: Jonathan Martin, OT, Stanford
32. New England Patriots: Peter Konz, C, Wisconsin