2012 NFL Mock Draft: Projecting Top Offensive Linemen
January 30, 2012

Many NFL teams are as awful as they are only because of terrible offensive line play. These teams will be looking to address that issue in the 2012 NFL draft.
Last year, the Dallas Cowboys added Tyron Smith and immediately improved their offensive line. You can bet a team will be looking to do the same with USC's Matt Kalil.
The offensive line doesn't receive the attention the quarterback does, but it can win and lose games. Plays start up front, and NFL teams know it. 
1. Indianapolis Colts: Andrew Luck, QB, Stanford
2. St. Louis Rams: Matt Kalil, OT, USC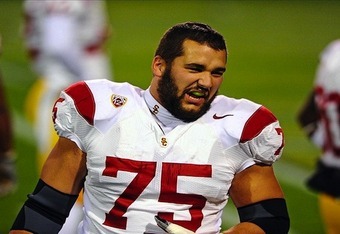 It is true that the Rams already have a lot invested along the offensive line, but the unit is still terrible.
The new rookie pay system limits how much money Matt Kalil would make, so St. Louis can afford to use a high pick here.
The 6'7", 295-pound Kalil is a superb athlete with great length. Kalil is nearly flawless technically and is easily the best left tackle prospect since Jake Long.
On the other hand, Kalil needs to gain some weight and isn't an elite run-blocker. There aren't many safer picks, though, and the Rams finally find their franchise left tackle.
3. Minnesota Vikings: Morris Claiborne, CB, LSU
4. Cleveland Browns: Robert Griffin III, QB, Baylor
5. Tampa Bay Buccaneers: Justin Blackmon, WR, Oklahoma State
6. Washington Redskins: Trent Richardson, RB, Alabama
7. Jacksonville Jaguars: Whitney Mercilus, DE, Illinois
8. Carolina Panthers: Michael Brockers, DT, LSU
9. Miami Dolphins: Quinton Coples, DE, North Carolina
10. Buffalo Bills: Luke Kuechly, LB, Boston College
11. Seattle Seahawks: Ryan Tannehill, QB, Texas A&M
12. Kansas City Chiefs: Riley Reiff, OT, Iowa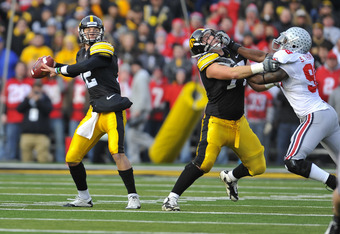 David Purdy/Getty Images
Though Branden Albert is decent at left tackle, Barry Richardson is terrible on the right side. Kansas City's biggest offseason priority is probably replacing Richardson.
A former tight end, Riley Reiff is an excellent athlete and projects as a solid player in the NFL. At 6'6", 305 pounds, Reiff isn't particularly big, but he has the frame to add weight.
There are some concerns about whether Reiff can play left tackle; however, he could play on the right side in Miami. The Dolphins have an elite left tackle in Jake Long, and they are looking for a right tackle, not a blind-side protector.
13. Arizona Cardinals: Mike Adams, OT, Ohio State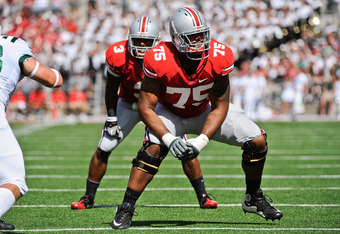 Jamie Sabau/Getty Images
It's no secret that the Cardinals' offensive line is brutal and needs to be addressed before the 2012 season begins. Levi Brown needs to be replaced, and Arizona could use an upgrade at right tackle too.
Historically, Mike Adams has been an underachiever, but he was excellent in 2011 after returning from a suspension. The 6'8", 320-pounder is a fantastic athlete with superb size.
After Matt Kalil, Adams has the most upside of any offensive tackle in the draft. Adams could definitely continue to underachieve as a pro, so he is not without risk.
14. Dallas Cowboys: Dre Kirkpatrick, CB, Alabama
15. Philadelphia Eagles: Fletcher Cox, DT, Mississippi State
16. New York Jets: Courtney Upshaw, OLB, Alabama
17. Cincinnati Bengals (from Oakland): David DeCastro, OG, Stanford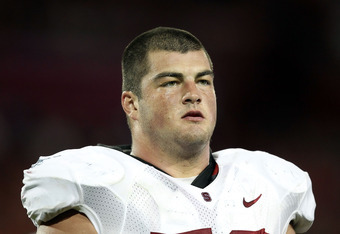 Christian Petersen/Getty Images
The Bengals don't have a huge need along the offensive line, but David DeCastro is too good to pass on here. DeCastro would immediately improve Cincinnati's rushing attack.
A junior guard, DeCastro is the best interior line prospect to come along in years and could even be a top-10 selection. At 6'5", 310 pounds, DeCastro has perfect size and is a phenomenal athlete.
DeCastro is capable of power-blocking or pulling and picking up linebackers in space. Few offensive linemen are more versatile, and DeCastro is elite in literally every aspect of the game.
18. San Diego Chargers: Nick Perry, DE/OLB, USC
19. Chicago Bears: Michael Floyd, WR, Notre Dame
20. Tennessee Titans: Cordy Glenn, OG, Georgia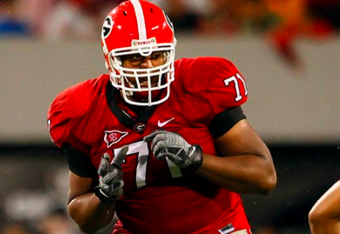 Tennessee's interior line seriously hindered Chris Johnson's 2011 production, and the team is looking to upgrade. Cordy Glenn is far from a perfect prospect, but, at worst, he should be an excellent run-blocker.
At 6'5", 345 pounds, Glenn is massive. The Georgia lineman has played left tackle, and though some think he believe he could play right tackle, he is better off at guard.
Glenn will probably struggle in pass protection, but someone will take a chance on his upside. I personally wouldn't, but I'm not exactly in charge.
21. Cincinnati Bengals: Janoris Jenkins, CB, North Alabama
22. Cleveland Browns (from Atlanta): Kendall Wright, WR, Baylor
23. Detroit Lions: Zach Brown, LB, North Carolina
24. Pittsburgh Steelers: Dontari Poe, DT, Memphis
25. Denver Broncos: Stephon Gilmore, CB, South Carolina
26. Houston Texans: Alshon Jeffery, WR, South Carolina
27. New England Patriots (from New Orleans): Mark Barron, S, Alabama
28. Green Bay Packers: Melvin Ingram, DE/OLB, South Carolina
29. Baltimore Ravens: Vontaze Burfict, LB, Arizona State
30. San Francisco 49ers: Mohamed Sanu, WR, Rutgers
31. New York Giants: Jonathan Martin, OT, Stanford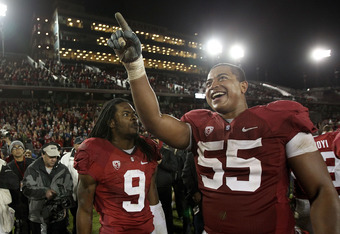 Ezra Shaw/Getty Images
Kareem McKenzie will be an ex-Giant once the Super Bowl is over, and William Beatty is not a starting-caliber player. New York needs help at both offensive tackle positions, and Jonathan Martin is a good value at the end of the first round.
At 6'5", 310 pounds, Martin has the build of a left tackle. Martin is far from a star offensive line prospect, but he's a legitimate first-round pick.
Martin is a refined player with great technique, but he may not be athletic enough to play on the left side. Andrew Luck's left tackle is only a decent athlete, and he isn't overly powerful either. Though Martin doesn't have much upside, he's still a solid player.
32. New England Patriots: Peter Konz, C, Wisconsin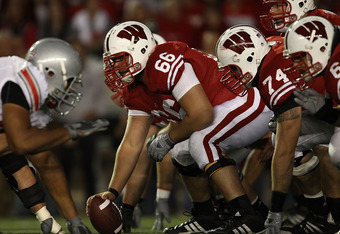 Jonathan Daniel/Getty Images
Dan Koppen is a free agent, and he was hurt for nearly all of the 2011 season anyway. New England is constantly spending early-round picks on offensive linemen, so it would fit the profile to add Petter Konz.
The 6'5", 315-pound Konz is the rare underclassmen center to enter the draft. Konz is a great athlete who can excel as a run or pass-blocker.
Though Konz has dealt with some ankle injuries, he's not a reach at the end of the first round. In fact, the Wisconsin center could easily be gone by this point.