WWE Royal Rumble 2012 Results: The End of the World
January 30, 2012

"This Sunday at the Royal Rumble, it's going to be the end of the world as you know it."
The above sentence was the line Chris Jericho uttered last Monday Night on Raw. He was correct because after months of promos and speculation, Chris Jericho has returned to the WWE only to confuse fans and LOSE the Royal Rumble. I would call that the end of the world as I know it because I did not realize it was acceptable to build up a loser.
I would clap slowly and sarcastically but then I would not be able to write the rest of this article.
Bravo WWE creative! I may not have embraced Jericho's return, but after all the buildup even I believe the WWE really dropped the ball here.
The bitter irony in this though is that the WWE actually did what I wanted them to do: make the Royal Rumble winner a young, upcoming star. I wanted to see a Wade Barrett or a Sheamus win the Rumble because it would do more good for them than it would for an already established star such as Chris Jericho.
I do not want to come off as someone kicking Jericho fans while they are down and out, but all of my readers know I was not keen on the way Jericho's return has been handled. I have no problem reiterating that a loss at the Rumble for Jericho made his entire return worthless as far as I am concerned.
What has he accomplished since he came back?
None of his promos have been clarified and they most likely never will be. Jericho's behavior has been erratic and nonsensical and after a month even the most patient WWE fan has to be sitting here confused. We cannot wait another month for Chris Jericho to reveal his intentions.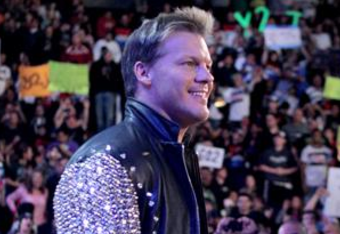 I understand that a story needs to play out, and most Jericho supporters kept telling me to just "let it play out." Well I have done that and every week that passes I just remember less about the cryptic promos and keep asking myself "Why is Chris Jericho's return important anyway?"
Here is where I give Chris Jericho kudos, though. I may be harsh on the writers for how they have handled Jericho's return but I give props to Jericho for helping put Sheamus over and making his Rumble victory meaningful. I wanted to see Randy Orton and Wade Barrett be more involved in the ending but Chris Jericho at least made the last 10 minutes interesting and helped push Sheamus to the main event of WrestleMania.
I wanted to see a rising star begin his journey to the main event by winning the Royal Rumble and that DID happen. Chris Jericho helped make that possible so I will gladly give him praise where he deserves it. I have been on the record of saying that if Chris Jericho is back to help establish talent then I applaud him.
So what is next for Chris Jericho? How does he pick up the pieces?
I have to assume that his chief goal will be to qualify for the Elimination Chamber match. Whether you like Chris Jericho's role up to this point is irrelevant, the man needs to get involved and make an impact soon. I have been questioning his role since he returned but after tonight I have to think many others will soon follow.
Maybe we all should have seen this coming since the WWE has never even opened or closed an episode of Monday Night Raw with him. Perhaps everyone, myself included, overestimated what his role would truly be in the WWE going forward. I guess we will have to see how he reacts tomorrow night.
What did you think of Chris Jericho's loss in the Royal Rumble? What do you think he will do going forward? I want to hear from everyone in the comment section, and don't be afraid to voice your opinion. Also remember to follow me on Twitter @ClassicJoeyMac. Sometimes I make witty tweets.
Keep it classic everyone!