WWE Royal Rumble 2012 Results: A Full Review of the Event
January 30, 2012

What's up, ladies and gentlemen? My name is Eric Kanes, and I am here today with a review of the 2012 Royal Rumble, just a few hours after it ended. It had its high and low points, but turned out to be a bit of a letdown to say the least.
Without any further ado, let's get right down to the review.
Daniel Bryan d. Big Show & Mark Henry (Steel Cage Match) (**3/4)
This was a fine opener and ended just like most people thought it would, with Daniel Bryan finding a way to escape as world champion. The match finished with Big Show holding him on top of the cage, as he was hanging. Big Show accidentally let go and Bryan won.
Technically, Bryan had no choice but to win since Big Show dropped him. When both Bryan was sitting on top of the cage while Big Show was standing on the top rope, I would've had Bryan kick him off. That would've made him look like a badass.
Nonetheless, Bryan won and that was the right decision. His match at the Elimination Chamber should be better since he'll be able to work with opponents that suit his style better.
After this, we got a video package on John Cena and how great he is. I thought it would follow up with a video package of Kane dominating him in recent weeks and getting him to "embrace the hate." Nope. It was just that package. Why kill time like that when you could've had a longer match or an added match? I don't get it.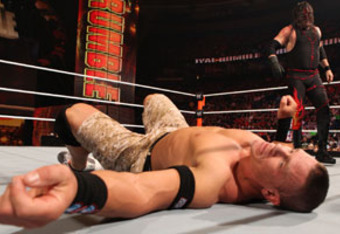 Beth Phoenix, Natalya and The Bella Twins d. Kelly Kelly, Eve Torres, Alicia Fox and Tamina (*)
Beth Phoenix got the win for her team in an eight-person tag match and...nobody really cares. Only thing that matters is that Kharma is back and the Divas division will now be somewhat relevant. We'll get to that in a bit.

John Cena vs. Kane ended in a double count-out (**3/4)
This was a very solid matchup. It was back-and-forth and Kane never really let John Cena get on offense. He really ended up looking strong here. I don't get why they don't do this with younger guys who would actually benefit from a push.
Anyway, it ended in a no contest after both guys were counted out. Kane and John Cena went backstage and Kane knocked Cena out with a chair. He then went into Zack Ryder's locker room, while Zack Ryder was in a wheelchair. Apparently, Ryder came to watch the show, yet there was no TV in his locker room.
He was just kind of sitting there staring at the wall. Kane ended up wheeling him to the ring and hitting a tombstone, while Eve watched and cried.
John Cena came out and attempted an AA, but his back gave out and Kane hit him a chokeslam and laughed to end the segment. It did a great job in putting Kane over. If they did this with any of Cena's other opponents, the WWE would be a much better place.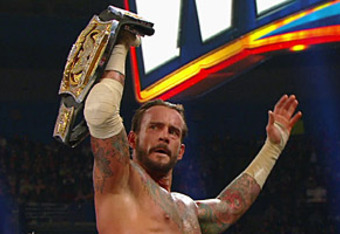 Brodus Clay d. Drew McIntyre (NR)
This was pretty much a squash match. I love the Funkasaurus character but with all of the throwaway entrants in the Rumble, why didn't he get a spot? We'll get to that a bit more in a while as well.
CM Punk d. Dolph Ziggler (***)
CM Punk and Dolph Ziggler have really good chemistry, but they can do better. The match was definitely hurt by John Laurinaitis at ringside which led to nothing.
At first, he refused to be the referee. Then, when the referee got knocked out, he turned his attention away from the match, while Punk got Ziggler to tap out.
After that, when Punk hit the GTS on Ziggler, Laurinaitis helped the referee count to three. All that buildup for that? What the hell? It did nothing but make Laurinaitis look like an idiot.
If he didn't want to screw Punk, why did he turn away when the referee was knocked out? If he wanted to screw Punk, why was he there in the first place? WHAT IS THIS? I can't even try to understand this logic.
Sheamus won the 30 Man Royal Rumble Match (***1/2)
This year's Royal Rumble match wasn't too bad but it definitely could've been better. First of all, it had a bunch of throwaway entrants such as Ricardo Rodriguez, Jim Duggan, Jerry Lawler, Booker T, Michael Col, and Road Dogg.
That's fine but if that's the case, wouldn't this be the perfect opportunity to re-debut a monster heel, such as Skip Sheffield, or hell, even Mason Ryan, and have him toss everybody out? Nope. They pretty much just entered for no reason.
Then, you have The Miz and Cody Rhodes, who lasted over 45 minutes. Again, you'd think that this would be the perfect opportunity for an up-and-comer to eliminate them. It would even make sense to have Goldust come out and eliminate Rhodes out to further their feud.
Nope.
It ended with Big Show coming out and effortlessly tossing them out. He tossed Jack Swagger and Dolph Ziggler out as well. WHY?! Why would they waste an opportunity to build up a younger midcarder and just have Big Show throw everybody out?
Next, there were only a few guys that anybody thought had a chance. Those guys were Chris Jericho, Wade Barrett, Randy Orton and Sheamus and they all came in at the end. Other than Dolph Ziggler, Cody Rhodes and The Miz, the rest of the Rumble up that point was just jobbers and commentators.
There were a couple noteworthy moments, though. I thought Kofi Kingston's spot where he got tossed out and he walked on his hands to the steps was really impressive. I think he outdid John Morrison from last year.
I'm also glad that Kharma is back. Kharma vs. Beth Phoenix at WrestleMania should be great. Also, the exchange at the end between Sheamus and Chris Jericho was great. It could've gone either way and they made it look like both could win, and that's what made it awesome.
Other than that, the Rumble match itself was mostly a disappointment.
Sheamus winning isn't a bad move, though, as long as they do something with this win. So far, they've built him up better than Alberto Del Rio and he's far more talented, so at least, he won't end up like him. However, I want to see them book him like a complete monster from now until WrestleMania.
Do the same with Daniel Bryan. Instead of just being a small, defenseless jerk, have him be a jerk who can back up everything he says. That Daniel Bryan vs. That Sheamus could make for a fantastic world title match at WrestleMania.
Final Thoughts
Overall, the PPV gets a 6/10 from me. It was average. Maybe I had my expectations set too high, as I wanted to see Christian, Alberto Del Rio, Brodus Clay and Skip Sheffield, among others, in the Rumble. It could've been done better but it wasn't the worst Rumble ever either.
Elimination Chamber next month should be better. I assume the matches will be something along the lines of Daniel Bryan vs. Wade Barrett vs. Randy Orton vs. Big Show vs. Mark Henry vs. Cody Rhodes and CM Punk vs. Chris Jericho vs. Dolph Ziggler vs. The Miz vs. R-Truth vs. Alberto Del Rio, so those should be great.
I hope you enjoyed this review. Until next time, I'm out!
-----------------------
If you enjoyed this column, make sure to add me on Facebook to be notified of all future columns.
And of course, check out my site: QuickWrestlingNews.com.