With a legitimate QB, Brandon Marshall will be widely considered the best receiver in the NFL, and the Miami Dolphins will be Super Bowl contenders.
This is the most physically gifted receiver in the NFL, and he has been wasted on a Dolphins team that has suffered through some abysmal QB play.
During his two seasons with the Dolphins it has been easy to forget just how dominant he can be. Their stale offense mutes his talents. However, there was no mute button in the Pro Bowl.
Pro Bowl Performance
On the field with the best players in the game, Marshall took over. He was unstoppable.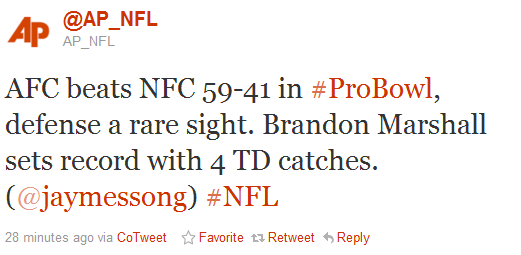 He was as easy an MVP choice as any game will ever have as he finished with six catches for 176 yards and four touchdowns.
Marshall flashed his amazing body control, focus and physical dominance on his catches. He also showed his ability to pull off the absolutely improbable on this jaw-dropping kick save grab.
Toiling with the Dolphins
After posting three straight seasons of 100-plus catches with the Broncos, Marshall has averaged just 83.5 catches in his two seasons with the Dolphins.
His touchdowns have also fallen off the map. For example, his four TD grabs in the Pro Bowl was one more than he had in his first season with Miami and two less than he had this season.
These are still rock solid numbers—hence his Pro Bowl selection—but they are far below what they could be if he had a solid QB.
Why Miami Needs a QB
This fan sums up Miami's need for a QB in 140 characters or less.

The above point is illustrated by the fact that Miami won six of their last nine games. Not coincidentally, that strong finish came about when backup QB Matt Moore began to play acceptable football.
Miami has a great defense, a solid offensive line and the best receiver in football. This is an ideal situation for any QB.
They must find an answer under center while they still have all of these ingredients in place.
QB Options
This team is too talented to draft a QB and wait for him to develop. That means they should turn to the free-agent market to find their answer.
Miami really has one option at QB this offseason, and that is free agent Matt Flynn.
Making this move even more ideal is the fact that their new head coach, Joe Philbin, was Flynn's offensive coordinator in Green Bay.
Flynn doesn't have a lot of experience in his four years, but what he has shown in that limited experience is very promising.
In the Packers' final regular season game, Flynn was 31-of-44 with six touchdowns and 480 yards. Those completions, yards and touchdowns were superior to the numbers Aaron Rodgers put up in any game this season.
Flynn would be an excellent fit for this offense and for Marshall. With this QB under center, the Dolphins and Marshall will be the talk of the NFL next season.