20 Laziest Players in the NBA
Harry How/Getty Images

Despite being paid more in a year than most of us will make in a lifetime, professional athletes tend to exhibit laziness on and off the court.
It's extremely disappointing to see this from these athletes when you consider just how much they're getting paid to play the game that they grew to love. These players are either overweight, prone to mental lapses or subject to playing hard on one end of the floor.
Usually those players are offensive players and not much more. Even players that score 20 points or more could be deemed as lazy if their work ethic is brought into question on the defensive end.
If that player is able to work hard enough to score 20 points against an NBA defense, there shouldn't be any problems with at least attempting to keep up with their defensive assignment.
Instead, some NBA players would prefer to play to their fullest potential on one end and then simply go through the motions on the other end.
These players are just as bad as the ones that have perennial weight problems or go through mental lapses. It's not fair to the teammates when one player is failing to emit their energy to its fullest potential on the defensive end.
So in no order, here are 20 of the laziest players currently in the NBA.
Begin Slideshow

»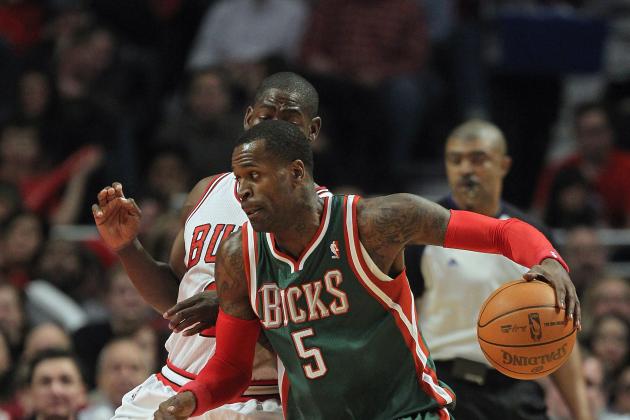 Jonathan Daniel/Getty Images

The interesting thing about most of these lazy players is how inconsistent they are with their laziness.
Stephen Jackson is a prime example of inconsistent laziness. He has no problem scoring 20 points per game on offense thanks to a lethal jump shot and a solid driving game, but doesn't transition that work ethic to the defensive end.
Jackson becomes lazy on defense. Unless he's motivated to play up on his assignment, Jackson will flat-out refuse to play strong defense and would much rather think about where he's going to shoot once this defensive possession comes to an end.
He also happens to be a pretty bad teammate as well. He's already been benched a few times by his new team, once due to not showing up for a shootaround.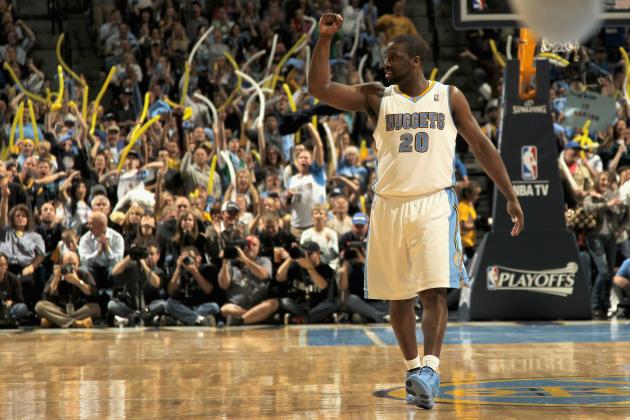 Doug Pensinger/Getty Images

Once in a while, you come across a lazy player who happens to be good at what he does on the court.
Raymond Felton fits the bill. The point guard has played a significant role with the Charlotte Bobcats, New York Knicks, Denver Nuggets and his current team in the Portland Trail Blazers and has always been recognized as a solid floor general who plays with fundamentals and takes good care of the ball.
Where does his laziness stem from? His weight problems obviously. He's pushing 200 pounds despite only being 6'1" and showed up overweight for Trail Blazers training camp this year.
When most players were trimming down for this congested season, Felton must have been expecting this lockout to eat away the whole season.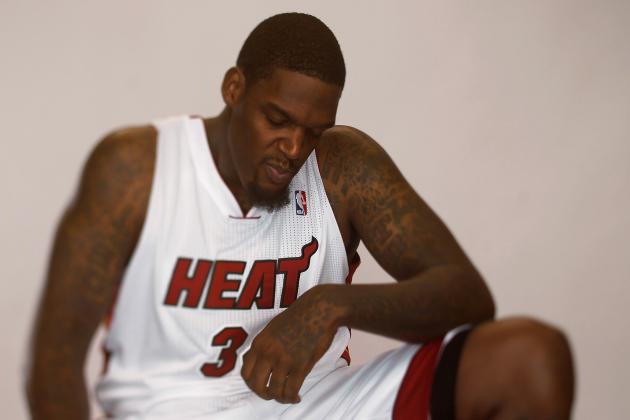 Mike Ehrmann/Getty Images

I find it difficult to believe that Eddy Curry lost 100 pounds and is at 300 pounds.
Judging by what he looks like today and how slow he is, Curry still looks as if he's pushing at least 325 and that's just a modest guess.
The Miami Heat attempt to get him on the court to get some significant minutes but quickly take him out due to how slow he is on the defensive end.
The Heat rely too heavily on athleticism and quickness to secure turnovers for Curry to begin getting serious minutes. He still has a long way to go before he can become a relevant part of that roster that's craving a center.
Curry has always been overweight and even went as far to eat himself out of the league during his final years with the New York Knicks. He was reported to weigh as much as 400 pounds.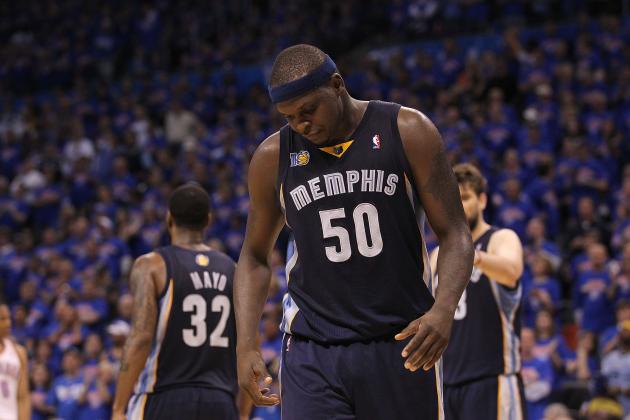 Ronald Martinez/Getty Images

Like Raymond Felton, Zach Randolph also happens to be a quality player who has dealt with weight problems.
The strangest thing is that it seems as if the weight issues have aided Randolph throughout his career.
While he's never been the most athletic player in the league, Randolph has always been a league leader in the rebounding department. He's averaged as much as 12 boards per game and has recorded double-digit rebounds per in six out of his ten years in the league.
Recently, Randolph led the Memphis Grizzlies to a stunning upset over the No. 1-seeded San Antonio Spurs in last year's postseason. He responded by using the extended offseason to getting in the best shape of his life.
Before this year, however, Randolph has always been looked at as one of the league's laziest performers.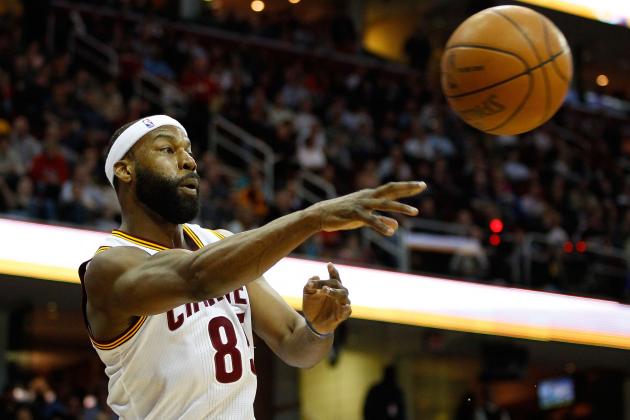 Jared Wickerham/Getty Images

Where do we even begin with Baron Davis?
Should we start with the fact that he's constantly showing up for training camps overweight or the known fact that he only gives an effort on the court when he's feeling up for it?
Once upon a time, Davis was one of the league's most feared point guards. He was dishing out as many as eight assists per, made it onto two All-Star teams and was one of the league's most explosive players when given an open lane.
It was only in 2007 when Davis jumped out of the ceiling to dunk on Andrei Kirilenko. It's not even five years later and Davis can barely jump out of his seat.
Herniated back discs are keeping Davis on the bench from playing with the New York Knicks at the moment, and this is probably for the best.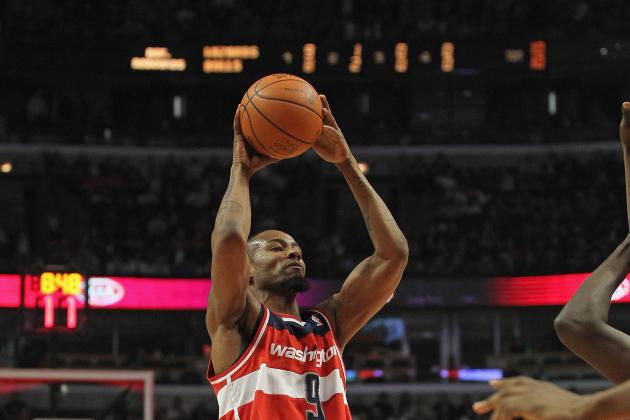 Jonathan Daniel/Getty Images

Rashard Lewis isn't overweight. In fact, he's probably too skinny to be recognized as an actual power forward.
Lewis is lazy because he's not even close to being a legitimate power forward. It's a facade. Unless you're Dirk Nowitzki or Chris Bosh, you need to have a strong back-to-the-basket game and some post moves.
Instead of doing that and being productive, Lewis would rather hang out beyond the perimeter and shoot 27 percent from deep, which is what he is shooting this year in 20 games with the Washington Wizards.
He's also an awful defender. The worst part of it is that he knows it, which then leads to easy blow-by's and plenty of work being put on in the post from his assignment.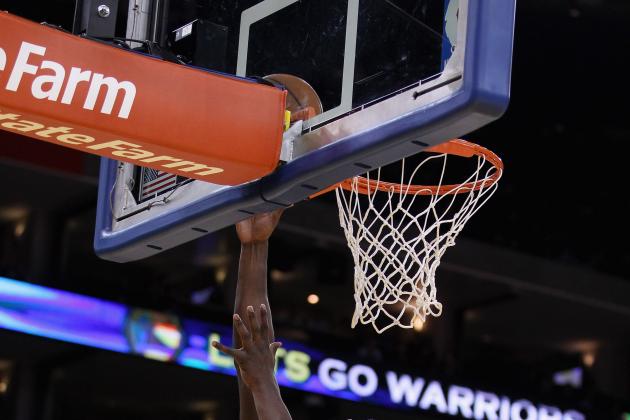 Ezra Shaw/Getty Images

For those who think any player is coachable, you have met your match.
Former first-round pick Kwame Brown is uncoachable. He has no desire to learn despite being considered one of the most tremendous draft busts in NBA history.
There is absolutely no desire for him to win games. All he's looking forward to is the next paycheck that so many NBA teams have willingly given to him since 2001.
Brown has been getting into altercations with teammates and coaches since he joined the league, and has shown absolutely no improvement whatsoever in the way he plays the game. He's going through the motions and is content with his abysmal game.
If it wasn't for him being 6'11", Brown would never step anywhere near a basketball court. Alas, the fact that he's tall and overweight warrants him a roster spot, simply because he's large.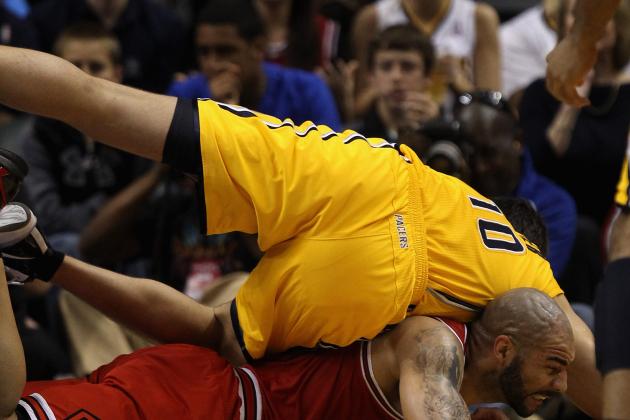 Jonathan Daniel/Getty Images

You may not think this player, or the next one, are lazy in a physical aspect, but you will once you recognize how they play.
Indiana Pacers forward-center Jeff Foster is lazy for the reason that he'd rather just take hacks at the opposition instead of playing actual defense.
He's been known as one of the league's dirtiest players, but it's mostly because he's too lazy to play like an actual NBA player.
Foster has no desire to learn how to play the game right. He's content with being a seldom-used forward that's only utilized for the purposes of playing dirty and possibly injuring the oppositions' star player.
He tried it on Derrick Rose throughout the Pacers first-round series last year. It certainly got Rose riled up, but didn't hurt him too much.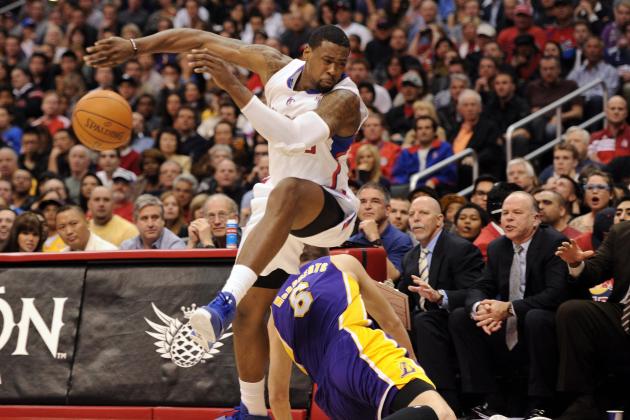 Harry How/Getty Images

Another player who is simply out on the court to inflict pain on the opposing team, Josh McRoberts is another "enforcer" who's a waste of a roster space.
Seriously, there are D-League players and free agents who could offer much more than one of the league's dirtiest players.
It wasn't until he joined the Los Angeles Lakers that the casual NBA fan began to notice that McRoberts was plain dirty when it came to playing the game.
It's a waste of height and athleticism inside the body of a player with the mentality of that big kid who bullied the smaller, better players in middle school.
Like Foster, it's pure laziness most of the time. Instead of using his talent and skills as an NBA player, McRoberts would rather allow his forearms and elbows do the talking for him.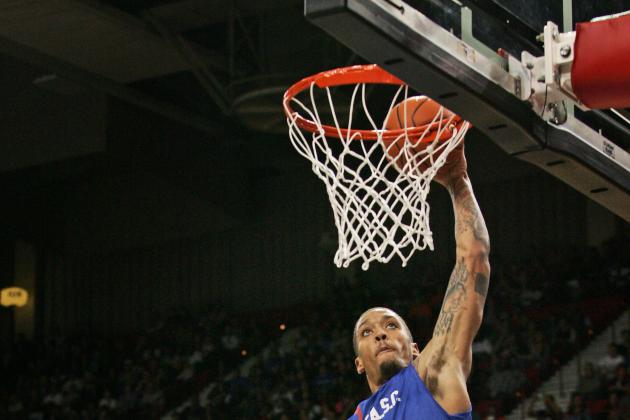 Brett Deering/Getty Images

Give Michael Beasley a little more time before you begin to label him as a bust.
Even though he has his mental lapses, he is capable of scoring in high volume as evidenced by the 34 points he recently scored against the Houston Rockets.
He's coming off a year where he averaged a career-high 19 points per game as the primary scoring option for the Minnesota Timberwolves. This came after two disappointing years with the Miami Heat.
Beasley is a terrific offensive player who can score from inside and out, but he has his shortcomings in a number of key areas. For one, his defense is pure laziness at times.
He suffers through momentary lapses, caused by playing lazy, and he will lose track of his defensive assignment which leads to easy scores for the opposition.
Even his offense is lazy. Beasley is an unbelievable athlete, but you wouldn't be able to tell that by the way he plays. He settles for jump shots too many times and only seldom drives, despite usually being faster and stronger than his opponent.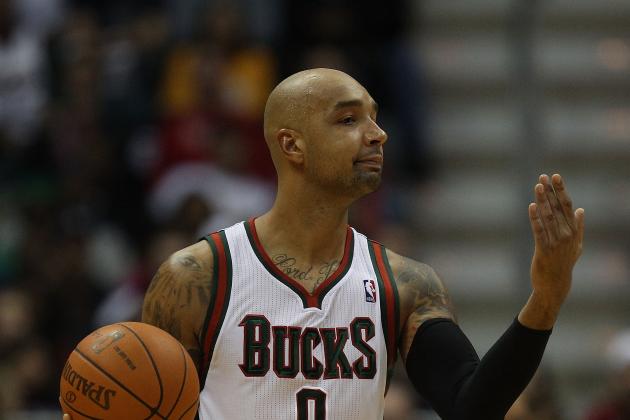 Jonathan Daniel/Getty Images

Another player who wastes their talent on one side of the floor on one specific go-to move, Drew Gooden happens to be far too one-dimensional of a player to stand.
His defense is solid, but it's only when he feels like playing it. Gooden is one of the strongest players in the league, yet you wouldn't ever be able to tell when you notice just how inept he can be on the defensive end.
On offense, it's the same story. Gooden has the potential to be a quality player who can be recognized as a dual threat, but relies too heavily on his jump shot and becomes looked at solely as a mid-range threat.
In nine years in the NBA, Drew has been on nine teams.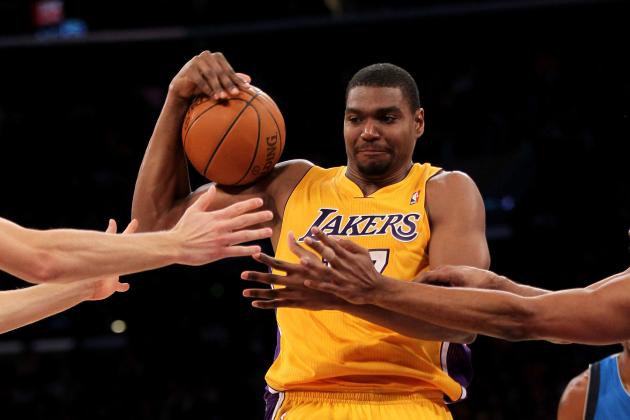 Stephen Dunn/Getty Images

A higher-profile Josh McRoberts or Jeff Foster in terms of laziness, Andrew Bynum also happens to be another player that can allow their elbows and forearms to do the talking for them instead of playing actual defense.
Bynum looks like a lazy player to begin with. He's extremely tall and lengthy, yet he doesn't seem nearly as strong as his counterparts in players like Dwight Howard and Andrew Bogut. If you saw him with his shirt off following his elbow on J.J. Barea, you'll know exactly what I'm talking about.
Speaking of that elbow in last year's playoffs, that could be attributed to laziness. It does appear that Barea was subjected to a dirty elbow that strictly came off of frustration, but this has happened in the past on a few occasions.
While the elbow to Barea seemed malicious, he has also served up sharp elbows to Michael Beasley and Gerald Wallace. Both of them appeared to come as a result of Bynum failing to rotate in time and basically relying on dirty plays to make his point.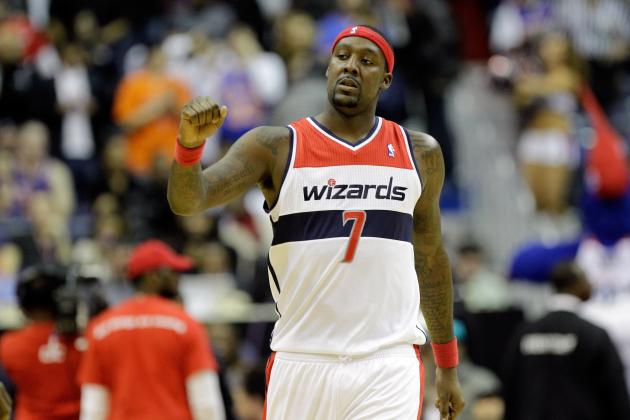 Rob Carr/Getty Images

One of the laziest players in the NBA, the Washington Wizards' Andray Blatche has built a career out of being lazy, immature and selfish.
He's been in the league for seven years and has averaged as much as 17 points and eight rebounds per game.
Blatche entered the NBA as a 19-year-old straight out of high school and spent the first three years of his career underachieving and getting little playing time. It wasn't until he began producing on offense that he began receiving significant minutes.
Blatche's offense is solid as he can hit from the mid-range and inside, but he's awfully nonexistent everywhere else.
He's lazy on offense because of his inability to commit to driving, refuses to play defense for the majority of the game and hardly ever passes it, as he'd rather attempt to be the offensive leader of this dismal Wizards team.
His selfishness and laziness have been a staple to this horrible start to the season for Washington.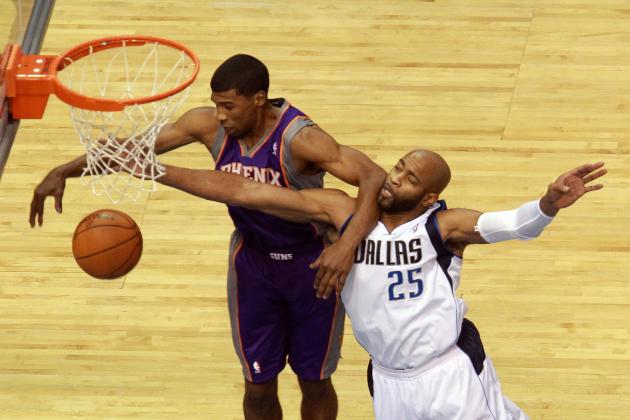 Ronald Martinez/Getty Images

Vince Carter is so lazy that he actually went about admitting it.
Of course, every NBA player who treks to Toronto has played lazy at one time or another. Carter, however, was on a completely new level of laziness during his time with the Raptors.
In his first few years with the team, Carter was having the best years of his career, averaging as much as 28 points per game in only his third year in the NBA.
Three out of his first four years in the league featured Carter averaging at least 25 points per and hitting nearly 40 percent of his three-pointers.
However, once Carter's cries for a supporting cast were never met with a response, he became incredibly lazy which we still see to this day.
Carter stopped trying for Toronto. He didn't get the supporting cast he wanted, grew disgruntled with the organization and quit. He spent the rest of his time with the Raptors on the bench until he got traded to the New Jersey Nets.
"Vinsanity" also happens to be the type of player who would rather spend much more time on his offensive skill set than his defense. On offense, he becomes far too reliant on his jump shot instead of utilizing his athleticism to drive at will.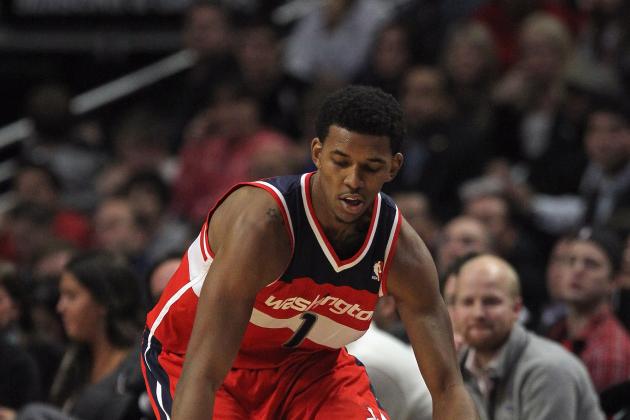 Jonathan Daniel/Getty Images

You may be wondering how on earth a young athlete like Nick Young could be considered lazy.
To answer your questions and concerns, all you need to do is look at his career stat line and you'll notice an odd trend that stands out.
Young is averaging 11 points per for his career and is recently coming off a best of a season where he averaged 17 points per while making two three-pointers per game on 39 percent shooting.
He was an offensive juggernaut at times as he could hit from the outside with ease, while also containing the ability to drive.
He was a scoring machine and that was the problem. All Nick Young could do was score. In the 2010-11 season, Young played 32 minutes per game and averaged three rebounds and one assist next to those 17 points per game.
If that isn't pure laziness, I don't know what it is. This starter who was playing in over 30 minutes of action per night was grabbing only two rebounds and dishing out one assist per game because of just how focused he was on scoring and nothing else.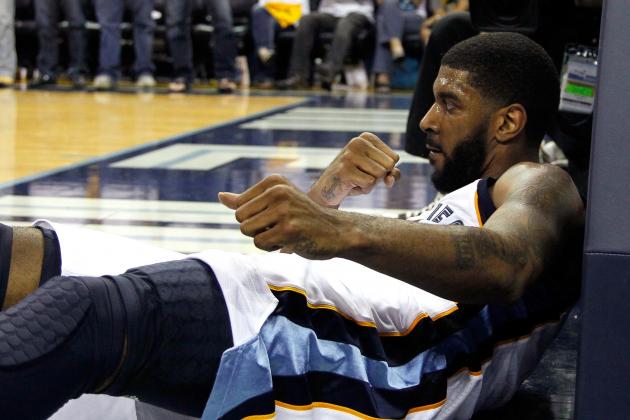 Kevin C. Cox/Getty Images

It's scary to think that O.J. Mayo was taken only two picks after Derrick Rose was taken with the No. 1 pick. To think that the Chicago Bulls could possibly be running with Mayo as their starting point guard.
It's also scary to think that Kevin Love could be on the Grizzlies had the team not traded him for Mayo on draft day. The chances are likely that they regret making that trade, now that Love has blossomed into a rebounding machine who could score from anywhere on the court.
Mayo, on the other hand, prefers to allow his jump shooting do the talking for him.
Even though he possesses a strong ability to drive at will thanks to his speed and athleticism, Mayo happens to be one of those NBA players who'd rather take far more jump shots than actually attempting to score near the rim.
Probably explains the 41 percent shooting from last year, but that's solely a guess.
It doesn't seem like a guess, however, when reaffirmed by Mayo's laziness when it comes to defense and all-around hustling.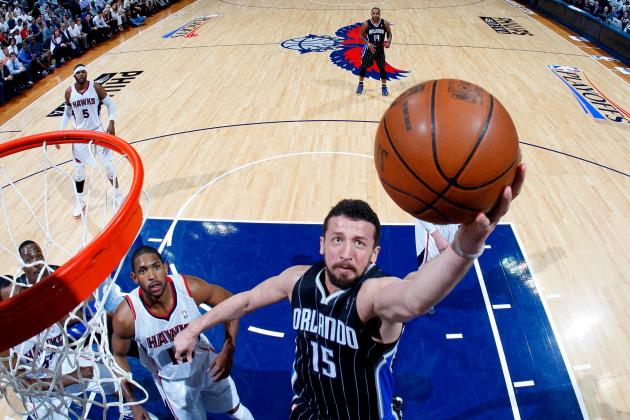 Kevin C. Cox/Getty Images

You know how there are some players who only strive to get better throughout their NBA career?
Hedo Turkoglu isn't that player. He's out of shape as it is, rarely drives to the basket and takes way too many shots from the perimeter.
Even though he's a 6'10" forward who could put the ball on the floor and potentially drive at will, Turkoglu is too focused on scoring from the outside to score anywhere near the rim.
Not to say that his perimeter shooting isn't good, it's just that he should be doing so much more for his team rather than being a spot-up shooter.
His rebounding numbers are embarrassing. They're Andrea Bargnani embarrassing. The forward who stands at 6'10" has grabbed five rebounds or better twice in a career that started in 2000, as Turkoglu finds himself currently averaging three boards per game.
You will never see a 6'10" player grabbing three boards anywhere else. That's a true commitment to laziness.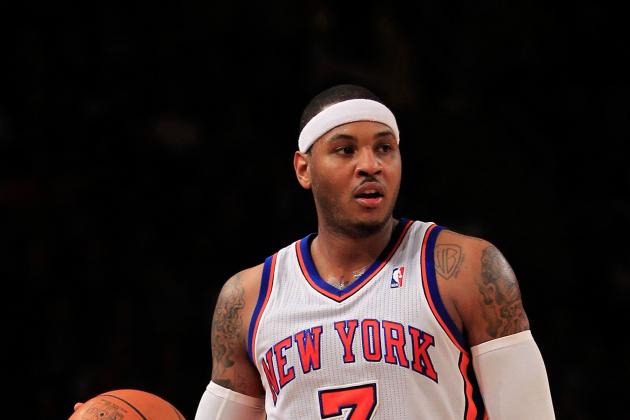 Chris Trotman/Getty Images

The biggest name on this list, who also happens to be one of the laziest, Carmelo Anthony is another player who enjoys dedicating themselves to their craft on only one end of the floor.
I probably don't need to say which end that it is, but I'll tell you that it involves scoring. Not many players know how to score better than Anthony, as he has averaged as much as 29 points per game, and has been regarded as one of the league's top pure scorers on account of his ability to shoot from anywhere and drive effectively.
Don't fool us, Carmelo. We know that you can play defense and just don't want to. Anthony has proven to be athletic and quick on offense, but we always seem to doubt his commitment on defense.
It's not that he can't play defense, it's because he doesn't want to. He'd much rather utilize his energy on offense, where he can boast his stats.
You can't boast stats on defense, so why bother playing on that end?
Aside from his awful defense and the fact that he's also too mentally lazy to look for teammates to pass to, Anthony has never been in terrific healthy standing. He's not as strong as he can be and even appears to be overweight at the beginning of seasons.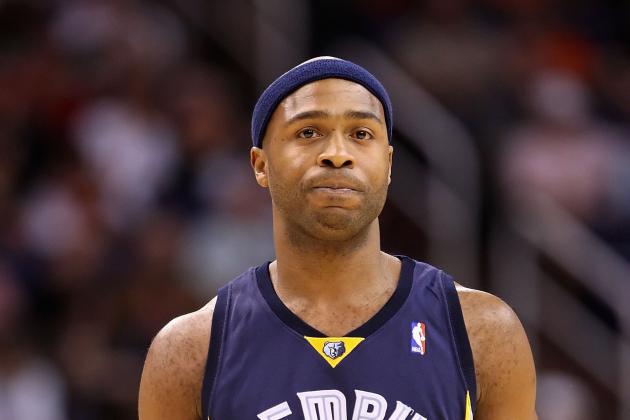 Christian Petersen/Getty Images

Jamaal Tinsley shouldn't be a third-string point guard on the Utah Jazz.
Being in that position of receiving little minutes could have been easily reversed had he dedicated himself to achieving greater things.
Instead, Tinsley decided that the work was too difficult and practice was too much of an inconvenience.
After all, he's making millions of dollars to play a game, why would he waste that by getting better?
Because of his laziness, Tinsley has played in nine games and has averaged five minutes per game. He's only taken five shots on the season.
Don't forget that it was only in 2007 that Tinsley was the starting point guard for the Indiana Pacers and averaged 13 points and seven assists.
Last year, Tinsley was a free agent for the entire season. It's solely because no team wants to deal with a player who has awful work ethic, doesn't emit dedication and isn't committed to playing to at a higher level.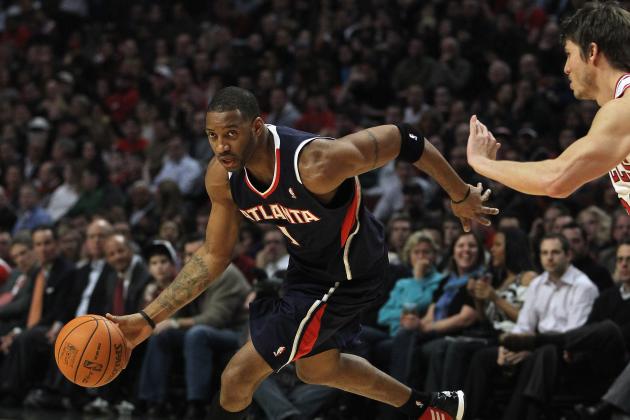 Jonathan Daniel/Getty Images

Tracy McGrady is lazy, and we're not just talking about his eyes.
One of the league's greatest scorers for a moment during the mid-2000's, McGrady was an absolute juggernaut on the offensive end. He had an offensive arsenal that easily rivals that of Carmelo Anthony and Kevin Durant.
McGrady had a lethal jumper that was unstoppable from the mid-range and beyond the arc, as well as a driving game and athleticism that allowed him to leap over defenders with a single bound.
However, there was so much more to be desired. Former Houston Rockets and New York Knicks head coach Jeff Van Gundy vented frustration over McGrady's overall desire to learn and his work ethic:
"Tracy McGrady was 1,000 hours of practice," panelist Jeff Van Gundy, who coached McGrady on the Rockets from 2003-04 through 2006-07, said, per SI.com. "He should be a Hall of Fame player. His talent was other-worldly. He was given a great leg up in the race against other players. He's as close as I've ever seen to someone with a perfect body and a good mind."
Perhaps with some practice, McGrady would have had the conditioning that would have enabled to still be relevant at the age of 32.