Toronto Blue Jays: 9 Realistic Predictions for Brett Lawrie's First Full Season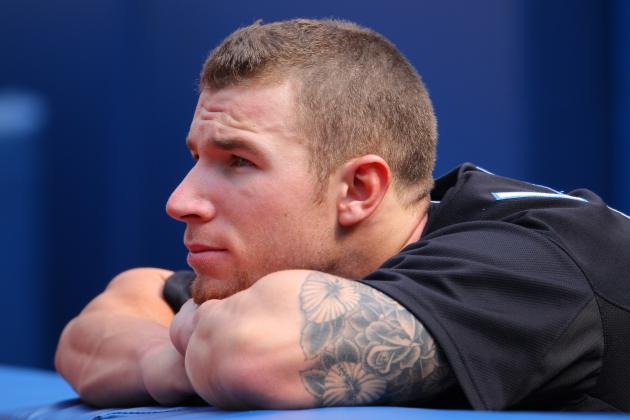 Tom Szczerbowski/Getty Images

Brett Lawrie exploded onto the scene in 2012. In 43 games, Lawrie hit .293 with nine home runs, 25 RBI, 26 runs and seven stolen bases. Extrapolated over a full season, that equates to 34 home runs, 94 RBI, 98 runs and 26 stolen bases. That easily would have made him the top-ranked third baseman in the AL.
Brett Lawrie certainly has the potential to be a superstar in the MLB, and I'm more than certain that Doug Melvin feels silly for giving him up for Shaun Marcum.
Being from Langley, British Columbia, Lawrie gives the Jays a high-profile Canadian face that the Blue Jays have been lacking. His defense at the hot corner looked a lot better than expected, and he has shown he has the making of a five-tool player with his above-average base stealing. He has incredible strength and athleticism while playing the game with passion.
At 22 years of age, it is unrealistic to expect Lawrie to maintain such a high level of productivity over an entire season. The sky is definitely the limit for young Lawrie, but fans need to realize he is a work in progress. The Blue Jays don't expect him to be a superstar just yet, and nor should you.
Here are 10 realistic predictions for Brett Lawrie's first full season in the big leagues.
Begin Slideshow

»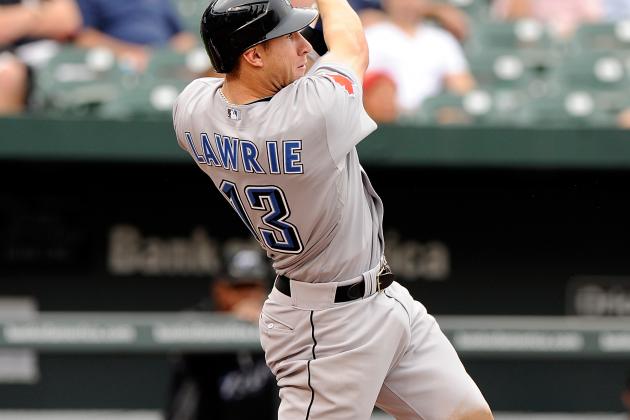 Greg Fiume/Getty Images

Based on his performance last season, 25 home runs is a very realistic possibility for Brett Lawrie. At 6'0" 215 lbs., Lawrie is built like a freight train. He generates a ton of bat speed through the zone and makes hitting look effortless. Expect Lawrie to be an above-average power threat at the third base position in 2012.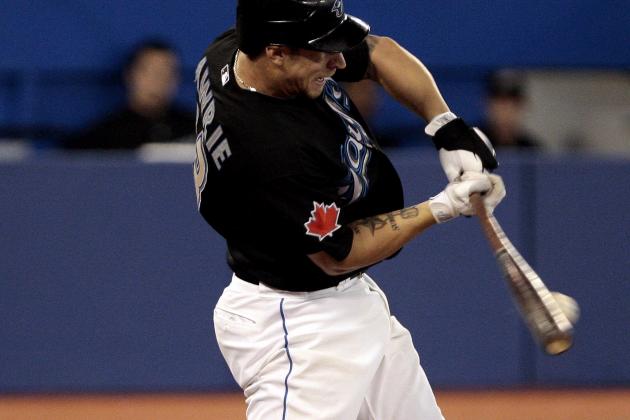 Abelimages/Getty Images

I do not think Lawrie can maintain the .293 average he posted in 2011. He is a solid hitter, but he has a lot to learn at the plate. He could very well be a .300 hitter at some point in his career, but he needs time to develop his discipline at the plate. Look for Lawrie to hit around .280 in 2012.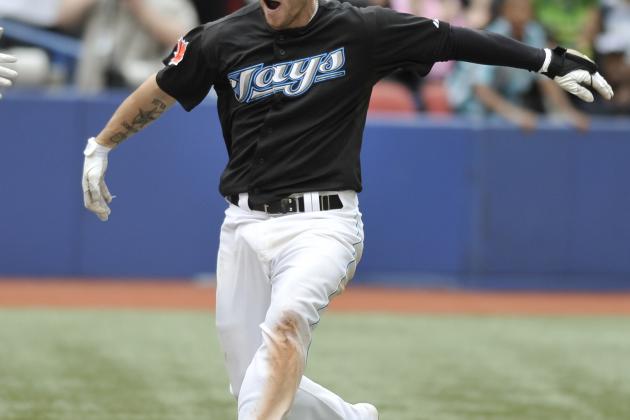 Brad White/Getty Images

The Blue Jays lineup is filled with great hitters. In the high-octane offense of the Jays, 80 RBI is a very realistic possibility for Lawrie. My guess is that he'll be hitting fifth in the order behind Jose Bautista and Adam Lind. That should give Lawrie ample opportunity to drive in runs in 2012.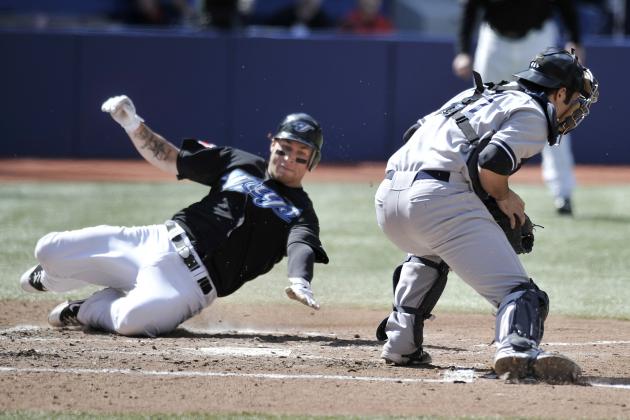 Brad White/Getty Images

With his ability to get on base, hit the long ball and steal bases, Brett Lawrie will score a ton of runs. He'll have some decent hitters behind him in the lineup. My guesses are that Edwin Encarnacion and J.P. Arencibia will be hitting after him. Look for Lawrie to score at least 80 runs in 2012.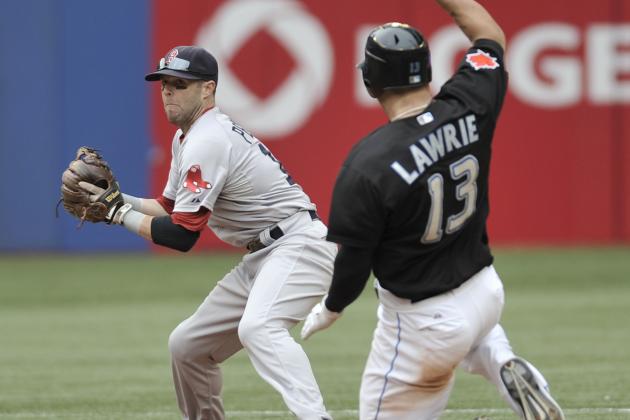 Brad White/Getty Images

Brett Lawrie will steal at least 20 bases in 2012. His brief stint with the Jays proved that he has tremendous speed and is clever on the base paths. His performance in the minor leagues also suggests this. Assuming he can stay healthy, Brett Lawrie has the talent to lead all third basemen in stolen bases in 2012.
Brad White/Getty Images

I'm really hoping that Lawrie proves me wrong with this prediction. Although his season-ending injury did not require surgery, I see Lawrie getting injured at least once next season. The MLB season is very long and tiresome, and Lawrie is still only a sophomore. Hopefully, it is nothing serious, but I don't see Lawrie staying healthy all season. I think he will start around 145 games next season.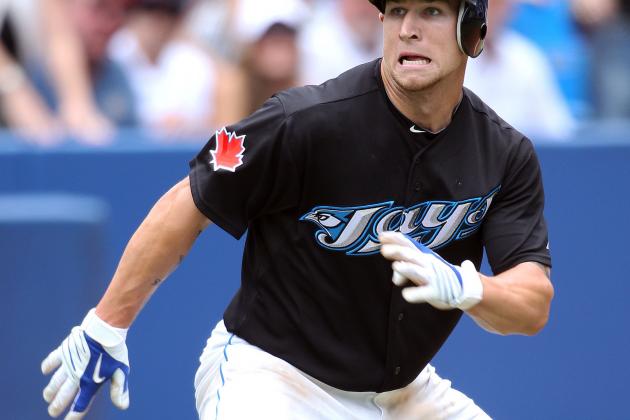 Claus Andersen/Getty Images

Brett Lawrie will be an elite third baseman in 2012. His ability to hit for power and average and steal bases should make him a top-10 fantasy option at third base.
Having said that, I don't think Lawrie will be venturing to Kansas City for the 2012 All-Star Game. He's still too young and unproven to beat out guys like Alex Rodriguez, Evan Longoria and Adrian Beltre.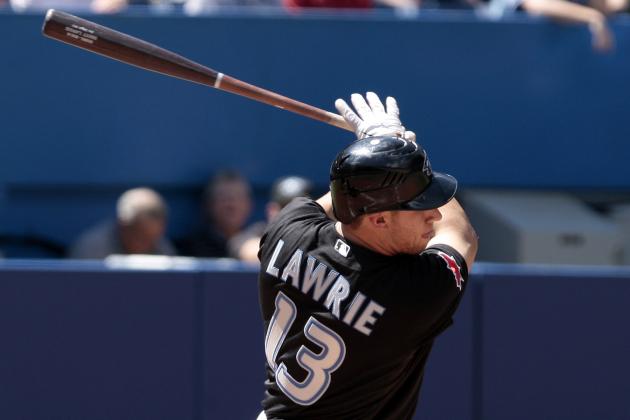 Abelimages/Getty Images

Lawrie is a young and aggressive hitter. Look for him to strikeout quite a bit in 2012 as he matures as a player. Look for his strikeout ratio to be around 20 percent and slightly above average in 2012.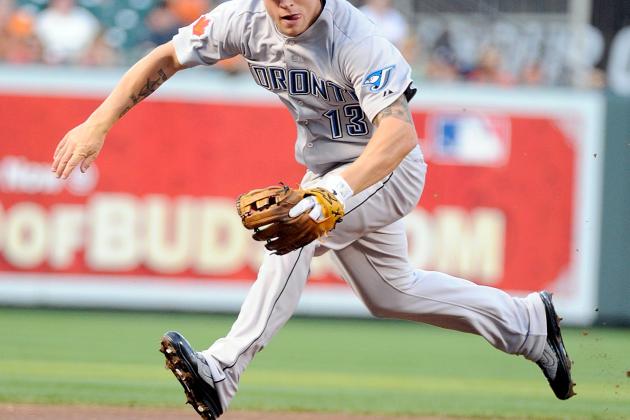 Greg Fiume/Getty Images

Let's not forget that Lawrie was drafted as a second baseman. He is still learning to play the hot corner and has never been considered a plus defender. Fans should be patient with his defense and realize that he's in the big leagues for his bat and not his glove. I predict he'll make around 20 errors next season. While he's far from a liability on defense, he won't win a Gold Glove anytime soon.