Atlanta Braves: 10 Bold Predictions for Dan Uggla's Bounce-Back Campaign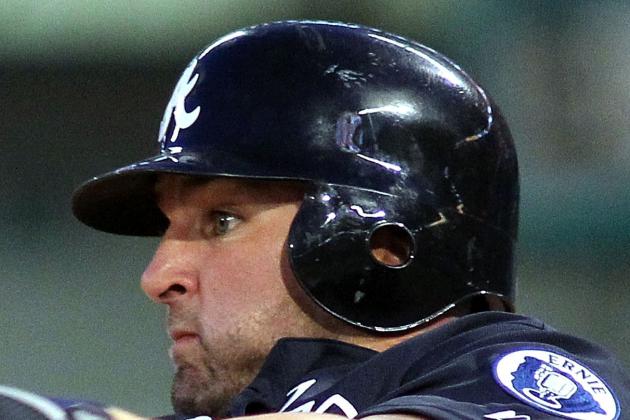 Marc Serota/Getty Images
Dan Uggla must rebound from an off-year this season.
Even though Dan Uggla set a new career high in home runs with 36 last season, his first season with the Braves was rocky, to say the least. The former All-Star was simply awful in the first half before he got incredibly hot in the second half to at least make his numbers look respectable.
A contender simply can not afford one of its middle-of-the-order hitters to hit .185 in the first half. The good news is that Uggla has proven during the previous five seasons in his career that he is a better hitter and is very likely to rebound in his second season in an Atlanta uniform.
This article has 10 predictions for Dan Uggla's bounce-back season.
Begin Slideshow

»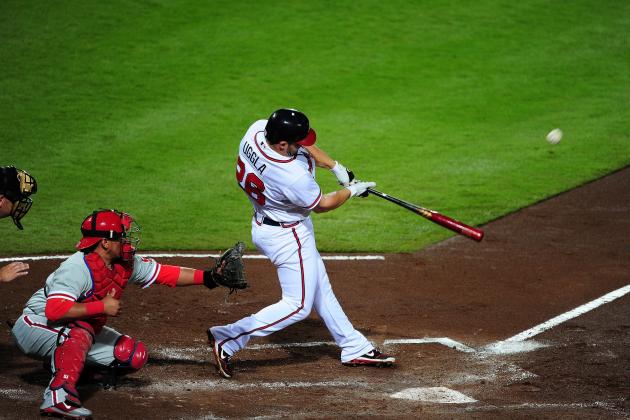 Scott Cunningham/Getty Images
Uggla's 2012 production should be more evenly spread out.
The safest prediction in this article is that we will not see Dan Uggla hit .185 in his first 92 games, nor will we watch him go on a tear like we saw in his final 69 games. Established veteran hitters don't normally go from putting up evenly spread out numbers to such dramatic splits.
Uggla may have some issues as a hitter, but he is too good of a hitter to hit .185 for more than half of a season. At the same time, he isn't dynamic enough to mash 21 homers in 69 games while hitting .296.
For his career, Uggla is a slightly better player in the second half, but nothing in his background suggests anything like we saw last year. His 2012 production will be more similar to his career line.
Jonathan Daniel/Getty Images
Dan Uggla seems primed for an All-Star campaign.
Another solid bet for Uggla is that we see him selected to his third career All-Star team this season.
Even in his down year last season, Uggla was a much stronger hitter in Turner Field than he was on the road. His OPS at home was .801, which is a big increase over his road mark of .728. With a better first-half line and a better batting average, Uggla should be a real candidate for the Mid-Summer Classic this year.
I'm predicting that Uggla will make the All-Star team even with Brandon Phillips and Rickie Weeks also in the National League.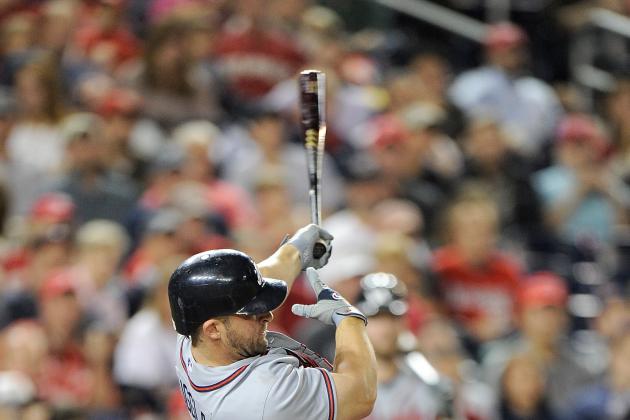 Greg Fiume/Getty Images
I'd expect Uggla to increase his batting average by at least 20 points in 2012.
Last year, Uggla's batting average was .233, a career low. His previous career low was a full 10 points higher when he hit .243 with Florida in 2009. He also hit .245 in 2007. While Uggla has had a trio of seasons where he's hit below .250, batting average isn't usually a big concern for him.
Part of the reason that it isn't a big concern is that Uggla is a career .258 hitter. He hit a career-high .287 in 2010 and .282 as a rookie in 2006.
Uggla may not hit for a new career high in 2012, but he should at least stabilize his batting average. I'd expect him to hit at least .250 this season as he bounces back from a rough first season in Atlanta last year.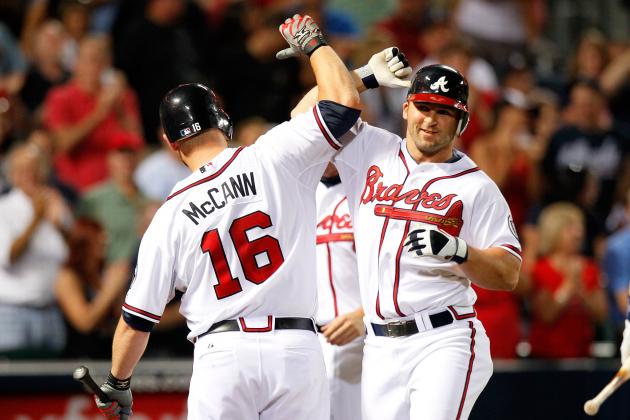 Kevin C. Cox/Getty Images
Dan Uggla should bat in 100 runs this year.
During his six-year career, Dan Uggla has only produced more than 92 RBI one time. That was in 2010, when he drove in 105 runs during his final season with the Marlins. That doesn't mean that he isn't a middle-of-the-order run producer, though.
Other than when Uggla only batted in a career-low 82 runs last season, he has never produced less than 88 RBI in a season. He has hit 90+ RBI's in four of his six seasons.
In addition to not getting off to an awful start to his season, Uggla's numbers will also get a boost from a stronger lineup. Having Michael Bourn at the top of the lineup for a full season will help a ton, as will a bounce-back year from Jason Heyward.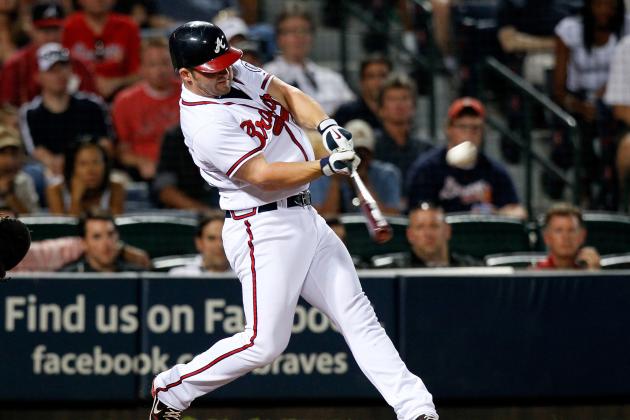 Kevin C. Cox/Getty Images
Could Uggla hit 40 homers this year?
Dan Uggla's 36 homers last season set a new career high, even in a down year. Although it was a career high, it wasn't far from his career average. Other than when he hit 27 homers as a rookie, he has hit between 31 and 33 homers in the other four seasons in his career.
Uggla was very consistent in Florida and that consistency remained in Atlanta, at least in terms of home runs. Uggla should be able to at least match that total in 2012, especially considering his success at Turner Field in his career.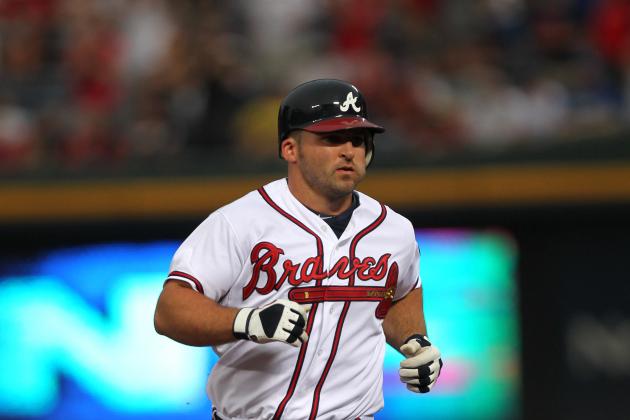 Joe Murphy/Getty Images
Dan Uggla could win another Silver Slugger Award this year.
Dan Uggla previously won the Silver Slugger Award back in 2010 with Florida. With a bounce-back year in 2012, Uggla should be able to win the same award that he won just two years ago.
In addition to putting up strong numbers again, Uggla's chances will be boosted by a less-than-elite crop of second basemen in the National League. Though Rickie Weeks and Brandon Phillips are All-Star-caliber players, Chase Utley's injuries have started to drop his production and young players like Danny Espinosa and Neil Walker aren't ready for that yet.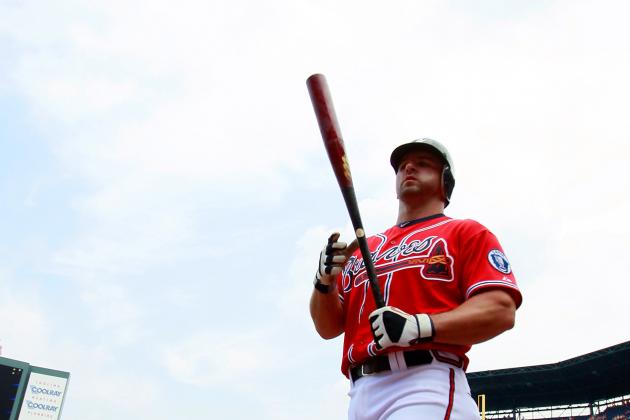 Kevin C. Cox/Getty Images
Uggla will help the Braves return to the playoffs.
As Dan Uggla rebounds, so will the Braves. Just like Uggla, the Braves had a down year in 2011, though, the overall totals don't tell the whole story. Although, unlike Uggla, the Braves started hot but finished ice cold. A late-season collapse ending with a loss to the Phillies on the final day of the season was actually what kept the Braves out of the postseason.
A bounce-back season from Uggla should be able to help the Braves have a bounce-back season. That means a trip back to the playoffs for the Braves in 2012.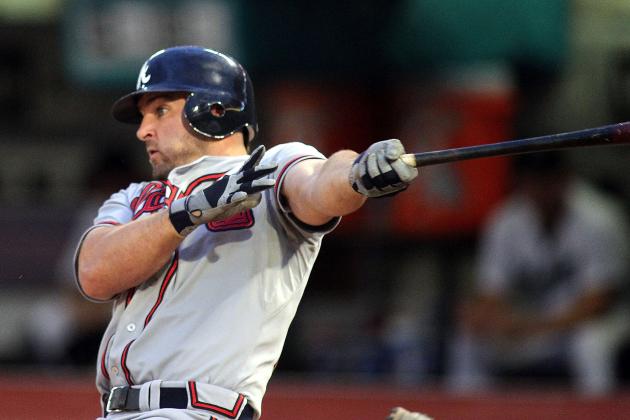 Marc Serota/Getty Images
Dan Uggla will slug close to .500 in 2012.
Despite the fact that he set a new career high in home runs last year, Dan Uggla's slugging percentage hit a new career low. Uggla only slugged .453 last year, down from his career mark of .482. Then there's the drop from the .508 he slugged during 2010 with the Marlins.
While Uggla may not set a new career high in slugging, I would expect him to get back near the .500 mark.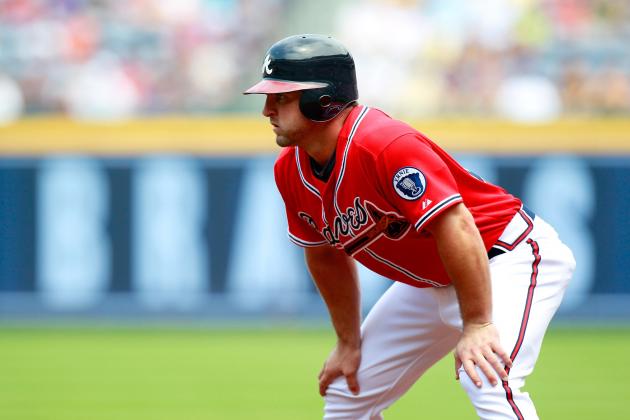 Kevin C. Cox/Getty Images
Uggla reached base at a career-low rate in 2011.
Another number that suffered in 2011 for Dan Uggla was his on-base percentage. Uggla, who gets on base at a rate of .343 for his career, only put up a .311 mark last year. It's also a big decline from the numbers he posted in his final three seasons with the Marlins, as he posted a mark of at least .354 in those seasons.
Uggla should bounce back to post an on-base percentage of .350 in 2012, if not higher.
Patrick Smith/Getty Images
Dan Uggla could cut down on his strikeouts this year.
This may surprise some people, but I expect Dan Uggla to cut down on his strikeouts in 2012. In his down year, he struck out 156 times, not a big increase over the past two years when he averaged 149.5 per year. It's actually better than his totals in 2007 and 2008 when he averaged 169 strikeouts per season.
Even while he was struggling badly, Uggla didn't rack up a ton of strikeouts. A bounce-back season by Uggla could help him set a new career low in the strikeout category.