Tim Wakefield Waits for a Phone Ring That May Never Come from Boston Red sox
January 30, 2012

Al Bello/Getty Images
Tim Wakefield conjures up a few memories for this Red Sox fan, and mostly happy ones.
Let's get rid of the downer. One memory is 2003 when he gave up that walk-off dinger as the Red Sox lost to the Yanks in the ALCS. If they had won in that series, he probably was the Series MVP for the Sox by winning two games against the Yankees.
The happier ones are in 2004. The first is pitching three innings in Game 5 of the ALCS and getting the victory when David Ortiz lofted the game-winning RBI single in the 14th inning of that monumental series against the Yankees when they became the only team in baseball history to come back from an 0-3 hole to win. The other is starting Game 1 of the World Series versus the St. Louis Cardinals, even though he did not last long enough to get the win in an 11-9 decision.
Fast forward to 2012 and Wakefield is hoping against hope. As he told Florida Today,  "Ultimately, I would like to obviously play for the Boston Red Sox for one more year and see where it goes."
He said he has gotten some offers, but everyone knows it simply is not true. He would be on a baseball roster by now if the offers were really there.
Wake has a career record of 200-180, which includes two seasons with Pittsburgh. With the Red Sox, he has a 186-168 mark and wants one more year in the Bigs to see if he could get the team record now held by Cy Young and Roger Clemens at 192 wins.
The heart and sentiment says sign him up for one more year. It is fitting and right that his name sits atop the career wins mark for the Red Sox rather than Clemens, who is despised by Red Sox fans—and I do not even have to list the reasons why.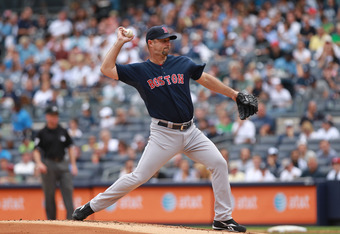 Nick Laham/Getty Images
But the head says Wake is done. He labored to get past five innings last year in almost every start. In an AL East that looks very tough, can the new GM and the new manager indulge this chase for 193 wins, which is really what Tim Wakefield is asking for?
With so many arms being collected by GM Ben Cerrington like lucky acorns, it really looks like Wake's phone will not ring next month.
In a dream world, I'd sign Wake for one more year. The team starts out hot and he rips off seven wins without a lot of problems. And then Wake hangs it up and retires before the league catches up and hits him like a piñata.
The thing is there is no sentimentality today on a Red Sox team that needs to finish better than 3rd in its division and needs to expunge the ugly memory of a collapse in 2011 that scarred the team.
I hope in my heart that Wake gets his year, but I know he probably won't.