Why Philadelphia Eagles Fans Should Trust in Andy Reid in 2012
January 30, 2012

Rob Carr/Getty Images
Fire Andy! That was the chant that could be heard at nearly every Philadelphia Eagles home game prior to their four-game winning streak to finish the season. Coach Reid's job is safe for another season as he will try to lead one of the most talented rosters in the NFC back into Super Bowl contention.
Many fans and members of the local Philadelphia media were calling for Reid's job during the 2011 season, but it appears that he has done enough in 2011 and in his previous 12 seasons to get another shot to right the ship.
Nothing speaks more on Reid's behalf then his track record in his 13 seasons as the Eagles' head coach. He has never missed the playoffs in consecutive seasons and he has never lost a regular season game following a bye week. Those two facts speak volumes for the stability that Reid has brought into Philadelphia in his 13 years as head coach.
He has a career record of 126-81 including a 10-9 record in the playoffs. His previous history in Philly should convince the Eagles alone that he can turn this talented roster into a playoff team in 2012. Nine playoff appearances in 13 seasons is a remarkable feat.
The only thing Reid hasn't accomplished in his time in the city of brotherly love is that elusive Super Bowl title. Reid and the entire Eagles front office went all in last summer to bring in as much talent as possible in order to bring a Super Bowl to Philly. The talent is clearly there—it's just a matter of getting more time to get all the players on the same page.
Player execution was more of a detriment to the Eagles' lack of success than anything else in 2011. Turnovers, penalties and sloppy tackling killed their chances of being a serious contender this season.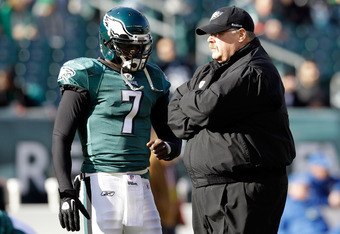 Rob Carr/Getty Images
The Eagles' quarterbacks combined for a grand total of 29 turnovers this season. Coaches can only do so much to get their teams ready for battle, but when players can't value the football, it doesn't really matter. Almost all of the Eagles' eight losses in 2011 were due to at least a critical turnover or two.
Had the Eagles been able to manage games better and value their possessions more, they could have won at least a couple more games and possibly even won the NFC East and made a Giants-like playoff run in 2012.
The key for Andy Reid to turn things around in 2012 will be getting Michael Vick to value possessions and his body. Vick has to learn to either slide or get out of bounds. His fragile body cannot take hit after hit each week. He has become too much of a target for defenses to try and make plays in the middle of the field with his legs.
Vick also has to learn to manage games better and not try and be too much of a play maker, when settling for field goals instead of throwing red zone interceptions is the better play. If Vick can stay healthy and limit his turnovers, then Andy Reid will get off the hot seat and look like the coach that Eagles fans once loved.
Reid also has to make sure Marty Mornhinweg calls more running plays. Even with Ronnie Brown most likely to hit free agency, the Eagles still have two very capable running backs in Pro Bowler LeSean McCoy and last year's fifth-round draft pick Dion Lewis.
The Eagles have the athletic offensive line and the skill players to run the football consistently against anyone outside of the city of San Francisco. A bigger commitment to the running game will open more things up for a very speedy receiving core and take the pressure off Michael Vick.
Andy Reid doesn't need to make major adjustments or overhaul the roster in 2012 in order to get the Eagles back into the playoffs and get back on top of the NFC East. As long as the Eagles can take care of the football, run the ball and continue to develop their young but promising nucleus of players, they should be able to be the type of team that everyone expected them to be in 2011.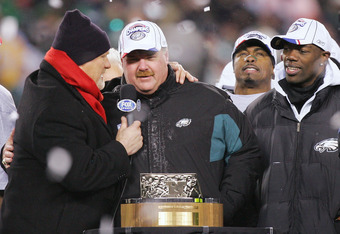 Ezra Shaw/Getty Images