WWE Royal Rumble 2012 Review: Was It Worth the Price?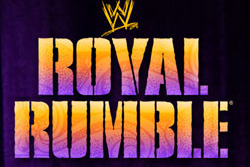 The Royal Rumble marks the beginning to the road to WrestleMania and is always an exciting event.
Usually the January staple is worth the price of admission and the price of a pay-per-view buy. Last year's had good matches, the return of some legends and an entertaining end to the Royal Rumble match.
The general consensus was that it was worth the fan's hard-earned.
But was this year's worth it?
Let's go match by match and break down the 2012 Royal Rumble.
Begin Slideshow

»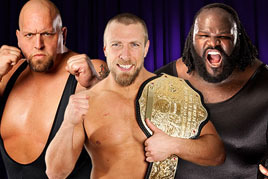 Courtesy of WWE.com
As soon as the bell rings Bryan immediately makes an attempt to escape the cage, but is thwarted time and time again by both Big Show and Mark Henry.
Big Show held court early by dominating both Bryan and Henry.
Bryan eventually gets Big Show off his feet with a dropkick to the knee.
Bryan's momentum was short-lived, however, as Show and Henry continued to dominate.
Bryan did manage to get a tornado DDT on Big Show followed by a LaBell Lock, but Henry came broke the submission.
Show then hits Henry with the knockout punch and went for a pin, but Bryan broke up the count.
Bryan quickly attempt to escape with Show literally holding on to him by one hand keeping him from the floor, a feat of strength only Show can do.
Eventually, Bryan escapes the clutches of Big Show and retains the title.
Not a bad match, but could have been better for a pay-per-view.
Nothing special really happened and it was rather short.
This is a match that probably would have been a lot better on a SmackDown! because it would have gotten more time, but on a pay-per-view, not enough time to do much.
Also, with the way Bryan won again, look for this storyline to continue going into Elimination Chamber.
Rating: 6/10
This match is exactly what you would expect out of WWE women's, oops I mean divas matches nowadays.
The fact that it was unadvertised should tell you something right there.
Nothing but a time filler and bathroom break for the fans.
The fans did seem to like when Kelly Kelly jumped of the top rope to the outside of the ring.
The most entertaining part was probably when Beth Phoenix did a very hard tag on one of the Bella twins and told her to, "Get out of my ring!".
Phoenix then finished the match with a Glam Slam on Kelly Kelly
I don't want to rate this match, but if i must - Rating 3/10
It's a shame someone as talented as Phoenix has to be in matches like this.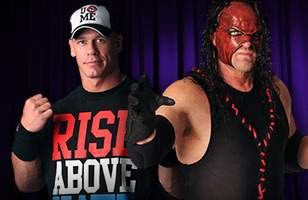 Courtesy of WWE.com
The action is hot and heavy early as these two don't waste any time picking up the pace and spilling the action outside the ring.
Eventually, Kane assumed control of the match and began to dissect Cena.
Cena has spurts of offense, but they are quickly halted by Kane.
Cena does manage to muster a comeback against the Big Red Machine by reversing Kane's claw move into an STF.
But Kane once again quickly stopped the momentum of Cena.
Even when Cena hit his usual shoulder block in to a side slam, Kane reversed the Five-Kuckle Shuffle by nearly choke-slamming Cena. Cena escaped, but walked right into a big boot.
Kane stopped yet another surge by Cena and sent him out of the ring.
In a move to I guess keep the storyline going, both men are counted out.
Rating 6.5/10
But that fight is not over. Both fight their way up to the backstage area. Kane gets a hold of a steel chair and puts it to the back Cena numerous times, incapacitating him. Kane then breaks into the special dressing that Laurinaitis had for Zack Ryder and Kane attacks him, Ryder is confined to a wheel chair.
Kane then wheels him Ryder out into the arena and tosses him out of the chair in front of the ring.
Kane throws Ryder into the ring when Eve comes to her boyfriend's aid. Kane then tombstones Ryder in front of Eve. He turns his attention to her when Cena runs down to make the save.
Ryder is then stretchered out once again and we get almost nothing from this match other than Kane beating up on Ryder again.
Look for this storyline to continue as well in the coming weeks.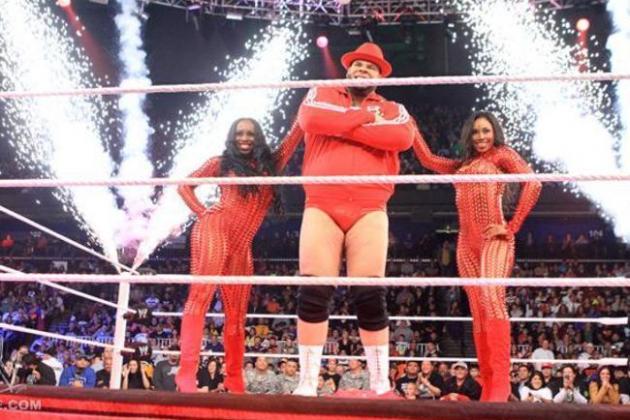 I love Broadus Clay, but this is purely to fill time.
A better thing to ponder is what happened to McIntyre?
I was never a big fan of his, but I thought he was the "Chosen One."
So much for that.
Clay wins in a squash.
Rating: 3/10. Clay looks good once again though.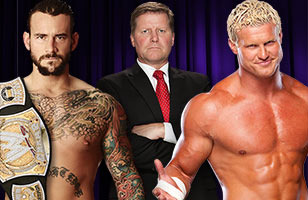 Courtesy of WWE.com
It turns out that John Laurinaitis is the official in charge at ringside, not in the ring.
His first course of action was to send Vickie Guerrero to the locker room.
As for the match, the two pick up the pace quickly with a number of reversals and pin attempts.
After the initial flurry, Punk takes initial control until Ziggler knocked Punk off the top rope where the back of Punk's head bounced off the turnbuckle.
Ziggler held court in the match for quite some time, but both did exhibit great chain wrestling as well.
One nice bit of this was when Ziggler on the shoulders of Punk in a hurricanrana attempt, but Punk caught him and turned it into a power bomb.
Punk took control with his usual high knee, bulldog combo.
Both were able to gain pin attempts, but the other kicked out after a count of two.
The official that was in the ring is knocked down outside the ring and is attended to by Laurinaitis. Meanwhile, Punk locks in an Anaconda Vice and Ziggler tapped out, but to no avail as Laurinaitis was not looking. Punk had another pin attempt, but it was to the back of Laurinaitis.
Punk then hits the GTS on Ziggler and spun Ziggler around, which hit Laurinatis in the back of the head, knocking him out of the ring.
The original official was still hurt and unable to make the three-count. Ziggler then hit the ZigZag, but was only able to get a two-count.
Ziggler put the boots to Punk and assumed control.
Punk counters another ZigZag from Ziggler, turns it into a GTS and pins Ziggler. Laurinaitis then jumps into the ring, no to interfere with the count, but to simultaneously count to three with the original official, helping Punk to retain the title.
Laurinatis then hands Punk the WWE title and walks up the ramp and applauds Punk.
The match itself was the best so far, but not spectacular. Unfortunately, this match was on this event and was not given the time necessary to tell the good story that was built up going into this match.
WWE does have to give ample time to the Royal Rumble match though so people can not complain too much. it is the reason why we watch the event after all.
Ziggler and Punk did do the best they could with the time they had and kept the crowd into the match.
Rating 7.5/10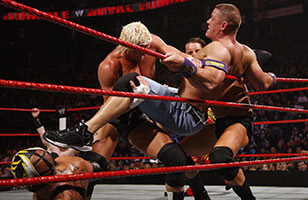 Courtesy of WWE.com
As per his loss Monday night to R-Truth, The Miz is out at No. 1. Miz grabs the microphone and talk about how he will prove the doubters wrong and win the Royal Rumble.
Out at No. 2 is The Miz's former protege Alex Riley.
The two go back and forth until Miz eliminates Riley.
After a short wait, out at No. 3 is The Miz's current nemesis R-Truth. No eliminations between these two as out at No. 4 is the Intercontinental Champion Cody Rhodes.
Rhodes and Miz begin to gang up on Truth. Justin Gabriel comes out at No. 5 and immediately goes after Rhodes.
With four men in the ring, they split off into pairs: Rhodes going at it with Gabriel and Rhodes and Truth going at it with Miz.
The No. 6 entrant is Primo, one half of the new tag champions. Chaos ensues, but in the midst of it Miz eliminates Truth. Truth retaliates by knocking Miz out of the ring. Miz is not officially eliminated though as he did not go over the top rope.
The first legend of the night is out at No. 7 as Mick Foley enters the fray.
Foley quickly eliminates Primo and goes to work on Rhodes.
The first return of the night enters at No. 8 as Alberto Del ... wait a minute! It's not Del Rio. It's his personal ring announcer Ricardo Rodriguez who enters in a beat-up car and in Del Rio-esque attire.
Rodriguez does manage to eliminate Gabriel.
Out at No. 9 is Santino Marella, making the Rumble a comedy bit for a short time.
Santino goes to work o Rodriguez and even gives him a wedgie before eliminating him.
Then Foley and Santino have a showdown between Mr. Socko and The Cobra, which got a pop from the crowd.
That is cut short by the other half of the tag champs Epico at No. 10. He is met by The Corba and the sock and is quickly disposed of.
Mr. Socko and the Cobra lock up for a short time until Rhodes and Miz break up the fun. Rhodes ensues to eliminate Santino and Miz eliminates Foley.
At No. 11 is Kofi Kingston who comes out hot against Rhodes and Miz. They eventually team up on Kingston until Jerry "The King" Lawler, who is out on commentary is next up into the Rumble at No. 12.
King is quickly eliminated, however, by Rhodes. Ezekial Jackson, sporting hair, is up next at No. 13 and holds court in the ring.
Jinder Mahal is out next at No. 14. Mahal takes his time getting into the ring. He eventually gets in and gets in some offense.
The apparent brother-in-law of Mahal, The Great Khali, enters at No. 15.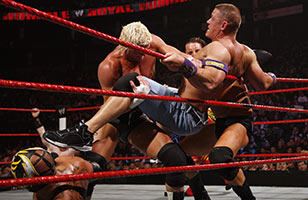 Courtesy of WWE.com
Khali eliminates Jackson right before Hunico enters at No. 16. The second announcer of the match enters at No. 17 when Booker t jumps into the ring from the announce table. Booker goes right after Rhodes, which receives "Booker T" chants from the crowd.
Miz attempts to eliminate Kingston, but he does a handstand and walks on his hands for a good seven feet to get his feet on the steps and avoid elimination.
Dolph Ziggler enters the Rumble at No. 18 right after losing to Punk for the WWE title.
The very first Royal Rumble winner, "Hacksaw" Jim Duggan, comes out to huge pop at No. 19. He lasts a short time though as he is eliminated by Rhodes. Rhodes then manages to get rid of Khali and Booker.
Now all three announcers have entered as Michael Cole is in at No. 20, ugly singlet and all. Cole does nothing but poses for the crowd.
Another woman and return is in at No. 21 when Kharma comes back and knocks down Cole. Cole climbs on the outside to the apron to avoid Kharma when Booker and Lawler eliminate him from the outside. Kharma then eliminates Hunico.
Ziggler ends her run as he throws her over the top rope.
"The Great White" Sheamus is in at No. 22 and takes control, eliminating Kingston in the process.
"Oh you didn't know?" "Road Dogg" Jesse James comes out to a big pop at No. 23 and does his famous shake, rattle and roll.
Jey Uso enters next at No. 24 and takes it to Road Dogg. More fighting ensues when "The All-American American" Jack Swagger enters at No. 25 to give Guerrero two clients in the match.
Wade Barrett walks into the match at No. 26 and takes out nearly everyone in the match and eliminates Road Dogg.
David Otunga is out next at No. 27, which is always touted as the most successful of numbers in the Rumble.
The hometown boy Randy Orton is out at No. 28 and goes right after Barrett.
Orton hits Barrett with an RKO and throws him over the top rope.
Next out is Chris Jericho at No. 29 and actually does something besides smiling by eliminating Otunga.
The coveted spot of No. 30 went to Big Show who quickly rid of Swagger, Rhodes and Miz
The final four comes down to Sheamus, Orton, Jericho and Big Show.
Orton eliminates Show, who is then eliminated by Jericho.
It's then Jericho and Sheamus as the final two.
Sheamus and Jericho go back and forth in a great exchange when Sheamus finally eliminates Jericho to win the 2012 Royal Rumble.
Sheamus will now have a well-deserved championship opportunity at WrestleMania.
Rating: 8/10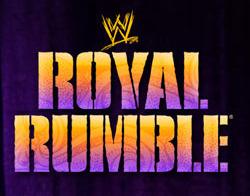 Once again it was memorable Royal Rumble. A lot of things happened and some stories were fleshed out a bit. The matches were not great, mainly because they couldn't be given the time to tell a good story because of the Royal Rumble match itself.
Now we get down to the nitty gritty. In these poor economic times as our public officials love to say, money is not easy to come by and the price of WWE pay-per-views are not getting any lower.
So was 25th anniversary of the Royal Rumble the money well spent? I lean toward yes.
The Rumble match itself was good with a very good final- two encounter between Sheamus and Jericho. I can't fault the other matches too much for not being all that great because they were strapped for time.
It hurt the quality of the matches, but when you have a match that's at least an hour long at the end of the show, you have to do what you have to do.
If you paid money for the show, I don't think you should be disappointed in your purchase. If you do, I see why your reasons. But the reasons you may point out just comes with the territory of the Royal Rumble.
It wasn't a classic, but when compared to other pay-per-view offerings from WWE lately, this one was one of the better.
It will be interesting to see where all of the stories go moving forward.