Pro Bowl 2012: Live Score, Stats, Recap and Analysis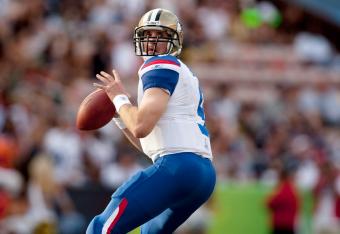 Drew Brees, seen here in the 2011 Pro Bowl, will be in action at the 2012 Pro Bowl.
Kent Nishimura/Getty Images
Get excited, folks. The 2012 Pro Bowl is here, and we mean to keep you up to speed on everything you need to know.
If you're looking for play-by-play commentary, you're in the right place. If you're looking for stats, you're in the right place. If you're looking for in-depth analysis, you'll get some of that, too.
Basically, you don't want to watch the Pro Bowl without this live blog. If you can't watch the Pro Bowl, you need this live blog.
As serious as all of this sounds, I assure you we're going to have some fun along the way. The Pro Bowl must never be taken too seriously, so we'll keep things light. And remember, players are going to be tweeting during this thing, so we'll be sure to bring you their thoughts as well.
All in all, fun times will be had by all. If you keep it here, you won't miss out.
Correction: this was not the highest-scoring Pro Bowl in history. The record is 107 total points, set in 2004.
Hey, don't look at me. I was just following the announcers' lead.
The NFC's best player was Larry Fitzgerald, who caught six passes for 111 yards and three touchdowns. Eric Weddle was the game's best defensive player, as he pulled in two interceptions, one of which was turned into a touchdown after a nifty lateral to Derrick Johnson.
That's about it.
One other thing of note. The whole tweeting thing ended up being a bust. Aside from London Fletcher's failed cash-money contest, not a whole lot of fun was had. I guess the players were too busy having fun elsewhere.
If you managed to stick around for the whole thing, give yourself a pat on the back. If you stuck with this live blog the whole time, give yourself a high five. You did well.
The 2012 Pro Bowl was a lot like all the other Pro Bowls. It featured a whole lot of offense, no defense whatsoever, and assorted craziness that you just don't see in normal games.
In the end, the AFC came away with a win, outscoring the NFC 59-41. The 100 total points is a new Pro Bowl record, which is borderline depressing. To top it off, there were 1,142 total yards gained in this game.
Brandon Marshall is your 2012 Pro Bowl MVP. He caught six passes for 176 yards and four touchdowns.
Aside from Marshall, the big story in this game was the battle of the rookie quarterbacks in the second half: Cam Newton vs. Andy Dalton. It ended up being one-sided, as Dalton was nearly perfect, completing seven of his nine passes for 99 yards and two touchdowns. His rating was 152.1.
Newton, on the other hand, was awful. He completed nine of his 27 passes for 186 yards, throwing three picks and two touchdowns. He finished with a rating of 43.7.
Oh well.
Andy Dalton takes a knee, and this game is going to come to an end.
Final score: AFC 59, NFC 41
Back with more in just a minute.
By the way, here's that crazy Brandon Marshall catch from earlier:
Reminds me of Antonio Freeman back in the day.
Two-minute warning. Smoke if you got 'em.
Touchdown!
Oh hey, a Larry Fitzgerald sighting. He just caught his third touchdown of the game, this one from 36 yards out. He burned Antonio Brown on the play, who looked like a wide receiver playing in coverage. Because he is a wide receiver playing in coverage, you see.
Drew Brees tried to punt the ball through the uprights for the extra point, but he missed. What a loser.
59-41 AFC with 2:37 remaining in the game
NFC team seems to see the writing on the wall. Marshawn Lynch getting some work on this drive.
Couple plays earlier, though, Antonio Brown nearly picked off Cam Newton. Brown is, for the record, a wide receiver.
Yup, that's the kind of day Newton is having.
Sebastian Janikowski just made a field goal...on the kickoff.
That should be three points. What the heck, it's the Pro Bowl. Why not six?
Just an idea.
Touchdown!
Cam Newton's bad Pro Bowl debut just got worse. His pass on fourth-and-15 was picked off by Eric Weddle, who lateraled it to Derrick Johnson, who took it the rest of the way for the score.
All told, the play started at the AFC 13 yard line, so make it an 87-yard touchdown return.
We officially have the highest-scoring Pro Bowl ever.
59-35 AFC with 5:16 remaining in the fourth
Von Miller sacks Cam Newton for the first sack of the game. And there was much rejoicing.
Newton has completed six of his 19 pass attempts for 119 yards. He has two picks and one touchdown.
Not a good debut for Newton. Good thing nobody is holding it against him.
Well, except for the crowd in attendance, which is booing him.
Here's a couple of suggestions for how to fix the Pro Bowl from Pranav Devarakonda:
get a "lack of effort" penalty and fines if people aren't trying on d. Don't allow a quarterback and wide reciever from the same team on the field at the same time, they have the advantage of having worked together for a long time over a defense that doesn't have that coordination.
Not sure about the lack of effort penalty. There would be yellow flags all over the place.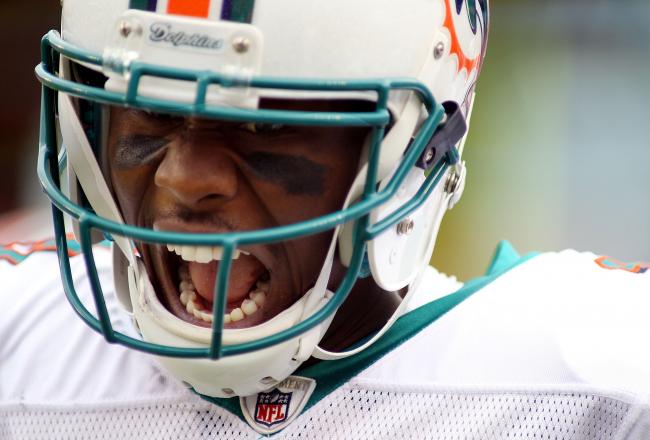 Touchdown!
Holy cow is Brandon Marshall having himself a game. He just caught a touchdown pass in the back of the end zone despite being held by Patrick Peterson.
That makes it six catches for 176 yards and four touchdowns for Marshall. That's a new Pro Bowl record.
Say what you will about the Pro Bowl, but it's been fun to watch Marshall do his thing today.
52-35 AFC with 8:25 remaining in the fourth
Ideas for how to fix the Pro Bowl. Go.
Best ideas get a shoutout.
Cam Newton is not having a good Pro Bowl debut. He's facing a surprisingly ferocious AFC front, which is collapsing the pocket on seemingly every play. They must not want to be beat by a rookie.
The crowd doesn't like it. They're booing Newton.
Heavy stuff, man. Heavy stuff.
They just showed a clip of Ray Lewis bragging about Brandon Marshall to Wade Phillips, who is coordinating the AFC's defense today. Phillips looked bored out of his mind.
Touchdown!
We have our first rushing touchdown of the game. Vonta Leach punches it in from a yard out to up the AFC's lead.
It figures that the fullback would get the first rushing touchdown of the game. All of the running backs in attendance are useless.
Useless, I say!
45-35 AFC with 11:40 remaining in the fourth quarter
Third quarter is in the books. So far we have 73 total points and 978 total yards.
In other words, we're fast approaching Alamo Bowl territory.
38-35 AFC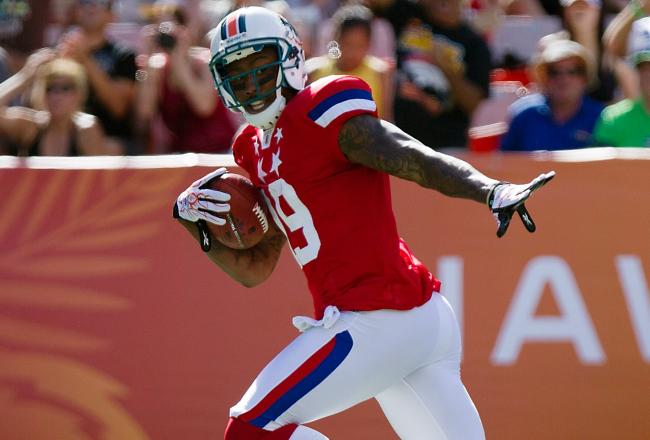 Brandon Marshall has chimed in on his circus touchdown catch: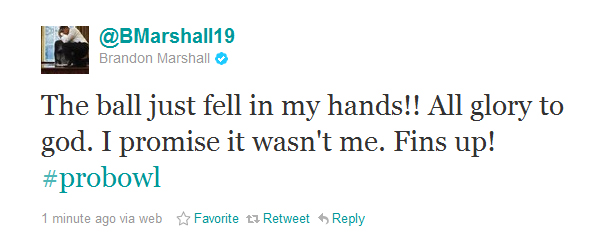 Indeed it did. Well said, Mr. Marshall.
Wow nice punt return by Antonio Brown for 45 yards. Sped past a couple defenders then broke a tackle. I mentioned earlier that he's actually putting for an effort out there. We just saw it again.
Antonio Smith just roughed up Cam Newton. He should have thrown the ball away. No intentional grounding in the Pro Bowl. No big deal, but he could have easily gotten hurt.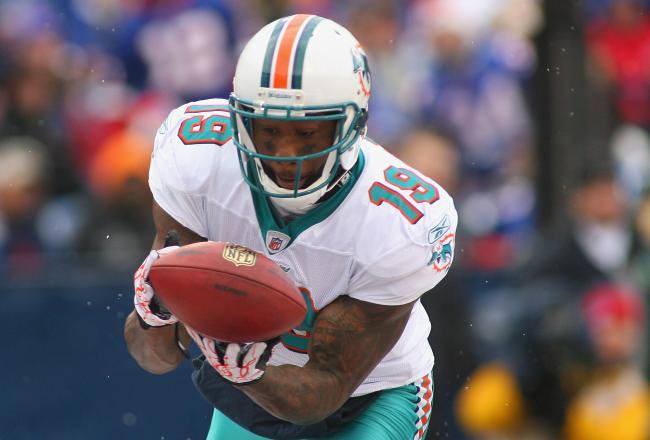 Best. Pro Bowl touchdown. Ever.
I'll do my best to describe it to you. Andy Dalton chucked the ball deep towards the end zone in Brandon Marshall's direction. He was swarmed by a pair of defenders, and one of them easily knocked the ball up in the air.
It came down, bounced off Marshall's leg and into his arms. He happened to be lying in the end zone.
That was awesome.
Three catches for 150 yards and three touchdowns for Marshall.
38-35 AFC with 3:53 remaining in the third quarter
The NFC just did a Three Stooges play. Marshawn Lynch couldn't handle Cam Newton's handoff, picked up the ball, lost yardage, and then tried to lateral/pass it back to Newton.
It went into the books as a rush for -9 yards. I don't know how I would score it, and frankly, I don't care.
Oh boy, we have controversy.
A.J. Green just caught a pass inside the NFC 10 yard line and tried to do a little too much with it. He was wrapped up well beyond the goal line, but he tried to reach for it anyway as he was being tackled. He then lost control of the ball, which was recovered by Earl Thomas in the end zone for a touchback.
If this were a regular game, this play would be under review right now. But there's no replay in the Pro Bowl, so tough luck for the AFC.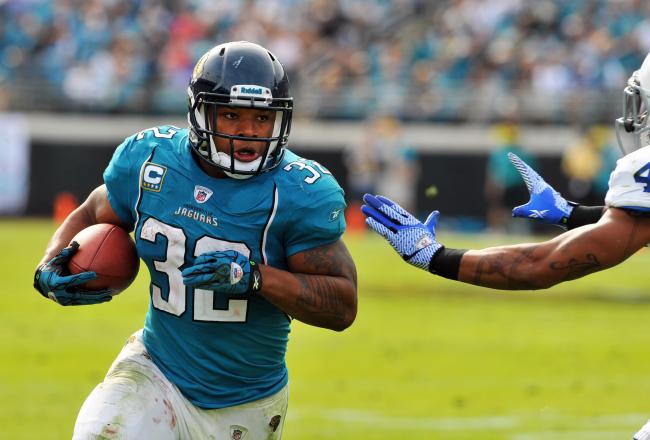 Holy [bleep] a successful running play!
Maurice Jones-Drew just had a 39-yard rush, by far the longest running play we've seen in this game. Patrick Willis and Clay Matthews must have been offended, as they chased MJD down like he had stolen something.
This article is
What is the duplicate article?
Why is this article offensive?
Where is this article plagiarized from?
Why is this article poorly edited?