Baylor Basketball: Grading Each Player on the Bears' Roster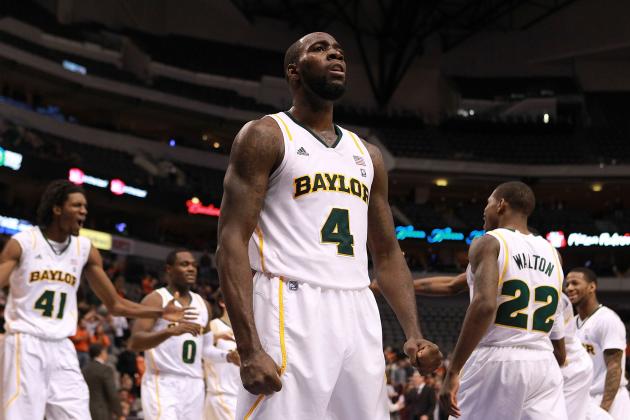 Ronald Martinez/Getty Images

The Baylor Bears started this season with a 17-0 record and the best start in school history. They may have dropped two games recently to knock them from the unbeaten ranks, but they have preserved the latter fact and currently sit at 19-2 and third place in the Big 12.
Even though the Bears faltered in their play against two of the Big 12's other elite teams, there is no disputing the fact that Baylor has come to play this season and will be a threat come March.
They boast a very deep roster and even stake claim to the conference's preseason Player of the Year award winner.
The following will break down the play of each player on the Baylor roster for his performance this season.
Note: Each grade is assigned based on improvement or regression from last previous seasons, play in big games and road games, the ability of a player to work with teammates, how a player compares to others at his position, how essential a player is to a team and various intangibles.
Begin Slideshow

»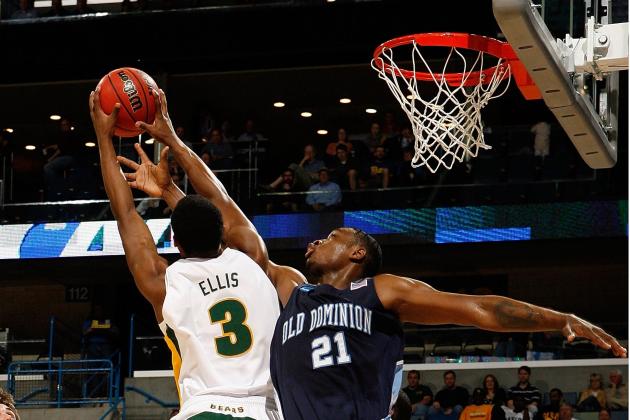 Chris Graythen/Getty Images

These players have either not played this season due to injury or eligibility, or have seen such limited court time that they have not made as big an impact as others.
Fred Ellis
Logan Lowery
Jacob Neubert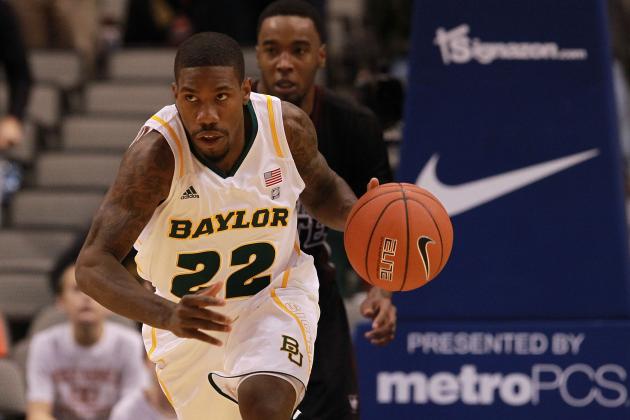 Ronald Martinez/Getty Images

Year: Junior
Minutes per Game: 20.2
Field Goal Success: 35.3 percent
Points per Game: 3.9
Miscellaneous: 2.3 turnovers per game
Analysis: With added depth at the guard position this year, A.J. Walton has seen his play time decrease after an average of 33 minutes last season, in which he provided relief for injuries.
He started this season for the Bears but recently lost that job to teammate Pierre Jackson.
He has a bad reputation around Baylor Nation for his sloppy play and unreliable nature, but what fans fail to recognize is his improvement from last season.
He's averaging fewer turnovers and fouls to pair with his improved free-throw success. Then again, his shooting success has seen a dip, and he's bringing in four points fewer than last season.
Watching Walton on the court, one notices that he lets his emotions get the better of him sometimes, which results in questionable play on his end.
On a more positive note, his 42 steals this season help put Baylor at No. 2 in the Big 12 and places him at No. 5 for players in the Big 12.
Final Grade: C+ to low B-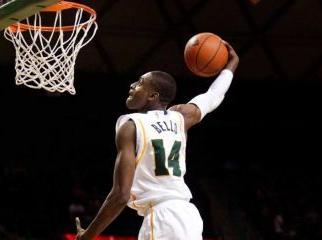 Year: Freshman
Minutes per Game: 11.1
Field Goal Success: 47.8 percent
Points per Game: 4.1
Miscellaneous: Has not played in last two games
Analysis: Deuce Bellow may be averaging 11.1 minutes per game, but that figure is very misleading. He has not played in six of Baylor's games, including some of the Bears' biggest non-conference games versus West Virginia and Mississippi State.
As such, his talent level has not been seen on a consistent basis this season.
He has the ability to be a fantastic player due to his athleticism and can fly up and down the floor on offense and defense.
What hurts him most is his small frame. He stands at only 6'4'' and 185 lbs.
On a team very deep at the guard position, it looks as though Bello is going to have to wait his turn to show his skill.
Regardless, he has shown clutch potential. Coming off the bench in the away game against Kansas State, Bello grabbed two essential rebounds and added three points to Baylor's 18-point run to put the Bears back in the game.
Final Grade: B-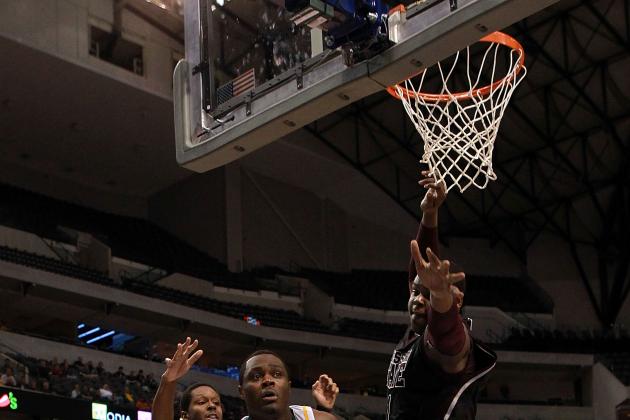 Ronald Martinez/Getty Images

Year: Sophomore
Minutes per Game: 12.3
Field Goal Success: 37.1 percent
Points per Game: 3.2
Miscellaneous: Has not attempted a free throw this season
Analysis: Gary Franklin is another player who comes in off the bench for this deep Baylor squad.
When he transferred from California, the Bears were in desperate need of a strong player at the point guard position.
Not so much now after a good recruiting effort on the part of Baylor's coaches.
He's a strong backup to the other guards on this Baylor roster, and it's a comfort to know that he's on the bench waiting to come in and show what he can do.
When he received more time against West Virginia, Franklin posted a season-high eight points. On the other hand, he could work on fulfilling the assists aspect of his position better.
Final Grade: B-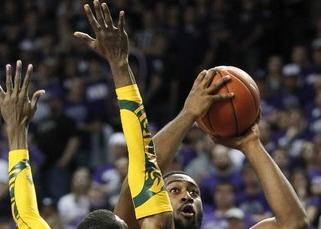 Jefferson showing off his fantastic sleeves
Year: Sophomore
Minutes per Game: 12.3
Field Goal Success: 58.1 percent
Points per Game: 4.3
Miscellaneous: 62.1 percent free-throw success
Analysis: A Central Texas player, Cory Jefferson said in an interview recently that he's glad Baylor is beginning to receive attention over the University of Texas and Texas A&M.
This season, he's maximizing his time on the court, playing behind players like Quincy Miller and Perry Jones III.
Shooting at a very good 58.1 percent, Jefferson can certainly use his aggressiveness to his advantage. On top of that, he's pulling down three rebounds and almost two blocks with less than 15 minutes and coming off the bench.
He's not fouled often, but he could still work on his free throw success.
Jefferson is just another example of how deep Baylor is at the forward position.
Imagine what he could do with more time on the court.
Final Grade: B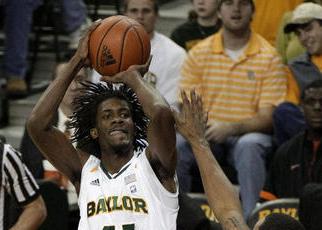 Year: Senior
Minutes per Game: 17.3
Field Goal Success: 44.7 percent
Points per Game: 5.6
Miscellaneous: 3.5 rebounds per game
Analysis: Anthony Jones is a very interesting prospect when one looks at his play throughout his career.
What cannot be disputed is that he has seen steady improvement throughout his first three years at Baylor. He also has fantastic length for his position but could use packing on some muscle, if only for that added power in the post game.
He may have the ability to play in the paint, but most of his damage comes from his reliable jump shot.
In the end, he receives a lot of flack for not being able to create his own shots, given his size. His defense also takes a hit, just watch any Baylor game and one can see how he's not the best man defender and sometimes lets his man get by him.
He has been known to have some big games throughout his career, clearly showing that he has some very workable attributes.
Final Grade: B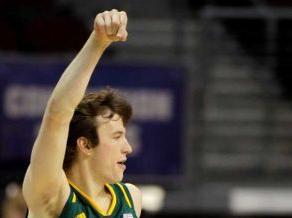 Year: Sophomore
Minutes per Game: 26.0
Field Goal Success: 45.5 percent
Points per Game: 10.0
Miscellaneous: 47 percent three-point success
Analysis: Brady Heslip has been given the moniker of Downtown Canadian and for good reason too.
This Boston College transfer from Burlington, Ontario ranks at No. 3 nationally in overall offensive efficiency, third in the Big 12 for three-point percentage and is second (by .1 of a point) in treys per game.
Needless to say, without Heslip's offensive production on the outside, Baylor would not be seeing the success that they currently are. With his deep threat, defenders are drawn towards him, which opens up plays on the inside.
The only problem with his offensive game is that teams now know how to handle his arc threat. Recently he has had to start going for twos instead of threes, but even then, he has seen success.
Final Grade: B+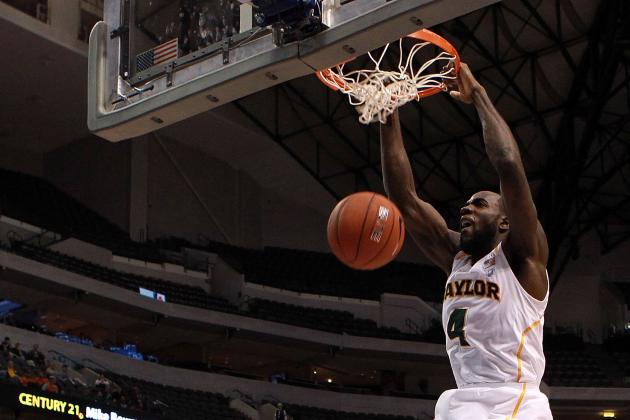 Ronald Martinez/Getty Images

Year: Senior
Minutes per Game: 29.0
Field Goal Success: 58.1 percent
Points per Game: 12.6
Miscellaneous: 6.9 rebounds per game
Analysis: Quincy Acy, known as the Cookie Monster around campus, is one of Baylor's powerhouses on offense.
He's a monster with the ball in his hands and an open court in front of him. He has the talent to leap over defenders and punish the slow ones with his surprising speed.
Then again, he's a little undersized in length for his position.
Compared to other players in the Big 12 this year, Acy ranks in the top five in rebounding and blocked shots and No. 16 in scoring.
A lot of analysts criticize Acy for his rawness on offense when it comes to working off of defenders. He could benefit from an increase in overall offensive skill and watch his draft stock soar as a result.
Final Grade: B+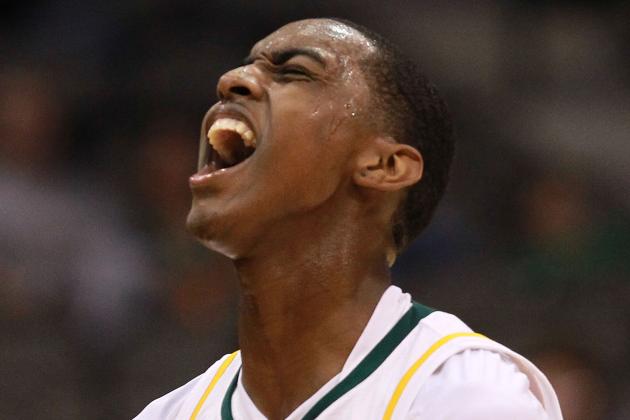 Ronald Martinez/Getty Images

Year: Freshman
Minutes per Game: 25.9
Field Goal Success: 48.9 percent
Points per Game: 12.8
Miscellaneous: five rebounds per game
Analysis: Quincy Miller joined the Bears as one of the most highly touted recruits in the nation last year.
As a freshman, he has most certainly done his part in helping Baylor succeed.
Miller started the season off in a fantastic way, making up for Perry Jones' absence the first five games. His offensive productivity decreased (for his standards) during the middle and end of non-conference play but shot right back up in the game against Oklahoma State in which he scored 21 points.
Even in the loss to Missouri Miller was one of Baylor's most productive players, dropping a career-high 29 points.
Because of the December slump, some critics began to argue whether or not he would be up to the test of a whole season. He has rightfully showed them that he's indeed a yearlong player.
That said, he does need to add some strength, so that he can stop relying so heavily on his jump shot and begin to move more inside on his play to not only sink more buckets but to grab rebounds and play defense as well.
Final Grade: B+ to A-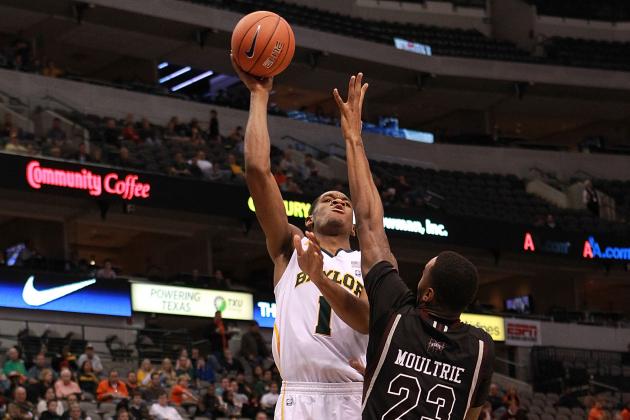 Ronald Martinez/Getty Images

Year: Sophomore
Minutes per Game: 31.3
Field Goal Success: 55.4 percent
Points per Game: 14.7
Miscellaneous: Won Big 12 Preseason Player of the Year
Analysis: Coming into the season, Perry Jones III was the most highly touted player in the Big 12. After sitting out five games due to a questionable NCAA suspension, Jones got right back to work, putting up 95 points in his first seven games.
Yet, as the season wore on, the college basketball world began to take notice of Jones and his aggressiveness—or lack there of for that matter. He has been criticized for not utilizing his size and skill set to its full potential and has therefore fallen out of the regular-season Player of the Year discussions.
The good news for Jones is that he seems to have taken to the criticism and is showing his determination to prove the pundits wrong.
In his last two games against Oklahoma and Texas, Jones has combined for 26 rebounds and 43 points. Just watching the game against Texas, one can see the improvement that this fine player has made in his game.
If he can continue this upward trend, he will become the player who Baylor fans and the sports world have been waiting to see.
Final Grade: Low A-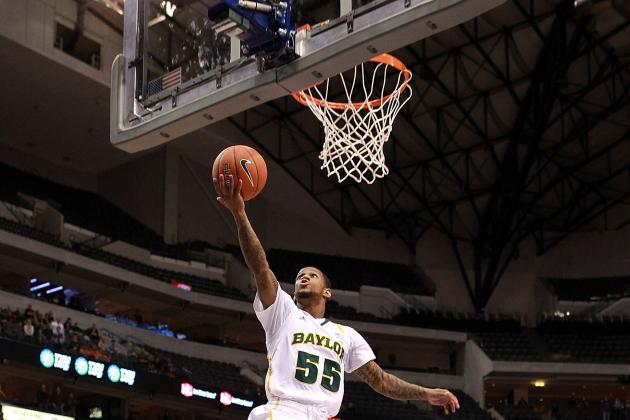 Ronald Martinez/Getty Images

Year: Junior
Minutes per Game: 28.2
Field Goal Success: 50.3 percent
Points per Game: 12.5
Miscellaneous: 50.6 percent three-point success
Analysis: Talk about a surprise.
Even though he was considered the No. 1 junior college prospect in the nation last year, no one at Baylor, except for the coaches, thought this young man would become as key a player as he is now.
Starting the season off as a bench player, Jackson earned his way into the starting lineup after conference play began, and he has not let up since then.
Posting double-digit point totals in all but seven games this season, Jackson combines his raw offensive ability with his true point guard nature. In his last four games, he has passed for 40 assists, helping to put him at No. 2 in the big 12 with 127 on the season.
As for his athleticism, if any college basketball fan has not seen Jackson dunk, then he's missing out. Remember that he only stands at 5'10''.
As for his weaknesses, he can sometimes get a little wild with his game and begin to make questionable decisions. In addition, he's averaging almost four turnovers a game, something the Bears cannot afford to do if they plan on earning trophies come March.
Final Grade: A-
Ryan Resch is a Contributor for Bleacher Report. Unless otherwise noted, all quotes were obtained first-hand.