2012 NFL Free Agents: Predicting Landing Spots for Top Players
Jonathan Daniel/Getty Images
When Aaron Rodgers went down in 2011, Matt Flynn made the most of his opportunity
It's that time of year again as Super Bowl Sunday is less than a week away, free agency starts a month after that and then comes the draft in April.
Although this means the NFL regular season has been over, it still provides that substance of need that all major football fans have.
The 2012 NFL free agency pool doesn't exactly have a plethora of name-brand athletes, but it does have athletes who can make over a team.
That is the great thing about the NFL. Not all teams are as bad as they appear to be; some are just missing certain pieces of the puzzle and that's exactly where free agency and the NFL Draft play a role.
Here are the potential landing spots for the NFL's best free agents in 2012.
Begin Slideshow

»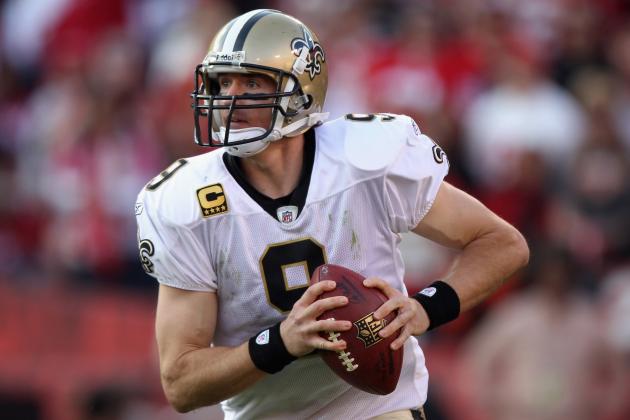 Jed Jacobsohn/Getty Images
Drew Brees isn't going anywhere, are you kidding me?
It is highly improbable that Drew Brees leaves the Big Easy, after all he has done for the city and the Lombardi Trophy he has brought back to NOLA. No way is he going anywhere.
Brees is among the NFL's elite quarterbacks, likely to win the NFL's Most Valuable Player Award after completing over 70 percent of his passes and leading the league in passing yards.
Let's just say if the Saints could cover Vernon Davis, they may have ended up in Indianapolis versus the Patriots. Nobody could stop the Saints offense this year that was led by Brees, and with their free agency addition of Darren Sproles in 2011, it was seemingly impossible to bode well against this explosive offense.
Potential Landing Spot: New Orleans Saints
Pretty much a no-brainer here in all honesty. It is likely since Brees is going to be an unrestricted free agent that the Saints will place a franchise tag on him. With a guaranteed salary and the success they have had in the Big Easy, then we likely won't hear any arguments from Brees or anyone else from "Who Dat" nation.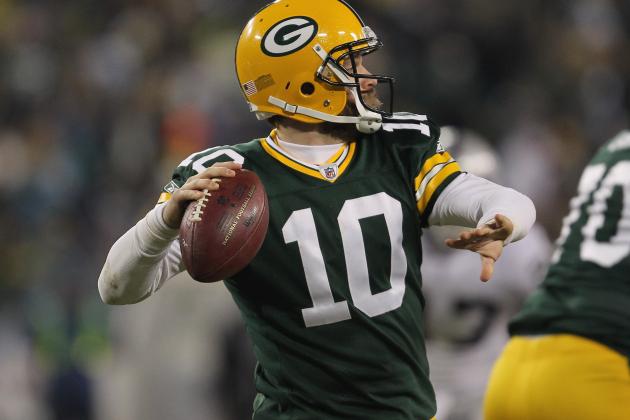 Jonathan Daniel/Getty Images
Matt Flynn could be the final piece to the puzzle for Seattle
When the Green Bay Packers lost QB Aaron Rodgers briefly toward the end of the 2011 regular season, Matt Flynn almost didn't give him his job back.
In the Packers' Week 17 matchup with the Detroit Lions, Flynn took the Packers to a 45-41 victory in a shootout. Flynn completed 31 of 44 passes for 480 yards and six passing touchdowns. No, the Lions don't have the greatest defense by any means, but when a backup QB comes in and throws for almost 500 yards and six touchdowns against any NFL defense, they have some caliber.
Potential Landing Spot: Seattle Seahawks
The Seahawks finished 7-9 in 2011, mainly in part because Tarvaris Jackson was their quarterback. Jackson has had a meager career, so to take an NFL team to a 7-9 record isn't bad for him at all.
The point being, a much better quarterback like Matt Flynn could take the Seahawks places they haven't been in a while. With Marshawn Lynch, who's become one of the better backs in the NFL, and Sidney Rice, who has shown big-play capability in the past with a good quarterback (Brett Favre), Matt Flynn could do some work with this team.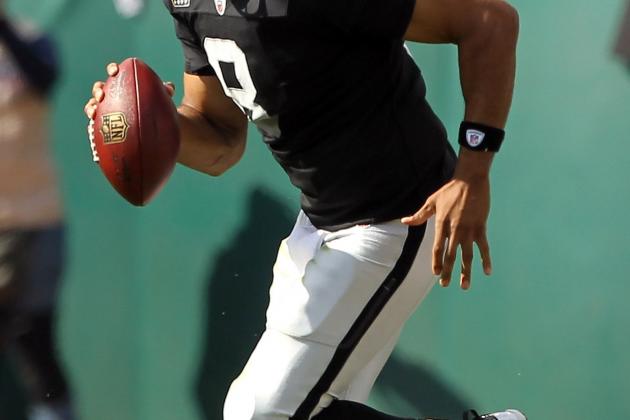 Ezra Shaw/Getty Images
With Carson Palmer taking over the reigns in Oakland, Jason Campbell will likely be taking his services elsewhere
With Carson Palmer in Raider town and Jason Campbell becoming an unrestricted free agent at the end of the season, it is unlikely Campbell will remain with the Oakland Raiders in 2012, especially considering the array of teams in the league that need a veteran quarterback.
In Week 6 of the 2011 regular season, Campbell broke his collarbone in the second quarter versus the Cleveland Browns. In six games, Campbell completed 60 percent of his passes for 1,170 yards and six touchdown passes.
What Campbell has on his side is experience, and that's something teams like Seattle, Miami and St. Louis need right now. These teams aren't necessarily looking for a Pro Bowl quarterback—just someone who knows how to manage the game.
Potential Landing Spot: Miami Dolphins
Jason Campbell would be a good fit in Miami, especially with a big target to go to in Brandon Marshall. After quarterback Chad Henne went down for the Dolphins this past regular season, former Carolina Panthers quarterback Matt Moore came in and put a spark in Miami.
Moore is likely not the long-term answer that the Dolphins staff is looking for, so I can definitely see them pursuing Jason Campbell.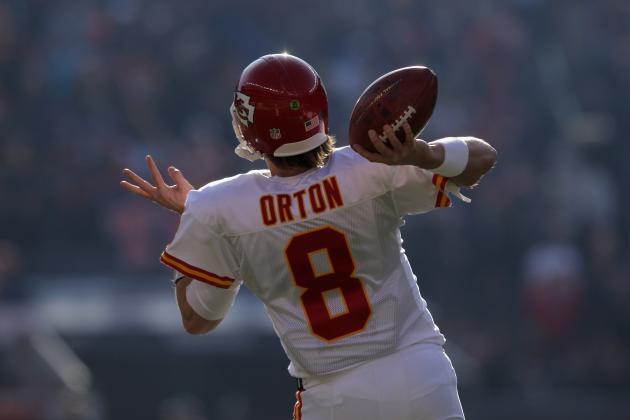 Doug Pensinger/Getty Images
Kyle Orton has potential in Kansas City
In the nine games that Matt Cassel started for the Chiefs in 2011, he definitely wasn't very good, only completing 59 percent of his passes with a 10-9 touchdown-interception ratio.
After Cassel went down with an injury in the Chiefs' Week 10 loss to the Denver Broncos, Tyler Palko stepped in and started four games, not doing much better than Cassel. Palko also only completed 59 percent of his passes, with a 2-7 touchdown-interception ratio.
The Chiefs didn't know where to turn for a quarterback, until...they found Kyle Orton from Denver.
Orton started the final three games of 2011, finishing with a 2-1 record, completing 61 percent of his passes and throwing for 779 yards. Orton, though, did only throw one touchdown pass in that three-game span. Still though, he looked as if he gave the Chiefs the better chance to win over Cassel and Palko.
Potential Landing Spot: Kansas City Chiefs
I don't think Kyle Orton is going to be done in Kansas City after only playing three games. I think new head coach Romeo Crennel is going to try to build around him because he sees that Orton does indeed give them the best chance to win.
Like I said, it's not all about having a superstar at quarterback. As long as a quarterback can manage a game, success will find its way into any organization.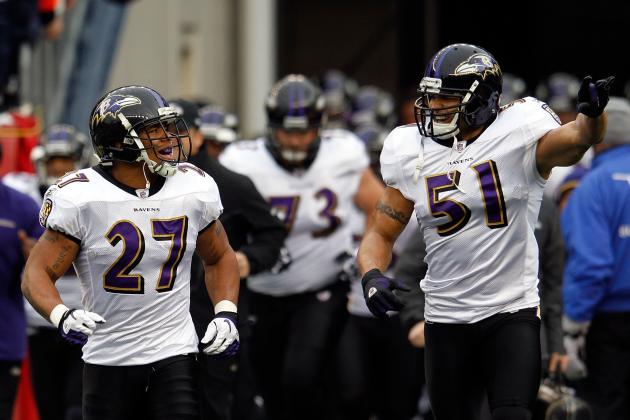 Rob Carr/Getty Images
Ray Rice's days in Baltimore could be numbered
This is sort of a double-edged sword for the Baltimore Ravens. On one hand, Ray Rice has been an animal for the Ravens. In 2011, he rushed for 1,364 yards and 12 touchdowns, while also catching 76 passes for 704 yards and three touchdowns.
The Ravens, though, are starting to become a more pass-oriented offense with Anquan Boldin, Torrey Smith and Ed Dickson.
The big question for Baltimore is: Do they want to keep forking money over to Ray Rice when they aren't really utilizing his abilities? Or do they want to move past Rice and focus on their passing game, but only having Ricky Williams as your go-to back.
Potential Landing Spot: New York Jets
The Ravens had Joe Flacco slinging the ball all the time last season, which leads me to believe they are showing Ray Rice the door. The Ravens have paid a lot of money for Rice's services, and if they aren't going to be utilizing them to their full extent, I don't see any reason why he should stay in Baltimore.
Ray Rice would do well in the Jets offense. The Jets love to run the football, and Rice has already proven he is a great receiver out of the backfield with almost 80 nabs in 2011.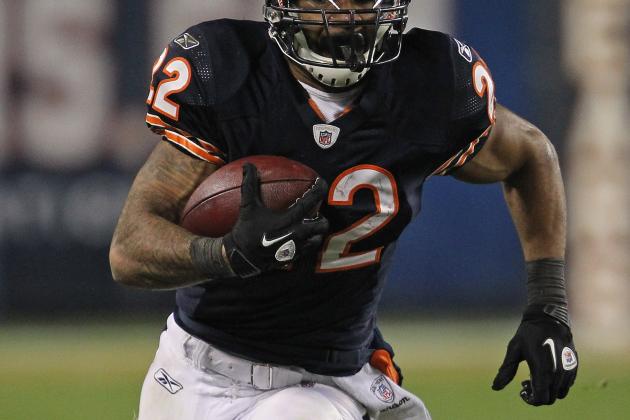 Jonathan Daniel/Getty Images

Matt Forte is one of the better backs in the league in my eyes, and he's had very good career in the Windy City. Forte still amassed almost a thousand yards on the ground in an injury-shortened season, not to mention him easily leading the Bears in receptions with 52 for 490 yards.
The problem with Forte is that he wants more money, and the Bears are apparently very stingy with their wallets because they don't believe he deserves it. The Bears seem to have some backward logic here when they do not want to offer their running back who led their entire team in receptions more money.
That's all right though; Forte knows there are other teams in the league that will offer him what he wants, because those teams realize what he brings to the table.
Potential Landing Spot: Detroit Lions
Yes, Detroit already has talented backs, especially Jahvid Best, but not near the capabilities that Matt Forte presents.
I can see Jim Schwartz looking at the possibility of having Matthew Stafford, Calvin Johnson and Matt Forte on a team together.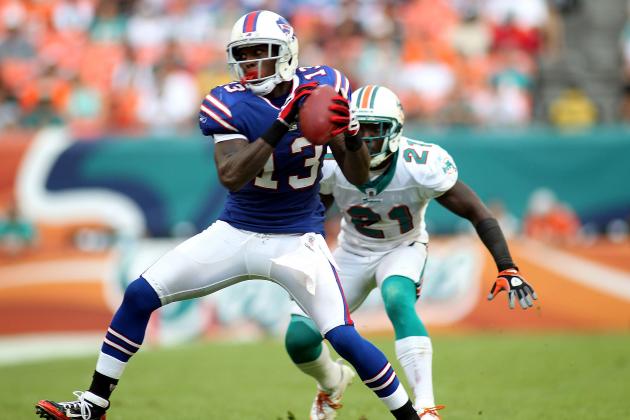 Marc Serota/Getty Images

Buffalo has really shown no interest in re-signing Stevie Johnson, and he probably isn't sweating too much about it, considering Buffalo isn't the greatest place to play and that there are likely a plethora of teams offering him more money.
Johnson is a big body and has shown his route-running ability. He's not a big name by any means, but he would likely be a good addition to just about any team willing to pick him up.
Potential Landing Spot: Detroit Lions or Miami Dolphins
I think there are a lot of teams who are going to offer Johnson money to play, especially Detroit and Miami. The Dolphins and Lions both have really big-play receivers and nobody to really compliment them, so Stevie Johnson could likely provide those complementing services if either Detroit or Miami was to sign him.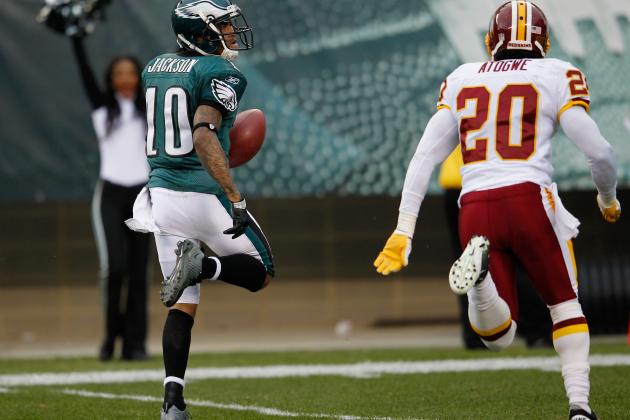 Rob Carr/Getty Images
DeSean Jackson will likely leave Philadelphia this offseason
It's time for DeSean Jackson to find a new home—simple as that. Jackson has been a growing cancer in the locker room of the Philadelphia Eagles, consistently complaining about wanting a new and improved contract.
While Jackson has been a premier athlete for the Eagles since his arrival, he's just another one of those athletes that puts money over the love of the game.
Potential Landing Spot: Minnesota Vikings
If Jackson does wind up leaving Philadelphia, then I can see the Vikings pursuing him.
Offensively, the Vikings have Adrian Peterson, Percy Harvin and Christian Ponder, the latter whom is only going into his second season. Minnesota needs a receiver that can give Ponder that deep threat, while allowing the Vikings to keep defenses honest with Peterson in the backfield.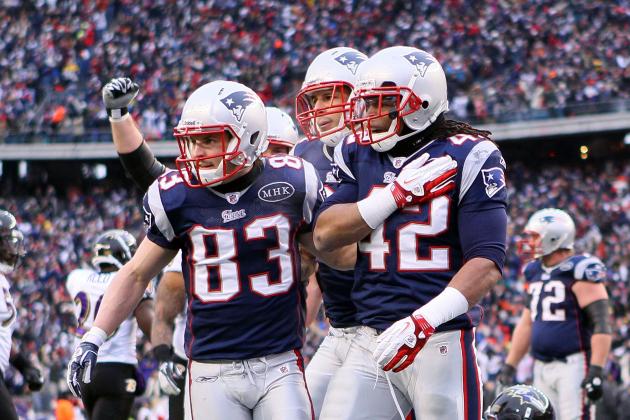 Elsa/Getty Images

Kind of hard to imagine Wes Welker not in a Patriots uniform, considering I don't even remember when he was in a Dolphins uniform. Welker's contract has expired, and although it would be hard to believe for him to leave New England, I just don't think with all the weapons Tom Brady already has that they are going to pay him what he wants.
Welker has been an amazing slot receiver and go-to guy for Brady, though Brady has his favorite targets Aaron Hernandez and Rob Gronkowski playing like beasts.
Potential Landing Spot: Detroit Lions
Detroit is pursuing that threat alongside Calvin Johnson, obviously. If the Lions do not pursue DeSean Jackson or Stevie Johnson, Wes Welker is someone I can definitely see them going after.
Welker doesn't stretch the field by any means, but he would be such a distraction for opposing defenses that they won't pay as much attention to Johnson, and that's what Detroit and Jim Schwartz are striving for here.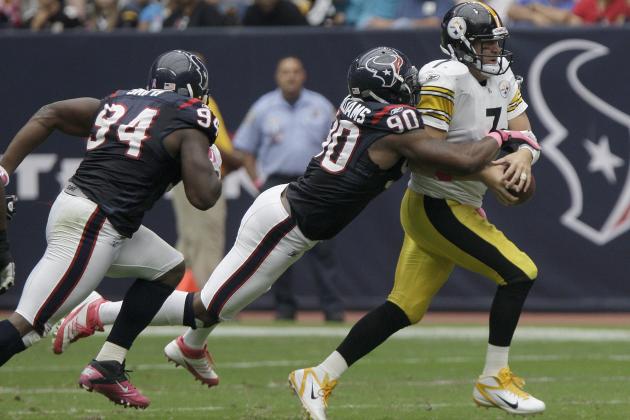 Thomas B. Shea/Getty Images
Mario Williams can make any defense happy
Mario Williams had an injury-shortened season and was still able to amass five sacks in five games. When Williams suffered an injury to his pectoral muscle in Houston's 25-20 loss to Oakland in Week 5 of the regular season, it was a huge blow to the Texans defense.
Houston has a wide array of talent on the defensive side of the ball, especially in its core of linebackers of Brian Cushing, DeMeco Ryans and the rising Connor Barwin, who led the team in sacks in 2011 with 11.5.
Many teams are going to be after Williams and I'm willing to bet a lot of them that do offer him money will offer him more than the Texans will because of their plethora of defensive talent.
Potential Landing Spot: Minnesota Vikings
I don't know how likely this is, but it's something Minnesota should definitely jump on. Before Houston transitioned from a 4-3 to a 3-4 defense, Williams was one of the most feared defensive ends in the league, and is likely a better end than linebacker.
Jared Allen and Kevin Williams are certainly not getting any younger for the Vikings, and other than those two, the Vikings have very young athletes such as Letroy Guion and Everson Griffen. Making a move on Mario Williams could improve an already good defensive line.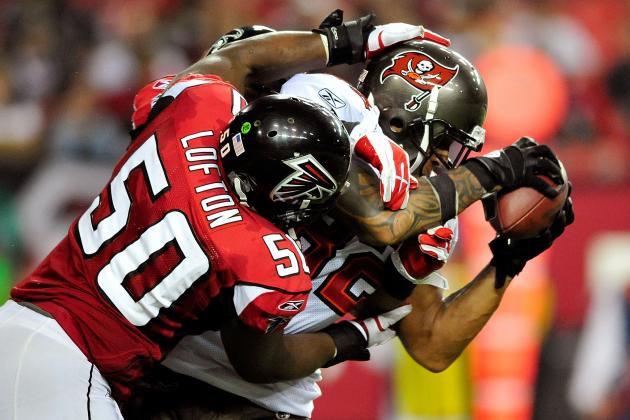 Grant Halverson/Getty Images
Curtis Lofton is likely going to be staying in Atlanta
If Atlanta was smart, it would be doing everything it possibly could to keep Curtis Lofton. Lofton just finished his fourth season in Atlanta and hasn't missed one game in his four-year career.
Lofton also led the Falcons in tackles with 147 in 2011; he is the Brian Urlacher of this Falcons defense when it all comes down to it.
Unfortunately for Atlanta with Lofton just finishing his fourth season, he is now considered an unrestricted free agent, so they must offer him a lot of money to keep him, because don't think for a second that other teams aren't going to be showing interest in this young, talented leader of a linebacker.
Potential Landing Spot: Atlanta Falcons
I don't think the Falcons are ready to let him go. I could understand if they were reluctant to re-sign him if he was in his 30s, but he is only 25, has never missed a game in four seasons and is a downright leader of this defense.
The Falcons are going to have some tough competition, because other teams are going to be offering a lot of money.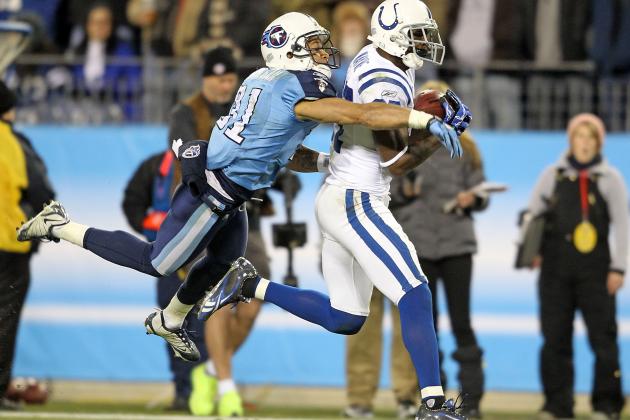 Andy Lyons/Getty Images
There's no question Cortland Finnegan would be a major defensive asset for the Lions
Cortland Finnegan is a tough guy but has been labeled by many as a dirty player because of some of the skirmishes he has gotten himself into, most notably the one with Andre Johnson where he almost got his head torn off.
Regardless, though, Finnegan is a very talented corner, especially in man defense, and he could do a lot of good for a defense on the rise—say Detroit's?
Potential Landing Spot: Detroit Lions
I know, I know, that's about the 50th player I said could go to Detroit, but that's the thing: Detroit is a team on the rise and it is pursuing players that can compliment the rising talent it already has.
Besides, Detroit already has one dirty player on its defense (Ndamukong Suh), so it might as well add another.
In all seriousness though, Finnegan would improve an already growing defense, so I can definitely see this as a potential landing spot for him.