Super Bowl 2012: How Big of an Impact Will Patriots NT Vince Wilfork Make?
January 30, 2012

Al Bello/Getty Images
New England Patriots nose tackle Vince Wilfork might not be one of the biggest names in this year's Super Bowl, but he's certainly one of the biggest players when it comes to sheer size.
At 6'2" and 325 pounds, he's capable of being a one-man wrecking crew, and that's certainly what he's hoping to display against the New York Giants on Sunday.
The success of the Patriots defensive line and their pass rush depends on how well Wilfork plays, and if his performance in the team's two postseason games is any indication, there's more than a good chance for him to get the better of Giants quarterback Eli Manning and their north-south running back Brandon Jacobs.
In the 2011 regular season, Wilfork had a fairly solid year. His 52 total tackles is on par with his career average, but his 29 solo tackles were the second-fewest he's had as a professional. However, his 3.5 sacks are the most he's ever had in a year, and he also managed to force a fumble, recover two lost balls and had two interceptions.
But in the playoffs, Wilfork has been exceptional. He's had nine tackles—four solo—in the team's divisional and AFC championship playoff wins, as well as 2.5 sacks.
That breaks down to one sack, plus one hit on quarterback Joe Flacco against the Baltimore Ravens in the AFC Championship Game as well as three tackles for a loss, and 1.5 sacks on Denver Broncos quarterback Tim Tebow, plus two quarterback hits and a single tackle for loss.
It's clear that the Giants offense will primarily rely on Manning's passing ability rather than running the ball, considering their shaky successes on the ground in the playoffs and the fact that they fielded the worst average rushing yards per game of any team in the regular season.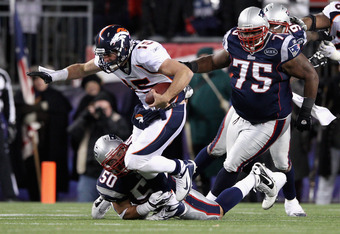 Elsa/Getty Images
Still, they'll try to get something going in the running game, as it wouldn't behoove their overall effort to win by throwing the ball 100 percent of the time. But if it's Jacobs running up the middle and into Wilfork's territory, there's going to be a number of tackles for a loss.
This means that the Giants will have to avoid Wilfork by running outside with Bradshaw, effectively neutering half of their running game right off the bat. That's one less threat the Patriots have to worry about and they can then focus their resources on beating Bradshaw on the outside and keeping Manning under control.
Manning was sacked 28 times in the regular season and was under ceaseless pressure in the NFC Championship Game against the San Francisco 49ers, ending the day being sacked six times and hit 12 more.
If the Giants cannot keep Wilfork contained, then it might be yet another long and painful day for Manning, win or lose.
Wilfork has proven himself to be a not-so-secret weapon for the Patriots defense in the postseason. He will need to continue to make his presence felt in the Super Bowl if the team has any chance of preventing Manning and his offense from making significant gains.