Super Bowl 2012: 8 Unsung Heroes Who Could Snag MVP Honors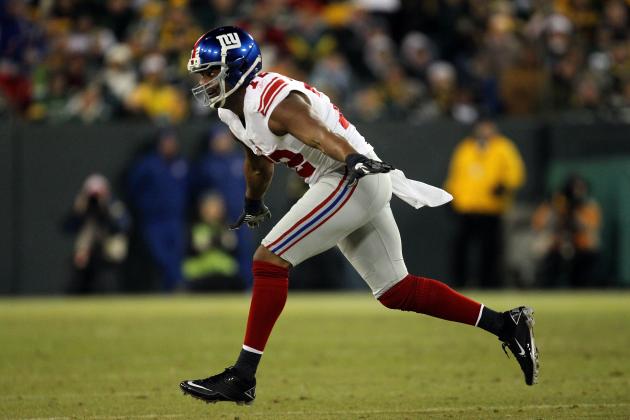 Jonathan Daniel/Getty Images

The Super Bowl is the biggest stage football has to offer, and in that sense it's a time for players on both sides to step up and contribute to their team's effort.
For the players that step up the most, the award of Super Bowl MVP is on the line. In addition to forever being linked to the team's victory, the award is a testament to a player's ability to rise to the largest of occasions.
While most often the winning quarterback has taken the prize, there are plenty of other players that will be active and primed to go. They may not be the most likely contenders, but they are definitely people to watch for.
Here are four players from each team who could rise from the shadows to contend for Super Bowl MVP.
Begin Slideshow

»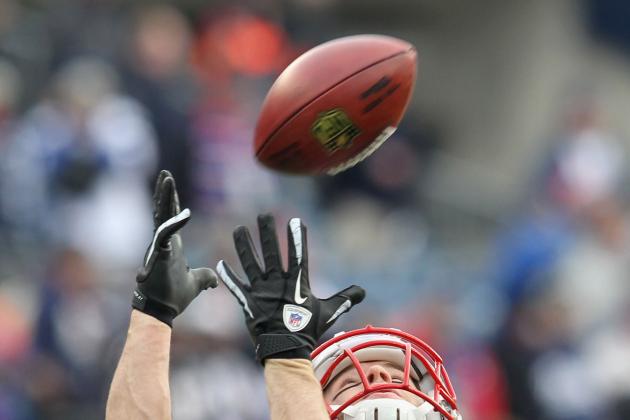 Jim Rogash/Getty Images

New England Patriots wide receiver Julian Edelman will have a unique responsibility Sunday, as he lines up on both offense and defense, where he'll double as a cornerback.
While offensively his numbers are underwhelming right now (only two catches in the playoffs for 19 yards), his biggest responsibility is containing a vicious Giants passing attack.
If Edelman can overcome the odds and make an impact defensively (i.e. make an interception) while adding a touchdown on the offense, we could see him take MVP honors.
Doug Pensinger/Getty Images

The Giants should have a nice day passing thanks to a weaker Patriots secondary, but if things get tricky, they have an untapped weapon in second-string tight end Bear Pascoe.
While Pascoe is primarily a blocker, last week he surprised by catching a touchdown pass against the San Francisco 49ers.
Should the Giants give him some use in the red zone this Sunday, there might be some extra hardware coming his way.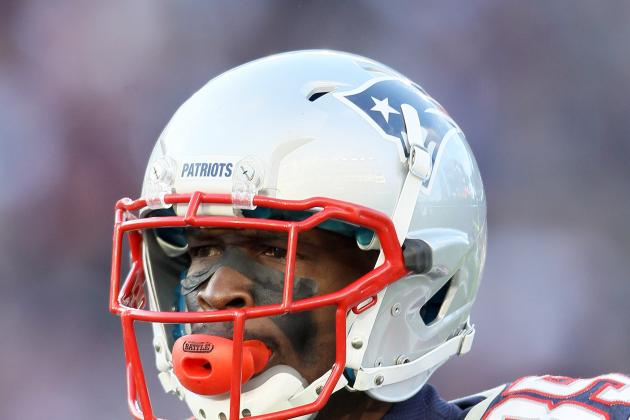 Elsa/Getty Images

I get this may be a stretch, as New England Patriots wide receiver Chad Ochocinco has essentially been less than a non-factor in the team's offense. The former Pro Bowl receiver has been abysmal statistically, only tallying one touchdown this year.
He didn't suit up for last week's game (he missed practice late in the week to attend his father's funeral), but I have a sneaking suspicion he might find his way into the game plan this Sunday.
It would be a very surprising finish to an unlikely story of redemption and change for somebody who had been one of the league's bad boys for years.
Al Bello/Getty Images

It's a tough climb for a non-quarterback to take the MVP award, but New York Giants fullback Henry Hynoski could have what it takes.
His numbers may not be all that special, but his athleticism and grit are tough to match. The undrafted free agent, nicknamed the Hynocerous, is not afraid to get physical out there on the field.
He would need to find himself as a target in the red zone, and if that were the case, his candidacy would look even stronger.
If he's not in the running for MVP, I wouldn't be surprised to see him competing for the top highlight if he tries to get vertical to go over a Patriots defender.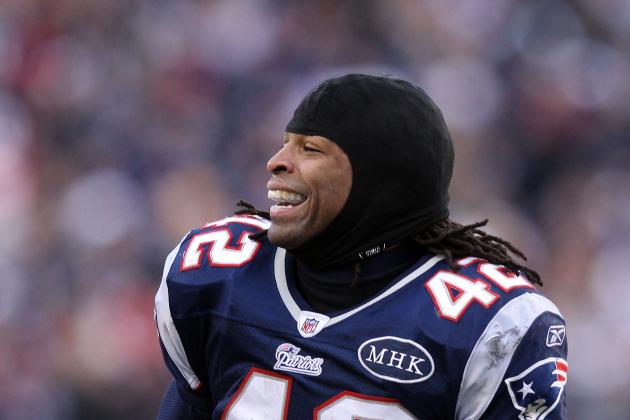 Elsa/Getty Images

The Patriots pass game may get all the praise, but if things play out like last week, then running back BenJarvus Green-Ellis could land in the MVP conversation.
Green-Ellis helped his team in getting some tough first downs, especially as the passing game declined against a difficult Baltimore Ravens secondary.
I don't expect the Patriots to have similar struggles against the New York Giants, but Green-Ellis could be the difference as the Pats give their defense much-needed rest and keep opposing quarterback Eli Manning off the field.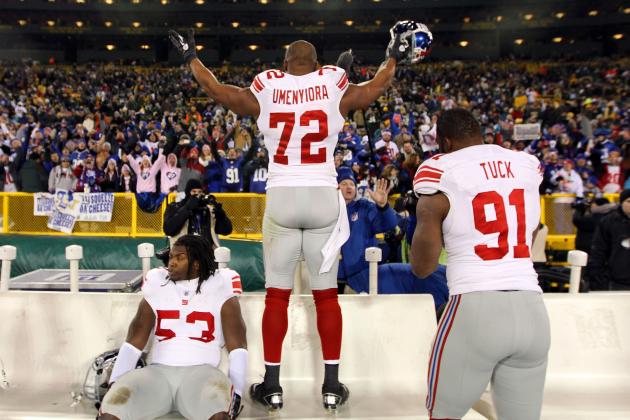 Jamie Squire/Getty Images

The New York Giants pass rush has been much improved, and a lot of that has to do with the return of Osi Umenyiora.
While his talent and stats wouldn't make Umenyiora a humongous surprise as the MVP, his struggles working with the team on a new contract would have made this an unthinkable possibility only a few months ago.
Look for Osi (along with the rest of the Giants defensive line) to find his way into the Patriots backfield at least a few times Sunday.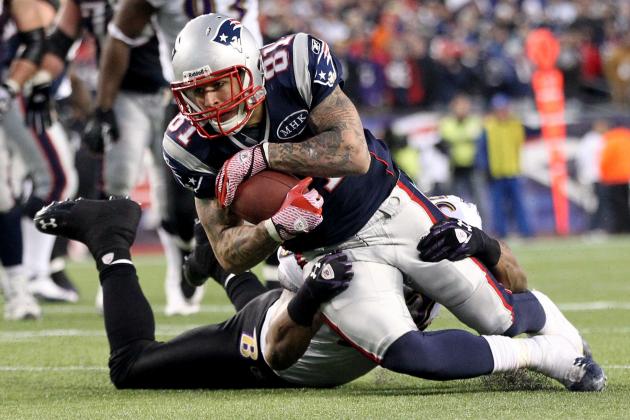 Jim Rogash/Getty Images

He may have less than half the touchdowns of his fellow tight end Rob Gronkowski, but New England Patriots tight end Aaron Hernandez may have a big role to play in the game.
With Gronkowski potentially hampered by an ugly leg twist at the end of the Patriots' game against the Baltimore Ravens, Hernandez may have to take on a much larger role.
He should be up to the challenge. In addition to having solid pass-catching skills, he has excellent speed for the position.
Hernandez should give opposing defenders nightmares about the potential matchup.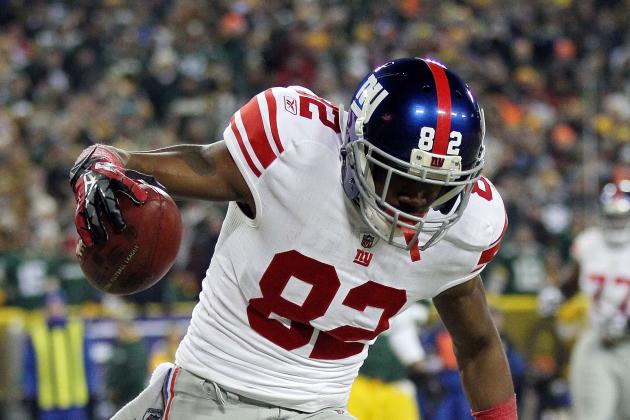 Jonathan Daniel/Getty Images

New York Giants wide receiver Mario Manningham may not be quarterback Eli Manning's first choice of target, but he could still figure big time into a Giants victory.
With the New England Patriots secondary lacking depth, Manningham could find himself the beneficiary (especially if the Pats focus on fellow wide receivers Hakeem Nicks and Victor Cruz).
However, if he wants the bigger prize, he'll have to get some more catches than he has so far this postseason.
He only has eight, less than half of his fellow receivers Nicks and Cruz.