Pro Bowl 2012 Rosters: Cam Newton and Andy Dalton Will Bring Excitement
January 29, 2012
Scott Cunningham/Getty Images
The Pro Bowl is usually a pretty boring day, but this year a pair of electrifying young rookie quarterbacks (Cam Newton, Andy Dalton) could bring a flash of interest to the game.
I'll admit it to you right now: I've come full circle on Cam Newton. Around this time last year, I made a vicious point to constantly remind all of my Facebook friends that their Heisman Trophy winner, Cam Newton, stole laptops. I continued to dub him "Scam" because of the potential recruiting violation that he offed to his father, and I was offended by his blatant academic dishonesty. Or maybe I was just a bitter Oregon fan who wanted to a BCS National Championship. Sometimes you can't have it all.
When Cam got the first overall pick in the draft (and a starting job in the NFL), it was no longer about what he did in college.
Instead, his NFL career could be judged by what Newton contributed to his team, the Carolina Panthers. This season, Newton came out soaring. He led the Panthers to a 6-10 finish, an impressive turnaround for a team that finished last in the league just one season ago, and Newton himself put up impressive numbers, helping to win four his final six starts of the season.
Newton threw for over 4,000-plus yards in his rookie season and added 21 touchdowns (and only 17 INTs) to his total.
His completion percent of 60 percent helped solidify his passer rating at 84.5, which is a solid addition to a successful rookie season. With long passes and a tendency to scramble outside of the pocket, he could help change the slow-paced nature of the Pro Bowl to one with more intensity and fervor.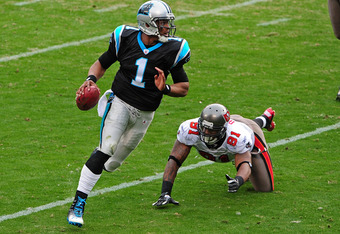 Scott Cunningham/Getty Images
Newton averaged 236.9 yards per game, which included one pass of over 90 yards for a touchdown.
In his best game, his second-to-last game of the season, he recorded three touchdowns, no interceptions and a completion percentage of over 70 percent. His progress was evident as the season went on, as his second game of the season featured only one touchdown to three interceptions and a completion percentage of around 60 percent.
Newton proved that from one successful college season, he was able to extract the right amount of value for a No. 1 overall pick and now has a Pro Bowl appearance to show for it. Now I find myself actually rooting for Newton, operating under the assumption that his success is genuinely a good thing for a league lacking stars.
Over in the AFC, we can look at another rookie with a totally different story behind him.
Andy Dalton was also an early-round pick (and probably would have been picked way earlier if he didn't have red hair and looked more like a QB) but faced very little hype coming into the season.
Dalton was picked behind Newton, but was also behind Jake Locker (eighth overall), Blaine Gabbert (10th overall) and Christian Ponder (12th overall). Dalton went with the third pick in the second round, and was not even the highest drafted offensive player on his own team.
While Cam Newton received the hype of a national championship victory, Dalton was second rate in the shadows after his Rose Bowl victory. His victory, however, was utterly impressive considering how few fans were there and how narrow of an edge TCU had over Wisconsin in the 21-19 thriller.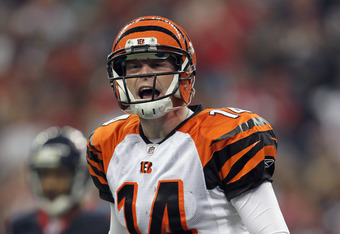 Jamie Squire/Getty Images
At TCU, Dalton had much success in his junior and senior years (23 touchdowns, 27 touchdowns) and won the offensive MVP for the Rose Bowl.
When he showed that same success in the NFL, many were surprised. His completion percentage (58.1 percent) was comparable to what he did in his four years in college (61.7 percent) and his passer rating of 80.4 is certainly impressive for a rookie.
Dalton outdueled former Bengals QB Carson Palmer, won the starting position and had such a strong showing that the Bengals traded away Palmer for two first-round picks.
This means that Dalton, by his own success, also helped secure two future prospects simply by playing well. In October, Dalton won the Offensive Rookie of the Month and led the Bengals to a 4-0 start after 909 yards in the air and six offensive touchdowns.
Throwing to fellow rookie A.J. Green, Dalton led the Bengals to a 9-7 finish that ensured them a playoffs spot over the Jets, Titans, Raiders and Chargers.
His 3,398 yards helped him, too. He and Cam Newton are now the first pair of rookie QBs to make the Pro Bowl in the same year.
When Dalton completes his first pass to A.J. Green, and you know he will be looking for his Bengals teammate, that alone can bring some excitement to a game that has been lackluster for the past few years.
Click here to Follow @BryanKalbrosky.