Philadelphia Phillies: Fantasy Football Super Bowl Edition
January 29, 2012

Kevin C. Cox/Getty Images
Finally it's here. The big week begins. For professional football fans, nothing beats Super Bowl week.  The hype is 24/7. Everything appears consequential.
If Tom Brady misplaces his hair gel, we will all find out. The NFL Network will then tell us what it means, again and again.   
Ultimately, they have to kick off and play. The New York Giants and the New England Patriots will take the field.    
The matchup looks like a good one. It should be a worthy opening act for Madonna's halftime show. It might even distract us from the commercials.
For Phillies fans, the Super Bowl serves other purposes. Watching New England and New York compete in an overrated six-hour snoozefest reminds us that soon enough, the Yankees and Red Sox will be doing the same.
The Super Bowl constitutes the last major obstacle on the road towards spring training. Phillies pitchers and catchers report to Clearwater, Fla. on Feb. 18. 
That is 13 days after the final whistle. It's probably only about five days after the smoke from Madonna's halftime show clears out of Lucas Oil Stadium in Indianapolis.
So, what is a Phillies fan to do? It's simple: Phillies fantasy football. Such a roster might stand little chance on the gridiron pitted against Vince Lombardi's Green Bay Packers. No doubt, though, it could crush any team that a Mets fan could muster.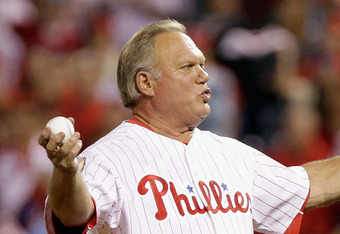 Rob Carr/Getty Images
Start with the offensive line, a football team's foundation. Finding Phillies, past and present, is simple.  Just imagine these guys in leather helmets.
Carlos "Chooch" Ruiz can play center with John Kruk and Pete Incaviglia flanking him as guards.  Playing left tackle, the lineman charged with protecting the quarterback's back, is Jim Thome. Greg Luzinski is the no-brainer for right tackle. They don't call him the "Bull" for nothing.
Ryan Howard is a big guy who can run and has soft hands. He's a natural to play tight end. As wide outs, Aaron Rowand and Garry Maddox will track down anything thrown at them. Maddox can go deep. Rowand can catch them in traffic. 
That said, this team can move the chains on the ground. It will earn three yards and kick up a cloud of dust with each carry. 
With a fullback like Pete Rose, a guy banned from baseball, not football, opposing linemen not named Mean Joe Greene stand little chance. Just ask former Cleveland Indians catcher Ray Fosse, who Rose ran over at home plate during the 1970 All-Star Game.
At halfback, Jimmy Rollins will get the edge on outside runs all day long. Rollins can also return kicks. Billy "White Shoes" Johnson, look out. Rollins will take his handoffs from former Phillie Darren Daulton. 
"Dutch" Daulton will be this team's unquestioned leader, just as he was for the 1993 Phillies, another group of lovable misfits. As quarterback, Daulton will throw pellets to his receivers downfield as he once did to Mickey Moradini at second base. Tom Brady has nothing on Daulton in his prime, not even the hair.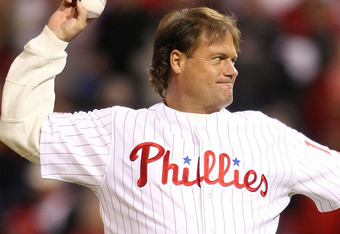 Nick Laham/Getty Images
On defense, this "Phantasy Phootball" team will be tenacious. Forget Troy Polamalu; how will the other team's receivers react when they see former Phils closer Mitch "Wild Thing" Williams bearing down on them?
First, of course, the other team needs to quell the chaos caused by defensive linemen comprised of former Phillies Matt Stairs, Danny Jackson, Dave Hollins and Dick Allen. Hollins once destroyed clubhouses as regularly as he did opposing pitching. He and the others will get to the quarterback.   
Playing behind this group is a linebacking corps built for speed. Shane Victorino and Richie Ashburn, playing as outside linebackers, will blanket anybody coming out of the backfield. "Flyin' Hawaiian" will take on new meaning.    
Lenny "Nails" Dykstra holds it all together as middle linebacker. He'll cover sideline-to-sideline the way he patrolled centerfield at Veterans Stadium. When he hits somebody, watch the tobacco juice fly.       
Joining Mitch Williams at safety is Tug McGraw, who knows something about shutting down the other team. Whatever McGraw lacks in speed, he makes up for with pure emotion. 
As do Larry Bowa and Chase Utley. A fantasy double play combination for Phillies fans on the diamond, they here form a dynamic tandem at cornerback that will bump opposing receivers mercilessly. 
Michael "Jack" Schmidt can handle the kicking chores.  He rarely booted anything at third base, but who better to drill one through the uprights in the clutch?
There it is. At the very least, this team gives Phillies fans something to talk about for the next week.  After that, no more fantasizing needed. Spring training starts for real. 
Of course, who knows? After last year's postseason, maybe manager Charlie Manuel should put the team in pads for two-a-days. Bring out the blocking sleds! Just beware, Mitch Williams!