2012 NFL Draft Order: New York Jets and Teams That Need QB Help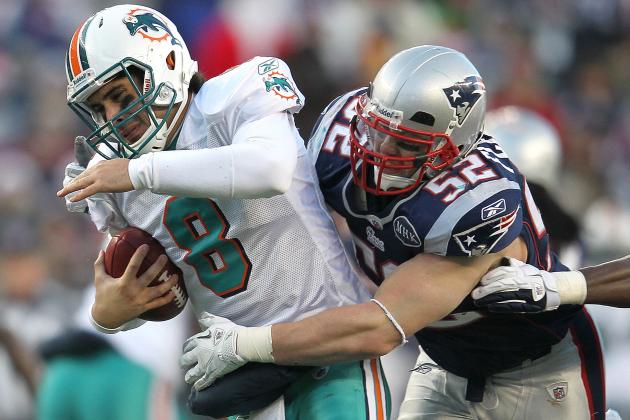 Jim Rogash/Getty Images

The position of quarterback is by far the most valuable position in football, and if you want evidence of that, check the list of quarterbacks who have won the most recent Super Bowls.
Aaron Rodgers beat Ben Roethlisberger, Drew Brees beat Peyton Manning, Ben Roethlisberger beat Kurt Warner, Eli Manning beat Tom Brady and Peyton Manning beat Rex Grossman. To make a run at the NFL title, it takes an elite quarterback.
Meanwhile, elite running backs across the league are suffering on poor teams. The NFL's leading rusher, Maurice Jones-Drew, played for a team that finished 5-11. Adrian Peterson played for a team that was 3-13. Chris Johnson, LeSean McCoy and Stephen Jackson all finished outside of the playoffs.
This year's draft class features some teams that are in desperate need of a quarterback. Outside of the two QBs that may be considered elite (Andrew Luck, Robert Griffin III), there is still a host of teams that are in desperate need of QB help.
Whether that means that they might trade up or take later-round flier on the likes of a Kellen Moore, these teams are absolutely in need of QB help if they ever want to succeed in the coming seasons.
Begin Slideshow

»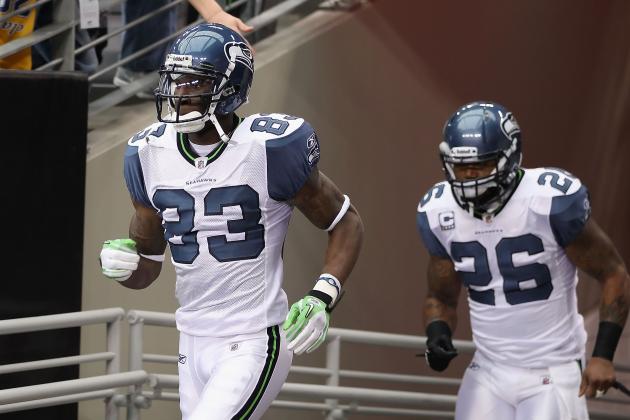 Christian Petersen/Getty Images

The Seahawks own the 12th pick in the NFL Draft, which isn't quite high enough to land Luck or Griffin, but also a little too early to take a sleeper on other QBs in the draft, like Tannehill.
Assuming the Seahawks have no interest in making Tavaris Jackson their franchise QB, I wouldn't be surprised to see Seattle make a move on a mid-level QB in the second to fifth-round zone.
This could include Nick Foles, Kellen Moore and Kirk Cousins.
Jackson was one of the worst quarterbacks in the league this season, and I find it hard to imagine that a QB with only 14 touchdowns and 13 interceptions has a very good chance of holding his job, especially considering Jackson was also sacked 42 times this season (second most in the NFL).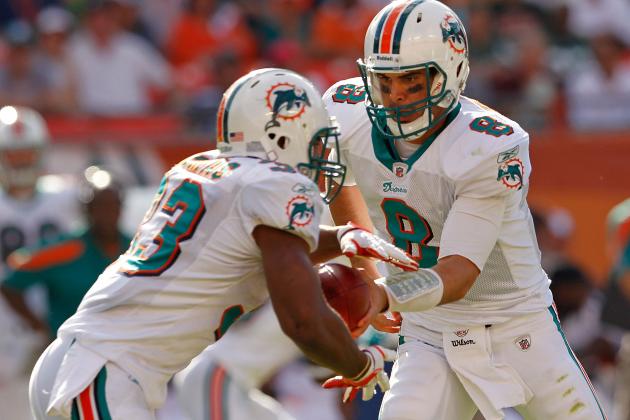 Mike Ehrmann/Getty Images

Miami was the perfect destination for Matt Barkley, and still could be.
After all, Miami has a similar weather and culture to the area that Barkley became used to at USC, their marquee running back is another USC alumni and the Dolphins could have used the kind of franchise player that Barkley would bring.
Barkley, however, would not have fallen to as low as Miami is in the draft (pick No. 9) and could instead have another poor season and land him as their first-round pick next season.
Meanwhile, it could be very difficult to contend with Matt Moore as your starting quarterback.
Moore, who, in fairness, wasn't abysmal (16 TD's, nine picks, 36 sacks, 87.1 QB rating), can hold down the tank for another year before Barkley could try and step in.
Or, the Dolphins can gamble on someone like Brock Osweiler late in the draft. Osweiler has remarkable size (6'8" and 240 pounds) for an NFL QB and has an inherent advantage over other players in this draft. As a fourth-fifth round projected pick, he has low-risk to high-reward in Miami.
Miami may also look at Tyler Wilson, who was the best passer in the SEC last season and could transfer that NFL-style of play to the big time.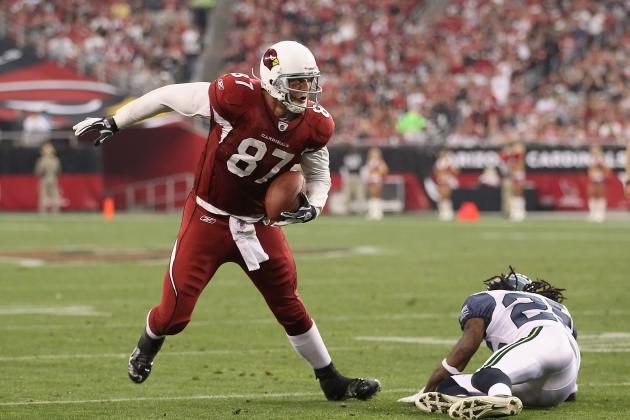 Christian Petersen/Getty Images

One thing that always makes me excited is when a college player has a chance of playing for the professional team in that state, officially making him "That Guy" in his state for his entire lifetime. I was one of the bigger "Jimmer to the Jazz!" supporters outside of the state of Utah.
Another thing that makes me excited is a capable QB throwing to Larry Fitzgerald, thus reinventing and rejuvenating Fitz's career and giving him something to play for. I'm rooting for Nick Foles to the Cardinals.
Foles, at 6'5" and 250 pounds, is projected to be a second or third-round pick, so the Cardinals wouldn't have to worry about using their 13th-overall pick on him when they can try and snag him a round or two later.
As a Pac-12 fan, I was consistently impressed with the play of Nick Foles and believe that he could actually contend for an NFL team if he was put in the right situation.
Kevin Kolb is not the franchise QB in Arizona, and certainly, neither is John Skelton. The best plan of attack for Arizona would be to take an outside-of-the-first-round sleeper pick on a QB not named Andrew Luck to help spark something within this recently successful and now bottom feeder of a franchise.
If the Cardinals don't feel comfortable with someone like Foles, they may also look at the likes of Case Keenum or Brandon Weeden.
Mike Ehrmann/Getty Images

Is it time to say that the Mark Sanchez era is done in New York?
It's definitely obvious to say that the tandem of Sanchez and Rex Ryan has been polarizing for the New York Jets, but after failing to make the playoffs this season, it may be clear that Sanchez doesn't have what it takes to be a successful NFL quarterback.
Instead of dealing with Sanchez, could the Jets make a similar move to how they landed Sanchez in the first place and trade up to try to steal Griffin from St. Louis? Could this be the team that trades for either Peyton Manning (and all of his leadership potential) or the No. 1 overall pick, Andrew Luck?
If not, I would not be surprised to see the Jets take an early sleeper on either Arizona quarterback Nick Foles or hyper-impressive Texas A&M quarterback Ryan Tannehill.
Whatever their move may be, expect it to cause a lot of media attention. This is, after all, the New York Jets.
If it does happen that the Jets are comfortable with Sanchez, then so be it. Sometimes it takes a QB (see Smith, Alex) years to develop into their role. Meanwhile, the Jets could use some help.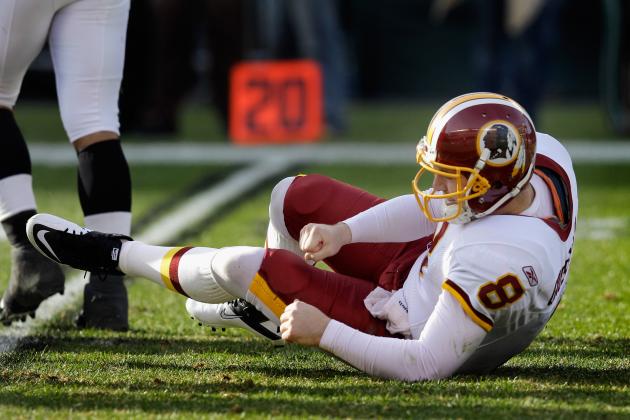 Rob Carr/Getty Images

Washington is in a division in which the quarterbacks are Michael Vick (polarizing), Tony Romo (polarizing), Manning brother Eli Manning (polarizing) and what they bring to the table, Rex Grossman.
Before Matt Barkley announced that he would be staying at USC for his senior year, it was expected that Barkley would go to Miami and Griffin would land to Washington at the six spot.
Since then, Griffin has won the Heisman trophy and raised his draft stock to a new high.
St. Louis, which owns the second pick in the draft, can play the field and try to promise the rights to Griffin to Washington.
Dan Snyder, the owner of the Redskins, is not one shy to controversy and could very well be one bold move away from trading up for the second-overall pick in the draft and for the 2011 Heisman Trophy winner.
This is absolutely the right call for Washington, who may be able to reinvent their identity with striking big with this pick.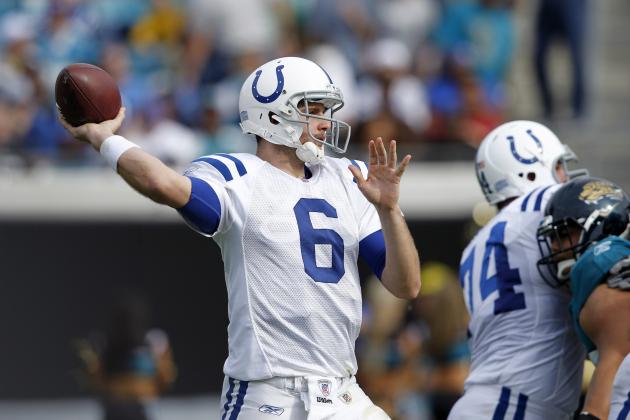 Joe Robbins/Getty Images

This is the textbook example of a team that is about to strike gold in the NFL Draft.
Indianapolis has been a pass-first team for as far back as Peyton Manning has reigned control of the franchise, and when it became increasingly clear that he was going to miss this season with an injury, every glaring hole of the Colts shined right on through.
If the Colts can begin to rebuild by keeping their pass-heavy identity that helped them make two Super Bowl appearances (and one victory) in three years, then we could be looking at a resurgence of this franchise.
Peyton Manning has represented the identity of this organization since 1998, and now that we are in 2012, it is time to refocus gears and look at where this team could be headed.
Now 35 years old, the future of the franchise lies in the hands of their soon-to-be No. 1 pick, Stanford graduate Andrew Luck.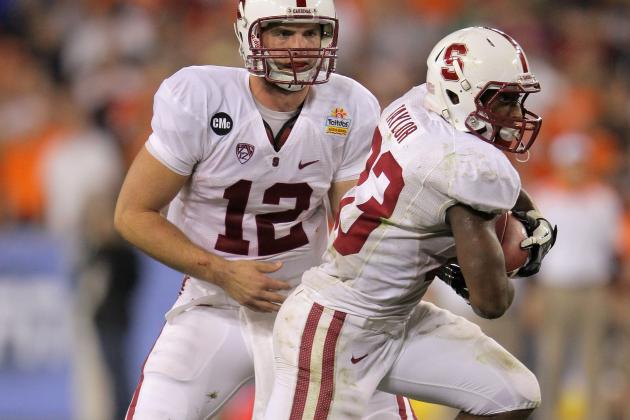 Doug Pensinger/Getty Images

Indianapolis Colts
St. Louis Rams
Minnesota Vikings
Cleveland Browns
Tampa Bay Bucaneers
Washington Redskins
Jacksonville Jaguars
Carolina Panthers*
Miami Dolphins
Buffalo Bills
Kansas City Chiefs*
Seattle Seahawks*
Arizona Cardinals
Dallas Cowboys
Philadelphia Eagles
New York Jets
Oakland Raiders
San Diego Chargers
Chicago Bears
Tennessee Titans
Cincinnati Bengals
Atlanta Falcons
Detroit Lions
Pittsburgh Steelers
Denver Broncos
Houston Texans
New Orleans Saints
Green Bay Packers
Baltimore Ravens
San Francisco 49ers
New York Giants
New England Patriots