Kim Kardashian: Bible Study Group with Tim Tebow Would Be Too Good to Be True
January 29, 2012

Garrett Ellwood/Getty Images
The two of them couldn't be more different, but Tim Tebow and Kim Kardashian are on a collision course. Just you watch.
I don't know how this collision course is going to play out or what's going to happen when it comes to a head. I just know that some weird stuff is going to happen when it does. The seas will boil, up will become down, bell bottoms will be popular again, and so on and so on.
Honestly, I try not to think about it. The idea of Kim K and Tebow becoming somehow involved with one another is simply too weird.
But then I saw this tweet from Kim K, and the thought came rushing back to the forefront of my mind again: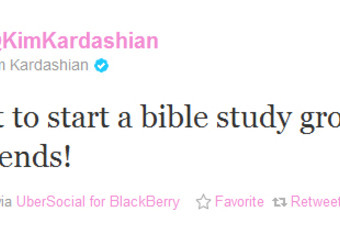 Yeah, that actually happened. Remain calm.
So what does this have to do with Tebow, you ask?
Nothing, really. Well, nothing and everything.
Nothing because Kim never mentioned (and has yet to mention) Tebow in conjunction with her Bible study tweet. On the other hand, this has everything to do with him because of what's going to appear in the Enquirer in a couple days.
Via LarryBrownSports.com, here's the latest concerning Kim's love life:
Sources say that Kim has been telling pals she wants to land a date with the devout Christian football sensation [Tebow, duh], who made national headlines for miraculously leading his mediocre team to the NFL playoffs.

"Kim has a big crush on Tim," a friend confided. "She says he's not only very handsome but seems like a guy with really strong values."
Upon reading this, your reaction should be something along the lines of, "Oh no..."
I'm worried, too. We can't trust these sources, but this is an idea that makes too much sense. We know Kim has a thing for athletes, we know she's freshly single after her divorce from Kris Humphries, and we know that she's constantly pushing the envelope with her reality-TV existence.
Luckily, the Enquirer also has this rumored scoop:
"Tim's been made aware of Kim's crush, and although flattered, he's not interested," said a source.

"He's an avowed virgin who's saving himself for marriage and is looking for a woman with similar values, not someone with two failed marriages AND a sex tape in her past!"
It's much easier to believe that Tebow is not interested in Kim than it is to believe Kim is interested in Tebow. He's a model Christian, and she is so not a model Christian. They're simply not made for each other.
But then along came this Bible study idea. 
Once again, all you can do is say, "Oh no..."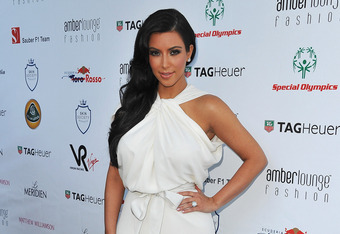 Pascal Le Segretain/Getty Images
Yup. Based on what we know about Kim, she wouldn't start a Bible study group just to start a Bible study group. There has to be an endgame here, and the circumstances at play here point to one endgame and one endgame only:
Tim Tebow.
The very notion is at once a dream come true and a worst nightmare. It's a dream come true because Tebow is the one guy on this earth who could change Kim K for the better, and because the idea of him losing his virginity to her is downright hilarious. 
It's a worst nightmare because this relationship simply could not be. The weird phenomenons I mentioned above would come to fruition, and both television and the Internet would shut down forever. We would have to go back to painting in caves, which is something I don't want to experience.
That would be the end, but I'm not sure about the middle. I only know that a Bible study group with Kim K and Tebow in it would be the start.
It's an intriguing and inherently powerful idea, but everyone will be better off if it never happens.
Luckily, avoiding a Bible study group with Kim shouldn't be too hard for Tebow. All he has to do is remember the wise words of Timothy:
But understand this, that in the last days there will come times of difficulty. For people will be lovers of self, lovers of money, proud, arrogant, abusive, disobedient to their parents, ungrateful, unholy, heartless, unappeasable, slanderous, without self-control, brutal, not loving good, treacherous, reckless, swollen with conceit, lovers of pleasure rather than lovers of God, having the appearance of godliness, but denying its power. Avoid such people.
Couldn't have said it better myself.