UFC on FOX 2 Results: Can Demian Maia Still Contend in the UFC?
Use your ← → (arrow) keys to browse more stories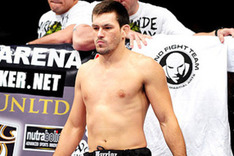 Against an opponent who came into a bout on just 11 days notice and whom had 32 pounds to cut, Demian Maia still failed to show
The former middleweight title challenger was originally preparing for Michael Bisping at UFC on FOX 2, however, the Brit was received a higher calling, taking on the enigmatic Chael Sonnen in the co-headliner.
In place of Bisping, promising prospect Chris Weidman stepped up to the plate. The touted NCAA Division I All-American wrestler was the aggressor in this middleweight affair, stalking Maia with lunging punches early, though neither man really landed anything telling.
Staving off all takedown attempts from the Brazilian, Weidman planted Maia on his back on several occasions, doing just enough to earn the decision after three hard-fought rounds of action.
Maia had ample time to prepare for the January 28 event, though he, too, tired as the fight wore on. It's been a disappointing road for the jiu-jitsu ace, who first entered the UFC undefeated, rattling off a five-fight win streak in his first five tries with the organization—all coming by way of submission.
Now, Maia has gone 3-3 in his last six outings and has removed himself further and further away from the rest of the contenders of the 185-pound class.
His dangerous submission prowess seems more myth than reality now, as the Sao Paulo native has failed to finish in nearly three years.
A lack of motivation is perhaps Maia's biggest deterrent, as he seems just to go through the motions come fight time. In the past, the former ADCC Submission Wrestling World champion has stated that a premeditated move to the welterweight division is within reason.
Should Maia move down to 170 pounds, he would be an immediate fixture in the division given his prowess as one of the best in the middleweight class and having contended for the title once before.
Maia can still remain a legitimate force, but only if he starts taking things seriously, before he becomes another lost cause, UFC cast out.