WWE Royal Rumble 2012 Results: Was It Worth the PPV Money?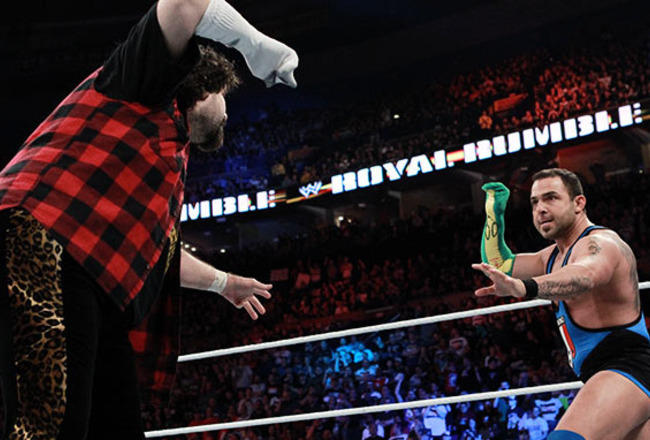 Photo credit: WWE.com

The Road to WrestleMania has officially commenced with Sunday night's Royal Rumble pay-per-view in the books.
Personally, the Rumble is the event I look forward to the most next to WrestleMania. Regardless of whatever Katie Vick/Ed Wilson/Big Show covered in dog poop moments may have soured me on the WWE product or scared me away altogether, I've always been willing to give Vince McMahon and his Superstars another shot at the Royal Rumble.
There was a lot of intrigue surrounding this year's event, which marked the silver anniversary for the Rumble, but did it live up to the hype?
More importantly, was it worth the $49.95 one was forced to shell out in order to watch it LIVE in HD (get out of here with that standard-def nonsense)...or was it a total waste of time and money for any and all suckered into purchasing it?
In order to find our answer, I will examine each aspect of the event (in a very general way here, for match-by-match grades, click here).
The breakdown and final decision after the jump.
The Royal Rumble Match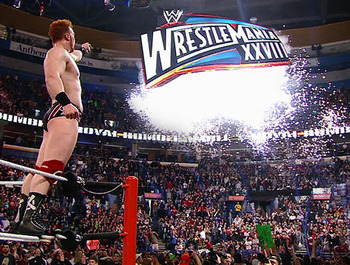 Photo credit: WWE.com
This is what sells me on the event each and every year.
The Royal Rumble match.
Nothing on WWE TV or pay-per-view compares to the Rumble match in terms of scope, presentation, or impact on WWE and World Heavyweight championship matches for WrestleMania.
This year's event was very heavy on surprise entrants and the nostalgia factor (more on this later), while featuring your usual array of high spots and confrontations.
In the end, Sheamus shocked the world by pulling out the win (Chris Jericho and Randy Orton seemed to be the consensus favorites to win around the 'net). Some people have commented to me that this is a disappointment given some of the other names involved, but I'm extremely pleased that WWE gave us a less-predictable result and are giving Sheamus the chance to regain some of the mojo that made him a successful WWE champion.
As is usually the case with this PPV, the 2012 Royal Rumble match was probably the highlight of the show.
The Undercard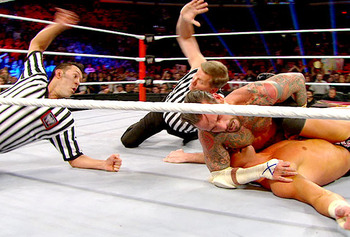 Photo credit: WWE.com
In addition to the Rumble match, both of the top titles were defended (with CM Punk and Daniel Bryan both retaining), John Cena took on the "Big Red Monster" Kane, eight Divas went toe-to-toe in tag-team action, and the "Funkusaurus" Brodus Clay did his thing versus Drew McIntyre.
The World title match was hampered by Mark Henry's groin and the Big Show's back, but Bryan and the boys did what they could with the bout. There was a great moment where Big Show pulled the whole of the champion's body back over the top of the cage with one arm.
The Divas were their usual, lovely (albeit limited) selves with the exception of Kelly Kelly's suicide leap.
Cena and Kane was also what you would expect it to be. Long Island Iced Z!, Zack Ryder, was physically abused in the post-match brawl, leaving Cena and Eve in a distraught state.
The best of the pre-Rumble bouts was unquestionably CM Punk vs. Dolph Ziggler. Laurinaitis may or may not be fired tomorrow night on Raw, but on Sunday night he managed to create controversy without costing Punk the match.
On a side note concerning Mr. Ziggler, while some may be disappointed he was essentially defeated three or four times within the same match, I think it may have been worse if he had ended up winning the championship after all of the missed pinfalls/submissions.
His short-lived World Heavyweight title reign was a joke, and to win the WWE championship under similarly dubious circumstances would have been a disservice to him.
Twists, Turns and Surprises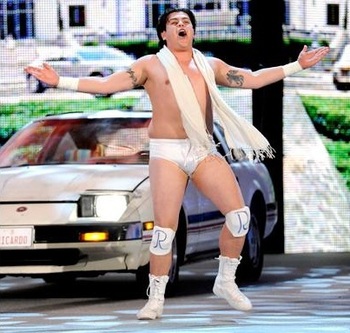 Photo credit: WWE.com
This is where the Royal Rumble makes hay.
Just about every year, the Rumble match will feature at least one or two big surprises or returning grapplers.
This year, WWE outdid themselves.
Mick Foley's return was entertaining and got the crowd going (Socko vs. the Cobra was a good moment). Ricardo Rodriguez and his clunkerrific parody of Alberto Del Rio's entrance was fun. So too were surprise appearances by 'Hacksaw' Jim Duggan, the Road Dogg Jesse James, and the entire commentary team.
It was cool/surprising to see Kharma in the Rumble and watch her eliminate some big name talent.
The Great Khali and Randy Orton both returned, which made the live crowd happy (especially in Orton's case).
Again, really surprised to see Sheamus win. Good spot for the "Great White".
I hate to sound like a broken record, but Kelly's big move had me floored. So too did the unexpected Brodus Clay/Drew McIntyre bout. It was an ugly squash match, but I can't help but appreciate the complete and utter asininity of the Funkusaurus gimmick.
Commentary, Interviews, & Video Packages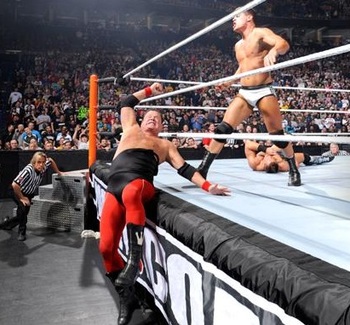 Photo credit: WWE.com
Commentary ain't what it used to be.
Over the course of the last several years, the play-by-play call of matches has devolved to the point where announcers rarely call out moves anymore. There could be an entire generation of young wrestling fans that have no idea what a pump-handle slam or German suplex are.
As far as the Rumble commentary was concerned, I found it to be good in some parts and less-annoying than usual in others. When Michael Cole tones down the heel act and focuses on the action, he can actually be very, very good on the call. Lawler's schtick makes me laugh, but not in the way its intended to. It's more of a "so bad, it's good" enjoyment. Booker T was fine; I really like him as an announcer and hope he remains one for a long time to come.
The video packages highlighting John Cena and the Rock were well-done, if not overly long and this year's "Rumble by the Numbers" video was great (as they always are).
WWE's use of recap/replay that is overdone to the point of being ridiculous on Raw was far less egregious for the Royal Rumble. We can only hope that this carries over to tomorrow night (it won't...expect to see everything replayed three or four times within minutes of seeing it).
Bottom Line—Was It Worth It?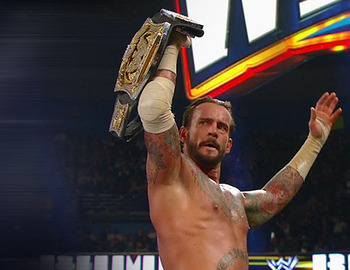 Photo credit: WWE.com
And now for the $50 question (literally)...
Was it worth the PPV money?
Personally, since WWE hiked their pay-per-view rates a few years ago, it's been my personal belief that very few of the PPVs are. We're in a global recession, and asking Joe Average to throw down that kind of money for a three hour wrestling show and even charging extra for a HD feed is somewhat maddening.
That said, I'm a fan of the Rumble. For all the talk of SummerSlam being the No. 2 event and a veritable WrestleMania for the summer season, I think the Royal Rumble is the second best event on the WWE pay-per-view schedule.
The 2012 had its ups and downs. The actual Royal Rumble match wasn't bad at all, featured a lot of surprise entrants and an unexpected winner. CM Punk and Dolph Ziggler had a good chemistry in the ring and put on a good show, but the match was too angled/overbooked for some.
Overall, I'm in the contingent of people that was pleased with what they saw. So for me, it was worth the buy...barely. I can understand charging more for the big events (the Rumble, 'Mania, Summer Slam, and Survivor Series), but if this were any other pay-per-view, it would really be outrageously overpriced.
WWE really needs to reevaluate what they're charging for these shows. They won't always have the Rock versus John Cena or a 30-man, over-the-top rope Battle Royale with WrestleMania position at stake to push buy-rates.
FINAL VERDICT: Worth the cash (but just barely). Match-by-match grades available here.
Keep Reading