UFC on FOX 2 Results: 5 Questions We Still Have About Chris Weidman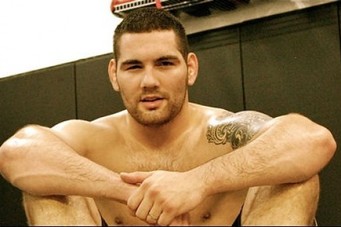 prommanow.com
Last night, budding contender Chris Weidman took the biggest leap of his career, as the New Yorker earned an impressive decision win over former title challenger Demian Maia.
The victory over a notable opponent such as Maia will now catapult Weidman to a short list of would-be contenders for the middleweight title, to which Anderson Silva holds with an iron fist.
Despite the strides he's made in the short amount of time he's been in the UFC and the victory over Maia, there are still things left unsaid for which Weidman needs to have an answer for.
Begin Slideshow

»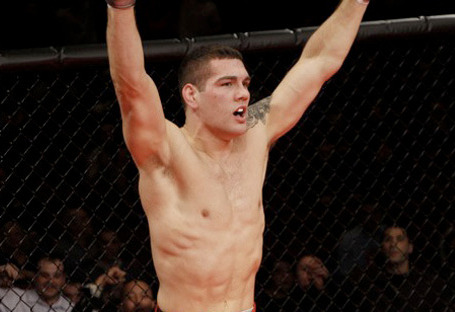 Now 4-0 in the UFC with victories over respected veterans in Tom Lawlor, Alessio Sakara and now Demian Maia, the sky is the limit for Weidman.
In less than one years time, the former NCAA Division I All-American has been able to obtain tons of exposure given his quick ascension in the UFC.
It's safe to say that the kid gloves are off now for Weidman, as his victory over Maia will put him among the elite of the division...but who will it be?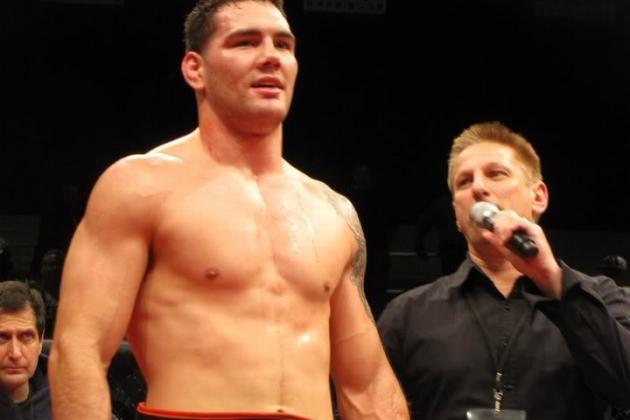 Granted, Weidman took this bout with Demian Maia on just 11 days notice, both he and the Brazilian were noticeably fatigued after three rounds of action.
It's a tough call to order for any man to step up to the plate so quickly and so suddenly, though the fact remains that we have not yet seen Weidman in the deep rounds against an opponent who has unwavering conditioning.
Sure, his decision victory over Alessio Sakara would be indicative of a man who can go the distance; however, the American Top Team product mounted little offense against Weidman, who manged to take Sakara to the canvas time and time again.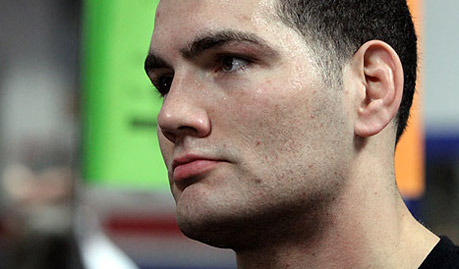 mmaweekly.com
So far in his UFC career, Weidman has been able to have his way with just about all of his opponents, submitting both Tom Lawlor and Jesse Bongfeldt among his four Octagon wins.
A powerhouse wrestler who is quickly becoming familiar with the world of mixed martial arts, Weidman is a dangerous opponent for any man in the middleweight division.
However, the fact remains that we have never seen Weidman take a telling blow, work off his back or fend off submission attempts. How well will he respond to adversity when it's presented?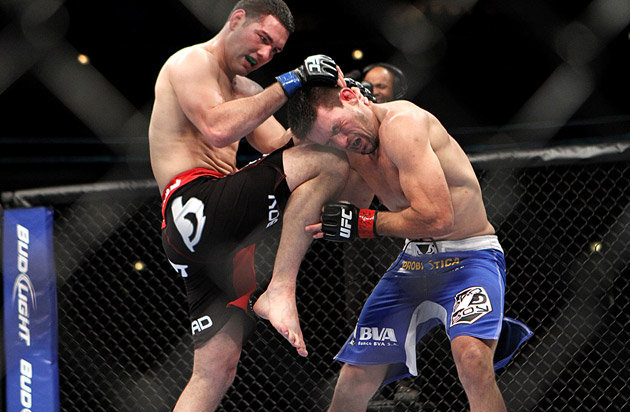 Yahoo! Sports
You'd think a victory over Demian Maia would be enough to make the assumption that Weidman is ready to tangle with some of the best, but let's face it. Demian Maia hasn't been Demian Maia for quite a while.
The former title challenger was at one point one of the scariest men in the middleweight class, rattling off five consecutive submission finishes in his first five outings with the UFC.
However, the Brazilian is now 3-3 in his last six bouts and continues to look exhausted as the fight wears on. Given the lackluster performance turned in by Maia, the question still remains whether or not Wediman would prove effective against more formidable opposition.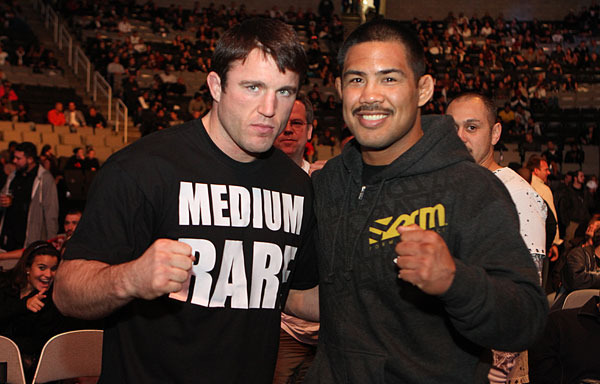 Yahoo! Sports
Though Weidman was a two-time NCAA Division I All-American, we have yet to see just how his wrestling stacks up against fellow accomplished grapplers.
In the middleweight class, outside of Weiman, two men sit amongst the top of the heap as far as wrestling is concerned. Both Chael Sonnen and Mark Munoz have proven to be among the best wrestlers in the division, who both have strong top games and powerful ground-and-pound.
Would Weidman be able to stave off their takedown attempts whilst working in some of his own?