Manchester United's Starting XI in 10 Years' Time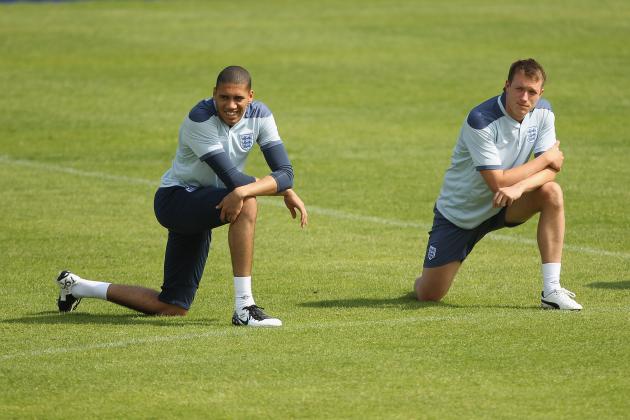 Ian Walton/Getty Images
Chris Smalling and Phil Jones: The Next Rio Ferdinand and Nemanja Vidic Partnership for Manchester United
Manchester United's youthful and restructured set-up has been very obvious this season, as the Red Devils attempt to build the next FC Barcelona.
Their youthfulness has served them well this season, but also cost them, even in their most recent match against Liverpool in the FA Cup.
However, in the long-term, as these players develop they'll have the potential to take the Premier League, Europe and world football by storm.
So with that in mind, here is a guess at what the Manchester United team, with some additions, will look like in a decade.
Begin Slideshow

»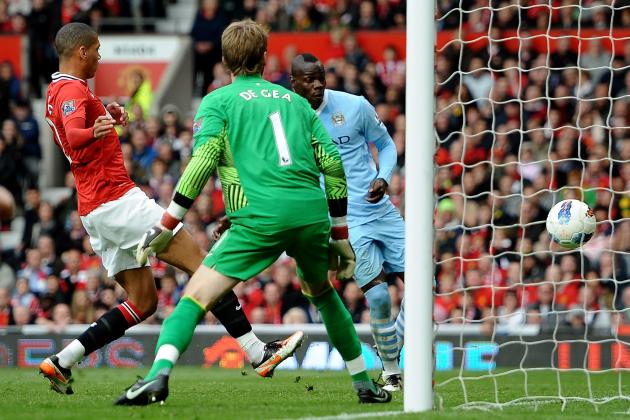 Laurence Griffiths/Getty Images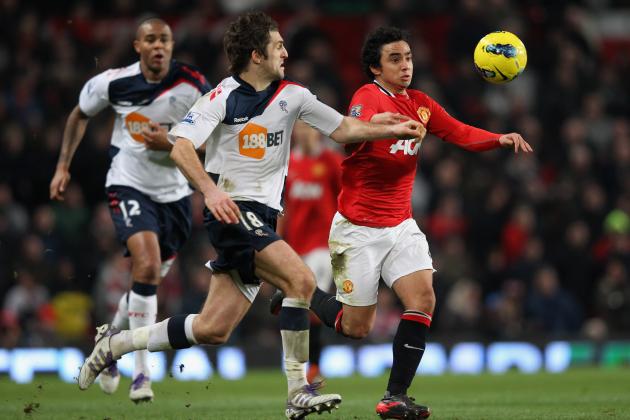 Alex Livesey/Getty Images

Rafael da Silva is finally starting to prove himself as Gary Neville's successor at right-back with a plethora of reliable, consistent displays after returning from injury.
Held in very high regard by Sir Alex Ferguson, 21-year-old Rafael has already made 80 appearances for United's first-team, and is trusted slightly more than his twin brother Fabio.
Fabio will probably stick around for a while and be the new Phil Neville, but it's Rafael who will really make himself known in the annals of Manchester United.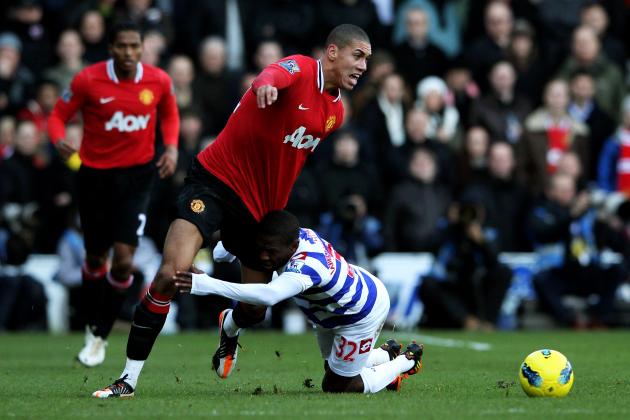 Scott Heavey/Getty Images

Touted as the next Rio Ferdinand, Chris Smalling is looking more and more like filling those illustrious boots with every passing game.
Clearly best as a centre-back, Smalling has look assured and reliable almost every time he's played, and with a bit more concentration to his game, will be a great defender for both United and England.
Plus, it'd be a great football story—a young man becoming a legend at Manchester United, being signed only a few years after probably thinking he'd never make it in the game, playing non-league football with Maidstone United after being rejected by Millwall.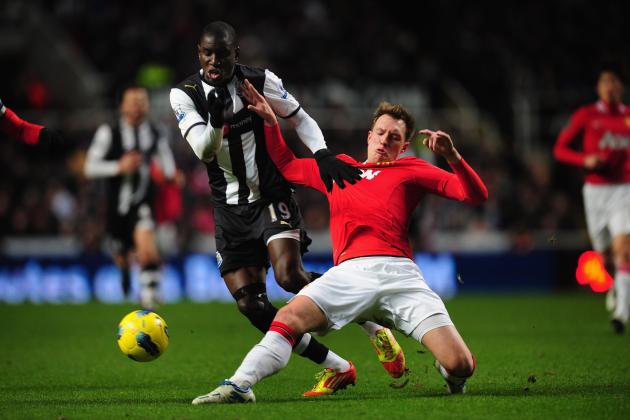 Stu Forster/Getty Images

Phil Jones will no doubt form a great centre-back partnership with Chris Smalling, and is already developing a great understanding with the former Fulham star.
He'll also probably captain Manchester United and England before long, and will emerge as the next Nemanja Vidic more than anyone else.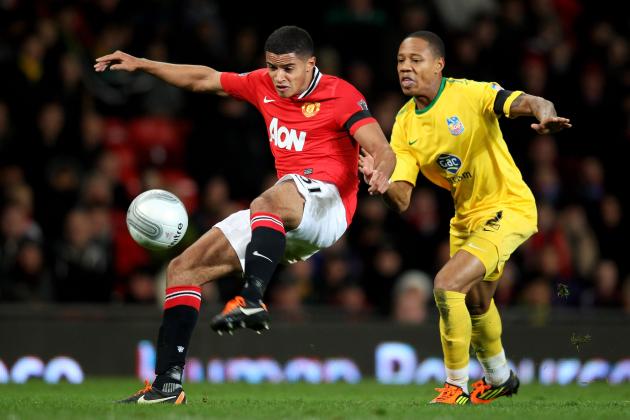 Alex Livesey/Getty Images

Ezekiel Fryers is a well-known name to ardent Manchester United supporters, having long been held in high regard by the coaches at Carrington.
Sir Alex Ferguson clearly sees Fryers as the successor to Patrice Evra, and is grooming him for the limelight, giving the 19-year-old appearances against Wolverhampton Wanderers and Wigan Athletic in the Premier League, Otelul Galati in the UEFA Champions League and Leeds United, Aldershot Town and Crystal Palace in the League Cup.
He'll play an increasing number of games in the next two seasons, and by 2013 or 2014, could be ready for a starring role at left-back.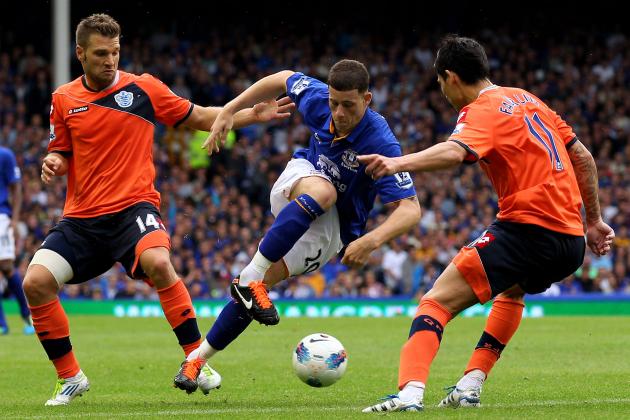 Alex Livesey/Getty Images

Ross Barkley, not Jack Rodwell, is the most likely Everton talent to leave for Manchester United, with the two clubs enjoying a good relationship, and the two managers David Moyes and Sir Alex Ferguson also getting on well.
Their relationship is helped by the fact that transfer dealings between the sides have ended well, seen as Wayne Rooney is a Red Devils legend and Tim Howard and Louis Saha are key men for the Toffees.
18-year-old Barkley, one of the best young midfielders in the Premier League, is highly regarded by Sir Alex, and has the technical ability and right playing style to be a huge success at United.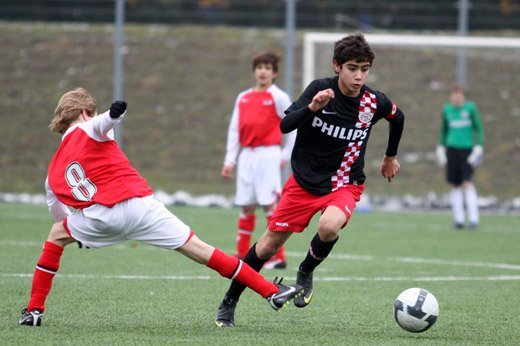 Image courtesy of allshabelle.com
Andreas Pereira is the 15-year-old playmaker Manchester United recently signed from PSV Eindhoven.
The Belgium U-16 international is typical of the talent coming out of the country at the moment—superb technical ability, and always looking to start an attack.
His ability on the ball and his attacking, passing style of play means he was always going to be a great fit at Old Trafford, and as the coaches at Carrington love to say, "He plays the Manchester United way."
He'll be a key figure for United and Belgium in years to come. Click here to read more about Pereira.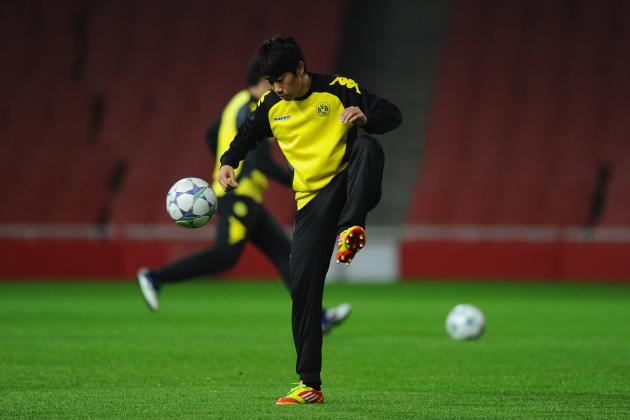 Mike Hewitt/Getty Images

Shinji Kagawa is basically the developed version of Andreas Pereira—one of the best technical players in Europe, and always one to initiate forward play.
Kagawa himself is only 22, and has been linked with a move to Manchester United almost as soon as he joined Borussia Dortmund.
Japan is emerging as one of the best producers of talent in world football, and Kagawa epitomises that. It makes him almost a United player in the making, given he'll also be a phenomenal marketing tool, even more so with the newfound interest the Japanese have taken in football.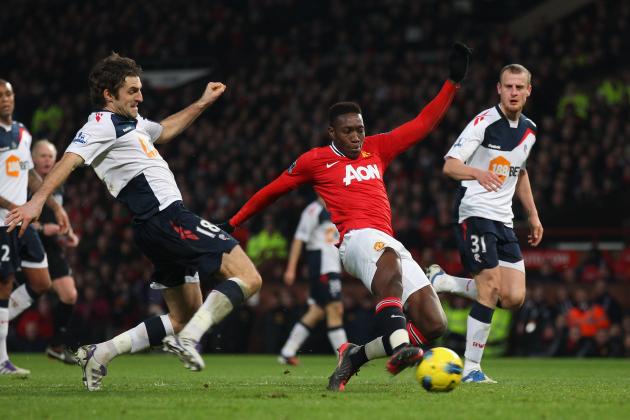 Alex Livesey/Getty Images

Danny Welbeck undoubtedly has a massive future ahead of himself, both for Manchester United and England.
The 21-year-old has scored nine goals this season, and is having a real breakout campaign after learning his Premier League trade on-loan at Sunderland.
He won't reach the 20-goal mark this term, but might do it next campaign. Even so, his all-round ability as a support striker means when Wayne Rooney is gone, he'll easily slot into that role as the spearhead of every Manchester United attack.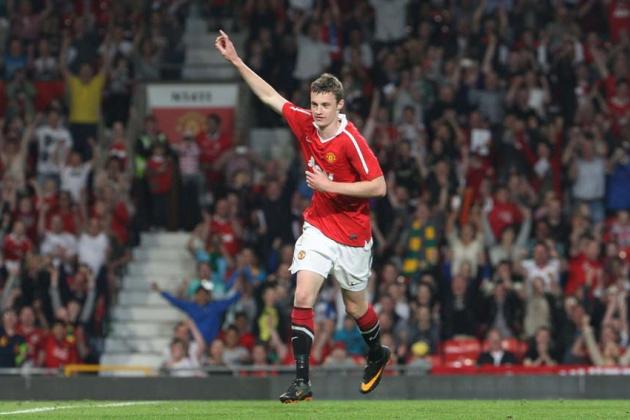 Image courtesy of manchunianina.blogspot.com
Will Keane is such a talent that, despite the wealth of attacking options Manchester United have and will possess, he'll have to fit into the starting line-up somewhere.
Having earned the recognition of Paul Scholes—"I think Will Keane has the capability to be a top-class centre-forward"—Keane is destined for the big time at Old Trafford.
He scored 17 goals in 15 starts for the U-18s last season, as well as six goals in seven starts for the reserves.
Scholes has likened Will Keane to Ruud Van Nistelrooy, and the young star could well have the same impact at United.
Alex Livesey/Getty Images

Javier Hernandez is the next Ole Gunnar Solskjaer, and in 10 years time when he's 33, he could easily still be scoring the goals for Manchester United.
His poaching style is one that's built to last, with players like Chicharito fitting into any football system which focuses on technical ability (i.e. any way of playing a manager at a top club has ever used).
He'll clearly smash the goal-scoring record for Mexico, and could be Hugo Sanchez and Solskjaer rolled into one.