UFC on FOX 2 Results: 3 Questions We Still Have About Chael Sonnen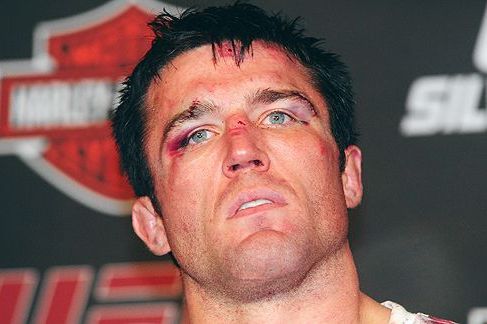 Though Rashad Evans and Phil Davis were the main event for last night's UFC on FOX 2 event, most, if not all of the attention was eclipsed by a middleweight affair pitting Michael Bisping and Chael Sonnen against one another.
In a tight-knit bout, Sonnen did just enough in the judge's eyes to edge Bisping, taking home a decision victory after three hard-fought rounds of action.
Sonnen will now have his chance to face rival Anderson Silva for his UFC title, however, given his performance against Bisping, there still remains some questions that have yet been answered by Sonnen.
Begin Slideshow

»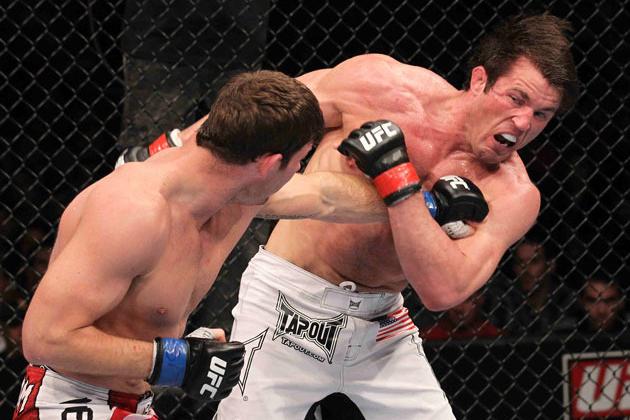 We've seen in his battle with Anderson Silva that Sonnen had enough gusto to even give the Brazilian a run for his money, at least in spurts.
However, in his battle with Bisping, Sonnen appeared to look a little worse for the wear as the two stood toe-to-toe on the feet.
Should Sonnen engage Silva again the same way he fought a vastly underrated Bisping, how would he fare against the Black House fighter the second time around?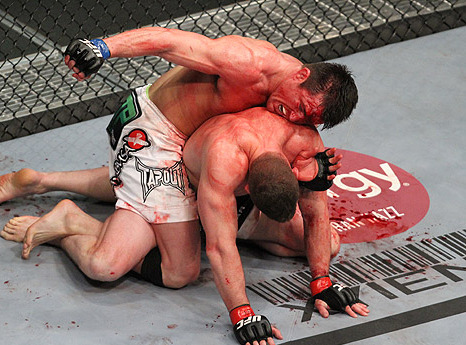 mmaweekly.com
Against opponents such as Nate Marquardt and Brian Stann, two heavy-hitting middleweights, Sonnen was able to nullify the striking aficionados by using his overwhelming wrestling prowess.
Once Sonnen has a hold of you, chances are you're going to hit the deck, where a bevy of punches to the head and body await.
Bisping, however, showed that an active guard and some cage savvy is enough to stay, relatively, out of trouble against the Oregon native. "The Count" was able to stave off several takedowns from Sonnen and when he was taken to the mat, Bisping continuously popped back up to his feet.
Needless to say, Silva has plugged away on his wrestling skills since their middleweight affair in August of 2010—is Sonnen going to be able to dominate Silva with his drowning top game once again?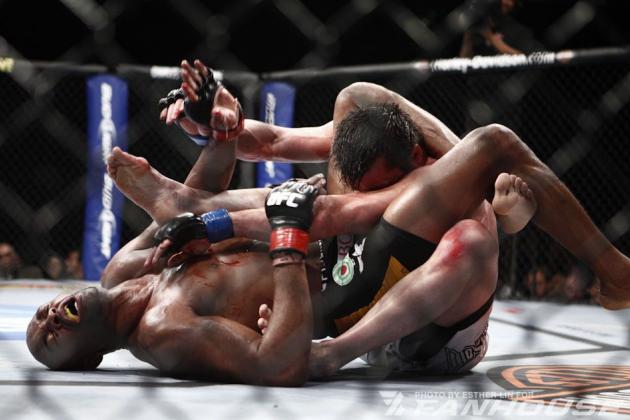 mmafighting.com
When eight of your 11 losses come by submission, the same questions will always linger.
In his title tilt against Silva, Sonnen was finished in the waning moments of a fight he was decidedly dominating. Since then, the Oregon native has been seen working with the likes of the Cesar Gracie crew, where touted jiu-jitsu practitioners in Jake Shields and the Diaz brothers have honed Sonnen's skills.
Whether or not they aided Sonnen in his victory over Brian Stann—an arm-triangle choke last October—is irrelevant. What does matter is if Sonnen is making all the right decisions in an effort to never find himself in that same position with Silva.
So, has the Team Quest product improved his submission defense? Bisping certainly kept Sonnen aware on the mat, though the Brit's lone desire was to work his way back up to his feet and was by no means interested in submitting the enigmatic fighter at any point during the fight.