NHL All-Star Game 2012: Live Coverage and Analysis from Ottawa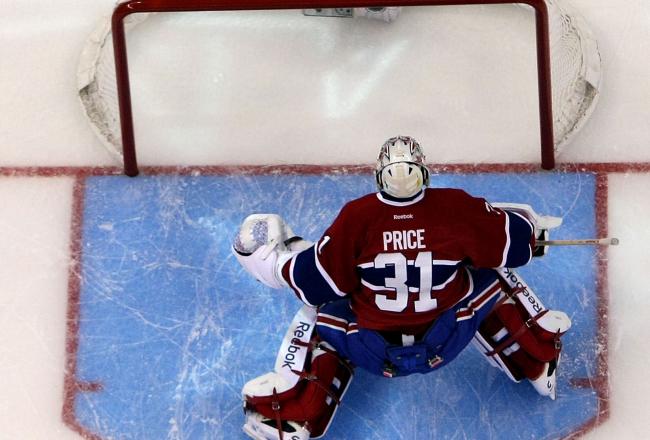 Christian Petersen/Getty Images
The 2012 NHL All-Star Game has finally arrived.
The NHL All-Star Game features Team Alfredsson against Team Chara, with Team Alfredsson winning last night's All-Star Skills Competition by a final score of 21-12.
Despite his team losing the skills competition, team captain Zdeno Chara broke the NHL record for hardest slap slot with a 108.8 MPH blast.
Other amusing sights were seen with Patrick Kane's Superman cape, as well as Carey Price, making the save (shown above) while he was turned backwards and not making another while "Tebowing."
Today's All-Star Game starts at 4 p.m. ET and can be seen on CBC and RDS in Canada as well as NBC Sports in the USA.
I will be on-site at Scotiabank Place, so check back throughout the game as I break down big highlights and also give end of the period analysis.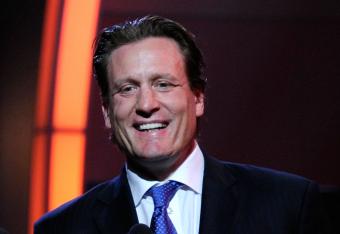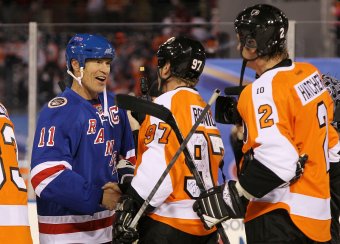 Jim McIsaac/Getty Images
As I was heading back down to the media room from the press box level I stopped to wait for the elevator.
I was at least a couple elevators away from getting to go as I saw about fifty people standing there waiting for the same elevator.
I looked around, and then looked down the hallway because I noticed NHL '12 "legend" Jeremy Roenick walking down the hallway, in line for the same elevator as I was.
I took the chance to ask him a couple of questions about the game, and his life in general.
My questions are in bold, his answers are in normal font.
"J.R. it's a pleasure to meet you, and as you have participated in a few All-Star Games yourself, did you have a favorite goal from tonight?"
"Well no, not really, I mean it's hard to pick one, there were 21 goals after all; maybe one of the goals scored by the Hossa-Gaborik-Datsyuk line? Those guys can play."
"Did you miss not being out there for the All-Star Game or just playing the game in general?"
"Not at all, I love the game, but I played the game for twenty seasons, and I don't miss getting beaten up every night."
"How do you like playing as yourself in NHL '12 in "Be a Legend" mode?"
"Love it! Thought it was awesome."
"Thanks for your time and this interview."
Isaac Smith is Bleacher Report's representative at the 2012 NHL All-Star Game. All quotes were obtained first-hand while waiting for an elevator, and then on the ride down to the media level.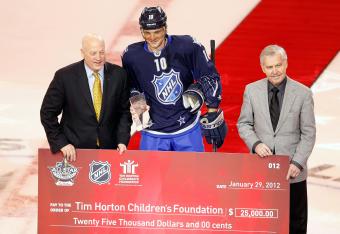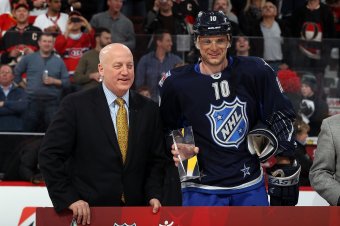 Christian Petersen/Getty Images
After the NHL All-Star Game was completed, All-Star Game MVP Marian Gaborik talked to the media for a few minutes regarding the game.
When asked why he chose to pretend to "shoot" his stick at Rangers goaltender Henrik Lundqvist, Gaborik said that "I did it because he is my teammate, but I wouldn't have done it to any other goalie."
For those unaware, Gaborik and Lundqvist had been having a "chirp" session via Twitter.
Gaborik scored twice on Lundqvist and put an exclamation point on his night with his hat trick goal less than two minutes into the second period.
Gaborik went on to address the play of Pavel Datsyuk and Marian Hossa, saying that he relished the chance to play with them, adding that he and Marian had played on the Slovak national team before.
I asked Gaborik if there was any sort of bet to see if there was a winner and a loser, and what the stakes were for the hypothetical bet.
Disappointingly, Gaborik said that "there were none" and that he had not addressed that particular topic with Lundqvist.
Gaborik went on to say that there were no hard feelings obviously on Lundqvist's part and added that there was even a picture on Twitter of them hugging after the skills competition last night.
The All-Star Game is over, and I headed downstairs to the media room for some post-game interviews.
Jason Spezza, Milan Michalek, Erik Karlsson, and Daniel Alfredsson were on the podium.
Questions and answers followed, most of them were directed at Alfredsson.
Alfredsson was asked if he had thought about his career post-hockey yet to which he replied that "there is nothing definitive in place at this time."
When asked if he wanted a position in the front office with the Senators when he hung up his skates Alfredsson said that he has "four kids now, and he would have to see in what capacity the role would be."
Alfredsson also identified his ability to play and "perform well in big games" as part of his reasoning to continue playing next year or retire after this season.
He was also asked where "this game ranked" on his list of all-time achievements and things in which he had taken part.
Alfredsson stated that he was "still living this memory out" so he couldn't rank where it fit for him all-time.
In regards to retirement, Alfredsson said that he was not physically exhausted this season, but that this weekend had "emotionally exhausted him" significantly.
Isaac Smith is a Detroit Red Wings Featured Columnist for Bleacher Report, all quotations were obtained first-hand from the Media Interview Room at Scotiabank Place from the 2012 NHL All-Star Game post-game media press conference.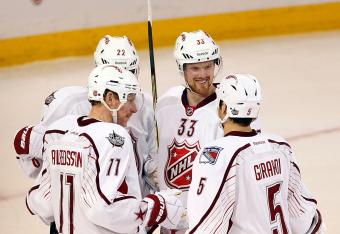 Well it was a wild finish, but once again defense (or the lack there of) prevailed in the end.
Going into the third period, and the two teams tied at 6-6, Team Chara started to assert itself offensively, and Team Alfredsson had no answers.
Team Chara scored four of the last five goals, with two goals 16 seconds apart, and three goals in a minute and 22 seconds.
After the game, Marian Gaborik was named the All-Star MVP with three goals and an assist.
Daniel Alfredsson was interviewed after the game, and in a round about way asked if he could promise to come back next year.
Alfredsson, 39 years old, said he "could promise about 50 percent of it" with "the other 50 percent resting with his wife."
This cheer brought a raucous Ottawa crowd to its feet and almost drowned out the rest of what Alfredsson was saying.
Much more to come on the All-Star Game later tonight.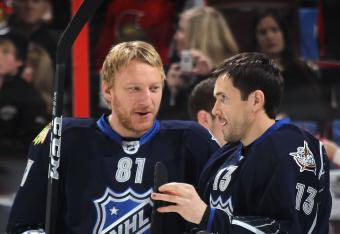 How about those Sedin twins being paired with Alfredsson, that line has combined for eight points so far tonight.
On the other side of the puck, the game has been completely taken over by the Hossa-Datsyuk-Gaborik line has 10 points!
That includes a hat trick by Gaborik, and a dominating performance by Marian Hossa.
There has been an outbreak of scoring here in the third period with nine goals, six of them by Team Chara.
Just a dominating period for the Czech line in Team Chara, they look like they are light years ahead of everyone else on the ice.
Big performances from Phil Kessel and Joffrey Lupul as well.
The story of the night has to be the Senators players under-acheiving throughout the game.
The Senators players were so hyped up coming into this game, but they have not shown up at all defensively, combining to go -10 between Jason Spezza and Milan Michalek.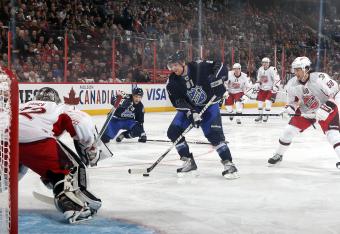 So these NHL All-Star teams can't stand not to be tied with each other for whatever reason.
We have a 6-6 game as the third period gets underway. For Team Chara, I love their passing, and quality shots on goal, (they have 25 through two periods) but they have to be more consistent in shooting pucks on net when they are in the slot.
They must continue to be solid defensively and clear rebounds away from Tim Thomas who will be playing the third period.
As for Team Alfredsson, they have to connect on more of their passes, they are struggling mightily in that department. They are getting quality chances on net, and lead the shots by a few, but they are a struggling to convert.
They also must start limiting Team Chara's quality scoring chances (as Kessel scores to further prove my point).
Looks like we're in for some more goals this period so I'll be back later this period to see where we stand.
Enjoy the game!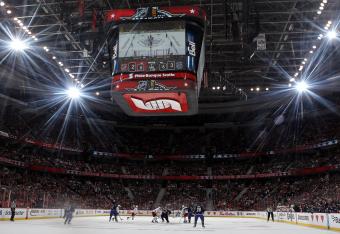 It took Marian Gaborik less than 22 game minutes to get a hat trick, and this time, the goalie victim was goaltender Jonathan Quick.
Gaborik has been playing give-and-go with Marin Hossa all game, and no one appears to want to stop him.
On another note, Team Alfredsson is killing themselves with bad passing, and this passing isn't just bad, it's an eye sore.
They lead the shots on goal by a 24-21n margin, but they have not been able to sustain any pressure in the offensive zone because of their passing woes.
They are also getting fairly snake bitten on their shots as well, they hit two posts in the first, and have at least three more here in the second period, with two coming less than a second apart.
At the intermission, Carey Price said he hoped he didn't get "lit up too bad" because he didn't have faith his defense would actually play defense for him this period.
Maybe he didn't watch the first period very closely, because this team has come to play defense in this game, and had only given up one goal, until Daniel Alfredsson decided to pot two goals to give his team their first lead of the game.
Your score now, 6-5 for Team Alfredsson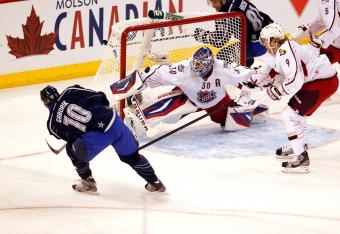 Marian Gaborik's teammates on Team Chara got him the puck a lot in the first period to beat Lundqvist twice.
Gaborik "fired" his stick at Lundqvist on the first goal, and by scoring twice, beat Lundqvist in the on-going Twitter "war" that they had been having all week.
Chara's squad went up 3-0 and looked to be running away with the game.
But Team Alfredsson bounced back and scored three goals of their own to tie the game at three.
As for the rest of the first period, it was mostly a defensive struggle as far as offense was concerned.
A 3-3 tie at the end of the first? Pretty defensive I'd say.
This period in the early going, the first four minutes were the most boring minutes I have watched all season. Both teams struggled to find chemistry and could not complete passes to save their lives.
The goaltenders were solid, giving up just six goals on 26 total shots (funny how that would be egregious in a regular season game).
As far as goals are concerned, both teams are making their own goals.
For Team Chara, they are using effective passing on odd-man rushes to get their chances (and ultimately goals).
For Team Alfredsson, with the exception of Jason Spezza, the other goals (by Henrik Sedin and John Tavares) were "garbage goals", both withing two feet of the crease on a tip-in and wrap around respectively.
As for the rest of the first period, it was mostly a defensive struggle as far as offense was concerned.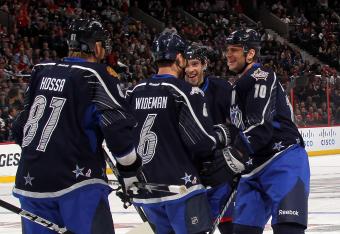 In an All-Star Game nobody is really accustomed to seeing defense.
But early in the period, that was the story.
Jimmy Howard was strong in goal with the help of some relentless—dare I say it—defense?
In an All-Star Game?
Well that's what it looked like from the press box up here anyway.
The story of the game is missed opportunities for Team Alfredsson, as they have hit iron twice on Jimmy Howard.
Gaborik has scored twice and has been dominating the game with a couple of nice passing plays from Datsyuk and Iginla.
But just as I thought Team Chara was going to open up a big lead, going up 3-1, Jason Spezza tied the game, soft goal on the short side of Howard.
Henrik Sedin banged in a rebound goal as well to cut the lead to 3-2, and then John Tavares took a strange bounce and potted it in for a goal to tie the game at 3-3.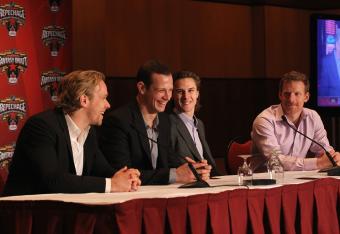 So remember when Tim Thomas and Dion Phaneuf were named as "starters" for the All-Star Game?
Well they aren't starting.
Your starting lineups look something like this:
For Team Chara:
Right Wing, Marian Gaborik. Center, Pavel Datsyuk. Left Wing, Marian Hossa.
Starting on Defense: Captain Zdeno Chara and Brian Campbell.
Starting in goal: Jimmy Howard.
For Team Alfredson:
The All Senators forward trio starts it off:
Right Wing, the Captain, Daniel Alfredsson. Center, Jason Spezza. Left Wing, Milan Michalek.
Starting on Defense: Kris Letang and the Senators own, Erik Karlsson.
Starting in goal: Henrik Lundqvist.
So we won't see any all Swede line from Team Alfredsson (at least at first) but I have heard rumblings of making a Gaborik-Datsyuk-Hossa line.
We'll see what happens, enjoy the player introductions if you're watching, I'll bring you more analysis sometime during the first period.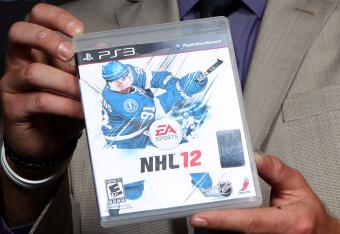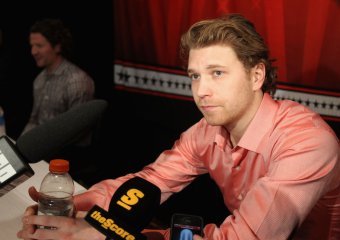 Christian Petersen/Getty Images
EA Sports put in its simulation of today's NHL All-Star Game and came out with a result.
A 12-10 victory by Team Alfredsson.
Now I know some of you at home are shaking your heads saying "but it's just a video game!"
But if you remember back to last spring's Stanley Cup playoffs, EA Sports also ran a simulation of the entire playoffs and went 14 for 15 in it's predictions for which team would advance.
The only round it got wrong?
Detroit Red Wings beating the San Jose Sharks in the second round—and for all intents and purposes and despite trailing the series 3-0 at one point, Detroit came back and almost defeated San Jose losing in seven games.
Since EA Sports has established itself as a semi-reputable (or semi-lucky, however you want to look at it) authority on predictions, I think we can take this prediction for what it's worth.
However with that being said, we must also remember that it is just one game, and not a seven game series like last year's Stanley Cup playoffs.
EA Sports has Claude Giroux as the hero, but this is the All-Star Game, there are no clear cut favorites for MVP just yet.
With that said, I do agree with EA Sports in one aspect—as good as the goalies are in this game, they will be no match for the shooters that they are facing today.
EA Sports has Team Alfredsson winning 12-10 and I would go with at least that many goals.
Bodog sports betting has the over/under of 19.5 and I would be very surprised if the "over" didn't win out in this case.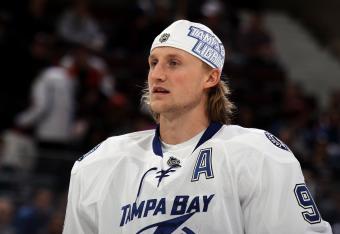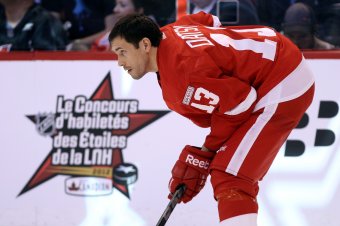 Christian Petersen/Getty Images
With the showing at the All-Star Skills Competition last night, the players to watch list has grown as player stepped up to the challenge last night.
With today's All-Star Game being mostly about offense, it has made it pretty easy to find players to watch in the All-Star game.
1. Steven Stamkos:
Can't go wrong with choosing Steven Stamkos as a player to watch in this game. Stamkos was 3-3 last night in the Elimination Shootout, winning four big points for Team Alfredsson to help them to victory. Stamkos won the Elimination Shootout, showing the hockey world why he leads the NHL in goals with 32. Stamkos showed that he was effective at close range in the shootout, but he also has an extremely lethal slapshot that he unloads from the top of the circle.
2. Pavel Datsyuk
The first overall draft selection in the All-Star Fantasy Draft did not have that big of an opportunity to shine in the Skills Competition last night. He participated in the stick-handling part of the Super Skills Relay, but missed on his only shootout attempt, leading him to bow out early last night. Look for Datsyuk to show a little bit of a fire today at the All-Star Game after being relatively quiet in the Super Skills. If he gets the chance, I see Datsyuk pulling out a "Datsyukian" deke if he gets the chance today.
3. Daniel and Henrik Sedin
The Sedin twins are on the same team for this All-Star event, and if they are placed on the same line, they will be even more dangerous. The Sedins are the last two Art Ross Trophy winners, and putting them on the same line, possibly with Daniel Sedin. The thought of that all-Swede line would make most opposing coaches shake in their boots in the regular season. Since this is an All-Star game, and defense is lacking and almost non-existent, the Sedins and Alfredsson (if it pans out that way) will likely have their way getting to the net and getting quality scoring chances.
4. Tyler Seguin
Tyler Seguin (soon to be no longer a teenager) is one of the most dynamic young players in the League. He has 43 points in 46 games before the All-Star break. Seguin didn't have the best showing in the Skills Competition last night as he missed on his only "Elimination Shootout" attempt, and it took him 30 seconds to knock down the targets in the accuracy challenge. As a young player, not many are expected to perform well in the All-Star game. Look for Tyler Seguin to change that a little bit today. It might not be apparent at the start, but Seguin does have five game winning goals this season. That's pretty good for a second year player, and Seguin has played in big games before like last year's Stanley Cup playoffs, where he picked up seven points in 13 games as a rookie.
5. Henrik Lundqvist
Henrik Lundqvist stepped up for Team Alfredsson last night at the Skills Competition, making six saves on seven shots. That's pretty clutch for any goaltender. Any period in the All-Star Game where a goalie doesn't give up more then three goals is usually a pretty good period considering that the defensemen are usually a little bit more lackadaisical. If Henrik Lundqvist can duplicate the performance he put on last night against the Team Chara shooters, he could end up being the game MVP.