Arsenal FC: Laurent Koscielny vs. the World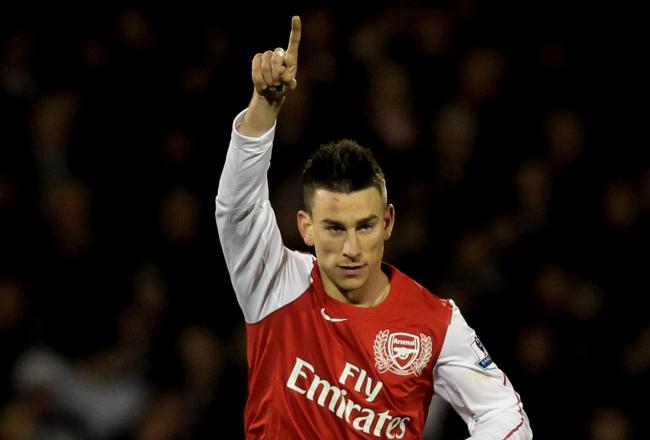 Clive Rose/Getty Images
When it comes to buying a footballer, many fans seem to think it's as simple as bringing in an identical but younger model of a once-prodigious but faded hero, as if the club should seize a player's eye-residing twinkles and microwave them radioactively, like some kind of comic book transformation from test tube to ready-made football god in—well, the blink of an eye.
Take Arsenal. When the club's so-called Invincibles departed somewhat abruptly, football phone-ins throughout the land echoed with statements exclaiming that they needed to buy the "next Patrick Vieira" and the "next Thierry Henry," as if they were waiting to be plucked from clone-bearing trees.
It's not an unusual refrain. On this occasion, though, Arsene Wenger, the seemingly unimpressionable Arsenal manager, appeared to try to humour them.
Vieira was gone, so in came his equally lanky compatriot Abou Diaby. Thierry Henry was nearing the exit gradually enough to encourage Wenger's hand in the striker department too, so in came the equally fleet-footed Theo Walcott.
The comparisons were inevitable, and Wenger never completely dismissed them himself. Neither of them have fulfilled their unenviable prophecies nor really carved out admirable identities of their own.
The never-fit Diaby has a reputation for being as resilient as French bread, and though Theo Walcott still has time on his side, he continually flatters to deceive.
Back to the point, though—it's a usual refrain, this talk of finding the "next" identikit replacement. Since the retirement in 2003 of their captain fantastic, Arsenal fans have been praying for the "next Tony Adams," a central defender for whom the cliché "born leader" became a by-word, having seized the armband as a 21-year old.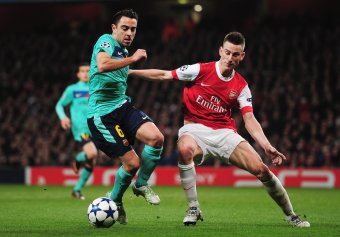 Shaun Botterill/Getty Images
His adolescent doppelganger doesn't appear to be in the offing, but someone of a rather different mould has taken on the mantle anyway.
Step forward, Laurent Koscielny.
Few would compare him to the always-vocal Adams. The recently capped Frenchman doesn't seem to raise his voice toward his colleagues beyond the most necessary of warning calls. In fact, he almost looks timid. It's not surprising, given the start to his Arsenal career.
Plucked from relative obscurity, just as Wenger likes it, his lack of stature, in renown as well as physically, didn't exactly invigorate Arsenal fans sick to the back teeth with their team's clownishly leaky back four.
After an understandable period of adjustment, however, he started to look the part, especially with his surprisingly assured performance in Arsenal's unlikely home win against Barcelona.
Then disaster struck. Just as Arsenal looked set to end a six-year trophy drought in the Carling Cup final, Koscielny slipped catastrophically in front of his own goal and gifted the competition to the Gunners' bogey boys, Birmingham City.
Apart from it wasn't so much a slip as a wild swing for the ball that depicted the perfect demonstration in falling arse over elbow.
It proved to be a symbolic moment—embossed indelibly on the long-suffering brains of Arsenal fans—of a season that quickly unravelled without so much as a whimper.
Suddenly, Koscielny was no longer the solution to Arsenal's defensive fragility. His weaknesses amplified, he was clearly too nervy and too soft, an invertebrate in a team already lacking backbone. Pitied within the walls of Emirates Stadium, he became something of laughing stock beyond them.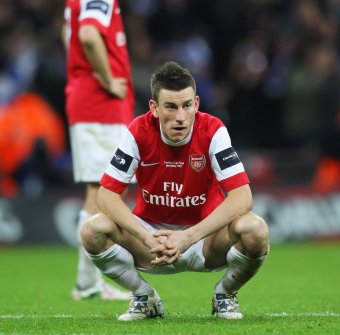 Alex Livesey/Getty Images
Few expected him to possess the mentality needed to bounce back. This season, though, he has emerged from the rubble of that Wembley demolition and rebuilt and reinforced his reputation.
He he has won over the Arsenal fans, partly by virtue of keeping Per Mertesacker out of the team (at least on the rare occasions that Arsenal have all their defenders fit).
The experienced German international was something of a panic buy, and expected to replace the traumatised Koscielny. But panic seems an appropriate word for the man. Mertesacker may be as gangly as they come, but that's no excuse for playing as if your head is literally in the clouds.
He means well, of course, and seems like a perfectly nice guy, but the cumbersome, tentative and tactically inept nature of his performances have been disappointing given his 80-odd cap haul at international level.
In sharp contrast, Koscielny has developed into something resembling a proper defender with a consistent exhibition of calmness, strength in the air, well-timed tackling and even the ball-playing ability to drive the team forward with penetrating runs from the back.
Bigger names than his have floundered in the wake of lesser mistakes than that fatal calamity at Wembley last February. For a while, he looked like a broken man.
But he has shown Scott Pilgrim levels of persistence to turn it around. While Arsenal may not have found the "next Tony Adams," they have got themselves a reassuring defensive presence of a different making.
Koscielny does seem to share some of the flawed traits of the aforementioned comic-book slayer of evil exes—he looks introverted, reticent, even slightly gooky—but equally he has proven to be one of those silent types who conceals a discreetly strong backbone after all.
This article is
What is the duplicate article?
Why is this article offensive?
Where is this article plagiarized from?
Why is this article poorly edited?

Arsenal: Like this team?