FA Cup: Arsenal vs. Aston Villa Preview and Prediction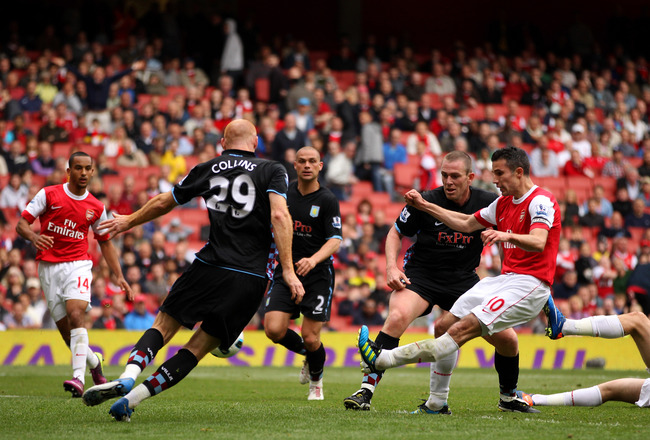 A battle Arsenal must win.
Richard Heathcote/Getty Images
Arsenal will be looking to redeem their reputation when they meet Aston Villa in the fourth round of the FA Cup. The match is a must-win for them.
Going into this match, Arsenal still have a better season than both Manchester clubs, for example: They still are in the Champions League and in the FA Cup, whereas both Manchester clubs have been knocked out of the two competitions.
And although Arsenal are unlikely to win the league this year, they still have a good chance at finishing among the elite four, so this season is by no means doomed...not yet.
A victory in this match, then, should begin the revival the Gunners need to salvage the season. Fans should expect to see a team determined to win when hostilities commence at kickoff.
I preview a few other things to expect in the following slides and give my prediction of the outcome.
Arteta's Return Should Enable Arsenal to Control the Match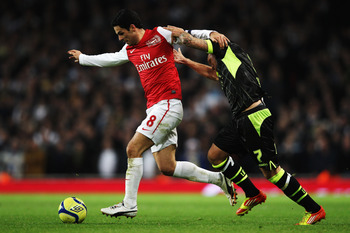 Arteta has been the missing link in Arsenal's midfield in the last couple of matches.
Clive Mason/Getty Images
The midfield trio is back, with Mikel Arteta set to return to action. The last word on his injury situation had him set to undergo fitness tests ahead of the match. It is highly likely then that he'd return, and his return is a good thing.
A big reason why Arsenal were overran at Swansea City was the lack of balance in the midfield. Aaron Ramsey tried his best in the match to cover the ground of a box-to-box midfielder while also seeking to fulfill his normal, creative role. It didn't work.
Yossi Benayoun wasn't able to cover for Arteta, and when Tomas Rosicky came on, the problem wasn't solved either. Both are the creative type.
The same imbalance was on hand in the Manchester United match. Rosicky either sat too deep or too high. He was covering for Arteta in this match.
The lack of balance in positioning led to the team's woeful performance in the first half. Needless to say, neither Benayoun nor Rosicky is an adequate cover for the box-to-box position, which is why the return of Jack Wilshere and Abou Diaby cannot be wished for hard enough.
For now, the return of Arteta should be a big boost to the team. The midfield should be back to its normal, cohesive self. If this happens, Arsenal should be able to control possession in the middle. That should, in turn, enable the team to control the match.
When the two teams met in December, the midfield lacked the balance noted here, due to the absence of Alex Song. This enabled Aston Villa to press quickly to win possession, with Emmanuel Frimpong's youth and inexperience particularly susceptible to this strategy.
It led to a disjointed performance by the Gunners, since they couldn't control the match in the middle.
A good balance in the midfield this evening should eliminate this problem.
A Sturdier Defense Should Fortify the Gunners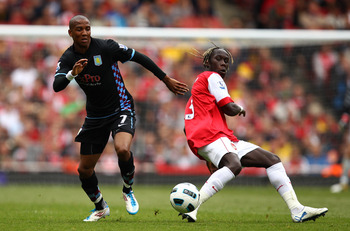 Bacary Sagna could return in this match.
Richard Heathcote/Getty Images
The full-back positions were targeted by Aston Villa in the December encounter. The positions were manned by Francis Coquelin on the right and by Thomas Vermaelen on the left.
Coquelin had a torrid time against Charles N'Zogbia. Vermaelen tends to be too narrow due to his natural inclination as a central defender.
Manchester's first goal was caused by faulty positioning in the two full-back positions. Both Johan Djorou and Vermaelen were too narrow.
It was Vermaelen who failed to check the run of Antonio Valencia, who tucked home United's goal. But it was Djorou who was too narrow, allowing Ryan Giggs to run wide and measure his cross.
Bacary Sagna is likely to return from injury in this match.
He should bring the natural dimension of a full-back to the position, which includes creating width when Arsenal are under attack to force the attacking winger away from goal and the ability to tackle the attacking winger or full-back.
Furthermore, his overlapping instincts should set Walcott free to terrorize Villa's defense.
Being his first game after injury, if he plays, Sagna may not play the full 90 minutes of the game. Nico Yennaris impressed in the United game. He should provide a good option and cover for the position.
Vermaelen may still be required to cover for the left-back position, although Coquelin is available for the match.
In the Fulham and QPR matches, Coquelin impressed via his intelligent positioning further up the pitch, forcing the opposing wingers back into their own half.
Based on these two matches, I'd prefer Coquelin over Vermaelen, even though the latter has played for Belgium at the left-back position.
Nevertheless, Vermaelen is not a good left-back. One can only hope that he provides a descent performance in the match, a performance adequate enough to prevent Arsenal from conceding silly goals.
Laurent Koscielny and Per Mertesacker are likely to be the central pair in the defense.
Wenger Will Give Alex Oxlade-Chamberlain Another Start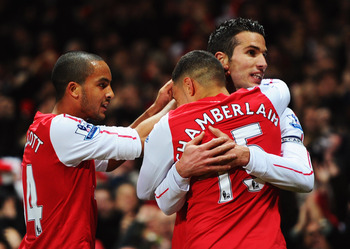 This may be Arsenal's attacking trio in this match.
Mike Hewitt/Getty Images
Alex Oxlade-Chamberlain is likely to start again for two reasons: He impressed last week in his first league start and this is a cup game. This is where Arsene Wenger would normally use a different lineup.
It is time merit triumphs over seniority. We should therefore see Oxlade-Chamberlain on the left flank and Theo Walcott on the right.
If Sagna plays, Walcott should have a better game today than he has in recent matches, where he has been hampered by the lack of overlapping movement from the right-back position. The midfield is likely to use the right flank today as an attacking outlet.
If AOC has as good a match as last week's, Arsenal's flanks should prove troublesome to Villa. This, in turn, should free up Ramsey to create chances on the ball and to make decoy runs off the ball. In other words, the attack should look more dynamic in this match.
Thierry Henry is available.
He is an option to call upon if the goals prove stubborn. But even if Arsenal rediscover their scoring form in this match, Henry is likely to come on in the last 15 minutes, sooner if Arsenal are constrained to chase a win.
If Andrei Arshavin is played at all today, I'd like to see him played in the middle as a substitute for Aaron Ramsey. Both Benayoun and Rosicky are options for Ramsey, of course.
Outcome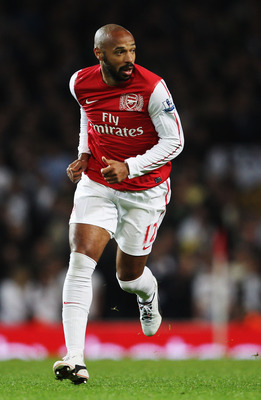 Thierry Henry should play.
Clive Mason/Getty Images
Arsenal can't afford to lose this match. It would only increase the sense of doom that has prevailed this week and feed into the current senseless distraction about sacking the manager.
A more dynamic defense, a more cohesive midfield and a more balanced attack should give Arsenal better control than has been the case in recent matches.
Better control should mean better chances at creating goals. If this happens, Arsenal should win. By how many goals I leave to the reader to suggest.
Keep Reading

Arsenal: Like this team?