National Signing Day 2012: Wisconsin and Big Ten Teams Crossing Their Fingers
January 29, 2012

Harry How/Getty Images
The arrival of coaching rock-star Urban Meyer at Ohio State immediately puts extra pressure on every other school in the Big Ten to challenge Meyer's enormous recruiting clout. While arch-rival Michigan has put in an impressive effort in the 2012 recruiting season, not every school in the conference has been so lucky.
These three conference rivals need strong finishes leading up to Wednesday's National Signing Day to avoid being left behind in the Big Ten race:
Wisconsin Badgers
Although Bret Bielema's team hasn't landed any 5-star recruits, quality is a secondary problem in Madison at this point. With just days remaining to bring in new talent, Wisconsin has garnered a mere 12 commitments.
With several of Bielema's assistants leaving the team, even recruits who had committed already (like OT Kyle Dodson) are reconsidering. Even in the best-case scenario, QB Bart Houston (a 4-star prospect in Scout.com's estimation) won't have a lot of other talent joining him in Madison.
Michigan State Spartans
Mark Dantonio and his staff have brought in a respectable 16 recruits to date, but with just two of them earning even four stars from rivals, it's not exactly a high-powered bunch. DE Jamal Lyles will be valuable in carrying on the Spartans' impressive defensive tradition, but some additional bodies would be welcome.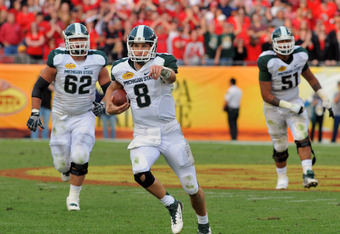 Al Messerschmidt/Getty Images
There's more depth on the offensive side of the class, but WR Aaron Burbridge is the only top-tier talent. Michigan State will be left in the dust by Michigan's loaded freshman class if it doesn't score a coup or two by Wednesday.
Iowa Hawkeyes
The arrival of Cedar Falls standout (and ex-Iowa State commit) Barkley Hill was a coup for Kirk Ferentz, but his 19-man recruiting class is still on the shaky side. Hill and Greg Garmon will pick up the slack left by departed RBs Marcus Coker and Mika'il McCall, but the receiving corps won't be getting a comparable boost.
The defensive line is the strength of the class so far, with Faith Ekakitie and Jaleel Johnson leading the charge. Still, another 4-star commitment or two would really help the Hawkeyes bounce back from last season's 7-6 campaign.