WWE Royal Rumble 2012: 5 Twists & Turns the John Cena-Kane Match Could Take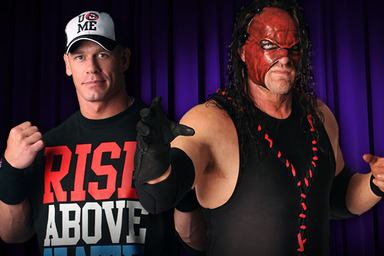 With the Royal Rumble one day away, it is time to take a look at the John Cena-Kane match up.
With a John Cena heel turn being teased by the WWE, as well as a revival of Kane's masked character, this match could steal the show.
Today, I am going to list five directions that the WWE can go with this storyline.
This list is based on WWE's current storylines and the product as a whole.
**Please Note: I am staying away from a "Super Cena" storyline. I don't think I will happen so I see no need to include it.**
Begin Slideshow

»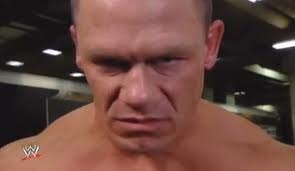 In this storyline, Cena wins the match.
No, he does not win this in his usual manner.
Before the match, Kane tells Cena to unleash his rage.
Cena does just that. He absolutely brutalizes Kane until the Big Red Monster is unable to compete.
Cena comes out the next night on RAW and says that whoever crosses him will end up just like Kane.
In the following weeks, he can fight heels and absolutely destroy them like he did with Swagger.
From there, he can either have a rematch with Kane, or an eventual confrontation with Zack Ryder.
This storyline can work with Cena as a face and just attacking heels, but if they wanted to turn him to the dark side he could shove a few babyfaces.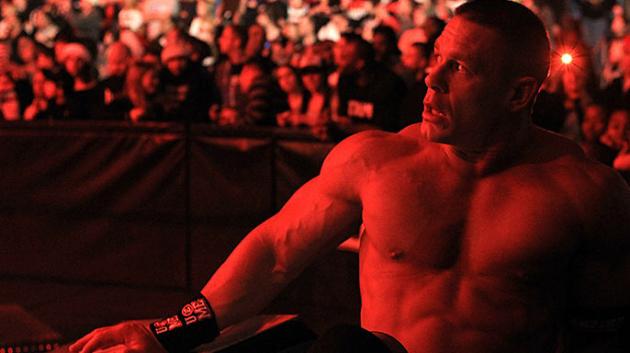 In this storyline, John Cena loses.
No matter what he does during the match with Kane, he cannot win.
During the match, he tries to use his "Super Cena" tactic but it backfires and causes him to lose.
Then the following night he comes out on RAW and tells the fans that he did his best against Kane, but he can't keep fighting alone in a war.
He says that his army of fans are losing hope in him, and they are walking out on him.
He says he feels alone in a sea of boos.
After this night, he becomes isolated.
He is seen hiding or not talking on camera, and looking depressed.
Then, when Zack Ryder comes back to cheers, Cena gets angry out of jealousy and attacks Ryder-officially turning heel.
Cena vs. Ryder can happen at Elimination Chamber-where Cena can destroy Ryder.
From there, Ryder can face Kane, and Cena can face Rock.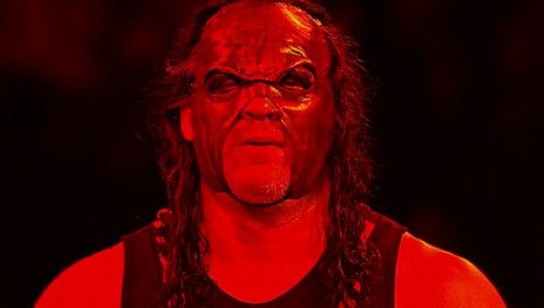 After Cena loses to Kane in a well fought bout, Kane delivers a promo to Cena.
He says his defeat was necessary and that he needed to break Cena once and for all.
He says that what Cena does from here is up to him, but he says an alliance between the two of them would make them unbeatable.
Cena says that the fans have lost faith in him, and he agrees to join him.
The next few weeks, they cut promos/ challenge heels and faces and reign supreme.
Then, when Ryder returns, Cena can either turn on Kane or betray his former friend and become a total heel.
This could lead to a feud among the three, eventually making it Ryder vs. Kane at WrestleMania where Ryder wins.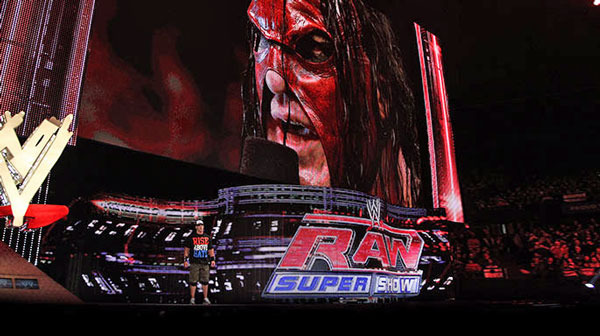 Cena wins in a great bout.
The next night on RAW he comes out to say that he finally defeated Kane.
The crowd, because they are mad he once again defeat all odds, boos at him louder then ever.
Kane comes out, laughs, and says that his victory did nothing.
The fans hate him more than ever. The more he tries to rise above hate, the more he drowns himself in it.
This leads to another match at Elimination Chamber.
At Elimination Chamber, there is a point in the match where the boos finally overcome Cena and Kane capitalizes to defeat Cena.
The next night, Cena yells at the fans for everything they have done to him, effectively turning heel.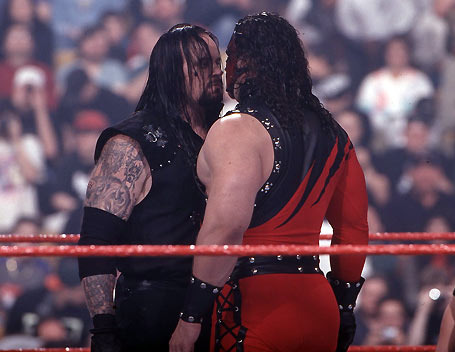 During the match, Cena is about to completely destroy Kane.
Kane manages to get a mic and tells him to do it.
Then the arena goes dark.
All of a sudden the Undertaker's music goes off and he walks out onto the ramp.
Kane and Cena go to different sides of the ring and Undertaker runs to the ring.
As he enters it, Kane immediately escapes and retreats up the ramp while John Cena escapes and stands in front of the announce table.
The match ends as both are counted out, and all three men exchanging stares.
From here, Kane, Cena, and Undertaker are on RAW to talk about what happened.
Undertaker says that he returned to stop Cena from doing something he would regret.
Kane serves as the devil and Undertaker serves as the good guy. Cena must pick between them.
This could lead to another match up involving all three at Elimination Chamber where Cena needs to pick good or evil.
Either way, Cena can go on to face the Rock, and Undertaker can face Kane at WrestleMania to end his storied career 20-0.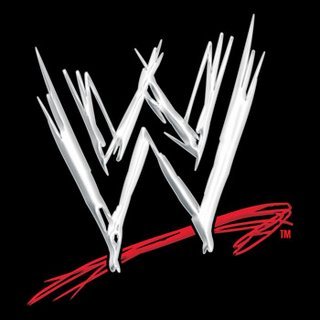 Thank you for taking the time to read this article!
Please leave any comments you have below.
In addition, feel free to visit my B/R page any time to view past articles I have written!