Sidney Crosby: Penguins Superstar May Have Suffered Cracked Vertebrae
January 28, 2012

Jamie Sabau/Getty Images
Pittsburgh Penguins star center Sidney Crosby has been sidelined for the majority of this season with a concussion after missing the second half of last season. It appears as though he may have other injuries contributing to his issues, however.

UPDATE: 8:03 p.m. ET, January 28
The Penguins have released a statement on Crosby's injury. According to that statement, neurologist Dr. Robert Bray confirmed that Crosby had suffered a neck injury along with the concussion, although the club declined to tell fans what that injury was.
The diagnosis of Dr. Robert S. Bray, a neurological spine specialist based in Los Angeles, is that Sidney Crosby had suffered a neck injury in addition to a concussion. Dr. Bray reports that the neck injury is fully healed. 
The good news for Pens fans is that the neck injury is not a new condition Crosby must rehab from, although the fact that it went undiagnosed until this point is certainly troubling. It's unclear at this stage what the time frame will be on Crosby's injury, or if Bray's diagnosis will extend his time out of the lineup.  
According to Elliotte Friedman of Hockey Night in Canada, Crosby's agent Pat Brisson said that Crosby possibly has two broken vertebrae that could be exacerbating the symptoms of the concussion.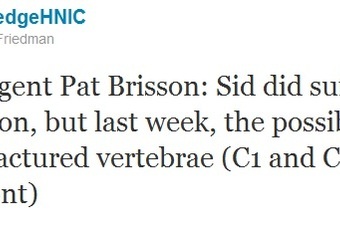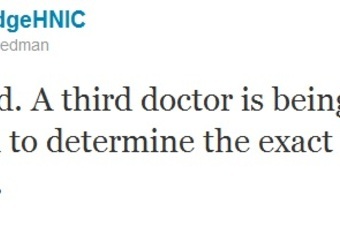 What It Means
Seeing as Crosby obviously came back too quickly earlier in the season, I don't expect the Penguins to rush him back until concussion-like symptoms have completely subsided. Getting the vertebrae repaired if they are in fact broken could certainly help alleviate some of the pressure.
It remains to be seen whether it will speed up the timetable of Crosby's return in any way, but it has to be encouraging to find a possible alternate reason for Crosby's ailments. Once it is confirmed, Crosby can get whatever surgery he needs and perhaps get on the proper road to recovery.

What's Next?
Obviously, Crosby's injury has to be further evaluated, and if he has cracked vertebrae as expected, he can get those fixed. While I can't say for sure what Crosby's personal goals are, I have to believe that the Penguins organization would love for him get back a few weeks prior to the postseason.
With 60 points, the Penguins have been hanging tough without him, just like they did last year. A lot of that has to do with the superb play of Evgeni Malkin. Since Pittsburgh has been so successful, it has the luxury of being able to wait for Crosby to get any surgery he may need and to heal properly.
Concussions are clearly very volatile things to deal with, so the Penguins can't risk Crosby coming back before he's truly ready again. They can only hope that the possibly cracked vertebrae are an explanation for his symptoms, and if they are, he may be back sooner than expected.