Peyton Manning: Why Indianapolis Colts Should Cut QB Immediately
January 28, 2012

Rob Carr/Getty Images
Peyton Manning is not coming back to the Indianapolis Colts. Manning and Colts owner Jim Irsay have been dancing around the issue for weeks, but at this point, it's clear that the best thing for both parties is a quick and simple resolution.
Manning is one of the greatest quarterbacks that the NFL has ever seen. He deserves the utmost respect from his franchise, which is exactly why Indianapolis should cut him immediately.
There's no reason to continue with this charade any longer. Every day this drags on, both sides just look worse.
Manning and Irsay both know what needs to be done. They are in denial of the irrefutable facts at hand.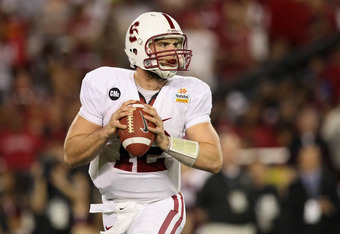 Donald Miralle/Getty Images
Andrew Luck is still technically unemployed, but it's no secret that the Colts will select him with the top pick in the upcoming NFL draft. At this point, he might as well order his draft day hat in advance.
Even with the rookie salary scale in place, Indianapolis will likely have to commit upwards of $20 million to bring Luck into the fold. The Colts can try to backload his deal, but based on the contract that Cam Newton signed before this season, Luck's 2012 cap hit figures to be at least $4 million. With a $28 million roster bonus due to Manning no later than March 8, the Colts would have over $32 million tied up in their quarterbacks if both stay with the team in 2012.
Even without considering the implications of Manning's still healing neck injury, the idea of investing that much money in just one position is wildly irresponsible. No other NFL team pays nearly that much to its quarterbacks.
Consider the New England Patriots, for example. The Pats paid Tom Brady over $15 million in 2011, but Bill Belichick smartly balanced that figure with a relatively small commitment to New England's other players at the position. Patriots backup quarterbacks earned a total of under $1 million this season.
Add in the fact that Manning's health is questionable at best, and the idea of paying both passers becomes even more ludicrous.
Even after missing the entire season, Manning still hasn't recovered to the point where he can effectively throw a football.
After three neck surgeries, doctors have cleared him for contact, but it's impossible to predict exactly how his body will react to the punishment of an NFL game.
There's no reason not to believe in Manning's drive and determination to succeed. He will do everything in his power to get back to being one of the best passers in football. Unfortunately, if the nerves in his neck and triceps never completely regenerate, all the hard work in the world won't bring him back.
The Colts know this.
Manning believes that he can get back to full strength, but the Colts must understand the reality of the situation.
Cutting one of the best players in franchise history loose seems callous and disloyal, but actually, it's the best thing for Manning. Sure, it'll cost Manning his $28 million roster bonus, but at this point in his career, I doubt that money is his chief goal.
Manning wants to win another Super Bowl. Based on the results delivered by the first edition of the post-Peyton Colts, that is not going to happen in Indy.
The only way for Manning to achieve his goal is to move on to another team. He knows this. As much as he'd love to bring another title to Indianapolis, it's not going to happen.
With that in mind, cutting Manning is the kindest, most respectful option available.
If the Colts hold on to Manning, the only way he'll be able to pursue another Super Bowl would be to demand a trade or refuse to report to camp. Either action, justified though it may be, would irreparably tarnish his reputation among the Colts faithful.
Kicking him to the curb, however, directs the ire of the fans at Irsay, not Manning. It's the ultimate act of respect, biting the bullet to make the tough, unpopular move that both sides know is necessary.
No NFL team has ever encountered a situation quite like this one, but both Manning and Irsay could learn a thing or two from the way that things ended between Joe Montana and the San Francisco 49ers.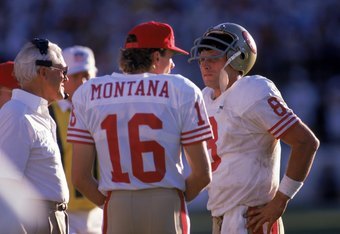 George Rose/Getty Images
Montana put up a Pro Bowl season at 34 years old in 1990, but missed the 1991 season and most of the 1992 season with an elbow injury.
His backup, Steve Young, stepped in and led the NFL in quarterback rating in both seasons as the starter, piloting the 49ers to a 14-2 record in '92.
Heading into the 1993 season, the Niners had a decision to make. What was the right thing to do for an old, injured, figurehead of a quarterback with a viable replacement already on the roster?
Ultimately, San Francisco made the right decision. The 49ers front office knew that Young was the better option, and rather than forcing Montana to languish out his final years as an overqualified backup, they got what they could out of him, trading him to the Kansas City Chiefs.
With Young at the helm, San Francisco remained one of the best teams in the NFC, eventually winning the 1996 Super Bowl XXIX in dominant fashion.
It was a tough pill to swallow at first, but when Montana's professional football career came to an end, he was sent off in a stirring ceremony in San Francisco, hosted by the same front office that let him go a few years prior.
It was a tough decision to make, and it may have felt wrong in the moment, but once everything had run its course, both sides ultimately understood that it was the right thing to do.
Though Manning and Irsay's formerly familial relationship has recently devolved into a series of verbal jabs delivered through the national media, I'm confident that when the curtain falls on Manning's career, a grateful Colts organization will be happy to throw him a retirement party.
They just have to cut him first.