Diggin' Deep: A Fantasy Look Inside the Arizona Diamondbacks Roster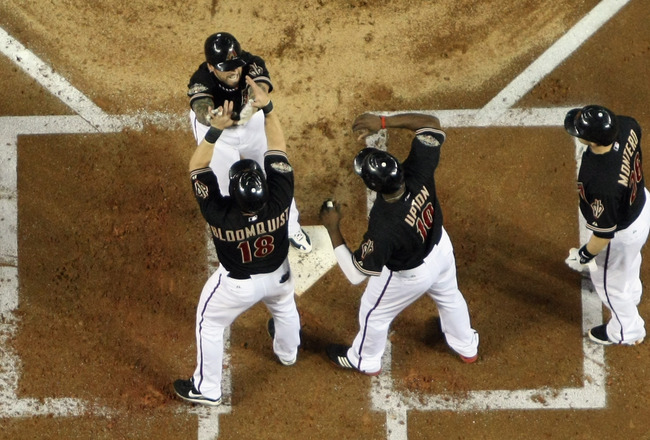 Doug Pensinger/Getty Images
One of my greatest problems with fantasy baseball is that I tend to pick based on my heart and not my mind. As an avid Tampa Bay Rays fan, I usually ignore the consensus No. 1 overall choice from ESPN, Yahoo, etc., and go with Evan Longoria (though this isn't a bad thing necessarily).
The other thing is convenience. If you live in a certain area with nonstop coverage of one team, sometimes it's fun to watch a fantasy player "live," as it were, so the fantasy event becomes a bit personal. If your home team happens to be your favorite, well...you might be like me and go with your convenient heart as opposed to your shrewd, box-score-and-highlights-is-all-that-matters mental powers.
But if you insist on going with any of the options listed above, and I know I'm not the only perpetrator of this crime, then you might as well dig deep into a roster and see what you can find.
Going in alphabetical order (and because it is my current home, Phoenix), I decided to dig into the Arizona Diamondbacks roster and see the obvious fantasy choices; the maybes, iffys, nevers and possiblies, the "never knew they even played" to the "they're still playing" variety. Heck, I might even look at the farm system.
A note on sources: all stats were compiled with the aid of ESPN.com, Baseball America's 2012 Handbook, Baseball Reference and Baseball Prospectus.
The Obvious Choice: Justin Upton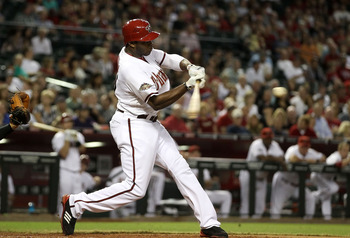 Christian Petersen/Getty Images
The still 24-year-old managed to do what his brother, BJ, was expected to do years ago: become a breakout MVP candidate. And with MVP numbers comes fantasy value.
After starting very early at 19, Upton only took two years in the majors to become an All-Star and fringe MVP candidate, hitting .300 in 2009, slugging at an impressive clip (.532, 30 2Bs, seven 3B, 20 HRs), just missing .900 OPS (he ended up with .899) while stealing 20 bases in 25 attempts (80 percent).
And though the numbers dipped a bit here and there in 2010, Upton had arguably the best season of his career in 2011, both numbers wise and as a franchise cornerstone, leading the DBacks to 94 wins and a division title.
His fantasy value seems to be on the rise: He plays almost everyday (he played 159 of 164 games last year) and will turn 25 in the middle of the 2012 season. And his numbers, from year to year, are either coming in at a consistent pace or rising exponentially.
While Upton's batting average was "just" .289 last year (second best in his career), he had career marks in hits (171, 12 higher then his previous best), doubles (39, plus-nine), home runs (31, plus-five), RBI (88, plus-two), stolen bases (21, plus-one) and total bases (313, plus-33). And he virtually matched his OPS from 2009 with .898 while bringing his Ks, one of his biggest problems, down from 152 in 2010 to 126 (almost a career best).
But most impressive, besides getting fourth place in MVP voting and making a second All-Star appearance, is the "feeling" of Upton. Living here in Arizona, Upton seems to be maturing at a breakneck pace and crowds don't get frustrated with "what could be," like Tampa fans do with BJ, but put their faith on Upton's back. And I don't think that kind of pressure will break Justin when he enters 2012.
Part of fantasy sports is taking a gamble. Justin did go down a bit in 2010 after an amazing 2009, but for those who watch closely, his change has been literally like a switch. The guy who would glumly run for foul balls and barely hustle to first when clearly out, Upton began to show determination and heart, hustling no matter what and making sure every out was well earned.
And, more importantly, especially for fantasy owners, he had the numbers to back up that determination and heart. I can't see a let down here; he is the surest thing from the DBacks roster for a fantasy spot.
In Sum
Fantasy Plus: Average, slugging, hitting (all levels, singles through homers), stolen bases, on-base percentage, OPB
Fantasy Minus: strikes, BBs, errors (Upton had a career-worst 13 errors in 2011).
Outfield Ranking: Seventh. I can't say I'd pick Upton over Matt Kemp, Jose Bautista, Josh Hamilton, Curtis Granderson, Ryan Braun (depending on the suspension) or Jacoby Ellsbury, but I can make an argument that I'd pick him over Carlos Gonzalez, Hunter Pence, Nelson Cruz and Carlos Beltran.
Shortly after I made this ranking, I checked out ESPN's fantasy summit, and ESPN ranked Upton fifth.
Wouldn't It Be Great? Ian Kennedy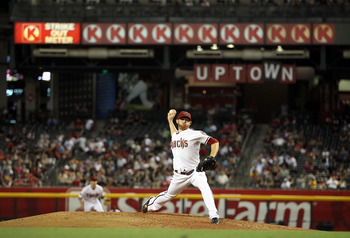 Christian Petersen/Getty Images
I hate to be a skeptic, but I never truly believed in Ian Kennedy last year, and he, thankfully, proved me wrong. His 2011 was, at least until the postseason started, a thing of magic. But something always bugged me about this season.
Unlike Justin Upton, who I see as only going up based on 2011, I can't say the same for Kennedy. And the only thing I can use as a reason for this finding is purely gut and past results. That's it. I'm probably totally wrong...or not. Who knows?
With 21 wins, 198 Ks and a 2.89 ERA, Kennedy made a case both for an All-Star berth (snubbed! at home!) and a Cy Young. But coming into 2011, he was just 10-14 for his entire career, amassing 211 total strikes across four seasons and 46 games with the Yankees and DBacks.
Such jumps of skill and potential always gives me pause. And some of the experts agree. ESPN doesn't even rank Kennedy in the top 25 of all starting pitchers (even though he was one of the best overall pitchers last year), while CBS Sports asks that "owners should be cautious about drafting him as one of the top pitchers in drafts next spring".
This is one of those things where I hope I am wrong. I like Kennedy, and having seen him in person a few times this year, he seems to possess a large amount of confidence and is very comfortable in Arizona.
But maybe I'll need to see a 2011 version in 2012 to put Kennedy on my list of must-haves when it comes fantasy draft time. Until then, I remain apologetically skeptical.
Could Have Been a Contender: Gerardo Parra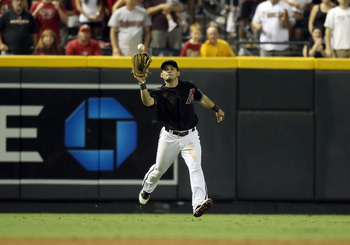 Christian Petersen/Getty Images
Parra became an instant fan favorite in Arizona with his heart-thumping play and grit. And, as I wrote on Bleacher Report last year, he was virtually untouched in fantasy leagues. This happened because people probably didn't even know who he was until he deservedly won a Gold Glove this year.
What made Parra so great in 2011 was that fantasy hounds were drooling to be the first to cash in on the still unknown-quantity in 2012, stealing him in the later (to much later) rounds.
He hit .296, seemingly broke away from being a singles hitter and became a slugger of sorts (20 doubles, eight triples, eight homers) while stealing a solid 15 bases. Add his glove for deeper stat leagues (only three errors while converting five double plays from the outfield), and Parra was a nice fantasy grab to help pad the stats.
But, the DBacks front office decided to kick that in the butt. Adding Jason Kubel isn't a terrible thing, mind you, as he is a nice fantasy catch (if not a great one) as well (we'll talk about that later), but signing Kubel, who plays the same position, kind of wipes out the little bonuses Parra gives your fantasy team. He goes from a player who provides strong depth, especially when players are hurt in the middle of the season, to being a liability, simply because you never know when he'll play.
Now, Kubel does get injured a lot, so Parra might still play a bit but all fantasies, pun intended, of delighting your friends and colleagues with a nice draft steal has gone out the window with Kubel playing in left field.
Lord of Illusion: Henry Blanco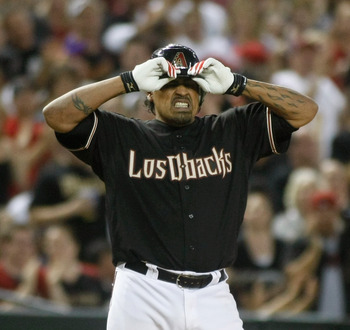 Ralph Freso/Getty Images
Another depth steal last year, Blanco had the season of his life in 2011 and was rewarded for it by being resigned by the reigning NL West Champs.
In only 37 games (two years behind his age of 39) and 100 ABs, Blanco hit eight homers and two triples. That is a rate of 34.4 HRs and nearly nine triples a year (162 games).
But let's not get too crazy. The grizzled biker-esque journeyman has seen his fair share of time in the major and minor leagues a lot, and while 2011 gave him a nice contract to live once over the hill, the dude has only played over 100 games twice in his whole career and averages overall a line of .228/.293/.369.
I'm sure Blanco wasn't necessarily on the 2012 radar anyway, but it was worth noting that 2011 was probably the exception, not the future rule.
Tweener? Willie Bloomquist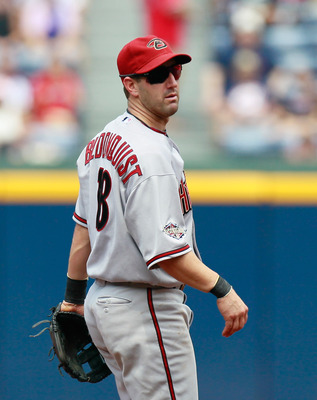 Kevin C. Cox/Getty Images
Bloomquist was one of the first free agents the DBacks locked up to begin the offseason before 2012 began, and he seems a perfect fit for the DBacks. But does he work in a fantasy lineup?
Bloomquist offered some, but while he sometimes giveth, he also taketh away. Last year, Bloomquist gave the fantasy world its fair share of stolen bases (20) and a mixture of hitting (doubles, triple and homers scattered throughout) at a fair clip (.266, including an excellent .303 against left handed pitchers).
However, his OBP was frightening (.317), and the slugging looked like what an on-base percentage should be at the very least (.340). And while the 20 stolen bases were a nice thing, he got caught 10 times as well, which means when he decides to go, there is never a guarantee of success. Despite the poor ability to get on base, Bloomquist was one of the DBack leaders in total runs scored.
The utility man has been around for 10 seasons, but is approaching the age of 34. But he is wildly consistent, as opposed to inconsistent. His line for 2011 (.266/.317/.340) nearly matched his career numbers exactly (.264/.317/.337).
So if you want to take a chance in the later rounds (make that the last round), then at least you know what you're getting.
Jekyll or Hyde? Aaron Hill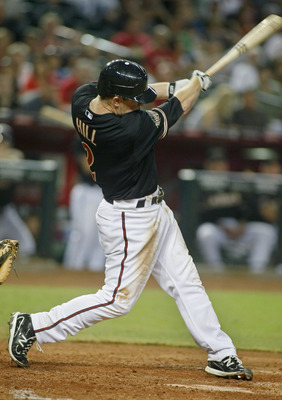 Ralph Freso/Getty Images
The DBacks were more then happy to sign free agent Aaron Hill after he produced All-Star numbers. With the DBacks, he hit .315 overall, destroying right-handers at a rate of .326. In 33 games, he had 12 doubles, two triples, two homers and 16 RBIs, a 162-game average of 58.8 doubles, 9.8 triples (and homers) and 78.4 RBI.
The problem? Hill, in 104 games with Toronto, produced just about the same amount of numbers: 15 doubles, one triple and six homers while hitting a mere .225.
So what was the reason for the surge? A change of scenery? A new hitting coach? Whatever it was, Hill was a AAAA player at best in 2011 for Toronto and a team-MVP slugger for AZ.
The main question is, which Hill will you get in 2012? Hill's 2011 is pretty much a microcosm of his entire career. In 2006, he had a solid year, playing 155 games and hitting with a line of .291/.349/.386. He had a decent showing of 28 doubles, three triples and six homers, not to mention 50 RBI. Not much to write home about.
But in 2007, he played virtually the same amount of games (160) and went from 28 doubles to 47, from six homers to 17 and from 50 RBIs to 78 all while hitting at the same average .291.
After a short 55-game 2008, Hill went nuts, making 734 plate appearances, getting 195 total hits (37 doubles and 36 homers) and knocking in 108 RBIs. But 2010 and parts of 2011 have been pretty below average.
Hill might not be worth a risk, but if you do, and you strike gold, he may be a steal for your draft.
Rookie Surprise: Josh Collmenter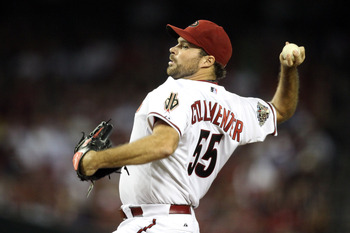 Christian Petersen/Getty Images
He started out 2011 outside Baseball America's Top 100 Prospects and ranking 19th in the Diamondback's Top 20 prospects on Baseball Prospectus.
By the end of the season, Collmenter had a playoff win in an elimination game (keeping the heavy-hitting Brewers to one run and two hits in seven innings) after amassing 154 innings during the regular season with a record of 10-10, 100 strikes and a respectable 3.38 ERA.
Where did this dude come from? And will he return?
The win rate is pretty solid for a rookie, and he led the DBacks with the fewest walks per nine (even over closer J.J. Putz, who had a career resurgence in Phoenix). His 100 Ks is a nice whole number, but Collmenter, and, surprisingly for a 90-plus win team, a lot of the starters had paltry K/9 averages. Collmenter's was a so-so 5.83, and he allowed a lot of hits (137).
I'd like to see the guy succeed, but trying to guess where this guy will go is just as complicated as trying to figure out where he came from.
The Definition of Sleeper: Daniel Hudson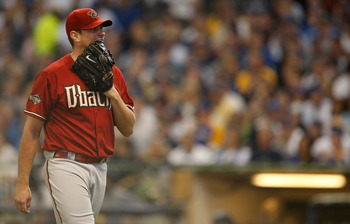 Jared Wickerham/Getty Images
In the DBacks' dreadful 2010 season, Daniel Hudson was the light at the end of the tunnel. I remember watching the young buck pitch against the surging Padres (before their eventual collapse) and getting a standing ovation from the crowd who expected anything but near perfection.
That night, Aug. 6, 2010, Hudson collected not just the standing ovation, but a win, allowing only three total hits and one earned run in 7.2 innings of work. While the 42-68 Diamondbacks looked at the 63-45 Padres and winced at the weight of a failed season, Hudson came in and gave some glimmer of hope.
And Hudson hasn't really looked back since. And he does it all with quiet efficiency. Not a word of a Cy Young Award around the young man in 2012, yet he managed to place himself in the top five in wins in the NL (going 16-12) while striking out 169 batters, second on the DBacks behind only Ian Kennedy.
Before joining Arizona, Hudson was 2-2 with a 4.75 ERA. Once he joined the DBacks, he went 23-13 (including a 7-1 2010) with an ERA of 3.01. He is, without a doubt, a keeper in Arizona and only 24 years old. And while his numbers jumped a bit considering he more then doubled his workload, he still won games and solidified himself as the No. 2 on the squad.
In regards to fantasy, the numbers are great (the only real downside being the strike rate, which is low, and, if a trend continues, loss total). I can see him being a nice pick up late in the draft to solidify your fantasy rotation and add some depth.
Staying Healthy: Jason Kubel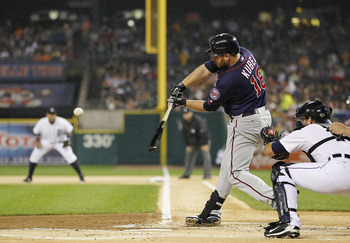 Leon Halip/Getty Images
Numbers are a bit deceiving for Kubel since he spent a lot of 2010 on the DL. But when he decided to show up at the plate, he did, indeed, show up.
In 2011, Kubel had great, yet somewhat deceiving, numbers, but still was a fantastic middle-of-the-draft pickup. In just 99 games, he hit 12 homers and 21 doubles and drove in 51 RBI while hitting a solid .273. He had a few fantasy setbacks, like barely getting on base (.332, only 32 BBs) and scoring very few runs (37), all while striking out 86 times. Looking for sluggers outside the first-base position is always a trick, and Kubel seemed to be the solution.
Two things can be a problem when it comes to Kubel and the Diamondbacks. For one, there is the previous Parra issue we mentioned. If Kubel goes on a slump and Parra does what Parra does, we could see Kubel becoming a high-profile bench player. And if Kubel gets injured yet again, Parra may steal his thunder.
Kubel has played over 141 games in the last three seasons, so it isn't too much of a worry, but the seventh-year player isn't exactly young (he'll be 30 during 2012), and power is one of the first things to go. I think he might seem enticing because he can knock it all over the park, but he isn't worth the risk.
The Pickup: Trevor Cahill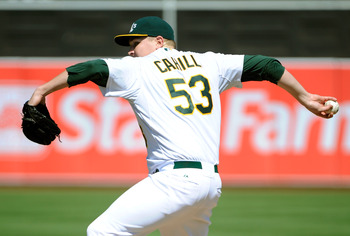 Thearon W. Henderson/Getty Images
With Ian Kennedy the clear No. 1 and Daniel Hudson a strong No. 2, the DBacks front office wanted to perhaps get a stronger No. 2, so they acquired Trevor Cahill in the offseason.
The 2010 All-Star has a had a pretty strong and complete three season, starting 96 games and pitching 583 innings. He has the ability to show up, but do the numbers back up so many appearances?
Cahill made himself a Cy Young candidate in 2010 by going 18-8 with a 2.97 ERA and 118 Ks. Playing for bad A's teams probably didn't help his other two seasons, where he went a combined 22-27 with a 4.39 ERA. Despite this, his WAR was fairly impressive, as wins were hard to come by (he provided a 4.0 rating in 2010 and a 3.5 rating in 2011).
ESPN, in its fantasy rankings, has Kennedy and Hudson ranked in the Top 25, while Cahill isn't on the list. Bleacher Report writer Bryan Curley is not impressed, while Rotographs has remained skeptical for months. CBS Sports, however, likes him. Since it appears most experts and fans are putting him as a No. 3 on the organization, you might as well consider him the same and draft him, if at all, in the later to final rounds.
He has the strikes and will get double-figure wins, and Chase Field does help him a bit. Not worth the risk, though depending on Kennedy's season, Cahill could move up the rotation.
Center (Fielder) of Attention: Chris Young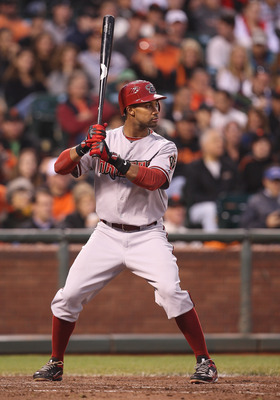 Tony Medina/Getty Images
Chris Young is almost an Upton himself if only when it comes to potential. But while Justin seems to be getting out of his Upton-ness, Young is resembling his teammate's older brother, BJ.
Loaded with power, speed and a killer arm, Young followed up his All-Star 2010 with a frustratingly up-and-down 2011. He wasn't exactly Adam Dunn-bad, but he had some significant drops all around the board.
His average dipped 21 points from .257 to .236. He drove in 20 less runs (91 to 71). He slugging went down 32 points, his on-base went down 10 points and his OPS went down 42 points. He stole six less bases, got caught stealing twice more, hit seven less homers and dropped his total bases from 264 to 238.
I wouldn't say this is a trend per se, because in the end, some of these stats are excellent for fantasy bench players not playing everyday. And not everything went down. Young did hit near his career best in doubles (38), had his best year for walks (80) and had one of his best seasons with strikes (though it was still a bit high at 139).
When you watch Young in person, much like BJ Upton, there is an energy that makes you feel like you are watching an All-Star. Sadly, a lot of the numbers don't back that assumption up. In the end, don't believe your eyes or the hype and only draft Young if he is a late draft steal.
The Tatman Rises: Ryan Roberts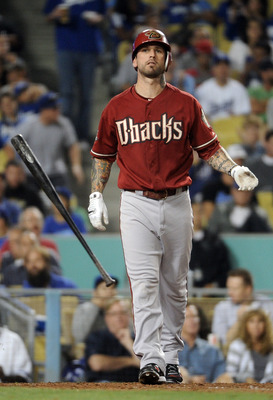 Harry How/Getty Images
Due to a lot of injuries and depth problems, the DBacks had to platoon all over the place. But they had quite a surprise in Ryan Roberts, who won fans over with his energy and clutch. And it helped solidify the hot corner, which is always a tough spot to fill when you aren't fortunate to have a star.
Roberts is the definition of a late-bloomer, essentially playing his first full season at the age of 30. Roberts played 18 total games from 2006 to 2008, but got his first real shot at the big time once coming to the Valley of the Sun.
And there is no doubt Roberts had the season of his life. Though his batting average was 30 points below his career best (.249), Roberts helped the DBacks in the power department, hitting 19 round trippers (his previous season high was seven), knocked in 65 runs (previous season high was 25) and scored more then double his career best in runs (86, previous best 41).
Roberts was a revelation playing on-par with, if not better than, Chris Young. But something about his age and experience makes me wonder if this was a one-time thing. Roberts has really only played two full seasons and has spent more times in the minors, even during his major league stints, then in the majors themselves.
There are plenty of options at third base before Roberts' name should come up, but Roberts' power potential might make him a later or last-round pickup.
JJ Putz: Fantasy Closer?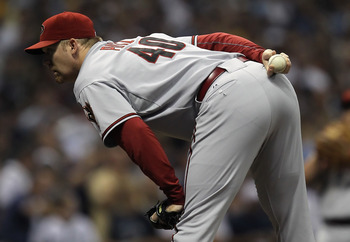 Jonathan Daniel/Getty Images
ESPN doesn't think so, as they don't have Putz in the top 10 of all relievers. But to me, Putz is worth a gamble if you choose to get a third or fourth reliever (depending on your league).
His career ERA is at 3.06, but the last two years, both as a set-up man with Chicago and as a full-time closer with AZ, Putz has been, as my dad keeps telling me at DBacks games, "automatic."
Consider these stats: His K/9 has been at an average of 9.3 his whole career, with 10.8 in 2010 and 9.5 in 2011. He notched 45 saves last year (third in the NL) while batters only hit .195 against him (.205 in 2010). And his ERA has continued to fall since a terrible 2009 when he had an ERA of 5.22 (2010 = 2.83 and 2011 = 2.17).
He isn't the best option by any means, but he is worth a bit more respect than he is getting from other sources. The trend points to him getting better or staying the same, and that means he is a valued fantasy closer.
Rising All-Star: Miguel Montero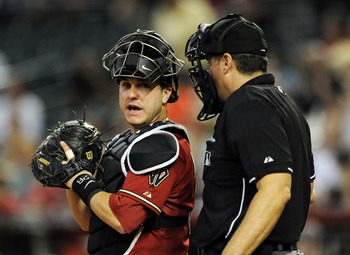 Norm Hall/Getty Images
Miggy, statistically, didn't have the greatest year of his career in 2012, but he came pretty damn close, nicely separating himself from his career averages and making 2009 look less like a fluke and more like a taste of what's to come.
It's hard to find a great hitting catcher who is also proficient at defense, but Miggy is one of the best all-around catchers in the game, hitting .282 last year, getting on base a lot (.351) and nearly reaching the 20 homer/100-RBI plateau.
And, as I said before, some of Miggy's statistics have been better before, but he seemed to improve in fantasy categories that really matter. He hit 36 doubles last year (previous high was 30), had 18 homers (nine in 2010, 16 in 2009 and five in 2008), had 86 RBIs (destroying his career best in 2009 of 59), scored 65 runs (2009 he had 61, but never got near 60 in any other season) and reached 231 total bases (previous best was 203).
And while his strikes did go up (from 71 to 97, a career high), so did his walks (from 29 to 47, beating his career best of 38). Add an All-Star berth to his resume, and you have one of the youngest rising star catchers in the game (he just passed his age-27 season).
ESPN has Montero ranked fifth amongst catchers, but I'm going to go out there and say he is a solid No. 3 option, as he and McCann (ESPN's No. 3) are virtually identical in production last season. And while Carlos Santana (a personal favorite of mine and ESPN's No. 2) slugs a bit more, Montero hits better then him on average.
I'd still take Napoli and Santana first, as ESPN dictates, but Miggy is my No. 3 and a likely choice if you're drafting late and those two are taken.
What Does the Future Hold? Stephen Drew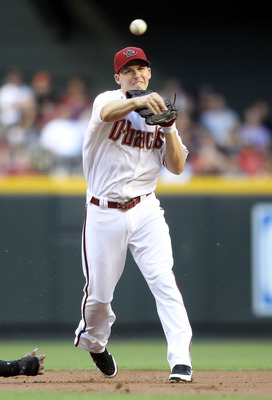 Christian Petersen/Getty Images
The DBacks suffered scary infield losses of two kinds in 2011: the trade of Kelly Johnson, the strong but ultimately streaky second baseman, and the brutal injury of Stephen Drew, the naturally gifted shortstop who pretty much guaranteed Arizona at least 15-20 homers and 60-plus RBIs every year.
On a fantasy scale, the dude hit 35 triples from 2008 and 2010 (an average of 11.6 a year) and 106 doubles in the same time span. Also during that time, he acquired 794 total bases (264 a year) while never hitting below .261 (and going as high as .291).
And before his season ended with a nasty ankle injury, Drew was on his way to his normal numbers. In 86 games, he was already at 21 doubles, five triples, five homers, 45 RBI and 127 total bases.
In fantasy, sometimes outstanding numbers aren't as important as consistent numbers, especially when the superstars are taken and depth is needed. The only possible setback for a Stephen Drew fantasy pick is if he can't recover from his injury.
But if he does, the 28-year-old is a definite pick-up, as you know what you'll be getting, and it ain't all that bad..it's pretty darn good.
The Beginning of a Beautiful Friendship? Paul Goldschmidt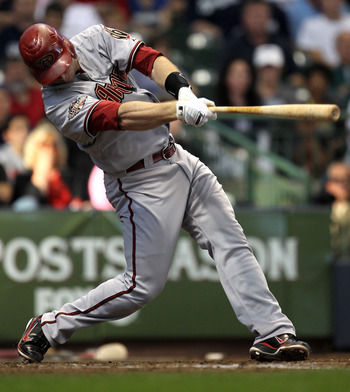 Jonathan Daniel/Getty Images
Much like Josh Collmenter, Paul Goldschmidt wasn't expected to do much this season. Not because he wasn't talented, but because he hadn't really advanced through the leagues yet like most kids do.
In 2009, the 21-year-old was playing almost as low as you can go, with Missoula in the Pioneer Rookie League. But he kept advancing, moving up to high A in 2010 and AA in 2011. After pretty much destroying the entire Southern League in 366 at-bats with 21 doubles, three triples, 30 homers and 94 RBI all to the tune of a .306 average, the DBacks said "what the hell."
And they haven't looked back since.
Now, I wouldn't say Goldschmidt is an "automatic" in the fantasy world. He's only played 48 games and technically squeezed out a "rookie" year by getting just over 150 at-bats. So the sample size is small. But you can't deny the numbers that, when adjusted, are there.
He hit nine doubles (162 game average of 30), eight homers (27 per season and at an average of one homer per every 19.5 at bats), had 26 RBI (good for 88 every 162 games) and grabbed 74 total bases (a total of 250 per 162).
And while the batting average was .250, it was about as perfect a .250 average as you could get. In his short stint in the majors, Goldschmidt never rose and fell with his hitting. He pretty much hit 1-for-4 every game. No three-game series hitting 4-for-6 and another series of hitting 0-for-10. He was as consistent as they come.
But will a full year only make the guy stronger? We shall see. So I'd hold off for the moment, but if Goldschmidt starts going to the fences early and often, you might want to see if he's on the waiver wire. Hell, everyone else will be.
The Best (or Worst) of the Rest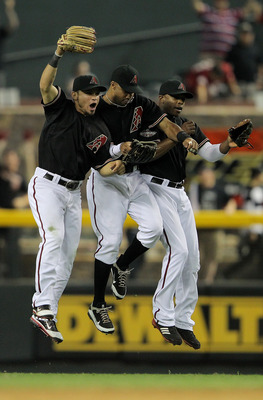 Doug Pensinger/Getty Images
Get Him
If you are in a league that needs middle relievers or set-up men, especially holds and the additional strikes, etc,, the Diamondbacks have a nice hidden gem in David Hernandez.
The three-year vet has done nothing but improve as the years have gone by, and while his ERA of 3.38 might scare you a bit for a reliever, remember that one or two bad games can destroy that stat for a reliever.
In the end, David Hernandez's K/9 was excellent at 10.0, and he collected 11 bonus saves and five wins while filling in when JJ Putz was occasionally resting. He played 74 games, pitched 69.1 innings and had 77 strikes. He's worth picking up in deeper stat leagues.
Sit and Wait
Like Aaron Hill, Lyle Overbay did quite well once in the Valley, hitting .286 after hitting a dreary .227 in Pittsburgh. The 34-year-old is not a starter by any means at this point, but you never know if Arizona has to return to a platoon team.
Overbay used to be a masher, putting together nice seasons in Toronto and Milwaukee, scoring lots of runs, hitting lots of doubles and hitting between 15-22 homers every year.
I never want to count guys out that are going through bad stretches, and Overbay may still have some stuff in him. But I wouldn't bet on it.
Ignore
Cody Ransom and John McDonald are returning to the DBacks despite being really frickin' old. Don't even bother to look up their stats or consider them, even if you want to support the home team. They will not help you.
Minor Leaguers
The Diamondbacks gave up some nice prospects to acquire Trevor Cahill, but in spring training and in September (or if the team really needs the help), you may see Cole Gillespie hanging around and putting in some time.
The guy has had two small stints in the majors while playing six years in the minors, advancing from Rookie to AAA in three years. He impressed while with Reno and got a second call-up in 2011 and delivered when he could.
In only six ABs, he had one home run and four RBIs grabbing five total bases. He had considerably more playing time in 2010 where his average was bad (.231), but in 104 ABs he managed two homers, 12 RBIs and eight doubles.
Keep Reading