Eli Manning or Ben Roethlisberger: Who Is the Best QB from the 2004 NFL Draft?
January 29, 2012

Ezra Shaw/Getty Images
The 2004 NFL Draft has produced some very good quarterbacks. The first round landed the New York Giants Eli Manning, the San Diego Chargers Philip Rivers and the Pittsburgh Steelers Ben Roethlisberger. Matt Schaub, now with the Houston Texans, was a third-round draft choice of the Atlanta Falcons.
Since 2004, Roethlisberger and Manning have risen to the top of that draft class. The two have combined for five Super Bowl appearances in eight years and three championships. That number could increase to four Sunday if Manning is able to lead the Giants to victory.
Each quarterback has been ranked just behind the elite list of quarterbacks in the NFL, which includes Tom Brady, Peyton Manning, Drew Brees and now Aaron Rodgers. However, those rankings may have to be revisited, and this is because of the play of Manning.
Manning was generally regarded as the lesser quarterback between him and Roethlisberger given Roethlisberger's two Super Bowl championships in three appearances. That could change in a big way on Sunday if Manning gets another championship.
The NFL is a "what have you done for me lately" type of league and Manning is still playing and Roethlisberger is not.
So, who is the best quarterback from the 2004 NFL Draft and who who would you rather have moving forward?
Regular Season Stats
The statistics are pretty close. Roethlisberger leads Manning in completion percentage (63.1 to 58.4), average yards per attempt (8.02 to 7.03), interceptions (100 to 129), fumbles (38 to 50) and quarterback rating (92.1 to 82.1).
Manning has more completions (2,291 to 2,090), attempts (3,921 to 3,313), yards (27,579 to 26,579), touchdowns (185 to 175) and long completion (99 to 95).
Roethlisberger has an edge on touchdown percentage (5.0 to 4.3) and interception percentage (3.0 to 3.3), but has been sacked an incredible 314 times to only 194 for Manning. Despite being sacked more, Roethlisberger is the more successful runner with 944 yards on 293 carries and 14 touchdowns to Manning's 365 yards on 193 carries and four touchdowns.
Roethlisberger has 20 fourth-quarter comebacks and 26 game-winning drives compared to 19 and 23 for Manning, respectively.
Team Regular Season Performance
Roethlisberger and Manning have had plenty of success in the regular season. Each quarterback has a winning record and has won multiple division titles.
Manning has five playoff appearances and three NFC East championships while Roethlisberger has led the Steelers' six playoff appearances and four AFC North crowns.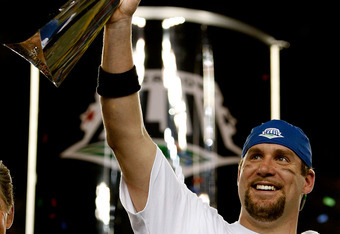 Jamie Squire/Getty Images
Roethlisberger (80-33)  has a better regular season record than Manning (69-50), but Manning has been more durable, playing in 121 games to 114 for Roethlisberger.
Head to head, each quarterback has one win.
Playoff Performances
Roethlisberger has played in 14 playoff games, winning 10, in six postseason appearances. Here are his stats:
248 of 409 (60.6 percent), 3,150 yards, 20 touchdowns, 17 interceptions
Manning has played in 10 playoff games, winning seven, in five postseason appearances. Here are his stats:
190 of 361 (60.1 percent), 2,220 yards, 15 touchdowns, 7 interceptions
Manning has a very important game on the horizon.
Roethlisberger has had mixed results in the playoffs, either playing great or terrible, but the same could be said for Manning.
Super Bowl Appearances
In Super Bowl XL, Roethlisberger completed nine of 21 passing attempts for 123 yards and two interceptions, but he did have a rushing touchdown and made some key plays including a deep pass to Hines Ward to set up a touchdown and a key block on Antwaan Randle El's reverse touchdown pass to Ward.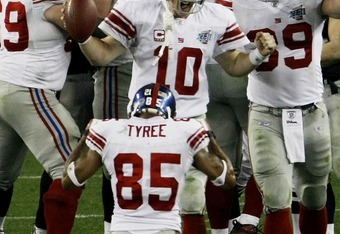 Win McNamee/Getty Images
Roethlisberger's performance was much better in Super Bowl XLIII. He was 21-of-30 for 256 yards with a touchdown and interception.
Last year's game was not his best, as he put the Steelers in a hole early in the game with an interception. He went 25-of-40 for 263 yards with two touchdowns and two interceptions.
Manning was 19-of-34 for 255 yards with two touchdowns and one interception. He will play in his second Super Bowl on Sunday.
Awards and Accolades
Roethlisberger
Had the most regular season wins ever as a rookie (13).
Longest win streak to start a career (15).
Highest rookie passer rating (98.1).
Highest rookie passer percentage (66.4).
First quarterback to start in conference championship game in his first two seasons.
Youngest starting quarterback to ever win a Super Bowl.
Most regular season wins in first five seasons (51).
2004 NFL AP Offensive Rookie of the Year
Pro Bowl selection (2007, 2011)
Manning
Tied for longest pass in NFL History (99)
NFL record for most fourth-quarter touchdown passes in season (15 in 2011)
Super Bowl XLII MVP
Pro Bowl Selection (2009, 2011)
NFL Record for most road playoff wins (5)
All-Time Super Bowl Moments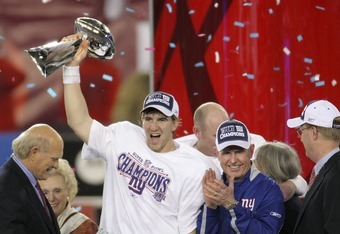 Doug Pensinger/Getty Images
Each has had plenty of signature moments, but none greater than their Super Bowl drives.
Manning led one of the greatest game-winning drives ever in Super Bowl XLII. There was only 2:42 to go and the Giants trailed the unbeaten Patriots 14-10. Manning drove the Giants 83 yards on 12 plays, capped off by a 13-yard touchdown pass to Plaxico Burress with only 35 seconds remaining. The drive was highlighted by an incredible 3rd-and-5 play in which Manning avoided being sacked and completed a pass to David Tyree, who caught the ball on his helmet, for a 32-yard gain. (Watch the drive here)
Manning completed five of nine passes for 77 yards and a touchdown. He also scrambled for five yards and was sacked once. The drive took 2:07.
With only 2:30 to play Super Bowl 43, Roethlisberger and the Steelers trailed 23-20. After a holding penalty, Roethlisberger drove the Steelers 88 yards in eight plays, scoring on a perfect six-yard touchdown pass to Santonio Holmes with only 35 seconds left to play. In vintage style, Roethlisberger scrambled to extend the play multiple times to complete four passes on the drive to eventual Super Bowl MVP Holmes. (Watch the drive here)
Roethlisberger completed five of seven passes for 84 yards and a touchdown. He also had a scramble for four yards. The drive took 2:02.
Conclusion
What once looked like an easy question to answer in favor of Roethlisberger is no longer so, as Manning has come on and proven himself to be an elite quarterback in the NFL.
If you consider their latest work, Manning could have the slight edge. He is probably the better option to take moving forward with his recent production as well Roethlisberger's style of play.
However, considering their entire body of work, Roethlisberger holds a slight edge over Manning. But it's close, real close.
When all is said and done, both teams should be very happy with their choices. They are perfect fits for their situations and have helped bring their respective franchises to new heights.
Follow me on Twitter @ChrisG_FC