UEFA Financial Fair Play: Is Soccer Facing a Financial Revolution?
January 28, 2012

David Silverman/Getty Images
It is more-or-less universally accepted that for a soccer club to be an enduring champion, it has to be tremendously rich. It has been that way for as long as modern fans can remember.
There was a time—albeit around a hundred years ago—when a non-league club could win a major national cup competition, like the FA Cup (for trivia fans out there, the last time that happened in the FA Cup was in 1901 when Tottenham Hotspur beat Sheffield United 3-1). But it seems now that those years of underdog trophy success are long gone and never to return.
Now is the time of the sugar-daddy owner and heavy foreign investment in English football. An affluent figure from abroad can buy a football club as if it were a toy, and then play with it as such. Roman Abramovich of Russia, along with Chelsea, was the first overseas purchaser to properly—and infamously—try that road, and now the English national game—even through to leagues below the Barclays Premier League—is teeming with overseas investment.
Football fans will recall that Blackburn Rovers were champions in English football's top division in the year 1995, and will also appreciate that money was a huge factor in deciding that honour; the club, powered by the Walker family (who only recently relinquished control of the club in order to sell it to the infamous chicken men of Venky's), trumped Manchester United over the course of that particular season by way of heavy transfer investment and thorough squad rebuilding.
Money as a dictator is not an exclusively English theme, however. In Spain, Real Madrid CF and FC Barcelona dominate the sporting landscape—as well as a heavy share of the TV rights sales. These two clubs have the biggest stadiums in the country, pay the highest wages (wages that are rising to extreme levels), and can shell out exorbitant amounts of money in order to sign players (and in the process repeatedly set world transfer records). All of this can happen with a club in debt, and working outside of its projected and collected revenue streams.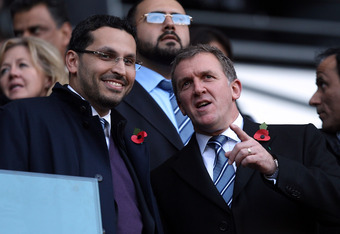 Richard Heathcote/Getty Images
And in Italy, there was a time when clubs could practically buy the league through way of bribing referees (remember the 2006 match fixing scandal that saw Juventus relegated and stripped of two titles?). Also, over the English Channel and in France, PSG are now making big noises about domestic challenges because of their new proprietors from 2018 World Cup hosts Qatar.
Unfortunately, but deservedly, football is a game that has become known to be polluted with an excess of monetary currency, and current affairs support that opinion. With Manchester City presently leading the premiership, there is evidence enough that having a large—or extraordinarily huge—budget can propel a team towards success.
But what is coming is a review of finance in football as we know it. UEFA has, for some time, been working on a Financial Fair Play plan that would discredit extreme investment from outside of clubs' own direct revenues. The European organization, responsible for the management of football throughout the continent, is endeavouring to set right the perceived wrongs of the game.
UEFA is attempting to temper the capital-glutted sport.
What it specifically aims to do is "limit the inflation of wages in football," "to encourage clubs to compete within their revenues," and "to protect the long-term viability of European club football." It is demanding more rationality and discipline in club football finances, and believes that the whole game will be better, and fairer, as a result.
It is hard to disagree with what UEFA wants to implement. We can hope, from the prospective success of the new Financial Fair Play manifesto, that football will become a cleaner and more honourable sport. And by the time that UEFA is planning strict monitoring of the rules—the year 2014—certain present problems may decrease both in volume and prevalence.
But there is an issue that makes the water seem much murkier: without extraneous financial investment, a trophy barren, seemingly non-competitive club—such as Manchester City prior to its Arab takeover—could be struggling to fight against the established power-houses of its country, and of European football as a whole.
If Manchester United's Old Trafford can seat around 76,000 fans, and the (formerly named) City of Manchester Stadium can only hold 30,000 less, then how is Manchester City expected to face up to United on a yearly basis?
If the bigger clubs form a hegemonic control of the sport from being part of elite continental competitions, and also by way of global marketing and the creation of enormous arenas, then how is a smaller domestic rival supposed to challenge their dominance?
These are questions that need to be asked, but are rarely answered in convincing entirety.
But what UEFA suggests is not a salary cap or transfer limit—these would contradict statutory European law—but the idea that if there is foreign investment, it should focus on developing the youth sector and infrastructure of a club so that they can challenge through other means. They want a club to work within its revenue and to be stable and debt-free—or else there will be severe consequences for them. Perhaps this provides some kind of answer to the aforementioned questions.
With football authorities now, more than ever, in a conscious battle with mounting financial apprehensions, and with them trying to set about correcting unfairness and inequality in European competitions, it is expected that there may be a change for the better. 
It is on this hope that the reputation and future preservation of the game may now depend.