UVA Basketball
Virginia-NC State: Cavaliers Nip Wolfpack to Take over ACC 4th Spot

Sammy Zeglinski hit his first four three-point shots to ignite Virginia's highest scoring half of their ACC season.
Grant Halverson/Getty Images
January 29, 2012
In years past, the ACC could count on five to seven invitations to the NCAA Tournament. But with the conference's prestige in question recently, bids have decreased. Just ask Seth Greenberg and Virginia Tech.
In five of the last 10 seasons, the ACC has received only four bids, including last year. With the two "usual suspects," Duke and North Carolina, clearly headed to the dance and Florida State off to a solid start that includes victories over both of the aforementioned, that might leave just one more opening for the slumping conference.
The ACC season isn't even to the halfway mark yet, but with this being their only meeting, NC State and Virginia both had to realize that the winner would not only have sole possession of fourth place for the time being, but would have a leg up with the NCAA Selection Committee come tournament time.
With all those factors in play, the Cavaliers and Wolfpack went to war in Raleigh last night and Virginia escaped with a hard-fought 61-60 victory.
NC State led for less than three minutes of the game, but UVA was never able to seize complete control and in fact stretched their margin to double digits just once all night. That came as the result of a pair of Joe Harris free throws with just 6:37 remaining.
Over the next three-and-a-half minutes, play became hectic and very ragged. Virginia committed four turnovers in a two-minute span, but the Wolfpack was unable to capitalize, missing eight consecutive shots.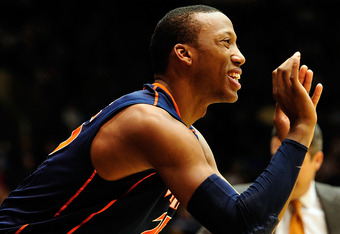 Akil Mitchell made the key defensive play in the final seconds to allow UVA to hang on.
Grant Halverson/Getty Images
The Cavaliers still led by eight with 3:16 to go after Mike Scott converted a pair of free throws. Two more Scott free throws at the 1:47 mark gave Virginia a 61-55 lead. They would be the Cavs' last points, but they would be just enough.
Amazingly, Virginia failed to score from the field in the last 8:25. 
Trailing by four, NC State climbed to within one point with 50 seconds to go. After CJ Leslie missed both free-throw attempts, the second miss got batted around and ended up in the hands of Scott Wood, who promptly drilled a three-point jumper from the corner.
Coach Tony Bennett called time out and UVA ran the shot clock down with Sammy Zeglinski controlling at the top of the key. Zeglinski had come out on fire for the Cavs, hitting his first four three-point attempts. Now, with seconds on the shot clock, he drove hard toward the lane, stepped back and had a clean look at an 18-footer that bounced off the rim.
CJ Williams grabbed the rebound for NC State with 15 seconds to go, but the 'Pack didn't make it to frontcourt until there were just seven seconds to go. 
Coach Mark Gottfried called time to set up a final shot. The Wolfpack inbounded to Lorenzo Brown, who dribbled toward the top of the key hoping to turn the corner. An alert Akil Mitchell bounced out to force Brown wide and into a double-team by Jontel Evans and Zeglinski, resulting in a desperation jumper that hit nothing but air as time expired.
In the first half, the Wolfpack had come out determined to force the tempo. They succeeded, but thanks to 60 percent shooting by the Cavaliers, Virginia beat NC State at their own game. The 'Hoos had their highest-scoring half of this ACC season, taking a 38-31 lead into the locker room.
Virginia was able to slow the pace in the second half, but was uncharacteristically sloppy with the ball.  Their two main ball-handlers, Evans and Zeglinski, committed six of the team's seven turnovers, all NC State steals. But, in a stat that the Wolfpack will look back at with dismay, those seven steals only resulted in four points.
Another stat that belies the outcome was NC State's total domination on the boards. The Wolfpack outrebounded Virginia by a 42-25 margin. The 'Pack had almost as many offensive rebounds (18) as Virginia did defensive rebounds (20). But here again, NC State managed only 17 second chance points from those 18 offensive rebounds.
Mike Scott led Virginia in scoring for the 14th time in 20 games with 18 points. Scott and Harris each had five rebounds for the Cavs.
The Wolfpack was led by CJ Leslie with 17 points and Richard Howell with 18 rebounds, nine offensive.
The win was Virginia's fourth straight over NC State and improved their overall record to 17-3, equaling their best 20-game start since the 1982 Ralph-Sampson-led Cavs started 27-3.
Virginia returns home to host Clemson on Tuesday evening. NC State travels to Boston College on Wednesday.
Like the new article format? Send us feedback!